Piers Morgan's Height
6ft 0 (182.9 cm)
English TV Personality. He once claimed
"I'm 6ft 1in and weight 14-and-a-half stone"
and on another occasion
"I am 6ft 1in, nearly 6ft 2ins"
.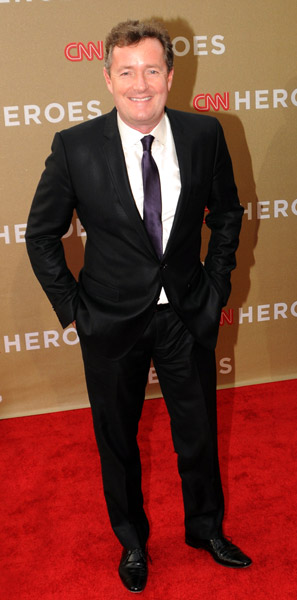 Photos by PR Photos
Add a Comment
107 comments
Average Guess (28 Votes)
5ft 11.75in (182.2cm)
Hijoputamus
said on 23/Sep/19
Piers claimed 6ft1 when meeting Ronaldo before the interview. You can see him saying he is 6ft1 ...and a Cristiano said he was 6ft2
I honestly thought they may measure themselves with shoes on but after watching the interview I realised both were very egocentric. I was expecting more humble testosterone but both were too smug if not feminine
Anon11
said on 21/Sep/19
5'11'' max. I can't believe this guy is claiming 6'1''
Canson
said on 20/Sep/19
@K.A.188: lol doesn't surprise me. He was on The Apprentice! Trump also claims 6'3" when he's 6'0" and change today (probably was a legit 6'2" peak or at least 187 cm range)
Zampo
said on 20/Sep/19
I don't know if he has indeed lost height but 5'11.5 range is where I feel he would measure today.
pov
said on 19/Sep/19
Average vote says if all, think he deserves a downgrade rob. Strong 5"11 max

Editor Rob
10-15 years ago he looked taller than recent years, it is likely he has lost half inch by now.
K.A 188 !
said on 19/Sep/19
He is barely 6 foot yet claim 6ft1 and 6ft2 here and there....
Robert autom
said on 17/Sep/19
it looks like two inches lower than ronaldo a 5.11 maximum
pov
said on 17/Sep/19
Rob, If you look at piers morgans latest insta post with cristiano, ronaldo looks like ateast 3 inches taller for some reason?! I think piers is 182cm max! Typical strong 5"11 guy claiming 6"1 as usual..

Editor Rob
He can struggle to look near 6ft. Whether he is shrinking a bit now or can't stand tall I don't know.
FiveEightJake
said on 14/Sep/19
Candidate for height loss Rob? Looks no more than 5'11 flat next to 6'1 Cristiano Ronaldo. I suspect just poor posture or Ronaldo tip toeing/going up on one foot.

Editor Rob
He might be at an age which results in a fraction lost.
Unbewohnt66666
said on 21/Aug/19
Could his son be 6ft1?
On the Ben Shapiro Show he describes him as 6ft2. But since Piers thinks of himself as 6ft1 or over, he probably thinks of his son as taller.
Click Here
Also, is there a chance of him and Trump being equal in height at this point?

Editor Rob
His son might be near it
Rampage(-_-_-)Clover
said on 21/Jul/19
Nearly 6ft2 is a joke...but I think he's claiming that on direct orders from Trump so that his 6ft3 claim is more credible!
Greg
said on 9/Apr/19
@Danrr where are you from? The Dinard Alps? You would be above average there too you would be a very tall guy here in America at 6'1 and change as a matter of fact I wish I was your height.
Dream(5'9.5")
said on 18/Oct/18
He probably thinks Obama is 6'3".
Click Here
Funny enough, this height difference is 'similar' to how I looked with the conductor of my orchestra (who looks taller than Obama in several pictures I stumbled upon) in person.
(I won't be linking the pictures because the conductor is kinda like my boss, and I wouldn't want to link his pictures without permission. Even then, my gut tells me getting permission wouldn't go as well.)
Alex B
said on 13/Sep/18
I would say he is a strong 6.1 ft or a weak 6.2 guy. He looks quite tall and appears to be wearing standard footwear.
Batistataker
said on 29/Jul/18
6'0
Arch Stanton
said on 28/Jul/18
@Rob, on the breakfast show he was weighed in a battle with Lord Sugar at 16 stone 6 before losing weight google it. I'd imagine his weight is probably back up to 16 stone.

Editor Rob
he did look over 15 stones at times.
Christian 6'5 3/8"
said on 26/Jul/18
@Agent Orange
One reason is because the ft/in system force people to round up. But it could also be true that Europeans and others on average inflate less than Americans like Canson said.
Agent Orange
said on 25/Jul/18
@Christian
That's an interesting observation. I did work in the US for a couple of years and nearly everyone I met used the metric system when stating height. I do agree that the imperial system allows individuals to round upwards. Good point.
Sakz
said on 25/Jul/18
@Canson Not exactly. People inflate pretty much everywhere it's probably just less in some places than others.
Canson
said on 24/Jul/18
@Christian: I have a British friend now who claims his actual height and knows as much as we do (that height varies). He says he's 6'2" on the nose and he really is when he stands with good posture
Christian 6'5 3/8"
said on 23/Jul/18
@Canson
I've noticed that people who use feet/inches tend to inflate more compared to using cm, regardless of their nationality. A lot of British guys inflate height too because most use feet/inches when stating their height.
Danrr
said on 21/Jul/18
5'10 lad ~ Frankly it depends bro. I'm exactly 186 cm (most of the day) and I wear shoes with an average sole (~1.5 cm) and at university, with people my age (from 20 to 26) I don't feel tall. I don't feel short neither but I really feel quite average to say the truth.
Canson
said on 21/Jul/18
Lol 6'1-6'2? Surprise because Usually guys from other countries (such European countries) don't inflate as they do here in America.
Paul NS (6ft 0.5)
said on 19/Jul/18
Zak, they look identical to me. Trump might even edge him a little.
Zak
said on 18/Jul/18
Click Here
Someone explain this clip? Skip to 1:15 he looks two inches taller than Trump. Maybe he is 6'2
Rampage(-_-_-)Clover
said on 24/Feb/18
Nearly 6ft2?

Editor Rob
He's pushing his luck beyond the boundaries of common decency.
5'10 lad
said on 17/Feb/18
I don't really see the need for guys over 5'11 to be inflating their height like this. Guys like piers, grant Austin, Jimmy Kimmel it's just stupid. 180cm+ is fine you'll be taller than most men
Tom Colton
said on 28/Nov/17
Had a life sized prince harry model on good morning & piers Morgan was clearly 1.5 to 2 inch smaller.
If Harry is 6ft 1.25 piers is under 6.
Anon
said on 3/Sep/17
5'11.75"
Colin Dowson
said on 23/Jun/17
Coney is 6ft 8 and dwarfed Trump who clearly isn't 6ft 2
Jani
said on 15/May/17
I don't think Piers is quite the full 6'. He seems to be about an inch shorter than 6'0.5" Trump and around 1.5 inches shorter than 6'1" Charlie Rose.
Gwynbleidd
said on 26/Apr/17
A guy who doesn't deserve a good height for being a... not good person, to be polite. That aside, Piers is a definite 6' 0"; bang on 183 cm in my opinion.
HonestSlovene
said on 13/Feb/17
Yes Rob I agree with that he behaves similiar to Trump. I'd still think trump would edge him out by 0.5-1 in or so. 6'0" now is awfully close to Piers but I'd say he looks more 182 cm today rather than 183 cm and was 1 cm taller at peak.
HonestSlovene
said on 27/Jan/17
He looked the same as Grylls because both are the same height, about 181-182 cm or 5'11.5".
Editor Rob: Piers is similar to Trump, a bit of a heightist, insulting others by using height as a weapon.
Sam
said on 23/Nov/16
I think you could argue 5'11.5 at worst. But he does appear like he's a guy that's around 6 feet.
truth
said on 9/Sep/16
182 cm
Rampage(-_-_-)Clover
said on 7/May/16
Or accusing Justin Timberlake of embellishing his height when he's pretty much the same height as Piers
Rampage(-_-_-)Clover
said on 4/Sep/15
Rob, maybe 185cm out of bed?
[Editor Rob: probably, he has made a habit on Twitter of insisting on being six feet one, and having a 'joke' about people like Sugar being short.

Maybe he thinks it's funny...]
Rampage(-_-_-)Clover
said on 6/Nov/14
At 49, Rob?
I'd be surprised. Maybe Grylls had a shoe advantage. He's heavier nowadays so that might add to the impression that he's under 6ft. He's looked 184cm in the past as much as 182cm.
[Editor Rob: yes some guys can ship height by age 50, he could be one of them....or just has developed bad postural habits so at times appears shorter than he really is.]
Rampage(-_-_-)Clover
said on 4/Nov/14
He didn't look any taller than Bear Grylls when he interviewed him...
[Editor Rob: maybe he's shrinking, he can look a weak 6ft at times]
thatguy
said on 6/May/14
He looks 181-182cm in this picture with Obama:
Click Here
Unless of course Obama is wearing lifts, tho I sincerely doubt it, they both appear to be waring the same footwear. Piers does look a bit hunched over, but even standing straight I'd say he's still about 1.5 inch shorter than 6'1 Obama. I'd downgrade him to 5'11.75.
miko
said on 20/Apr/14
Barrett would have over 5 inches there if he stood straight. Barrett is a rock solid 6'5.
heman245
said on 19/Apr/14
looks 6'0 next to 6'4 - 6'5 Wade Barrett, do take in to account both are not standing straight.
MD
said on 17/Mar/14
It's funny, because most of the time, he looks just 5'11"-5'11.5" to me. But, then I see pictures of him like this one with One Direction...
Click Here
...and it's pretty clear he looks the current listed height. His shoes didn't even look suspicious in the other pics of this interview.
miko
said on 15/Mar/14
I actually think he's 5'11.5 and I wouldn't rule him out being an occasional small lift wearer.
fsd
said on 14/Mar/14
i think hes a strong 5'11 ft compared to 6'1 ft obama
Click Here
[Editor Rob: the amount of times Piers has tried to claim 6ft 1 in twitter and elsewhere is as bad as G who keeps saying 5ft 8!]
jordydecke
said on 25/Dec/13
he's been downgraded? I've always thought 6'1 was good for him. He has a son who looks to be 6'3-6'4 so that would make sense if he was higher.
Rampage(-_-_-)Clover
said on 12/Oct/13
Can look 6ft0.5/184cm with Donald Trump.
Looks closer to 16st
Rampage(-_-_-)Clover
said on 26/Aug/13
"Piers Morgan's height is 6ft 0.25in (184cm)"
greg
said on 1/Apr/13
He does look at least 6', possibly taller in a pic with the Donald
Click Here
If Eric Trump is really 6'5", then Donald trump looks to be at least 6'2" and Piers Morgan around 6'1".
Greg
said on 17/Mar/13
6'0 sounds about right but he is way to skinny to be 14 & 1/2 stone.
Rampage(-_-_-)Clover
said on 19/Jan/13
184cm, Rob?
Hew
said on 11/Jan/13
Click Here
Granted he might have a disadvantage in posture, but still. I find it really amusing that Piers goes out in the media and tells the world that Justin Timberlake is lying about his height, when he does exactly the same thing.
mId
said on 28/Dec/12
Click Here
I've seen the full Obama-Piers picture with shoes included(posted it on the curtis jackson(50 cent) page. And Piers doesn't look legit 6' there, but how tall is 50 then? Because he himself claims 6'1 too and is listed 6' here.
greg
said on 24/Dec/12
Good picture on his Twitter right now with the Obamas - 5'11" all day long
Shaun
said on 25/Aug/12
The Hoff picture looks like how a 6' guy looks next to a 6'4" one. Doubt he is anything under 6' but 6'1" is a stretch barefoot I think. I''ve always though 5 ft 7 for James Corden though seemed too low. For some reason he always appeared 5'9-5'10" to me.
hmmm ...
said on 24/Aug/12
i think hes 6ft
comming from a 5'45 man not bad huh
ps no short jokes :)
Anonymous1
said on 9/Jun/12
I personally think he looks about 6'1.
LJ
said on 10/Jan/12
It's quite obvious that he's not 6'1. After looking at the Corden picture, I'd say 5'11.
Physics Enemy
said on 22/Nov/11
He's 5' 11", he's not 6' Viper. If Hoff stands straight there's nearer 5" between them. Look at him next to Corden, that's never 6 ft. 5' 11" guy pegged at 6' 1".
Josh B
said on 4/Nov/11
Rob do you think that looking at the 2 pictures i've posted that Piers looks a good six footer? Certainly looks less with Corden?
[Editor Rob: piers can look struggling with 6ft at times, look at the pics of him with the 6ft racing driver button. But I think 6ft is fair for him, some photos are going to catch people shorter or taller.]
Josh B
said on 4/Nov/11
Click Here
The image i mentioned, not great for Piers although footwear is an issue.
Josh B
said on 4/Nov/11
There's a similar picture in the paper to the last one i posted but with James Corden who is apparently around 5'7. Considering the difference should be about 5 inches Piers looks a lot shorter than a legit 6 footer. 3 inches max separating them in all honesty.
Josh B
said on 24/Sep/11
If the Hoff is 6'4 then Piers must be 6'0 at most.
Josh B
said on 23/Sep/11
Click Here
Here with the Hoff :)
jake
said on 16/Sep/11
Morgan might be 6ft0.25, Timberlake is, as listed here, 5ft11.75
gordon
said on 15/Sep/11
he's 6'0-6'1,i dont buy flat 6
jay
said on 14/Sep/11
Yeah, he doesn't look a hair over 6'0" to me, but 6'0" nonetheless. Probably 6'0.5" in the morning, 6'0" during the day
greg
said on 2/Sep/11
Told the Mirror enquiry he invested £20000 in the shares his financial editor was ramping in 1999.It has now emerged he invested £60000. Do you think he'd lie about his height?
James
said on 23/Aug/11
184cm isn't impossible
Jeff
said on 18/Aug/11
He's 6'1 easily, one of the few celebs who is truthful about his height.
adz
said on 10/Aug/11
Half a inch upgrade for me.
hs2011
said on 7/Aug/11
Morgan next to ~6'1" Colin Firth:
Click Here
Kinda funny how he calls out Justin Timberlake for not being 6'1" when he isn't either.
Vegas
said on 1/Aug/11
Shaun says on 19/Jul/11
Its one photo folks.
___________
one photo, did you watch hoff program currently running on the bio channel in uk/ireland, he looked very close in height to hoff on that
Claude
said on 31/Jul/11
Probably a full 6´1" peak height, but not taller than 6´0.5" now a days, definitly over 6´ though.
Shaun
said on 19/Jul/11
Its one photo folks. If you actually see other photos and how he looks standing up on Britain's Got Talent he looks near 4 inches shorter than the Hoff who is a solid 6'4"
Maximus Meridius
said on 27/Jun/11
he is 6ft flat he lies about his height celebs do.
James
said on 21/Jun/11
i always did wonder if the hoff was really 6'4 or shorter?
James
said on 15/Jun/11
Piers morgan might be wearing dress shoes in that photo?
Vegas
said on 8/Jun/11
was watching david hasselhoffs show on bio the other day and in one segment morgan is standing beside the hoff (selling the hoff dogs for charity) and measures up very well, easily looked 6'1
James
said on 31/May/11
Yeah 184cm at best
Rampage(-_-_-)Clover
said on 24/May/11
The most I could buy is 6"0.5(184cm)
Shaun
said on 23/May/11
He looks 6'1" but only in shoes. its difficult to see him as high as 6'2" in shoes
James
said on 21/May/11
I think 6ft is fair
Rampage(-_-_-)Clover
said on 19/May/11
Not a legit 6"1 by any means...He lies about his own height while at the same time making a sly remark about Justin Timberlake telling porkies about being 6"1.
Shaun
said on 19/May/11
Jade Goody was 5'4" range!!!
Cranberries (6 ft. 3.25 evening, 17 years)
said on 17/May/11
With Jade Goody, he's a full head taller than her. She's wearing flat sandals and he's wearing dress shoes, but I'd say he's an easy 7 inches taller than Goody, and she's listed most places at 5'6". I think Piers is a legit 6'1", definitely.
James
said on 14/May/11
I agree 6'1 is too much
Shaun
said on 14/May/11
Now a picture of Piers Morgan and David Cameron would be ideal... I suspect Cameron would edge him out. by a cm or two
Shaun
said on 14/May/11
Would be interesting to see a picture of Piers and David Beckham, we could then assess whether he is nearer 6'1" or nearer 5'11". I think he'd have about an inch on Beckham, 184cm MAX.
Jed
said on 14/May/11
He has never looked 6'1 in his life
jake
said on 13/May/11
More 182 cm.
James
said on 13/May/11
Looks nothing over 183cm next to David Hasselhoff.
Rampage(-_-_-)Clover
said on 13/May/11
CJ, that is a valid point because he's quoted as making a comment on Justin Timberlake's 6"1 claims...quite the hypocrite
Rampage(-_-_-)Clover
said on 13/May/11
He might be 184cm
CJ
said on 13/May/11
I don't see any reason to downgrade this guy, he looked 6'1 with giant Howard Stern on his show. Also, if hes calling people out about height it would make him look really stupid to lie about his.
James
said on 12/May/11
182cm is not impossible
Viper
said on 12/May/11
Another 6-0 guy where people think hes taller.
linke
said on 11/May/11
Rob funny how he says justin timberlake fakes his height and yet he does the same.
Clive A
said on 10/May/11
Well I have to say Piers looks 6'1 to me, he looked an inch taller than 6' Bruce Jones in their televised interview.
Shaun
said on 10/May/11
Mmm he looks about 4 inches taller than Simon Cowell (5 ft 8) and 4 inches shorter than Hasselhoff (6'4"). 6' flat seems about right...
James
said on 9/May/11
He's cleary not 6ft1 compared to now 193 or 192cm David Hasselhoff
Shaun
said on 9/May/11
Looks 5'11.5" to me, never looked 6'1",
Ace
said on 9/May/11
Rob, compared to David Hasselhoff (assuming he is still a full 6`4), he looked pretty close to 6`1. I can still buy 6`0 though.
[Editor Rob: The reason I took long in adding him is I was looking to see if he really did appear like his claim, but I think he rarely ever looks that tall.]
random guy
said on 9/May/11
In Britains got talent he looked quite a bit taller than 5'8-5'9 simon cowell. you certain he isn't 6'1" rob?