Indian actress best known for roles in films such as Veer-Zaara, Salaam Namaste, Farz, Sangharsh, Heaven on Earth, Kabhi Alvida Naa Kehna, Kya Kehna and Kal Ho Naaa Ho. On her twitter she mentioned her height was
"5'5"
and said it again
"I am all of 5'5 and definitely not short"
.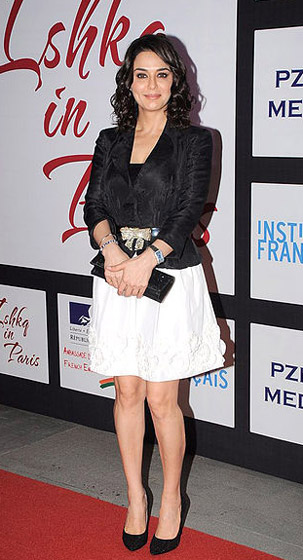 Photos by BollywoodHungama.com [CC BY 3.0], via Wikimedia Commons
Rukmini Singh
said on 11/Aug/22
Ananya Pandey- 5'7
Shraddha Kapoor- 5'3.5
Alia Bhatt- 5'1
Sneha Pahadi
said on 21/Jan/21
@Rob please her add to the Bollywood actresses category.
Sneha Pahadi
said on 20/Jan/21
Accurate listing. She is in this rane.
officer
said on 17/Jan/21
157cm is my estimation, 161cm is very high to her
Sharanya
said on 18/Jul/20
Hi Rob. Can you add Preity Zinta in the Bollywood actresses category since she is a Bollywood actress?
I agree with this listing, 5ft 3.5.
afzal
said on 19/Dec/19
I feel slightly over 5.1
Rocktaray
said on 25/Sep/19
5'2 only . Not more than that
Sharanya
said on 11/Sep/19
The average vote is too low. I can't see Preity Zinta any lower than this listing.
afzal
said on 7/Apr/19
She might be 156 cm
Raju544
said on 21/Oct/18
5ft tall next to 4ft 10 rani.
Qman
said on 19/Feb/18
preity is 5.2not more and may be less than that if she is 5.3 priyanka chopra is 5.7 and priyanka less than 5.5
Tallish89
said on 24/Aug/17
With SRK (171cm) Preity wearing a 2-3inch
Click Here
Click Here
Has to be around 5'3 range
rir
said on 11/May/17
Rob,can you add Rani Mukherjee to celebheights?
Tall girl lover
said on 25/Mar/17
Preity zinta is not short look at this i think she is 5 feet 5 inches both are in bare legs
Click Here
Nona
said on 3/Mar/17
Priety is 5'2" tall & weighs in at about 135 lbs
Qman
said on 4/Feb/17
She joking not more than 5.3 . As maximum
kiko
said on 25/Dec/14
Rob.if preity zinta 5ft3.5 range,shahrukh khan must 5ft7.75
Amaze
said on 23/Dec/14
Arch im surprise you like indian films""!! haha that's good. and yeah she aint as big as 8 10 years ago. kal ho na ho was big and made her popular. salaam Namaste too. yeah preity is pretty lol, and 5 3.5 for sure
Arch Stanton
said on 22/Dec/14
Rob can you squeeze in Heaven on Earth, Kabhi Alvida Naa Kehna and Kya Kehna? All very good actually. Heaven on Earth is actually a Canadian film I think, it's surprisingly decent.
linke
said on 21/Dec/14
@ Arch, Salman has claimed 5'10, was described 5'10 in some of his movies as well.
Enigma
said on 21/Dec/14
What about Katrina Kaif
linke
said on 21/Dec/14
Rob, btw good to see some Bollywood actor's being listed. Zinta looks weak 5'4, perfect listing.
Arch Stanton
said on 21/Dec/14
That's better I think. She can look shorter but generally in films I got a 5'3.5-5'4" impression. You have to be careful with a lot of these Bollywood stars though. A lot of them are extremely image/height conscious. I think Salman has tried claiming 5 ft 10 or 11!! He really is in the Indian Stallone!

Editor Rob
some seem truthful but there is probably a good chunk who BS a bit, but make it sound legit, they genuinely start believing their own claim?
Arch Stanton
said on 20/Dec/14
Here's a great one of her in flats. Shahrukh is 5'7" ish, you have him it 5'7.5" and he's bending down and still way taller LOL!
Click Here
I think we can safely rule out 5'5 or 5'4"!
Arch Stanton
said on 20/Dec/14
Most I can see I think is 5 ft 4.
Arch Stanton
said on 20/Dec/14
Rob, nice addition although she's not as a big a star as she was 8-10 years back but I've seen a good number of her movies and I think 5'5 is definitely a blag, I always thought 5'3-5'4" sort of range. She was in one film with Rani Mukerji I think and wasn't that much taller!!
Click Here
Check her out here in heels with Salman Khan who is about Cruise's height I think!! He is a lift wearer I think though but I think it's clear she's not really 5'5!!
Click Here
Another comparison in lower heels with Khan and Mukerjee on the left of him. I'd have guessed 5'3.5. Mukerjee I think is Reese Witherspoon's sort of height. That;s Priyanka Chopra on the far right looking a good 3 inches taller at 5'6" range.

Editor Rob
5ft 3.5-4 range is probably more realistic than her claim yeah, 3.5 might be the best fit.