English actress best known for playing Sybil in TV series Fawlty Towers. In a WhatsOnStage interview she mentioned her height, saying that
"in real life, I'm only 5'3"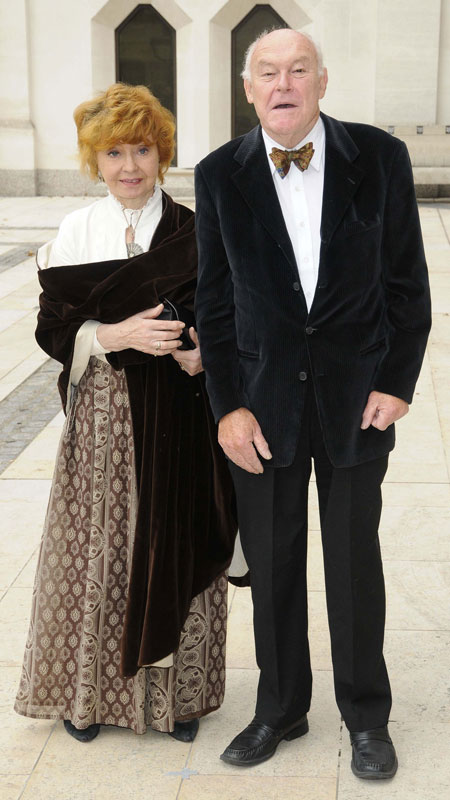 Prunella with Timothy West
Photos by PR Photos
Sandy Cowell
said on 5/Dec/18
I'm watching Prunella in an episode of 'Silent Witness' called, simply, 'Faith'. I have high expectations for this one - I have just started the second half and so far it has been both sad, scary and faith-enhancing.
Prunella stars as the mother of a girl who's louse of a husband has faked her suicide, and Prunella, with her mother's instinct, knows that her Catholic daughter would never do such a thing, being the one sin you can't atone for. Hence she approaches Sam, played by 5ft4 Amanda Burton, who has just been diagnosed with a serious illness, and is busy investigating the 40+ years previous death of a very saintly woman, who did only good in her life, but the Church are against her receiving any recognition because some of her beliefs didn't agree with theirs.
Yet Prunella follows Sam to where she's staying as Sam is the Mum's only hope...
There have been a great many opportunities to compare Prunella to Sam, the best of which was right at the beginning. Sam is a simply marvellous measuring implement because she wears shoes as flat as a child's slippers! Well, when Prunella went up to her, I saw more than two inches, and I have continued to see that throughout. She has indeed lost some height, but anyone who used to watch her in 'Faulty Towers' will be used to her original 5ft3 looking tiny next to 6ft5 John Cleese! I don't know how old she is in this. She might be wearing a grey wig to age her, as her face looks pretty much unlined, and certainly not the sort of face that matches up with grey hair. But there is no escaping the height loss, and I have to go by what I see and give Prunella 5ft1.5!
Arch Stanton
said on 28/Dec/12
Mmm, isn't she a bit taller than Manuel? Well, she is wearing heels in Fawlty Towers, could explain why her and Polly are taller than Manuel. Maybe they are all around the same height.
Daii
said on 30/Jun/09
Yeah she's no giant, John Cleese at 6'5 respectively towered over her. You couldn't guess her height from seeing her next to him, but 'short' would be a good word. 5'3 sounds correct.