Russell Wong's Height
6ft 0 (182.9 cm)
American actor, known for roles in Romeo Must Die, New Jack City, The Joy Luck Club and The Mummy: Tomb of the Dragon Emperor. A 1990 article described him:
"Six-foot tall and leading-man handsome"
. On his online resume, he has his Weight down as
"188 lbs"
.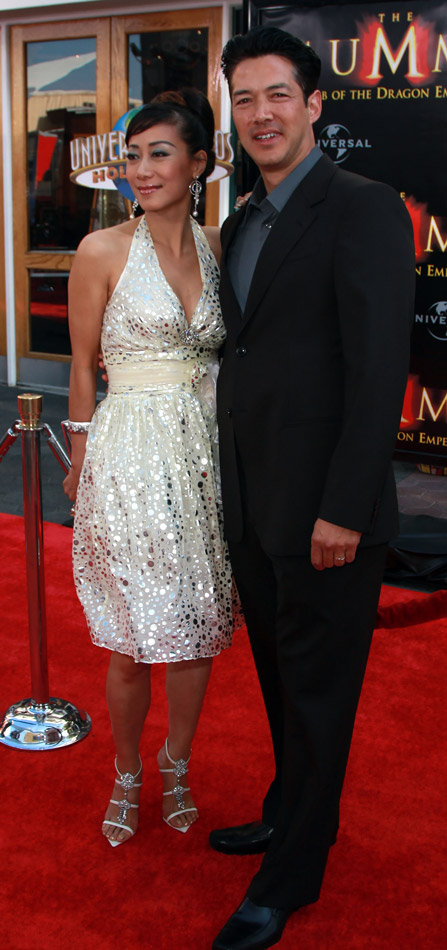 Photos by PR Photos
Add a Comment
34 comments
Average Guess (17 Votes)
6ft 0.24in (183.5cm)
Ferris
said on 11/Dec/20
Yo Rob, Could u add this guy to Martial Artists Category?
Chris Junior Hernandez 1990
said on 9/Dec/19
I mean peak a full 6'0 1/2. Now still holding 1/4 over 6'0 with solid 189cm Brandon Routh.
Conan
said on 23/Jun/18
In Romeo Must Die, I saw Russell Wong is just taller than Jet Li who is solid 5'6" (168 cm). I guess his height is around 5'10" (178 cm)
Junior Hernandez 1990
said on 5/Jun/18
One point is Russell turn 55 now could have lost a fraction. 183.5cm min i wouldn't argue lower.
Junior Hernandez 1990
said on 31/May/18
This is one under listed listing here. I always thought 6'0.75" for Russell Wong. But the more i thought that high i guess 6'0.5" thats how he look in the min range.
FE
said on 15/Jan/18
@Editor Rob,
Is 184 possible?
Click Here
Click Here
Click Here
Click Here
Click Here
Click Here
Click Here
Don Wilson (Listed 6ft)
Click Here
Click Here
Michael Wong (Listed 185cm)
Click Here
Click Here
George Young (Listed 5'11")
Click Here
Click Here
By reading those old comments, they all guess him at 6'0.5-6'1".
His IMDB resume listed him 6'1" and I also heard Mario describing him 6'1".
Maybe Give him the 184 peak, Rob?

Editor Rob
I'm not sure I'd list him much over six foot, I've not seen enough to think 184 was closer yet.
Rampage(-_-_-)Clover
said on 21/Feb/17
This is another very tall looking 6ft guy who can be mistaken for 6ft2-3 when standing with much shorter actors.
Redwing
said on 20/Feb/17
He looks 184-5 cm tall
Rampage(-_-_-)Clover
said on 14/Oct/16
He might to boost this guy.
Damian
said on 22/Apr/16
I think he was 6ft1.5 in his prime. Now he's about 6ft1 now, no less or more.
He was listed between 6ft5-6ft1.
Redbone
said on 13/Apr/16
So how tall do you think he is rob?
Ferris
said on 24/Dec/15
@Editor Rob,
How tall do u think Corey Sevier is?
With Russell Wong and Missy Peregrym
Click Here
Click Here
Click Here
With Tom Sizemore
Click Here
with Laura Vandervoort
Click Here
Click Here
with Travis Van Winkle
Click Here
with Dule Hill and James Roday
Click Here
He's from a show called "Black sash" with Russell Wong and Missy Peregrym, and also had a minor part in Smallville. He can look 181 range with a lot of people and can look a good inch on Tom Sizemore, 182 is possible aswell. He's listed 5'11" and 6'1" on most sites, but i think anywhere between 5'11-11.5" range fits him better.
Do you Agree?
Editor Rob: not seen much of him, would need to view some stuff he's been in to get a sense.
Rampage(-_-_-)Clover
said on 20/Oct/14
Yeah, he could look really 184-185cm range in Romeo Must Die and New Jack City.
Jerome.K
said on 31/Dec/12
I saw him in Zuma Beach 2 weeks barefoot with other Asians. He surprisingly looked 6'1. No kidding because the other Asians range from 5'10 - 6'2. Tall for Asians. I was friends with one of the Asians and was introduced to Wong. I'm a honest 5"11 barefoot and Wong was definitely two inches taller barefoot.
Mr.realityortruth
said on 27/Dec/12
not really. i saw him on a night show,interviewing asians. His legs were the legs of a 6-2 guy. 6-1.5 barefoot is more percise.
muta
said on 6/Feb/11
this guy is definitely at least 6 foot tall but I would say he is closer to 6'1"
muta
said on 25/Jun/09
There is no way Russell is shorter that 6 foot... He is 6'0'' at the least....
keepitrealdude
said on 11/Mar/09
I'm 5'10" max. He is shorter than me! I know that for a fact because we stood side by side talking to each other for a good 3 minutes at a convenience store back in 1995 (after Vanishing Son's last season). We also agreed that I had in by at least 1/2 inch in height!
Anne
said on 27/Feb/09
Who cares. he is gorgeous and his height only adds to his appeal.
Hugh
said on 24/Jan/09
6ft? I'm very suprised. He looked really tall in Romeo must Die. I'd have said 6ft2-3.
Authority
said on 23/May/08
Russell is 6'1" in Romeo Must Die as he's the same height as Isiah Washington in the scene where they walk past the metal detector in the airport.
muta
said on 27/Apr/08
I think Russell is 6'1''
myspace celebrity
said on 20/Nov/07
yup, clearly 6'0 tall in romeo must die =)
Rocky
said on 31/Jul/07
Perhaps time for an upgrade to around 6'0.25'' is necessary since everyone here estimates 6'0.5'' to 6'1'' while anyone has yet to list anything lower. Also, there's no way Samuel L. Jackson looks 2.5-3 inches taller in this pic, maybe 1.5 I would reasonably guess:
Click Here
Shane
said on 22/Apr/07
I worked with him, he is definately at least 6'0" and probably closer to 6'1" if he stands up straight. What Ronny said might be true, I know a lot of guys over six feet that round down.
Ronny D
said on 26/Feb/07
I've played poker with him and hung out with him a bit. He's at least 6ft because he looks even taller than that in person. Is it possible someone rounds down? 6'0.5" at least I'd say and would even guess 6'1"...
Padraig
said on 7/Nov/06
In 1995 Mario Van Peebles described him
"So when Russell (Wong) came in at 6-foot-1, great-looking and not a buffoon"
muta
said on 6/May/06
Russell Wong will tell you he is 6'0" but he looked exactly the same heigth as Isiah Washington in Romeo Must Die who is 6'1". Russell could be a little over 6 foot or he could be 6'1" but he says he is 6 feet so I will go with what he says.
Anonymous
said on 3/Mar/06
link
J-Dog
said on 1/Mar/06
40's aren't old, but aging is similar but different for each individual person.
I think Russell may be a very strong 6', I would say he looks 6'1" more often than 6'. He is probably closer to 6'1" than 6'.
Mr. R
said on 28/Feb/06
Anonymous, since when did the forties get to be "old"? (Not that I care...given that I am "thirtyish" myself!)
Anonymous
said on 26/Feb/06
That's because he is old. He's in his forties, now.... But yes, 6 feet even sounds perfectly right.
gdawg
said on 22/Feb/06
Russell Wong used to go to my gym (Powerhouse gym in West Los Angeles). A few times I've lifted weights near him. He's a pretty tall guy...I'd say 6'0" to 6'1". He looks older in person.
J-Dog.
said on 21/Feb/06
Definitely looks at least 6'.