Sam Trammell's Height
5ft 8 ½ (174 cm)
American actor best known for playing Sam Merlotte on True Blood and appearing in film The Fault in Our Stars. In this photo I'm wearing
Converse
thin, whilst Sam is in
Air Force One
, giving him a footwear advantage of 0.6-0.7 inches.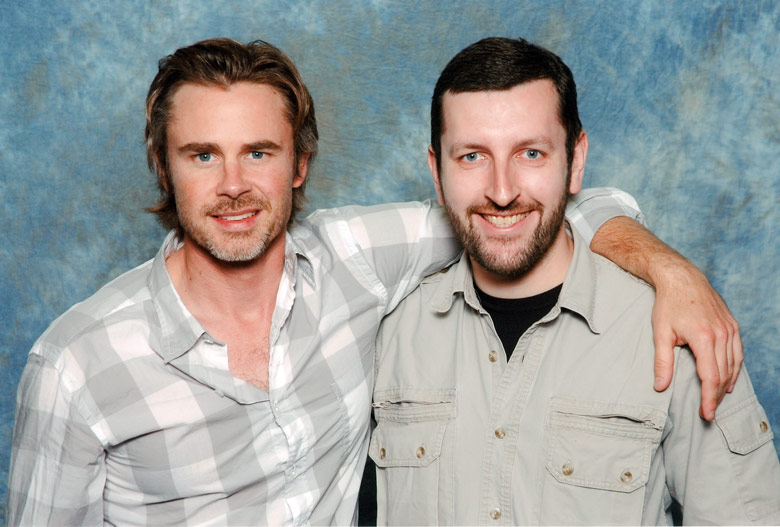 5ft 8 Rob and Sam @ Massive Events convention
You May Be Interested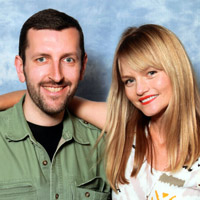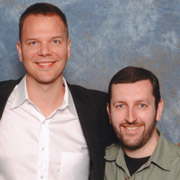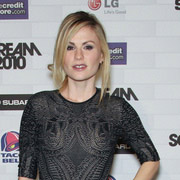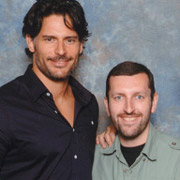 Add a Comment
56 comments
Average Guess (32 Votes)
5ft 8.29in (173.5cm)
Slim 6'1"
said on 27/Sep/20
s listed, barely edged rob
185.5cm
said on 27/Jun/20
Yes but th 173.4-6 is more realistic for real height so its your real height and 173-173.2 is your low height.
Ronaldo 185.5cm
said on 8/Jun/20
@JohnMoore-162cm too low, if rob is like 173.5-6cm, he is not 5'8 as he claims, he is more idk why he claims 5'8, Rob, why do you claim 5'8 even though you are more, in every sneaker video you are 173.5-6cm at midday, that confuses me. Even your own average guesses are 173.7cm.

Editor Rob
in many videos I wouldn't be quite at my low. If I'm more active I will go closer to 173-173.2cm than 173.4-173.6.
JohnMoore-162cm
said on 27/May/20
More like 5ft8 1/4"
191 cm Jason
said on 15/Feb/20
Can't be over 5'8'no half.
Nik
said on 9/Dec/19
@ Johno - He claims 5'11" and a number of people think that he is a smidge taller than me! I'm just over 5'7.25"!
Nik
said on 24/Jun/19
He could be Rob's height twin!
Bobby
said on 9/Jul/18
Rob has a footwear disadvantage and is the same height as this guy wearing 1.2 inch footwear. He's probably shorter than Rob, my guess is a strong 5'7, I would say at least 172cm range for him.

Editor Rob
He seemed like he was a bit taller than me whenever I seen him that weekend.
khaled taban
said on 26/Jun/18
He is 5'8" the same as Rob !
Rick1
said on 2/Mar/18
How can people say he looks below 5'8??? People forget Rob is more 5'8.5 and often wears good footwear , plus Sam is not fully erect he is slouching slightly , his IMDB claim of 5'11 is truly outrageous but equally so some of the comments lowballing him at 5'7.5. I'd stay he's closer to 5'9 in the morning so I'd give him a good 5'8.5/75

Editor Rob
I need to update the description as it must have got lost as to what our sneakers were.
Click Here
.
I'm in thinner version of converse that weekend, they give in 0.5-0.6 range, Sam that weekend is in a classic Nike Air Force One, which are 1.2 inches.
Cameron
said on 17/Dec/17
Strong 5'8", exactly the same as Rob.
Junior
said on 17/Oct/17
Accurate listing. He looks it in True Blood.
Morris
said on 16/Oct/17
He doesn't seem taller than FLEA.
Slim
said on 19/Sep/17
He's the full 5'8", nothing more.
even
said on 20/Jul/17
solid five eight
World Citizen
said on 25/May/17
For me he looks 5 ft 7.75 here.
growtallerguru
said on 7/Mar/17
guys you gotta remember Rob is 5'8.5" to 5'8.75" in his measurement videos on youtube so this guy is exactly 5'8.5"
Johno
said on 16/May/16
Smidge shorter than Rob and claiming 5'11.
Rampage(-_-_-)Clover
said on 17/Mar/16
Looks a bit like Colin Farrell around the eyes
Key
said on 12/Mar/16
Wow! IMDB says 5'11"! But he's no more than 5'8.5"! I'm really losing my faith in Celebs and them talking about their heights. :(
Ian
said on 21/Jul/15
I just watched TFIOS and thought to myself "This dude looks like Colin Farrel!". I'm glad to see I'm not the only one who sees the resemblance.
Arch Stanton
said on 20/Dec/14
LOL, maybe an Alexander Colin Farrell....
Rampage(-_-_-)Clover
said on 18/Dec/14
He looks like an Aryan Colin Farrell!
jasperwasup
said on 4/Mar/14
Rob, what size is your head if you don't mind me asking. It's got to be above average for your 5'8.25''. 9.7''-10.1'' it looks bigger than 9.25''. most 5'10''-6' guys have got only 9.25-9.5'' heads.
[Editor Rob: about 9.5-9.6 range]
MD
said on 6/Feb/14
With 5'10" Mike O'Malley:
Click Here
Click Here
I'd argued this earlier, but there is no way he's taller than Rob, not even by a half-inch.
Nick
said on 5/Feb/14
Just noticed that he's been upgraded from 5'10 to 5'11 on other sites. He is neither 5'11 or 5'10. 5'8.5 seems to be right.
Emily
said on 16/Dec/13
His head isn't unusually small at all. He's below average, his head size looks about average, more on the taller end of average, for his height.
Emily
said on 16/Dec/13
How long is his head? Around 9,25 inches? According to this pic:
Click Here
does he have a longer head than Michelle Forbes?
[Editor Rob: around 9-9.2 inches range I'd have said]
Sam173cm
said on 15/Aug/13
Hi Rob, are you and Sam standing straight ?
[Editor Rob: in this shot he isn't as tall as he can be]
Joejoe300000
said on 11/Aug/13
PEOPLE ! Look at his hair ! Sam's hair are much taller Rob's. Even with his Air Force One. So I think he is 5'7.5. Am I wrong Rob ?
[Editor Rob: I saw him a few times and he was taller than myself I thought.]
Z-Man
said on 3/Nov/12
People, look at the shoulders! Sam is a bit taller than Rob and he is not standing straight. I am this exact height as well. I am 5'8.5 and even 5'9.5 sometimes when I wear boots.
mike 181cm
said on 11/Oct/12
5"8.5 morning height
avi
said on 5/Oct/12
same height
LG69
said on 4/Oct/12
He's the same height as you with his .5" thicker shoes. He's not 5'8.5" based on this photo and the given info. He's 5'7.5".
Modorx
said on 3/Oct/12
Rob i am preparing to bodybuilding program and my wieght is 203p and my night height is and i have bely fat and tight chest my quistion is if i lost fat and get great muscular posture can that change mz height1ƒ1
[Editor Rob: doing exercise and having good core muscles can help with holding your posture close to your measured height.]
Alex 6ft 0 1/8
said on 3/Oct/12
Rob, same footwear here? You 2 look the exact same height
[Editor Rob: I have converse slim edition and he had air force one this weekend, so he actually had 0.5 inch more.]
Modorx
said on 2/Oct/12
Rob does belly fat and weak abdominal muscles make you look shorter?
[Editor Rob: excess fat might effect posture, but 1-2 stone overweight not so much...3-4 stone over a much higher chance of making you stoop a bit]
witchdoctor
said on 2/Oct/12
Rob's head has near 2 inches on this guy's head!
Modorx
said on 30/Sep/12
Rob im 184.15 as my lowest and my maximum at morning im 186.7 so what 7hould i cla4m?
[Editor Rob: I'd say 184 or 185, I wouldn't go with a morning height.]
TNTinFL
said on 28/Sep/12
Sounds about right. Never looked more than 5'9" on True Blood. Always about eye level with Steven Moyer.
Tim
said on 25/Sep/12
Isn't he leaning over just a little bit? Can you really claim 5'8" from this pic?
Drew
said on 25/Sep/12
His head seems unusually small for a guy.
Ras
said on 23/Sep/12
He looks 5'8 flats.
Mohit
said on 22/Sep/12
Hey, Rob and Sam you both are accurate height Clearly Trammell and Rob are the same height.
Adamz
said on 21/Sep/12
I think the listing is close to accurate.
Jason
said on 20/Sep/12
He looked big in true blood with boots. To rob, I'm a bit confused with this listing as you guys are identical in height, unless that is, you're basing your judgement on you meeting him rather than this pic.
Stiffelio
said on 19/Sep/12
Also his forehead is higher than yours; that may contribute to explain the optical ilusion of him being taller.
hahaha_XD
said on 19/Sep/12
Rob,
list him what you want but doesn't the fact that he has his arms wrapped around your shoulders give him a slight boost on you? To me he looks the same height as you plus with his arms wrapped around your shoulders, could possibly be slightly shorter than you, maybe?
[Editor Rob: sometimes that can effect the other person, but only if they are putting a lot of weight or pulling you etc. In this photo I don't remember it effecting me, but I just went over my files and realised, I was in converse this weekend and sam in air force one...so to answer lol93's, he has advantage!]
lol93
said on 19/Sep/12
Rob you dont mention the footwear!!And I think you would measure the same height with Sam
Stiffelio
said on 18/Sep/12
This picture is a clear example of how easy it is to be tricked by our own perceptions of other people's heights. The optical ilusion one gets is that Trammell is taller than you; yet you are almost exactly the same height.
Josh B
said on 18/Sep/12
@MD Scroll the screen down and you'll see their eye levels are exactly the same to the millimeter, I think there's some sort of optical illusion that looks otherwise.
hahaha_XD
said on 18/Sep/12
Looks same height as you, Rob.
Johnnyfive
said on 17/Sep/12
Same exact height as you. I guess you're 174 in that picture as well.
185cm or so
said on 17/Sep/12
Looks like he's the same height as you Rob.
Sceptic
said on 17/Sep/12
Did you think he was dropping more height than you in this picture Rob? Because otherwise he really doesn't look taller. If anything he looks a little shorter.
jtm
said on 17/Sep/12
i actually think he be shorter if he didn't have his arms around rob's shoulder.