Sanaa Lathan's Height
5ft 7 (170.2 cm)
US Actress from Alien Vs Predator and Brown Sugar.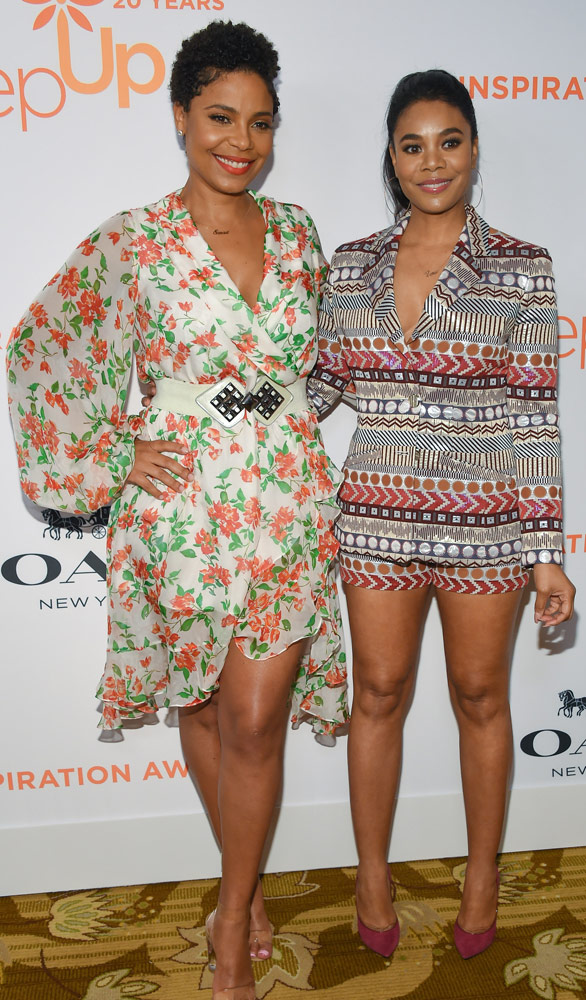 Photo by PR Photos
Add a Comment
18 comments
Average Guess (5 Votes)
5ft 6.75in (169.5cm)
Canson
said on 5/Aug/19
If she isn't the full 5'7" she's at least weak. Looks similar to Floyd Mayweather in height
Junior Hernandez 1990
said on 23/Apr/19
Never 5'8. 5'7 1/4 at most.
Nik
said on 2/Jan/19
I have not seen her down as being anything other than 5'7"! I like her name, there are 5 a's and no other vowel in the name Sanaa Lathan!
Anonymous
said on 12/Nov/17
Sanaa Lathan can't be 5'8 or she would tower 5'9 Rocmond Dunbar in that movie Family that Preys but she never did...
sixfooter
said on 20/Dec/14
Beautiful, tall, healthy woman. Can't believe she's 43, looks better than 90% of these young Hollywood females. Damn...oh, we were talking bout her height, she's definitely 5'8.
Marcus
said on 24/Feb/13
She's 5'8. Look up her pics with Gabrielle Union,who's 5'7, she's an inch & a half taller than her. Beautiful woman
jtm
said on 9/Sep/12
never 5'8.
Angie
said on 8/Sep/12
She was recently on Wendy Williams show and said she was 5'8
Jake T.
said on 23/Aug/11
I think brandon could be right, 5'7.5 as she wasn't dwarfed by Denzel Washington in Out of Time.
Demiere Lee
said on 7/May/11
In the movie Love and Basketball she looks like she could be 5'8 or 5'8.5. You never know. Her father is 6'1 the height of my grandfather. I may be 12 but I know a good height when I see one.
Nah
said on 13/Apr/08
She's not 5'7.5". In the Love & Basketball DVD commentary, she herself says that she is 5'7'", so that would have to be the tallest guess for her. The director says that one of the reasons she was chosen for the part of Monica Wright was because of how much taller she was than the average African-American actress, who were typically 5'3" at the auditions.
Anonymous
said on 26/Mar/08
5'7.5 for sure. she was a hair taller than dorff
marie
said on 24/Feb/07
i doubt shes 5'6 or 5'7 at most i'd say shes about 5'4 because of her built and most people agree that u can tell how tall someone is gonna be by looking at there finger length and she has short stubby fingers..still a wonderful short cutie!
Diane
said on 3/Apr/06
In "The Best Man", Sanaa is either as tall as or taller than Taye Diggs. It's hard to tell with her hairstyle. And when they do the Electric Slide, she's wearing no shoes and is still as tall as him!
8-ball
said on 22/Apr/05
In several Brown Surgar scenes she was taller than Taye Diggs. Maybe cause of the heals. Lord knows I'd love to meet her and find out for sure. She'd a godess.
Smoke
said on 21/Apr/05
In that horrible Alien vs. Predator movie she certainly didn't look her 5'8" listing. As a matter of fact I was darn near shocked to see her get listed as being so tall, I would agree with the Anonymous poster that she is 5'6" at best.
Anonymous
said on 20/Apr/05
Sanaa height I thank is roughly 5'6 as stated. I don't think she is just 5ft Brown Sugar. She's beautiful and a very talented African American actress, that brings all her character's to life. I love all ehr films'.
J.
said on 1/Apr/05
I always got the impression that Sanaa was the 5'8"-5'9" that she has been touted since she was taller (with standard heels) than Taye Diggs in the (lousy) film "Brown Sugar" and in some older pics, she would have a couple inches on ex-boyfriend, Omar Epps, who claims to be nearly 5'11" (have doubts about this). YET a friend of mine was an extra on that short lived NBC series that Sanaa was a cast member and said that Sanaa is more in the 5'6"-like range. Her 'great' height is obtained by the use of heels... Hmmm