Simon Helberg's Height
5ft 4 ¼ (163.2 cm)
American actor best known for playing Howard on the TV series The Big Bang Theory. On twitter he joked
"With shoes - 6'2. Without - 5'7"
.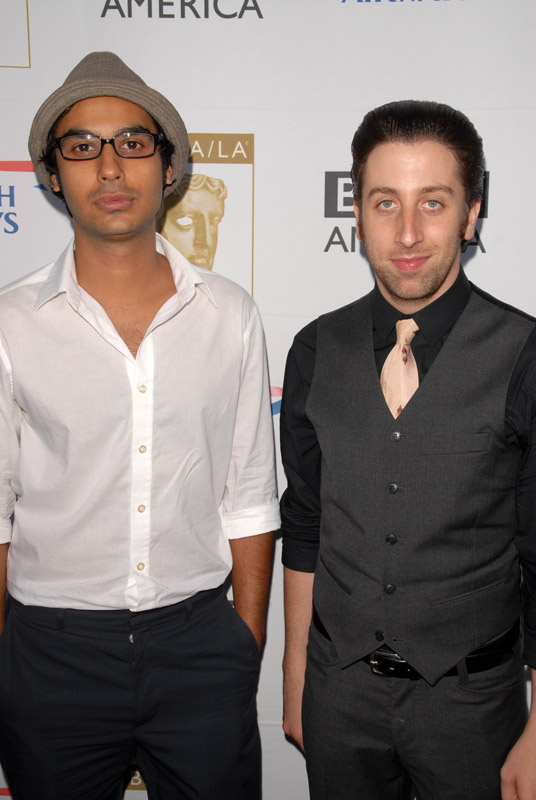 Photos by PR Photos
Add a Comment
39 comments
Average Guess (45 Votes)
5ft 4.26in (163.2cm)
Sulu2020
said on 6/Jan/20
He might be actually a little less than an inch apart from Johnny Galecki, exactly 3 inches apart from Kunal Nayyar, and nearly (probably not quite) 9 inches apart from Jim Parsons.
CD
said on 25/Dec/19
This guy could do with a 1/4 inch upgrade, since he can look in that 5'4.5 range as much as 5'4 flat, likely he is between those two marks. Funnily enough in one episode of Big Bang I seem to remember his character saying Leonard was only a 1/4 of an inch taller than him, maybe a bit of a downplay but a full inch between the two can seem a bit much. In any case, I will stick with a 5'4.25" guess.

Editor Rob
Yeah, I think a fraction over 5ft 4 is probably fairer
Yang (5 footer 8, 172-173)
said on 1/Sep/19
He is 5ft 4 indeed. It's cool to know that many of Big Bang Theory actors and actresses are short like 4ft 10 Melissa Rauch and some others except 6ft tall range actor Jim Parsons....
Paul Wood
said on 15/Mar/19
I never even round up by half an inch if someone asks. In fact I round down and don't mention the spare half inch as I always think people who mention half an inch are hung up about their height, and wouldn't want people thinking the same about me! This guy added two or three inches in the quote above. I wouldn't have the nerve.
Anonynon
said on 11/Jan/19
Rob, yeah, you're right, no lifts. It's just the angle.
Found this -
Click Here
I guess your calls are quite accurate.
My comment on Galecki's page is now worthless then.

Editor Rob
5ft 4.5 might becloser for him.
Anonynon
said on 30/Dec/18
Lifts here or what?
Click Here
This guy's height seems difference in many pics.

Editor Rob
Seem rather normal, he stands well and can look in 5ft 5-5.5 range at times.
Anonim
said on 25/Aug/18
WTF people, he fully 5ft 5
MAD SAM
said on 11/Aug/18
Giving his elevator shoe height as his real height, yea that's some joke alright ; 5'3.75" at 162 cm
lee168cm
said on 18/Jul/18
Yuriy he clearly isn't taller than Johnny in that pic and I bet Simon wears thicker than average shoes
Yuriy
said on 16/Jul/18
He is taller than Johnny Galecki. See any pics with them.
Click Here
vIKS
said on 15/Mar/18
163 or 164cm
Christine Parker
said on 18/Jul/17
I'm a Hugh fan you always make me laugh you have a unique personality
on screen and lm sure it's similar in real life your a pleasure to watch(funny man)lm sure you family are proud,my daughter and I are huge fans.. Christine (Australia)
John Davis
said on 30/Jun/17
This is why legit 5ft 7 guys gets ridiculed for their height
matt
said on 19/Jun/17
He looks absolutely tiny, not only height -wise, but also weight wise, I'm sure he is like 5'4 105lbs at most.
matt
said on 19/Jun/17
He looks absolutely tiny, not only height -wise, but also weight wise, I'm sure he is like 5'4 110lbs at most.
Nookayhe
said on 19/Jun/17
To be honest at the big bang theory he sometimes looks a little bit taller than Johnny galecki, but I guess this would be about right for him.
a knaw knee moose
said on 13/May/17
its unfortunate being a 5 4 male i don't blame him at all for stretching that.
Editor Rob: he can at times seem 5ft 4.5 range. 5ft 7 though is stretching things a little too far.
Mike
said on 11/May/17
Yeah, 5'7". :) Still, it's tough for the small dudes. It's just genetics. Nothing he can do about it.
GeeGun
said on 6/May/17
He's claiming 5'7 ? Wow. That's bold.
leonari
said on 20/Feb/17
He is visibly shorter than Galecki so 162 is the maximum. He looks tiny- Galecki looks just short.
Bobby
said on 20/Nov/16
It's amazing what camera angles can do to make him appear not much shorter than 6'1 Jim Parsons. I guess with camera angles, you can make anyone look taller. I would have thought he was 5'6 to be honest. Hard to tell.
Anonimous
said on 11/Nov/16
He is under 5'4" looks like at 5'3" or 5'3.5". It needs downgrade!
Mat
said on 23/May/16
Rob, is the 5'7 a joke or do you think he is really claiming it?
Editor Rob: I think he's being serious about 5ft 7, that seems to be his claim.
Sean73
said on 8/Apr/16
Who cares! Five four, five six, five seven... Their funny and looooaded. Their seven feet tall for all I care!
Eric
said on 6/Apr/16
He looks like a small guy. So I would say he's 5'4 or 5'4.5 at the most.
Sue
said on 27/Dec/15
If you've watch Big Bang Theory there was this one episode Leonard laughed at him for being short which Howard then replied "you're only quarter an inch taller than me" so since Leonard is 165 cm, Howard should be 163 cm. Idk why he'd say he'a 170 cm... No one could believe that :|
magic
said on 13/Sep/15
Click Here
He seems more tall than kaley cuoco and johnny galecki; and almost same height than Raji:
3 options:
-He is on tiptoe
-He use high heels
-He is really more tall than their
What do you think? Are there others pictures and he doesn't seem so short also near to Amy( I think she wears high-heels)
Scott179
said on 15/Jul/15
He's 5'5 and no more. He wears lifts in Big Bang as noted in some of the episodes. Raj is around 5'7 and Leonard 5'5.75. Jim parsons around 6'1
Rhonda
said on 8/Jun/15
5'7 is a blatant lie for him, he is smaller than Leonard and Penny and not much above Amy. 5'4 seems right for him.
2015
said on 30/May/15
@Rob. Most source say 5'7 is he that tall?
[Editor Rob: that seems very optimistic for him. ]
katie666
said on 24/May/15
i would say about 5'5, because hes the same height as johnny galecki. he is shorter than kaley cuoco who is 5'6
Drake
said on 31/Oct/14
Met this guy. Very nice dude but definetly not 5ft 4in. I am 6 ft3in and my girlfriend is about 5ft 4.5in and she had two inches on him.( No footwear advantage)
Emily
said on 27/Dec/13
lol tell me about it. I know it's weird. But i don't think any weirder than all the people here discussing height.
MD
said on 26/Dec/13
Maybe you should start a site called Celebheadheights.com, then. lol Seriously, it's weird.
Emily
said on 24/Dec/13
Because that's the only thing here that really interests me. Height is really such a non-important topic to me, but there is a correlation to height, so i will discuss this too.
MD
said on 23/Dec/13
@Emily, why have ALL of your comments, lately, been about head size? Really, it's gotten creepy.
Emily
said on 22/Dec/13
His head doesn't look small though
yeye
said on 12/Oct/13
This guy has to be an occasional lift wearer, he looks taller than Galecki sometimes, and I doubt Galecki ever wears lifts.
megamind
said on 5/May/13
around 160cm. seems more reasonable.