Kaley Cuoco's Height
5ft 5 ¾ (167 cm)
American actress best known for roles in tv shows like The Big Bang Theory, 8 Simple Rules and Charmed. In Washington Post 2007:
"Cuoco, who said she is 5-foot-6 and weighs 110 pounds"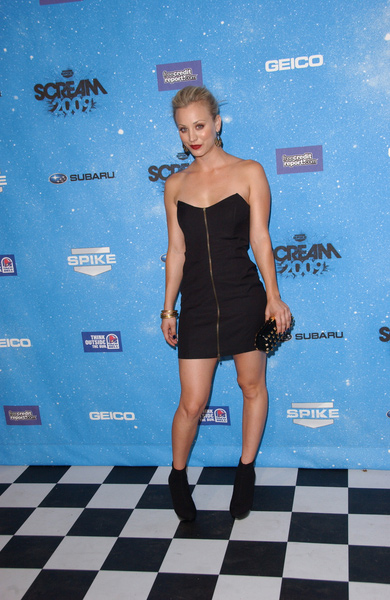 Photos by PR Photos
Add a Comment
150 comments
Average Guess (76 Votes)
5ft 5.63in (166.7cm)
Nik J Ashton
said on 4/Dec/20
I think that 5'6" is a good claim and it's great to give her her 150th comment!
Mimi
said on 30/Nov/20
Happy 35th birthday to a fellow Sag and Penny of the BBT, Kaley🍰🥳
Realist
said on 21/May/20
I am going with 5'5.5 but the avverage guess is on point.
Cameron9982
said on 9/May/20
169cm
Infalible
said on 4/May/20
168 cm
Intevel
said on 13/Mar/20
Rob is Kaley 5 ft 11 in these?
Click Here

Editor Rob
Almost 5ft 11
Sulu2020
said on 6/Jan/20
She might be exactly 1 and a half inches taller than Simon Helberg due to his upgrade on this site.
Nik Ashton
said on 31/Dec/19
She looks somewhere around 5'6"!
Thara
said on 14/Dec/19
How do you vote?

Editor Rob
Well you managed to select a vote (when you clicked the drop down box below the comment) when you submitted the comment, so it then automatically gets approved.
Nik
said on 24/Jun/19
The average vote is currently 5'5.45" after 45 votes!
Marco peranteau
said on 23/Jun/19
Sure your 5'6" and I'm 6'5 haha come on Haley I like you anyway!😉
Mimi
said on 20/May/19
Oh Penny you are such a fun and sensible girl. I will miss Kaley playing one of TV's sassiest girl.
Ndomingu
said on 7/Feb/19
In the Big Bang Theory, she seems to noticeably edge out Johnny Galecki and Simon Helberg a lot, especially in the earlier seasons for some reason. I'd peg Kaley to be around 5'5 1/2". Johnny is probably a weak 5'5", like about that mark or 5'4 3/4" worst case scenario. I remember I saw a photo with Johnny and Simon barefoot once and Simon looked taller. It could possibly be because of the angle of the photo, but he looks similar to Johnny (5'5" range) overall. Kunal looks a weak 5'7" to me and then Jim looks like a solid/strong 6'1". Mayim my guess would be a strong 5'4" and Melissa somewhere between 4'10"-4'11". Overall, this is a funny cast of characters on that show!
PAN BERRY
said on 17/Dec/18
She has good broad shoulders, I think Rob has perfectly listed her at 167 cm
Semidios
said on 7/Mar/18
5ft 6.5in out of bed? Rob?

Editor Rob
That isn't impossible.
Semidios
said on 31/Jan/18
I can't see her dip under 5ft 5, not even at the lowest.¿Do you agree,Rob?

Editor Rob
I wouldn't think she fell under 5ft 5.
Tamberlain
said on 29/Nov/17
She's somewhere in the 5'5" to 5'6" range, yeah.
CD
said on 1/Nov/17
Kaley isn't far off this listing, but probably 5'5.5". Galecki is pretty much the same height so I'd argue a fraction over 5'5" for him as well. And Helberg isn't much shorter so again I think 5'4" is too low and he's more 5'4.5".
KH
said on 13/Sep/17
Doesnt look any taller then Galecki to me. She and Galecki actually hooked up for a couple years and managed to keep it from the public.
176cm guy
said on 10/May/17
@skillet Sheldon (Jim Parsons) is the tallest in the group, and towers over her easily. What are you smoking?
skillet
said on 7/Apr/17
Every one but Sheldon, Stewart, Raj and Amy are short as hell. She is as tall as the other Munchkins.
skillet
said on 7/Apr/17
Every one but Sheldon, Stewart, Raj and Amy are short as hell. She is as tall as the other Munchkins.
Her arms are showing an early version of a 30 year old's progesterone trait and they is getting thick.
Lots of women get fat upper arms. It's very noticeable but common. She is supposedly a good tennis
player; shouldn't she be in bettrt shape?
Chris
said on 6/Jan/17
How tall do you think her current boyfriend( Karl cook)is? I think her ex husband was or is very close to 6"5 is she is as listed which I believe a fraction under 5"6 is legit.
Marquis
said on 20/Dec/16
Looks 5'5" flat.
makedonaldrumpfagain
said on 16/Dec/16
5'5 is pushing it the guy that plays leonard on big bang theory is 5'5 and hes quite a bit taller than her im thinking more around 5'3 or 5'4 she looks taller bc of her body type but shes alot shorter tho shes average at best
Alex 164cm 5'4 feet
said on 25/Jun/16
in the first few seasons of Big Bang she looked smaller.
jay
said on 29/May/16
she walked by me at hancock premiere in heels im 5'6 and i was taller than her id say she more like 5'3
Cooly Kuaco
said on 30/Apr/16
Ya ever been the to 'pines? She'd be a giant there. I'm 170 and I look down on most men there. If she's really 167, she'd dwarf most filippinas.
Alex
said on 9/Apr/16
I think she's a little shorter, maybe 165 cm..
Mimi
said on 27/Jan/16
Hi Rob do you think Kaley will be considered tall if she was in, let's say, the Philippines?
Editor Rob: yes she could be a good 5 inches above the average, so would be tall.
Mat
said on 23/Jan/16
Rob, what's the average height for a 20 year old woman? 5'5?
Editor Rob: it pretty much is close to that mark nowadays, but overall average in US/UK is still less
marcinho
said on 29/Nov/15
so you downgraded her to 167. according to this site
Click Here
she is on the 71,6 percentile. Rob how would you classify these percentile? 1-20 very short, 21-40 short, 41-60 average, 61 - 80 tall, 81 - 100 very tall?
Editor Rob: I wouldn't class her as tall, but just a bit above average height for a women.
BT
said on 18/Nov/15
@Editor Rob: Don't you think if Parsons stood a little more straight there'd be nearer a 7.5-8 inch difference? I think 5'5.5 is more likely than the full 5'6.
Editor Rob: 5ft 5.5 is very arguable for her, she can look that range a fair amount on the show, sometimes though she stands looser than the guys though.
Fray
said on 1/Aug/15
She is a little over 166 in the am, so 5'5"-5'6". Great, healthy, beautiful figure.
katie666
said on 24/May/15
lol she is not 110 lbs. id say 130, because shes quite tall and she has broad muscular shoulders
H
said on 12/May/15
She is 5'6. Can some people just stop trying to say "no she is shorter"!!! So annoying. My friend has seen her and she is 5'5 and she said that she is 5'6. I dont understand why people try to make them shorter then they really are
Josh1
said on 7/Apr/15
She looks a bit over 5'5 I think 166cm is spot on for her.
Rhonda
said on 2/Apr/15
Or 166.5cm about 5ft5.5
Rhonda
said on 2/Apr/15
I think down half an inch, she is just ever so taller than Leonard on BBT. Sometimes looks the same as him but mostly just a little taller in flats. Leonard wears converse mostly.
Josh
said on 31/Mar/15
I think she may need a bit of a downgrade. She was at least 3 inches shorter than Kevin James who you've got listed at 5'8 on here when they were presented at the KCA's. I'd say 5'5 is good for her
noscoper
said on 4/Mar/15
no way she's 1.68!
She's like 1.65
ZHIN
said on 17/Jan/15
I'd say her weight is a bit more in the current Season of TBBT because it looks like she's in a serious muscle building workout program; really toned (but not too much!) (I know this site is about height, but I'm better at weight than height.)
Ketlin
said on 29/Dec/14
I would that she 165 cm tall 'cause in the Big Bang Theory she seems a bit shorter than Leonard (166cm) sometimes they even seem the same height. There's no way she's 168 cm, just NO WAY!
blue
said on 7/Oct/14
In the episode 4 of the first season of bbtheory, Sheldon says that her weight is about 120lbs.
Of course she denies and say 110lbs but we can understand that her lie is a joke. So 5ft6 and 120lbs.
evil
said on 3/Oct/14
this days i'm really thinking if she and galecky have the same height, I've watched a lot of episodes of big-bang theory, everytime they seem to be the same height, so i think both can be 166cm
someone
said on 22/Sep/14
I would say she weighs 130 lbs minimum.
Magic
said on 21/Aug/14
Also here,Galecky wears like converse(0.6 inch o similar) and here Kaley seems
shorter than galecky of almost an inch,if galecky doesn't use internal lift and is true that he is tall 5'5,kaley is 5'5,I would say galecky is as height as kaley cuoco.
Magic
said on 21/Aug/14
This photo,increase doubt:
Click Here
here she wears high heels,and she doesn't seem taller than Leonard(galecky 5'5) and Howard(hellberg 5'4)
cole
said on 1/Jul/14
Think she would be a good and believable addition to the 5'5.75 (167 cm) club, Rob?
She looks a little under an inch taller than 5'5 Johnny Galecki a lot.
Mark
said on 21/Jun/14
I just saw her towering over Melissa Rauch so I'd say 5'6" is about right. She has perfect proportions and great skin too
Boho
said on 12/Jun/14
I have read that she is 5'7" and weighs 126, which seems more accurate than 110.
J.Lee
said on 25/Apr/14
Rob these look like beats. How tall is Kaley in these?
Click Here
[Editor Rob: a good 5 inches]
shane
said on 1/Mar/14
Lol wow nervous...why don't you make it a little more obvious that your a....ahem...."full-figured" chick. jeezus take it a little more personally. She is a chubby-ish chick...deal with it...more so now than before..and she has a fat face
J.Lee
said on 27/Feb/14
Rob does shoe size make a difference in how much taller the heels make you?
[Editor Rob: yes a little bit if the foot is longer.]
J.Lee
said on 26/Feb/14
Rob how tall do you think these make her?
Click Here
[Editor Rob: 4.3-4.5 range if her shoe size was at least 6 or 7, a wee bit less if she had small 3-5 sized feet.]
Lorne
said on 30/Jan/14
Rob, could we maybe get her at 5ft5.75? They're aren't many 167cm listed on the site, and I think she is a good example of that height. Seeing her on Charmed and Big Bang, she doesn't look quite 5ft6, but could measure 167cm military posture...
cole
said on 17/Jan/14
Do you think 5'5.5 could be more her range Rob? 5'6 is not impossible, but it's the highest I'd argue.
[Editor Rob: 5ft 5.5 certainly isn't ruled out]
Anna
said on 14/Jan/14
Funny I actually thought she was shorter!
taff
said on 12/Jan/14
Yeah right that is such a lie, if Kayley cuoco was 110 pounds at 5'6' she would be victoria secret model thin. Im guessing she is around 140-150 pounds because I am 5'4' and 119 pounds and she has much larger arms and thighs for sure
Jack
said on 11/Jan/14
She's taller than all of the guys on Big Bang except Kunal and Jim Parsons. Jim is obviously the tallest one on the show, over 6 foot. She's only an inch or two shorter than Kunal. 5 foot 6 sounds reasonable
I dated her in 2005
said on 22/Nov/13
She is 5'6". She has a long torso and short legs for her height. We still talk and she has fluctuated in weight, but who cares, if you like a girl with a figure then this is her, if you like an anorexic Bean Pole, then keep shopping!
nikki
said on 1/Oct/13
Doesn't look right....My husband is 6'5 and I'm barely 5'4 so I'm thinking one of them is lying about their height.
gd
said on 10/Sep/13
She's 5'4".
Photo with Sophia Bush confirms that.
And also watch her scene with Jim Parsons in The Big Bang Theory.
kid
said on 20/Aug/13
I thought she was 5'5 tops, maybe even 5'4. And if Sophia Bush is 5'4 than with the evidence we have seen, Kaley is 5'5 max.
Amoney
said on 7/Aug/13
I'm 5'6" and she was about an inch taller without heels. Shes 5'7"
Step92
said on 1/Aug/13
1,64-65! no more!
Mr. R
said on 25/Jul/13
Saw Kaley tonight at the Woody Allen movie. This is pretty close.
Pat89
said on 5/Jul/13
Well, if Sophia Bush is 5'4'' I find myself having a hard time to believe that Kaley is 5'6''
Click Here
Jeremy
said on 4/Jul/13
Could have been 5'6.5-5'7 peak clearly has lost some height
ali (boy/english)
said on 18/Jun/13
She is just beautiful no matter how tall or 'fat' she is she is perfect in anyway she wants to be :) and stop judging people like that, your not perfect yourself!
Locust
said on 22/May/13
Hey Rob,
why is kayley and sophia bush the same height,and the footwear seems to be similar?
Click Here
sp
said on 14/May/13
I had a 5'6" tall friend who actually weighed 110 pounds and she's fashion-model thin, even at her smallest Kelly couldn't have been lighter than 115-120...and now after her weight gain she is probably around 125-130. Height-wise, she does look to be around 5'5"-5'6". She has a fantastic figure either way, I love her body shape.
Nervous
said on 31/Mar/13
This is a website for discussing height - not how women who are 5"6 are most attractive at 118.5 pounds or less. ANY man who thinks that this young gorgeous woman would look more attractive with 10 pounds less on her frame, is a sad sack. She is having the time of her life with gorgeous men and lots of money while you are sitting around and judging on your big fat lardy butt. And it's not "sad" Mike,how everyone's bodies change over time. We are not here for your viewing pleasure and most of us couldn't give a rat's you know what when it comes to what nobodies think. I'm so glad I stumbled upon these ridiculous comments so I never waste my time with this nonsense again.
Mike
said on 12/Mar/13
She's not heavy but she's not as fit as she used to be either. It's sad because I don't think she's gained weight in an unnatural way. I'm a guy in my 30s and most women I knew throughout our 20s gained weight from their early 20s to late 20s. Metabolisms slow down, most of us still eat like we used to as teenagers (unless we make that important change), we get busy with our lives. It's because she's a beautiful Hollywood actress that people pay so much attention.
ag
said on 22/Feb/13
john - you are dead wrong buddy. give me a 5'6 120-130 lb girl any day! kelly has got the curves that only real men know what to do with. you can have the bulemia girls - give me a sexy woman like kelly!
John
said on 17/Feb/13
Only women or gay guys will think she looks better now than what she looked like at the star of the big bang theory.Now she has put on too much weight,she is not fat,just not as attractive as before.She has put weight on here face too which is not attractive.
gwhh
said on 27/Jan/13
I swear she use to say she 5 7!
little sue
said on 14/Jan/13
I'd agree, she looks much better with that added weight, nice to see a more 'normal' looking build on TV as opposed to skinnies.
heath ledger
said on 13/Jan/13
Solid 5'6". In the first season of the Big Bang Theory she was probably about 120 pounds and now she's about 140 pounds I would say. She looks better with the curvier body. So many Television Women are grossly skinny which makes them far less attractive.
mrden
said on 10/Jan/13
I prefer girls with a big of curve but healthy. She is a healthy lovely weight and I cant believe people are calling her fat in the later big bangs. Skinner women may find it easier to wear what they want but for me they arent as interesting naked.
andy
said on 4/Jan/13
im 5"2"and 110 and im considered normal weight. she lies. shes hefty
rat
said on 14/Dec/12
I meet her..she is 5'6 all day..I am 5'2 and she towered over me
Natalie
said on 18/Nov/12
If her height is 5'6, so why she's exactly the same height with Sophia Bush who is 5'4?
Click Here
Silent d
said on 7/Oct/12
I had more respect for her after her accident but i still respect her. A toned 5 foot 6. She is still recovering from that nasty accident. She needs time to heal.
E
said on 15/Sep/12
has no one noticed the fact that she got into a serious accident where she fell off a horse? Maybe she's not able to exercise as much because of that injury. leave the girl alone.
guest
said on 20/Jan/12
who cares you all are really argueeing about how tall or short she is no wonder this planet is going to **** stupid crap like this. And for the record Kaley is the hottest thing on tv off tv and everywhere else. then now and later
Dragoone
said on 2/Dec/11
She is 5'6 by the way, i've known her all my life and she's always been too short in my eyes, yet again, i'm 6'4
person
said on 29/Nov/11
there's a difference between an 18 year old's body and a 26 year old's. she has grown up into a beautiful person! curves develop, pelvis structure actually changes. it's science.
Silent d
said on 16/Nov/11
She is healthy 5 foot 6.
BBt123
said on 10/Nov/11
She is healthy now! Before she was way too thin. People who talk about someone who is 5'6-5'7 and being more attractive at 110 pounds are crazy! If that were true she would technically be under weight. It's comments like that which lead our society to anorexia and bulimia. Perhaps she had an eating disorder and had to gain weight because of it? Also, she is extremely toned and muscular. You people need to btfo.
Silent d
said on 30/Oct/11
Who cares about her weight? This is a forum about height. She is a little chunky but still desirable. She is taller than johnny by a bit and howard is not 170cm rose. He is more 162cm. She is a bit shorter than raj. Next to 6 foot 1 jim parsons, she looks 5 foot 6.
Adam
said on 23/Oct/11
Don't care, if she's got curves thats all that counts. I'm sure she works out like a lot of other actors. Its not like she just sits around all day doing nothing.
Dez
said on 19/Oct/11
She is 5'6 to 5'7 that is a fact get over anyone who says she is 58 59 is nuts
Ahe said it herself female celebs dont lie about hight male celebs most that is ad an inch or two but women dont if anything they will take an inch of their height
Hello
said on 15/Oct/11
She has a great body--wake up everybody!
Wayne Rooney
said on 15/Oct/11
She's gained a good 30 lbs since her peak.
Click Here
joe blow
said on 13/Oct/11
I don't know...I feel bad bursting peoples bubble..but look at her on the very first episode of season 1 where they meet her. She is in perfect shape, toned and tight...small. Now she is much much larger and to be honest she is not as attractive as she was then. It's not the media or anyone else telling us women should look a certain way causing me to think this. My natural instinct attraction is much more attracted to her body on season one then now. Sure she's cool, friendly etc ..great person, but she is now clearly at least 135-150, on that first show she was more like 110-115, which is much more attractive in a purely physical animal sense. ppl can hate but that is truth.
John
said on 30/Sep/11
If you go back and watch the first episode of The Big Bang Theory, she is definitely around 110 or less, absolutely tiny, but somewhere around 130-140 now in season 5, height wise I'd say the height is 5'5.5
Nicholi1120
said on 23/Sep/11
After watching the latest episodes of The Big Bang Theory, I have to say she's gained weight since last season. If she was 125 in Season 4, she's at least 135 or 140 now. Not saying she's fat, but she is a little larger then she was. Now for Arjuna's comment, "..cold blue.." really? People with blue eyes are cold? Sounds to me like someone has had a personal issue with someone with blue eyes.
ArjunaKorale
said on 13/Sep/11
Kaley is a drop dead beautiful 5ft 5 or 5ft 6, AND SHE HAS WARM GORGEOUS GREEN EYES (not cold blue as some mistaken person had mentioned earlier!).
ArjunaKorale
said on 12/Sep/11
Cuoco is, in my view, the most cutest actress to appear in a tv series! But I feel she is slightly shorter than her listing here - she is more like 165 or 166cm i.e. 5ft 5 or 5ft 5.5inches!
Eli
said on 29/Aug/11
It says 5'7. She is 5'6".
jdhhakkhgs
said on 25/Jun/11
she at less 5ft 6in and weighs between 130 and 350
Rose
said on 14/May/11
I know Kaley is a lot taller than I am, she is about 170cm the same height as Simon [howard]. Kunal [Raj] is slightly taller about 173cm, Johnny [lennard] is about 165cm and Jim [sheldon] is about 188cm. If u see her next to Jim u will notice.
wee one
said on 11/May/11
so now we are debating weight on here? i guess her to be around perfect. i would kill ( perhaps even literally) for a figure as good as hers. height- i need to know the boys on BBT to make an accurate estimate, but between 5'5 and 5'6 seems very plausible.
k
said on 24/Apr/11
I think she looks great. Its nice to see an actress who isn't anorexic. She's is and looks very athletic and fit and she is one of my role models because of that. I would really like to meet her someday cause she seems really nice! Btw she looks 5'6-5'7 tops.
Ara
said on 1/Apr/11
Hello people, that weight thing is from 2007.. Stop arguing about it, it's old.
Anonymous
said on 30/Mar/11
Wow, people are so wrong. She is very cute, but I just saw her on tv talking about her new movie. She does look tall, around 5'8 or so but she's a good 150 pounds. That girl has some thick legs. And doesn't look like she work out. Arms are a little chubby as well
Legend
said on 29/Mar/11
She used to be so freakin hot, she has put on a little fat now though. I wish she could be like 120 pounds. That would be perfect.
Dom
said on 27/Mar/11
She looks between 5'5" and 5'6" and she is definitely over 130 pounds.
Zsolt
said on 11/Mar/11
@Samantha
Are you crazy? What the hell were you looking at? She's rather fit. What you can see on her arm is the rather large triceps. She played tennis. Did you read the biography you linked. Did you ever see her belly? Zero excessive fat.
Samantha
said on 19/Jan/11
She's 5 feet 6 inches and 125 pounds. and pretty large according to me as her mass is not muscle, its fat.. you can see it in her arms and stuff. but she just lost a loooot of weight for the 11th episode of the 4th season.
Click Here
Sam Rick
said on 1/Jan/11
Kaley is a very beautiful lady with kinky blonde and clear blue eyes.And I thought she was 5'7 and 130-140ish pounds but she is an inch shorter and 20to 30 pounds lighter.She always reminds me of the beautiful KIND popular girl who I had a crush on.AND DATED THE BASKETBALL ACEMAN I think she has the perfect body most young girls should try to be like her.
Anonymous
said on 19/Dec/10
Ummmm, I'm 5'7", 117 pounds and very thin. She's cute but one of the biggest actresses on TV so it's doubtful she weighs 110 lbs, probably more like 140ish...
Anonymous
said on 12/Dec/10
I really like but she is not 110 pounds at all.
Aleksi
said on 19/Nov/10
I'm 5.7tall and weight is 116 and she is smaller than me about 6cm so i think she is 5.5 and I think she is skinnier than me or quite same defenitely not more so about 113-116
Anonymous
said on 8/Jun/09
She has muscle..so im saying shes 125 LBS for sure!!shes really tall to if you think about it
Anonymous
said on 4/Jun/09
5'5" w/o shoes. Probably about a very healthy 125lbs. She is in great shape and has nice curves. She played/plays a lot of tennis. Remember people, muscle ways more than fat.
Nikkii
said on 18/May/09
120 no way I'm sorry but you are way off I'm the same heigh as her 5'5 actually and I weight 115 and she's way more skinner, so 110 looks right.
joan
said on 3/May/09
she is absolutely shorter. I saw her with the other girls several times in "the big bang theory" she is always the shortest one. And i think she is over 120 pounds. 5ft5 and 125 pounds seems reasonable.
adrian
said on 24/Apr/09
1 feet= 30.48cm that means shes 5ft 6 then shes 170.7cm im 5ft5 1/2 so im 169.2cm
Lucas
said on 25/Mar/09
She might well say that she's minimally shorter than she is because being tall is not necessarily seen as a good thing for a girl (though it obviously is sometimes). In the same way an average sized guy might add an inch an average sized girl might subtract one. Also lots of people just don't know there heights it is much less of an issue for girls.
me
said on 30/Nov/08
why would she say 5'6 if she is taller? that makes no sense.
she's 5'6 or less.
Kitten
said on 11/Jun/08
The 110 lbs. claim is amusing indeed. Kaley isn't really thin, let alone underweight. I was surprised when she was described as being 120 lbs. on the Big Bang Theory, let alone when the character insinuated she was lower than that.
Anonymous
said on 4/Jun/08
haha there is no way she 110 lbs. no doubt she's 5'6, but she's at least 120 lbs.
Anonymous
said on 29/Apr/08
Nat, that's what I thought, as well. Reported measurements vary between 5'6" and 5'7.5", so with an averaged height of five feet six and three quarters inches and a weight of 110, that puts her at a BMI of about 17.5. Which she isn't. I'd say she's BMI... 19.
So obviously the error is in her claimed weight in the script of Big Bang Theory, regardless of if she is 5'6" or 5'7".
nat
said on 15/Jan/08
just 110? and 5'6''?? wow.. she seems shorter and with little more weight to me..
sebas
said on 17/Dec/07
that guy from The Big Bang Theory is 5ft 5inches, same height as this girl,
Becky
said on 5/Dec/07
5'6 sounds right, because with heels on she looks about 5'8 - 5'9. although i heard 5'7.
Alex
said on 28/Sep/07
She's taller than all the sisters in Charmed by a couple inches. 5'6 looks about right.
myspace celebrity
said on 17/Sep/07
looks more like 5'7.5 next to david spade, isnt he like 5'5.5???
kaley fan
said on 31/Aug/07
my friend is 5"4 and she isnt that tall but kaley is quite tall so id say about 5"6-7
repoob
said on 28/Aug/07
Kaley's height is truly 5'6". I met the cast during the run of 8 Simple Rules, and I can report that Amy Davidson is 4'11 at best, John Ritter was an even 6 feet, and Katey Sagal is 5'8.
6'3'' JK
said on 7/Aug/07
Dosen't really look 5'6'', maybe more 5'5.5''
EMMA W
said on 7/Aug/07
on 8 Simple Rules she's always wearing higher shoes than Amy Davidson (Kerry) and Amy doesnt even look THAT much shorter than her. She's definitely not 5'7" and above
[Editor Rob: considering this babe only said 5ft 6...]
lulu
said on 11/Apr/07
i thought she was taller, like about 5,8 any way on her site it stated her as 5,7 1/2 wich i happen to think is about rite......i thought she was dating jesse mccartney any way and he is only about 5,8....so i doubt she is taller than him !
jon
said on 3/Feb/07
I figured she might be 5'6'' because she is always starring alongside short actors and actresses, which lead people to think she is 5'8'' or taller.
Anonymous
said on 30/Jan/07
SHE'S 5'7. NO LESS.
2834
said on 14/Jul/06
in 8 simple rules i thought she was always like 5'8 or something! but i guess its just because kerry is on 5' and bridget is always in 2-3" heels
clad-in-black
said on 30/Apr/06
She always looked 5'6 to me. not much question.
She's definitely 167-169, not higher or lower, but if i were to be exact, id think 5'6.5 is right about the money no doubt
casey
said on 18/Apr/06
here is a pik of her full length body. interpret this n tell me how tall you think she is. you can clearly see her torso is long whereas her legs are short
Click Here
ds
said on 14/Apr/06
I agree with j.d. she always looked TALL to me. People forget that a (real) 5'6"-5'7" is pretty tall. Actually 5'6" is closer to average. But a 5'7" girl is not that common. I think she's like Paris hilton and has a long torso and short legs, making her look 5'7.5"-5'8", but she's really 169cm.
[Editor Rob: maybe being near the 5ft girl a lot, or spade makes her appear taller...but when with 5ft 9 women, looks around this mark I think]
Antonia
said on 8/Apr/06
I seen her beside many people and she always looks 5'6 or 5'5. She is one of my favourite actresses but I think she lies about her height.
MeLiSsA
said on 2/Mar/06
I think in that picture she was doing that thing that you can do where you stand with one knee bent and your hip out so that makes ppl appear shorter and she's still taller
Anonymous
said on 22/Feb/06
http://img116.imageshack.us/my.php?image=laceychabertellegirl1hollywood.jpg
look at this. Lacey isn't taller. so that Kaley is smaller. they have same heels.
heightfan
said on 12/Jan/06
I have seen every episode of Charmed this season and would put Kaley in the 5'6" range. In most scenes with the Charmed shortees(IMO Milano is 5'1 1/2, and Combs probably strugles to be a 5 footer) Kaley is wearing flats or very short heels. I am sure this is part of the riders in the contracts of other actresses when they appear on Charmed, as not to highlight the shortness of the stars.
[Editor Rob: yeah I was going to come back to this girl...this is too high...as low as 5ft 6, you know Katey Segal is legit 5ft 9er on 8 simple rules, so maybe?]
Anonymous
said on 9/Jan/06
Kaley Cuoco in Charmed looks 5'5
Lindsay
said on 30/Nov/05
Why not check her out in season 8 of Charmed cos she's just started as one of Paige's charges(a witch). You can measure her against Alyssa and Holly who are 5"2 for sure!!! I haven't seen it yet but I'm sure it will give some answers!
Chloee
said on 18/Oct/05
I think she looks smaller because her legs and arms are so small for he height, givin off the impresion shes smaller than she is. Still cant see her as 5'11 /6'0 in heels tho!
Chloee
said on 18/Oct/05
omg I cant belive for a minuet that she is even anywere near 5'7/8 without heels. She always seemd about 5'4/5 most in 8 simple rules to me. The youngest sister is tiny and never weres heels,where Bridget is always in heels and only looks about 5'6 to me .. Maby 5'7/8 in 4 inch heels !
j.d.
said on 16/May/05
For some reason she seemed taller to me, like 5'8'' or 5'9'' but maybe it's because she wears heels alot.