Simone Biles Height
4ft 8 (142.2 cm)
American gymnast, winner of 3 Olympic Gold medals. On her twitter she mentioned being
"4'8""
on numerous occasions.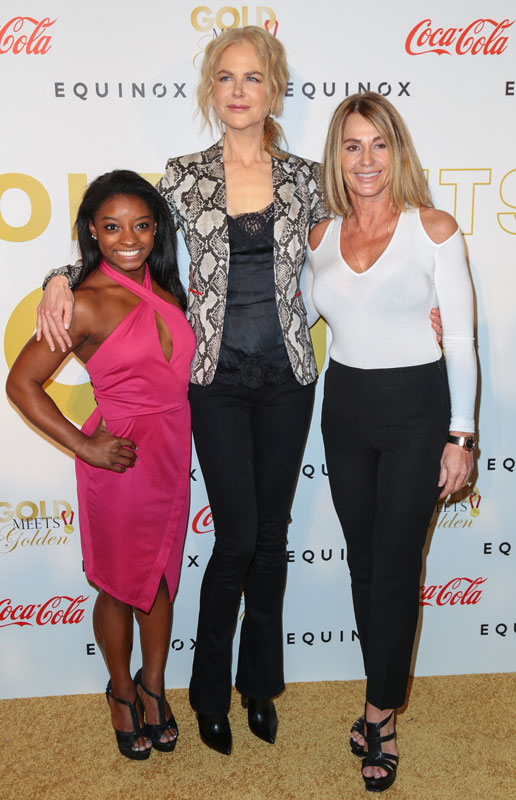 Simone with
Nicole Kidman
Photos by PR Photos
Add a Comment
22 comments
Average Guess (10 Votes)
4ft 7.55in (141.1cm)
Nik Ashton
said on 29/Sep/20
She could be Snooki's height twin!
Nik Ashton
said on 29/Sep/20
@ Sarah - That's an interesting pic!
Infalible
said on 27/Sep/20
143 cm
Nik Ashton
said on 20/Jun/20
Look at this:
Click Here
Christian 6'5 3/8"
said on 20/Sep/19
She has tallish proportions for a woman her height IMO.
lee168cm
said on 28/Apr/18
Rob do you think the other woman in the picture Nadia is 5 ft 4 like Google says? And would that make Bart conner 5ft 6

Editor Rob
Doesn't sound unreasonable, she can look near that between other 2 ladies.
Sarah
said on 15/Nov/16
Simone Biles does look 4'8" with 7'0" range Dirk Nowinski
Click Here
James
said on 22/Aug/16
They would make a great couple. Their kids would have a good height, a bit above average but not too tall.
172monster
said on 19/Aug/16
the giant has slipper advantage
Johnson
said on 18/Aug/16
@Andrea what is the name of that Italian gymnast? Fasana?
Andrea
said on 18/Aug/16
Actually i've just checked another italian gymnast... She gets listed at 160 in every site and she herself claimed to be 157 and 158 on Twitter!
Leonardo 1.73m
said on 17/Aug/16
Omaiga! Snookie height!
Strong 5ft9
said on 17/Aug/16
Now that is a extremely rare height for Adults
Aaron Zamora
said on 17/Aug/16
Where would she hit me rob? I am 5'10.75 at my lowest
Editor Rob: between 5 and 6 inches under your chin probably.
littlesue
said on 17/Aug/16
Anyone tried that app where you put your height and weight in and it matches you up with a Sports person from the Olympics, I got some Egyptian Weight lifter!! lol
Jared
said on 17/Aug/16
The guy looks 6'6"-6'7" range. (Excluding the footwear advantage)
Jon
said on 17/Aug/16
Hey Rob why do you refer to yourself as big Rob, like a Little John kind of thing or do you have a smaller/shorter friend/cousin who is also called Rob?
Editor Rob: Big is a term of positivity that anybody can be given, no matter how high the top of their head is above the ground.

Sam
said on 17/Aug/16
Hello Rob. How would she compare to you in height? Where would she come up to on your body?
Editor Rob:
she would compare pretty much the same as
Iona in this video
with me, who at the time was 4ft 8.
Aaron Zamora
said on 16/Aug/16
Do you believe that man is actually 6'8?
Editor Rob: might not be quite that tall, maybe a bit less than full 2 feet.
Andrea
said on 16/Aug/16
Rob, do gymnasts get measured in shoes for Olympic listings? xD
Just asking because tonight i've seen the gymn competition and the italian girl got described as 146 tall... The same girl claims to be 143, though!
Same thing for Simone, she was described as 145 on Tv but she herself claims to be just 142!
Editor Rob: I'm not really sure where they get the info - it might be from the coach/local athletic body in a first instant, who supplies data to the country organisation, who then pass it to the world/olympic organisations.

there were a few errors at last olympics with team gb, one guy ended up with 5ft 5 and he was 5ft 10, so sometimes errors will creep through.

Johnson
said on 16/Aug/16
Fasana, Simone Biles and Aly Raisman (tiptoes)
Click Here
Johnson
said on 16/Aug/16
Great addition. I would say he is 143 because he is not so small compared with gymnast Aly Raisman, listed 157 but she can't be over 154