Steve Perry's Height
5ft 7 (170.2 cm)
American singer, from the band Journey. In one magazine fact file during the 80's, it mentioned his stats were:
"Height: 5'8", Weight: 129 pounds, Neck: 13.5, Chest: 33, Waist: 28, Hips: 31, Thighs: 19, Calf: 13, Ankle: 9"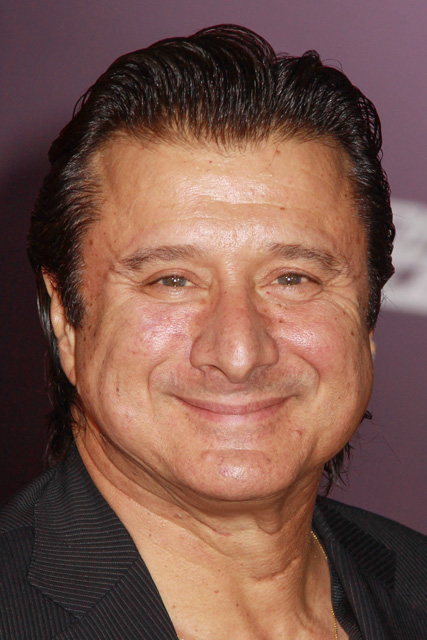 Photos by PR Photos
Add a Comment
17 comments
Average Guess (11 Votes)
5ft 6.41in (168.7cm)
Judy E Gregorc
said on 12/Apr/20
He's had neck surgery. I recognize that scar low on the front of his neck. The surgeon has to go through the front of your neck & he has to pull on your vocal cords to get at the cervical spine. It can damage your vocal chords. It can really weaken them. Maybe that's why his voice is so different now. When I heard a song from Traces I thought he'd blown his voice out. My voice did the same thing & after 7 years it still isn't the same.
Miss Sandy Cowell
said on 22/Jan/20
🎂🎁🎈🎊 Happy Birthday Steve! 🎊🎈🎁🎂
Happy Birthday to Steve Perry, who today celebrates his 71st Birthday. Let's hope it's a good one. 😁👍
5ft7. 🎉🎶
🎂🎁🎈🎊🎂🎁🎈🎊🎂🎁🎈🎊🎂🎁🎈🎊
Littlelee5ft6
said on 19/Jun/19
Cmillz it's not that stupid the guess it's only 3/4 of an inch under what Rob lists him and that's how tall the users think he is not stupid at all and he could be 5ft 6.25 now at his age
Miss Sandy Cowell
said on 2/May/19
@ Sakz - 9 stone at 6ft? That's terrible, verging on dangerous. I hope you are healthy now.🍱🍴 Eat!!!
Steve gets 5ft7, though he'll be less now. Just as well I don't have to estimate his weight, but I sincerely hope it's more than 9st3! 😀
cmillzz
said on 20/Apr/19
the average guess so far is just stupid.
Sakz
said on 7/Apr/19
@Sandy I second that. A few years ago when I was 9 stone I was as thin as a rake, and that was at 6'0!
Miss Sandy Cowell
said on 6/Apr/19
At 9st3, I totally agree with you Rob! When my brother weighed 9 stone at 5ft7, he was as thin as a rake. Steve's face looks well filled out!
Miss Sandy Cowell
said on 5/Apr/19
Great picture of a great singer!
I got into the band Journey in my mid/late teens, when I received via Record Mirror an album full of songs from the latest big acts. Dire Straits was also on the album, and it's these two acts I liked best and started buying their records.
Always charismatic on and off stage, his group Journey brings back terrific memories for me and those of my generation.
5ft7.

Editor Rob
The reported weight at 5ft 8 would be extremely thin for Steve, I doubt he was 5ft 8 range.
Mickie
said on 4/Apr/19
Very slender bone structure according to those measurements. Maybe that's why so many thought 5'9
Bradley
said on 3/Apr/19
Great camera angles for years and next to a short guitarist for many years.....I never knew he was 5-7, I woulda guessed 5-9.5 easy. Lost his high voice, interesting if he'll use the same stuff the usual suspects like Joe Elliot and Paul Stanley use to sound like the old records: tracking and pro tools.
SnerhagAip777
said on 3/Apr/19
Steve Perry is probably not gonna read this, man.
Littlelee5ft6
said on 2/Apr/19
Little guy with a big booming voice I'll go with your 5ft 7 listing
viper
said on 2/Apr/19
This is a shock. Thought he was average height
Valerie Reed
said on 1/Apr/19
Hi Steve, I don't care how tall you are, I'd just like to sit at lunch and ask you in person where all your ideas come from....
Patricia Johnson
said on 1/Apr/19
How tall plus all the rest, who cares. still at his age he looks great, sounds great, is great and we have him back.
Karen Reck
said on 1/Apr/19
I haved loved you for years.sorry to hear of your partner of life
Passing. Please keep on singing it will make it easier on your heart
Pamela Dotson
said on 1/Apr/19
Mr.Steve Perry is a talented man,an icon of music so his height is really not important!We are the same height.Unfortunately our genes make us what we are.So we live with what our family passes down.