Taylor Marie Hill's Height
5ft 9 (175.3 cm)
American model, one of Victoria's Secret Angels. On twitter she mentioned her height, claiming that
"I'm 5'9 1/2"
Photos by PR Photos
You May Be Interested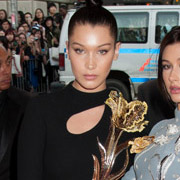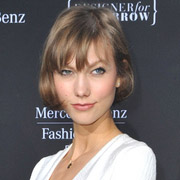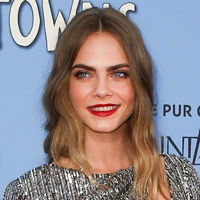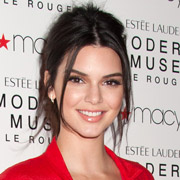 Add a Comment
48 comments
Average Guess (90 Votes)
5ft 8.89in (175cm)
Nik Ashton
said on 8/Feb/21
She may have claimed her morning or afternoon height on Twitter!
blabla
said on 29/Oct/20
@Peter175
Why do you assume they're jealous? You clearly have a bias for tall women. Just because a woman thinks a female celebrity is shorter than google's listing, DOESN'T MEAN SHE IS JEALOUS. Holy . You just have a bias for tall women and you think they're so much better than short women so you automatically assume that short women are jealous of them. Oh my god SO ANNOYING.
Janan
said on 23/Mar/20
She said on her ig live stream that she's 5'8!
S E
said on 16/Mar/20
Sexy girl, and sweety. She is 177cm in the evening. 176 is very low.
shoe size
said on 22/Jan/20
I have a hard time believing the heights of all the VS models, including Taylor Hill because most of them are listed as having shoe size 8 (US), and that's an extremely small shoe size for a woman over 5'9. Taylor Hill is listed as having shoe size 8, and that's unusually small for someone 5'9. There are models like Kendall Jenner and Adriana Lima who have at least size 10 feet, which makes me believe their listed heights, and those girls really do look like their listed height.
koshkoff
said on 4/Jul/19
She's a bit shorter than 5'9, I don't think she's a flat 5'8, she's taller than Kaia Gerber but shorter than Gigi
pip
said on 9/Jun/19
5'9 goddess,
MaryAnne
said on 31/Mar/19
5 feet 9 inches tall.
Mimi
said on 18/Dec/18
I think she's just 5ft9
Oliver
said on 17/Dec/18
Click Here
Rob,here's another photo from the same event where you can clearly see the height difference between her and Frida G?
A downgrade to 5'9 flat?
Thank you.

Editor Rob
It's still a possibility.
Oliver
said on 7/Nov/18
Click Here
Click Here
Rob,don't you think Taylor Hill looks 5'9 at best,next to Frida?
I think 175cm is a better listing.
Thank you.

Editor Rob
She could be 5ft 9...it's not like the first model who has added half an inch to their claim!
Raizoto
said on 3/Oct/18
With Romee Strijd (180)she looks 5cm-4cm down of her, solid 175 (5.9.)
Observe
said on 14/Sep/18
she is just an inch taller than jasmine tookes. Jasmine is the same height as Suki, both are about 5.7.
6ftMedium
said on 4/Jun/18
She looks 5'9
Mimi
said on 4/Jun/18
Downgrade of at least 1/4 inch is badly needed
Warren
said on 28/May/18
Seems Google has been listed her 176 but now is 179, I'd trust previous listed, no under 175
Carmen Wakefield
said on 15/May/18
@Nona No way Taylor is just 5'7". She has to be at least 5'9" right now. Especially since looks as if she has grown lately. She now possesses a woman's body with broader shoulders and a more wholesome frame instead of the skinny lanky body she had before. Must either be the VS workout/diet they put her on or just her genetics/part of growing up.
Mimi
said on 26/Apr/18
Rob she doesn't really look a half inch above 5ft9. Always looks almost 5ft9.
Mimi
said on 26/Apr/18
Rob she doesn't really look a half inch above 5ft9. Always looks almost 5ft9.
Mimi
said on 26/Apr/18
Rob she doesn't really look a half inch above 5ft9. Always looks almost 5ft9.
Rose111111
said on 8/Apr/18
Daphne groeneveld looks very tall next to her in some pics of their vacation in St. Tropez in 2017. They are both in flats and Taylor looks 5cm shorter than Daphne and Daphne is 179cm.
Mimi
said on 6/Apr/18
She really doesn't seem to appear taller than 176cm. I think 175-176 cm is really the best case for her
Daisy
said on 17/Mar/18
Rob, she looks very close to Romee's height. Do you think she's really 1.78,1.79?
Elle
said on 8/Jan/18
A weak 5'9" (closer to 5'8.75") is most realistic but she can get away with claiming 5'9.5"
Allie
said on 6/Jan/18
She looks closer to 5'8.75-5'9. She's very skinny though and has a slender figure she it helps make her seem a tad taller.
anna
said on 28/Dec/17
i saw her at fashion week in new york and she seems a little shorter than me. I'm 5'8 to 5'9 depending on when i get measured and how much i sleep. i think she's 5'8
lou
said on 21/Nov/17
She's about 5'8
Nona
said on 12/Nov/17
Gisele is only 5'9" and not 5'11" as she claims, so Taylor will
Be no taller than 5'7". My guess is Gisele at 5'9" & 135 lbs, Taylor at 5'7" & 110 lbs, Rome at 5'9" & 120 lbs and Karlie at 6'1" & 130 lbs. Gisele though much shorter than Karlie weighs more as she is much more curvaceous and is a mother of 2
Anonymous
said on 30/Sep/17
She is 5.9
Marilyn
said on 21/Sep/17
Maybe 5'9"
Peter175
said on 19/Sep/17
I'm laughing at the jealous women in this section saying she's below this listing. She's taller than most of the VS girls. She's between 176.5-177.8
Beth
said on 27/Aug/17
Romee Strijd is probably 6ft.
Kellen
said on 25/Aug/17
Here is a pic of her walking next to Romee Strijd who is listed as 5'11 and she almost 3 inches above Taylor .Im almost certain that she is around max. 5'7 .
Click Here
MaryAnne
said on 3/Aug/17
This listing is too generous for her. 5'9.
Katie
said on 24/Jul/17
5"7 flat footed. Giselle is 5"11 and towers over her. If she truely was 5"9 then there wouldn't be such a difference in height next to Giselle.
Marie
said on 18/Jun/17
She always looks 5cm shorter than Romee who is 180 so 175 is perfect for her no way she is shorter than that but no taller
Gia
said on 25/Feb/17
On instagram live she claimed to be 5'11 and josephine claimed it too, what do you think Rob?

Editor Rob
Gia, going from claiming 5ft 9.5 to 11 is really disrespectful to honest 5ft 11 women out there!
MaryAnne
said on 20/Feb/17
Taylor should be downgraded to 5'9-5'9.25. Stella needs it too.
M
said on 9/Dec/16
Second M please do not use my nicknamw.
Anon
said on 5/Dec/16
I always though she was 5'11. She looks so tall, but if she herself says 5'9.5, then I guess that must be it.
Ana
said on 3/Dec/16
Her modelling agency lists her as 5ft 9. I can't see why they'd decrease her height. Is it possible she's more 175 than 177? Google lists her as 176 so again why would they decrease her height?
Click Here
M
said on 21/Nov/16
I think she can be like 175 cm but who cares, she is sooo beautiful
Kellen
said on 2/Nov/16
Not any taller than 171cm .Bear in mind agencies and VS list their models 1-2 inches taller esp if they are famous .Here is she standing next to Stella who isnt any taller than 5ft 6.
Click Here
MaryAnne
said on 24/Sep/16
I was on holiday Rob!!! The first thing I did when I came back home was to check your site and i was like omg taylor hill had been added!!! thanks!!!
Taylor
said on 22/Sep/16
I give her 5'9.25" at most. She doesn't give the 177 impression tbh.
James
said on 22/Sep/16
Thoughts on Romee Strijd Rob?
James
said on 22/Sep/16
Looks exactly the same as Gigi Hadid so yeh 177