Tilda Swinton's Height
5ft 10 (177.8 cm)
Peak height was 5ft 10 ½ (179.1 cm)
English Actress best known for roles in films Adaptation, We Need to Talk About Kevin and The Chronicles of Narnia: The Lion, the Witch and the Wardrobe. On her CV it stated her height as being 5ft 11 tall.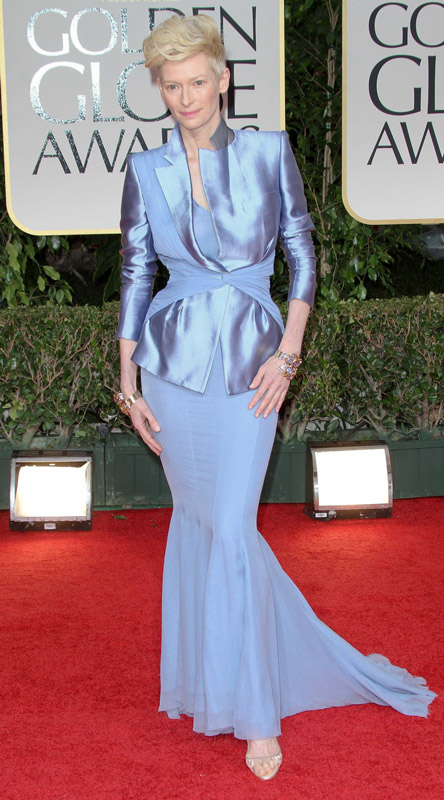 Photos by PR Photos
Add a Comment
77 comments
Average Guess (23 Votes)
Peak: 5ft 10.82in (179.9cm)
Current: 5ft 10.2in (178.3cm)
Miss Sandy Cowell
said on 5/Nov/20
💐🎂 Happy 6️⃣0️⃣th Birthday Tilda! 🎂💐
Wishing Tilda Swinton a Very Happy Big 6-0 today.
5ft10.75 peak; 5ft10.25 today. 🎁🎊
🎂💐🎁🎊🎂💐🎁🎊🎂💐🎁🎊🎂💐🎁🎊
JohnMoore-162cm
said on 11/May/20
Her peak is 179-180 cm , I don't know what is her current height
truthteller25
said on 15/Dec/19
@Editor Rob Well she is taller than Chiwetel Ejiofor yet he is listed to be .25 inches taller if you have seen the movie DR. Strange you would give her more height or make Chiwetel Ejiofor 5'9 even I am serious she was barefoot it seemed and STILL obviously an inch taller than a man listed higher than her and his posture was actually decent.

Editor Rob
I wasn't convinced she was taller.
Miss Sandy Cowell
said on 5/Nov/19
🎂🎈🕯️💐 Happy Birthday Tilda! 💐🕯️🎈🎂
Tilda, who went to the same school as Princess Diana, turns 59 today. Even taller than the Princess, it makes me wonder if the average student was above average in height....🤔?
I've seen Tilda in a wide variety of films - and she NEVER disappoints.
Of course, her super slim figure only acts to enhance her tallness. Always elegantly dressed, I've seen her playing in a long wig (at least once) and she looked so pretty and feminine that pictures from the film made the papers! She has the even-featured beautiful face that can take on any hairstyle.
Peak - 5ft10.75;
Now - 5ft10.25.
Many Happy Returns to Tilda! XXX
🎂🎈🕯️💐🎂🎈🕯️💐🎂🎈🕯️💐🎂🎈🕯️💐
James McMichael
said on 16/Jul/18
If Tilda Swinton is 5'10" in her bare feet then Elle Fanning is 5'9.5" in her bare feet.
Nik
said on 2/Jul/18
She sure looks her listing!
MAD SAM
said on 18/Jun/18
180 cm at her prime, 178-179 cm currently ; pretty sure no one can downgrade her height
Sarah
said on 4/Mar/18
Looked 5'10" or more in Dr Strange
Anna
said on 21/Dec/17
How tall was Derek Jarman?
Joshua
said on 28/Nov/17
She's very tall
MaryAnne
said on 14/Nov/17
I like how much her look is reminded me of androgynous look. That might be aroused from her tall frame. I like her height!
Traviov
said on 12/Nov/17
she still 5'10 today so idc
AgathaM
said on 19/Oct/17
I stood next to her once, we both had heels on, I am 5ft and I would say she was a foot taller than me.
even
said on 25/Jul/17
immediately after waking up = 180 cm , before bed = 178 cm , so 179 cm is her legit height
Morris
said on 24/Jul/17
Usually she shoes shoes very tall so it's difficult to understand how is really tall.
Ria
said on 4/Jun/17
If Tilda Swindon is 5'10" then David Bowie's daughter is 5'11" in her bare feet.
Realist
said on 16/Mar/17
She's taller than Chiwetel Ejiofor because they started playing with the camera. The Doctor Strange would slouch while Ejiofor had great posture and still 2 inches shorter. She's 5'10.5 Doctor Strange is 6'0.5 and Ejiofor is 5'10 in good shoes.
jtm
said on 18/Feb/17
why does heelshealheight always upgrade the taller celebs and downgrade the shorter? heelshealheight would most likely be claiming swinton was 5'0 if she was listed 5'4 here. If swinton is really 5'11 then bill Murray is 6'4. BTW chiwetel ejiofor was shorter than Nicole Kidman with a footwear advantage.
heelshealheight
said on 16/Feb/17
It's interesting how some folks try to upgrade the shorter celebs and downgrade the genuinely tall ones; such is the case with Tilda Swinton. Whether it's 'palatable' or not for some people, Swinton is a truly tall and statuesque woman who could easily convince as being 5ft11. Since those who are in reality less than 5ft4 claim to be 5ft7 and over, I would have no issue in supporting the claim that Swinton is 5ft11. At least in her case, it's a fact.
Sandy Cowell
said on 15/Jan/17
I've only ever seen Tilda giving her all in every enjoyable role she has played!
I would agree with her peak height being 5ft10.5 and possibly even a quarter to half an inch taller, but Tilda's lean silhouette and short, crisp hairstyle can both be responsible for giving us the illusion that she is taller!
Not long ago, I saw her pictured in a few newspapers and magazines with a really feminine hairstyle (which, granted, was probably a wig) and full make-up! I thought she looked fantastic and should be like that more often, maybe for a film!
It would be nice for us AND give her ego a boost! I know she comes across as a self- assured woman, but I think it would be good for her to escape from the 'androgynous' label once in a while!
Arch Stanton
said on 9/Nov/16
Not convinced she's lost height but I guess half inch is possible at 56, looks noticeably taller than Josh Brolin in heels in Hail Caesar.
Josh
said on 5/Nov/16
Just watched Doctor Strange. She's the same height as Chiwetel Ejiofor, and only a few cm shorter than Cumberbatch. She is a tallish woman, 5'10" seems about right.
kevin
said on 13/Oct/16
looks alot shorter than cumberbatch in new pics, dont think shes 178 let alone 179cm peak, more like 178cm peak and 176 today
Biafra Flouride
said on 29/Apr/16
In regard to a post by anonymous, I am 5'10" barefoot and I love to wear heels. It draws peoples eyes to you.
WhoCares
said on 7/Jan/16
Is this an accurate listing? Trainwreck has several shots of Tilda next to Ezra Miller. Ezra is taller than Tilda by 1.5-2 cm with her wearing high heels (at least 2 inches taller). And Ezra is 5'11".
jtm
said on 14/Mar/15
not even in her younger days she looked 5'10 or over.
BGee
said on 19/Dec/14
5'10 at the very least.
B
said on 28/Nov/14
@Llama @Elizabeth Renant I think Hiddleston is somewhere between 6'2'' and 6'3'', he looks shorter on film but there wasn't much difference between him and Hemsworth during Thor premiers.
Llama
said on 15/Jun/14
@Elizabeth Renant: Yes, she was considerably shorter than him. There's at least one scene where she was wearing heeled boots and he was barefoot, but he was still more than two inches taller.
Elizabeth Renant
said on 19/May/14
I just saw "Only Lovers Left Alive" and she looked far less than 5'10" next to Hiddleston - who, can't be more than 6'2" - it didn't seem as if there were only 4"-5" between them. She may be that odd creature, a "small tall girl".
avi
said on 26/Jan/14
5'9-5'9.5 barefoot , 6ft or so in heels. was around same as Clooney in HEELS
Emily
said on 9/Dec/13
@Lee I agree that Tilda has a very small head for her height. Charlize's head seems to be in average range.
Lee
said on 3/Jul/13
I'd give Swinton at least 5'10".
You see her in pics side-by-side with 5'10" Charlize Theron, and in some pics Swinton looks taller, in others Theron looks taller. They both like high heels, and they're both about the same height.
Lee
said on 3/Jul/13
@Emily - Charlize doesn't have a large head, she's got supermodel proportions, which means a smaller head than average for her height, actually.
So, by comparison, Swinton has a VERY small head for her height.
Hair style can also give the illusion of having a big or small head. If Theron was wearing her hair 'poofy' and Swinton was wearing it slicked-back (as she does sometimes), then that can throw perceptions off.
Emily
said on 17/May/13
She has such a tiny head for her very tall height. I was watching a roundtable interview with her and Charlize Theron in it and noticed how tiny it was compared to hers, even though they´re about the same height. So is Tilda´s head smaller than average or Charlize´s bigger than average?
Milkshake
said on 27/Feb/13
She's almost 5'11. About 1.79 m.
Roberto
said on 16/Jan/13
max 5'9.5 morning and 5'9 day
Joey
said on 20/Dec/12
nothing over 176cm
jtm
said on 21/Aug/12
yeah no more than 5'9.
Excelsior
said on 20/Aug/12
Don't care what anybody says about her, I find her quite sexy. But, I'm just under 5'10" and I'd say she's closer to 5'8.75"
She's 5'9ish
said on 29/Jan/12
Just saw her on a plane, she was barely taller than me, I doubt more than 5'10, but closer to 5'9.
Brad
said on 20/Nov/11
maybe a smidgen over 5'9, but definitely not 5'10; that's my estimate, hope it helps. Of course I've met her!
richinkle
said on 14/Jul/11
This woman always looks very tall, but also wears enormous heels. However, if she's 5'-10 1/2", then Brad Pitt and George Clooney are over 6'. I doubt she's more than 5'-9".
Maureen
said on 1/Mar/09
She looked pretty tall standing with those other actresses at the Oscars. The stat I find hard to believe about her is her age, she looks thirtyish at most, she's a HOTTIE.
mcfan
said on 29/Jan/09
I see the remark that people rarely shrink in their 40s below. This is not the case for women. Many do start shrinking in their 40s after menopause.
Clint Westwood
said on 1/Dec/08
She looks 5'11 tbh :)
miser
said on 2/Nov/08
the heels are 1.5" high then?
Zach # 2
said on 30/Oct/08
she's a strong 5ft 9", with heels on she hits Clooney's height 5ft 10.5"
she's rake thin like Marcia Cross (Bri Vandercamp) from D Housewifes, that's why she looks hella lanky
miser
said on 19/Oct/08
...another over-listed 5'9"ish woman. Maria Sharapova, Uma Thurman, Leelee Sobieski, Gwyneth Paltrow, Liv Tyler... Why are there so many over-rated women? The webmaster is a real gentleman. :D
Lila
said on 8/Sep/08
Tall people are normally slouchers. I'm 5'11" and I lose close to 2 inches of height because I slouch. You should also take into consideration that Clooney might be wearing lifts. I heard he had a complex because of his height so you never know. And regarding how she was taller than a 5'10" Moseley in The Chronicles of Narnia, it was a special effect because the White Witch was described as being abnormally tall.
fff
said on 1/Sep/08
How can she be the same height as Clooney with those big ass heels when they are supposedly the same height barefoot? Maybe she is closer to 5'9.
Click Here
agatha
said on 22/Jun/08
I don't think she is 5'11". Saw her at a film premiere and she was wearing huge heels and had her hair backcombed up about 2 inches which would have made her way over 6' if she started at 5'11. I'm only 5' and would have noticed if she had been 6'4 or so!
Anonymous
said on 27/Feb/08
shes tall. pretty much the same height as clooney
guyfrommars
said on 14/Feb/08
Click Here
Tilda with director B
fsf
said on 18/Jan/08
People, the actual length of the heel does not impart the same height increase. In 6-inch heels, she would be (at most) 6 ft 2 - and so it makes sense that she was "about 1 inch shorter than Bill Murray"
Claire
said on 7/Oct/07
Im 5ft 11... mighty tall.
willie
said on 1/Oct/07
whatever..she's really big by her appearance in Narnia..ttaller than william moseley there (I don't know is it an 'effect' ?)
mike
said on 25/Jun/07
she is definitely 5ft 11 ....look how much taller she is than Amber Tamblyn .....Amber is at least 5ft 6 (she claims herself to be 5ft 7)
Click Here
Click Here
jon
said on 2/May/06
Sorry, this is a off topic comment. She's such a amazing actress -which she got more roles. Narnia was fine(she carried it with her great posing and expressions) but she deserves more roles like her early performance in Orlando. Oh, I have no problem with Chris's 5'll-Swinton seems quite tall so 5'10 1/2 or 11 both seem plausible.
Chris
said on 18/Apr/06
Yes she is 5'11''. You should change that 5'10½'' Rob :)
rick
said on 11/Apr/06
180? Possible. Looks at her with Keanu Reeves and she looks wears any heals
Click Here
Jon
said on 10/Apr/06
One of my favorite actresses since I saw her in Orlando. I like her intellectual quality and sh'es very sexy. I have no problem with 5' 10 1/2". I never thought much about it till she was cast as a 7'er in Narnia though. I agree with Serene-180 cm seems quite plausable for Swinton.
Serene
said on 25/Jan/06
Please..I think Tilda Swinton is really tall.. could be 180cm tall.. could be.. even when she wears heels.. or without them..
She is still the tall one..
Liz
said on 12/Dec/05
I don't think Miss Swinton has shrunk due to old age, she just took off her heels, lol
Anonymous
said on 12/Dec/05
http://www.imdb.com/gallery/granitz/2480/TimRothand_Pimen_2734985_400.jpg?path=pgallery&path_key=Swinton,%20Tilda&seq=139
I've seen Tilda wearing high heels in other photos of this same event.Here she is with Tim Roth, and he is only 5'7". Tilda with out her heels would be a fraction taller than him in my estimation.
Anonymous
said on 12/Dec/05
Julie Delpy is 5'6 1/2, Tilda is a fraction taller in this picture
http://www.imdb.com/gallery/granitz/1520/TildaSwint_Vespa_591961_400.jpg?path=pgallery&path_key=Swinton,%20Tilda&seq=68
Anonymous
said on 12/Dec/05
http://www.imdb.com/gallery/granitz/2451/TildaSwint_Vespa_2703360_400.jpg?path=pgallery&path_key=Swinton,%20Tilda&seq=43
Yes, her heels are at least 4" high in this picture
Anonymous
said on 12/Dec/05
http://www.imdb.com/gallery/granitz/2451/EdwigeDant_Pimen_2703292_400.jpg?path=pgallery&path_key=Swinton,%20Tilda&seq=37
Look at the size of her platform heels in this picture, shes standing next to a 6'4" guy and still shorter than him
Anonymous
said on 12/Dec/05
Tilda is wearing at least a 4" heel in this photo: http://img.web.de/c/00/58/C5/18.420 (other photos from the same shoot show this) And she's standing next to the 6'1" Bill Murray and clearly is still shorter than him. And the lady on the end is only 5'6.
She's not 5'10" or 5'11", she's probably only 5'7"-8" at best in her bare feet. High heel wearer extraordinare she is. She's always wearing them.
[Editor Rob: yeah, I watched that film the Statement the other day. She had on not that big heel, not more than 2-2.5 inch but beside guys like Jeremy Northam and Colin Salmon really didn't look 5ft 11. It would be rare to shrink in your 40's, although not unheard of...]
Anonymous
said on 7/Dec/05
Sandra, Ewan is 5'10", and Tilda looks to be that one inch taller in that picture, so she's 5'11"
Shona, Bill Murray is 6'3" so even at 5'11" Tilda in high heels would be slightly shorter than him still
Shona
said on 3/Dec/05
I saw a picture of Tilda Swinton wearing huge platform shoes at least 6 inches high, standing right next to Bill Murray, who is 6ft 1, and she was an inch shorter than him? How can she be as tall as 5ft 11?
Sandra
said on 3/Dec/05
If Ewan is 5'8, then Tilda is 5'9, look at this picture
http://news.bbc.co.uk/olmedia/1860000/images/_1862510_ewanglasgow300.jpg
Anonymous
said on 3/Dec/05
In an interview with Tilda about the upcoming movie Narnia, she clearly stated she was very tall and 5'11 so ideal for the part. She plays Jadis the White Witch, who is actually over 7 feet tall! They played up her height with special effects though.They could've done that with someone of any height, most of the characters in the film have been altered by computer technology.
I wouldn't personally say that 5'11 is very tall, only tall at most. In most tall clubs she would be classed as short! 6'1 is average height there for women.
Anonymous
said on 3/Dec/05
I have to add that the percentage of women that are over 5'10 tall is only 1%! Many actresses exaggerate their heights, and say that they are taller because they wear high heels all the time. I am female and 5'10 tall in my socks, and never see any women as tall as me anywhere! And I could never wear high heels or platform shoes because I would then be a giant! So why would anyone 5'11 want to wear them, if they are already tall?
Anonymous
said on 3/Dec/05
I don't believe that she is as tall as 5'11. I've checked out IMDB and many of the photo shoots show her wearing platform shoes, at least 4" heels, and she's still shorter than the 6'2 guys standing next to her! She's not 5'11! More like 5'9. She's nearly always wearing high heels.
[Editor Rob: I'm starting to think 179cm is more correct, but as low as 5ft 9...hmm, she's now aged 45, it is not without realms of possibility she might have lost a cm.]
Reena
said on 23/Sep/05
Tilda is now playing Queen Jadis, in the lion the witch and the wardrobe and the character is really tall and great. And Tilda is the one who is good and perfect for the role.And I believe that she is 5'11. What do you say, Rob?
mcfan
said on 14/Sep/05
She doesn't tower over McGregor. When I flipped through HBO late one night I saw him with her in a Scottish movie and they looked very close in height. Due to her bad posture I would say she was only marginally taller than him.