Zelina Vega's Height
4ft 11 (149.9 cm)
Thea Trinidad is an American professional wrestler, who has wrestled under the ring name Zelina Vega. She once said
"Yeah I'm 5' tall."
, but said on a couple of occasions
"I'm 4'11"
.
My height is an advantage not a disadvantage
You May Be Interested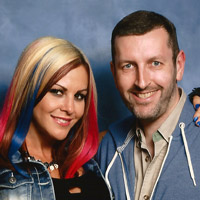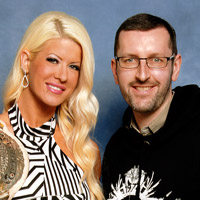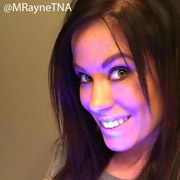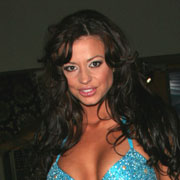 Add a Comment
45 comments
Average Guess (33 Votes)
4ft 10.81in (149.4cm)
Mohammed fayas
said on 23/Oct/20
Andrade and sin cara are of same height sincara is billed as 5'7 and andrade as 5'9 also aj and sin cara are of same height how is aj styles 5'9
Christian 6'5 3/8"
said on 10/Oct/20
@Julian
But that's including footwear though.
6'3 Julian
said on 9/Oct/20
The top rope is 4'6 apparently and it's up to her cheekbones/mouth. I think she does manage 5'0.
Andy5'93/4
said on 8/Oct/20
Hey rob she may be the shortest female wrestler ever.. unless Nikki cross is shorter. Who do you think would be taller. I think cross looks 4'10 next to 5'0 alexa bliss

Editor Rob
Cross might be sub 5ft
Christian 6'5 3/8"
said on 6/Oct/20
@Julian
Maybe 5'9" for Andrade and 5'10"-ish for Garza.
6'3 Julian
said on 5/Oct/20
@Christian if you ran the site how would you list Garza and Andrade?
Christian 6'5 3/8"
said on 3/Oct/20
Asuka warrants a page more than ever now.
6'3 Julian
said on 3/Oct/20
@Rob
How tall is Asuka next to Zelina in their Clash of Champions match? Looks 3.5-4 inches

Editor Rob
5ft 2.5 could be figure I give her.
Bensim1993
said on 29/Sep/20
There's a photo of Charlotte, Ric and Andrade and they all look the same height as 5ft 9 both Ric and Charlotte are 5ft 9 and Andrade looks spot on the same height
6'3 Julian
said on 21/Sep/20
He's been listed 5'11 before, one site even has him at 6'0 (that site is very untrustworthy with height, it's said Edge has only ever been 6'2 while also saying Christian is 6'2). I think Garza is 5'9.5 or 5'10
Christian 6'5 3/8"
said on 20/Sep/20
@Julian
I wonder what Garza's pre-WWE listing was. Whatever it was, I'm pretty sure it was more than just 5'9".
6'3 Julian
said on 18/Sep/20
Yes. Similar characters
Christian 6'5 3/8"
said on 16/Sep/20
@Julian
I think you mean Guerrero in his "Latino Heat" heel run during WWF Attitude Era?
6'3 Julian
said on 15/Sep/20
They said the average height Garza was shorter than he really is because his character is like the shorter than average Guerrero. Hope this clears it all up
6'3 Julian
said on 14/Sep/20
No, only Garza is underbilled
6'3 Julian
said on 14/Sep/20
No, only Garza is underbilled
Christian 6'5 3/8"
said on 14/Sep/20
@Julian
Doesn't make sense. Garza is supposed to be a playboy ladies' man heel character, not an underdog babyface.
Leesheff85
said on 14/Sep/20
Julian,Eddie Guerrero was not underbilled he was listed 5ft 8 and I dont think he even looked that tall.
6'3 Julian
said on 13/Sep/20
Similar persona to Guerrero, who was short for a wrestler. So they underbilled him to fit that character better maybe?
Christian 6'5 3/8"
said on 12/Sep/20
@Julian
Eddie Guerrero style? I don't get why Garza was underbilled either.
6'3 Julian
said on 10/Sep/20
I'd have gone for 4'11 for her, 5'9 for Andrade and 5'10 for Garza, he edges out Andrade and they might have under billed him to fit his Eddie Guerrero style character
Gobgghbfffcnkj
said on 28/Jul/20
The 4'6 top rope is halfway up her head. Damn right she's under 5 foot
Estim8r
said on 2/Jul/20
Imma mess with people by guessing 7'4
Christian 6'5 3/8"
said on 16/Apr/20
@HEIGHTAN
Beach photos are the worst, because the ground is very uneven. Andrade's clearly taller than Charlotte, but I highly doubt Charlotte's the 5'9" she's listed at. More like 5'8"-ish.
Click Here
Click Here
Click Here
Linke
said on 10/Dec/19
Rob, would you consider adding her ex-fiancee Austin Aries? He is a former World champion in his own right (albeit in TNA). He recently made an interesting claim as being smidge under 5'8", which seems very honest. He claims that height around 1:04:45
Click Here
I can totally see him being 5'7.75 barefeet.

Editor Rob
It matches up with another quote from him. I think it seems reasonably honest.
HEIGHTAN
said on 17/Aug/19
My guess for Andrade is 5'9". And one would think WWE would bill him at 6 foot. Andrade appears about the same height as Charlotte in photos barefoot on beach or working out wearing sneakers. Also fits my guess for Zelina as she is just below his shoulders. She is 4'10 tops
Kavi Singh Gill
said on 9/Aug/19
Does anyone know Andrade's real height? I've seen lots of comments here saying 5'9.75 but someone that height in WWE would be billed at at least 5'11 or 6'. WWE rarely, if ever, bills their superstars lower than their real height.
ADD
said on 15/Jan/19
Andrade looks way bigger than 5'9
Nik
said on 4/Jan/19
On some sites her billed height is said to be 5'1"!
Christian 6'5 3/8"
said on 26/Dec/18
@Michael
She looks easily 11 inches shorter than 5'9" Andrade. I'd give her 4'10" max.
Michael Allen
said on 25/Dec/18
I'm thinking even 4'11 might be a bit generous. I was watching her in the ring at the Evolution PPV, and I know that the top rope for WWE rings is set at 5', and she was clearly SEVERAL inches below that.
I'm guessing 4'9".
Ali
said on 14/Dec/18
@Christian 6'5 3/8 I understand what you are saying, what I believe is Andrade can look 5'9 to 5'9.75. Of course the best we will ever tell would have to be him having a clear stand down with someone like Seth or Rob himself.
Christian 6'5 3/8"
said on 10/Dec/18
@Ali
A legit 5'9.75" guy wouldn't ever be billed by WWE at 5'9". WWE would never undermine their wrestler's height. The only exception was Billy Gunn but that's about it. Plus that pic with Mcintyre is bad, since Andrade has a big camera advantage.
Ali
said on 9/Dec/18
@Christian 6'5 3/8"
Andrade when he first came in to NXT was billed at 5'11 but has since been billed 5'9. To me he looks more a weak 5'10 or 5'9.75. Look at him in front of almost 6'5 or 6'4.5 Drew McIntyre
Click Here
If he were shorter than 5'9 he would more dwarfed and towered over. In my opinion he falls in the 5'9 - 5'10 category.
Christian 6'5 3/8"
said on 6/Dec/18
Looks more 4'10" next to 5'9" billed Andrade Cien Almas, and that's assuming he's as tall as billed
Click Here
Ali
said on 4/Dec/18
Assuming Zelina is a weak 5'0, I'd say 4'10'75, how tall does that make her husband NXT superstar Aleister Black? Black is listed as 6'1 and has claimed to be 6'0 in interviews. He seemsholds good posture when in front of obvous 6'1 - 6'2+ guys like Triple H and Lars Sullivan;
Click Here
Click Here
Here in this video, Zelina makes Black look like giant especially at 04:16
Click Here
I'd say a weaker 6'0, like most people who claim to be 6'0, so more in the 5'11 range. He has a slim frame and always maintains good posture when standing. I'd say we will have to wait until joins the main roster and see him in front of the likes of Seth Rollins, Dean Ambrose etc
But yeah for now I'd estimate 5'11 for Aleister Black. What would you say Rob? Anyone?

Editor Rob
5ft 11.5 isn't impossible for Black, he does look to have a considerable advantage over Zelina who is really 4ft 11 at most.
Cliff
said on 22/Nov/18
She looks no more than 4'10."
LDS
said on 1/Nov/18
Got to agree with the last comment. I don't know how tall she is exactly but she's deffo not 4 ft 11. This isn't great for guessing her height as you can't see footwear and the angles not great but it's good for giving you an idea just how tiny she is. She makes Peyton Royce look like a giant.
Click Here
HEIGHTAN
said on 20/Oct/18
She made 5'1 Candice lerae look tall. 4'9 at the most.
Cody
said on 16/May/18
I don't know about 4'11". She may be a few inches shorter than that. Remember the top rope is 4 1/2 feet tall. I don't think she looks 5 inches taller than the top rope.
Eb
said on 20/Mar/18
Big fan of her's, and not against her having a page, but there's a lot of bigger wwe stars that still need pages. Samoa joe, Rusev, Sasha, Bray, and The New Day just to name a few
AJSherick
said on 17/Feb/18
I really never thought Aries was over 5'7 and at times closer to 5'6, especially when next to Bryan Danielson.
Ali
said on 17/Feb/18
Hello Rob,
Nice addition, I must say if she is barely 5'0 herself how tall is Andrade Cien Almas? She makes him look like a giant and he is has been listed 5'9 to 5'11, and he can look that at times especially with her. What would you say Rob? Anyone?
Click Here

Editor Rob
he can seem a big head taller than her, so at least 5ft 9 maybe more.
littlesue
said on 16/Feb/18
little Sue - looks about that, look at the size of the shoes!! about 4 sizes too big, lol
heightchecker34
said on 15/Feb/18
I don't watch NXT, so I have no idea, I am just going by random pics. How tall do you think her fiance and wrestler Austin Aries is? He towers over her, so probably in the weak 5'7.5 range. He looks around half and inch taller than 5'6.5 Neville, because Neville looked similar to Jon Stewart.

Editor Rob
5ft 8 isn't impossible.