Velvet Sky's Height
5ft 5 (165.1 cm)
Jamie Lynn Szantyr is an American wrestler who wrestles in the TNA. On her
twitter
she said
"5'5" 125"
. In this photo she had about 1/2 inch more footwear than me.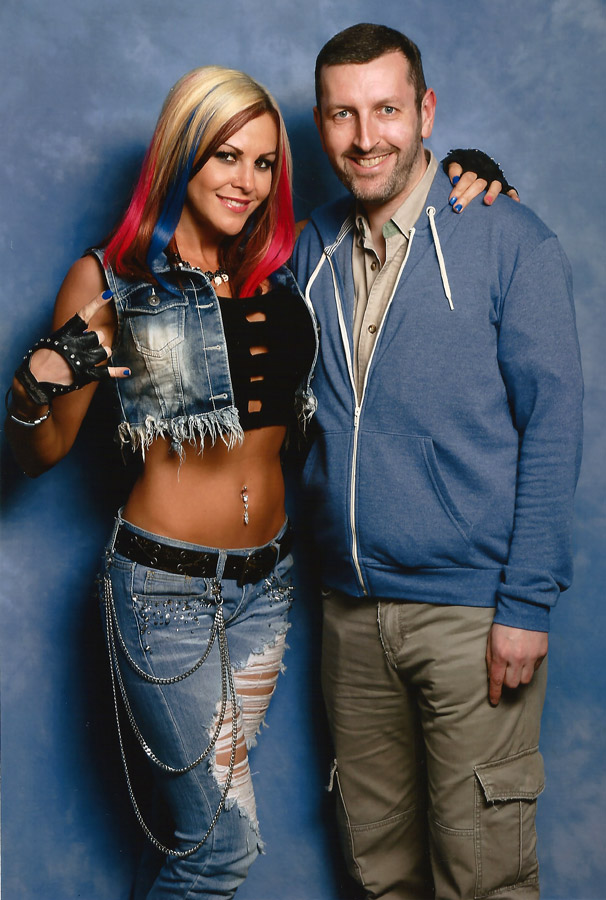 5ft 8 Rob and Velvet @ Collectormania 2015
How tall are you? You always look taller than the fans in your photos.
5'5". I'm always wearing super high heels is why.
You May Be Interested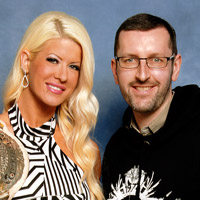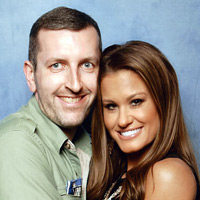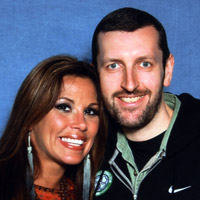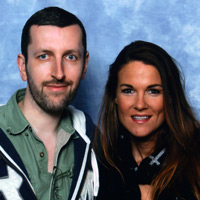 Add a Comment
23 comments
Average Guess (14 Votes)
5ft 4.98in (165.1cm)
Christian 6'5 3/8"
said on 4/Apr/21
@Chaos
What does Velvet's case have to do with Attitude Era though? She was never even in WWE/WWF. You'd be surprised at how many wrestlers (especially wrestlers who originated from the indies) choose their own ring names, though in Velvet's case, her name was changed after she joined TNA (not sure how much of it was her own decision). But she wrestled as "Talia Doll" in the indies, which sounds just as porn-esque.
Chaos Control 6'2.5
said on 12/Mar/21
5'5 is easily believable
Chaos Control 6'2.5
said on 19/Feb/21
The adult actress type names are cause of out of touch Attitude Era promoters
Christian 6'5 3/8"
said on 7/Dec/20
Tbh, most female wrestlers have adult actress sounding names for some reason.
6'3 Julian
said on 18/Aug/20
Yall saying she looks like a porn star, she's a wrestler, not a "wrestler"
Miss Sandy Cowell
said on 13/Jul/20
Ha ha! I've seen a doll for sale online with hair with the same colour scheme as Velvet's. I haven't bought one yet, but if I do, at least I'll know what to call her!
5ft5 😁👍💐
Jammes
said on 5/Oct/19
What about April Hunter? She was in WCW and has teamed up with Velvet in the Indie circut some sources list her as 5'9- 5'10
Some sources list her as 5'9 and 5'10
Next Velvet she looks close in height and even on her instagram page she doesn't look very tall
Here is a pic of her with Velvet
Click Here
Here is a pic with her as Chyna(5'9) who appears taller I'm getitng a 5'6 maybe 5'7 impression
Click Here
I know shes not the most famous wrestler by these pics we debunk the 5'9 and 5'10 claims right? I know shes a model too so she might hae to give herself a few extra inches

Editor Rob
On her own site she gives herself 5ft 8, so above that is impossible. 5ft 7-8 is likely
mohammad
said on 25/Jan/19
Her height is 5'5" , her weight is 108 pounds
Nik
said on 21/Jul/18
I think the average vote reflects the fact that Velvet Sky is a convincing 5 ft 5 er!
Nik
said on 10/Jun/18
I don't think that this delightful random celeb is anything under her listing! Boy, I like her hair!
Dream(5'9.5
said on 15/May/18
The sad part is this: I, too, almost mistook Velvet for a pornstar.
:P
Boba Fett
said on 22/Apr/18
Lol, I was reading the comments, and some people were saying that Velvet looks like a pornstar. She kinda does, not that I'm complaining though! As for her height, 5'5" is a good listing, she's definitely in the average range.
Connor Simpson
said on 22/Jan/18
@Arch Stanton yes she sure does have that naughty look to her she's hot :P she looks 5ft 5
Tarinator 6'1.75
said on 18/Jan/18
Looks 166 cm range to claim a weak 5'6".
Nik
said on 8/Nov/17
@ Sandy Cowell - Hi!
I have seen her pop up as a random celeb and she is certainly a nice young lady with eye-catching hair!
5'5" is about right for Velvet, and boy I like her name!
Cheers!
Sandy Cowell
said on 12/Oct/17
Velvet came up as a 'Random Celeb' and I couldn't ignore a girl with such eye-catching hair!
Having just read some of the comments below, I see that the boys think she's eye-catching for a different reason! Oooooh! You naughty lot!
Well if Rob says she's a wrestler, then I'm sticking to that! I don't know whether she has any side-line jobs, but I am sure she'd be flattered that guys find her super-sexy, sexy enough to star in X-rated movies! Rob doesn't seem at all unhappy to have met her! Quite the opposite, in fact!
This blonde, with red, blue and brown bits thrown in, gets 5ft5 with a nice bunch of flowers thrown in! 💐
even
said on 17/Jul/17
5'5" exactly . i think shes 120 pounds
Aza
said on 7/Feb/16
Suits you Sir! Oh and yeah....good listing Rob!
Sam
said on 30/Jun/15
Yeah, looking at the photo there's nothing to disabuse me of that thinking, only Rob's description!
Arch Stanton
said on 30/Jun/15
@Sam, I'd thought the very same thing LOL, and in looking at her I'm not exactly thinking otherwise. She looks naughty ;-) Could be 166cm.
Modeus
said on 29/Jun/15
Sam says on 29/Jun/15
Not a wrestling follower, so I was feeling reasonable sure Velvet Sky was a porn-star name!
thanks for today laugh,Sam.
Sam
said on 29/Jun/15
Not a wrestling follower, so I was feeling reasonable sure Velvet Sky was a porn-star name!
Jay
said on 28/Jun/15
Finally got Velvet Sky.