Amy Dumas Height
5ft 5 (165.1 cm)
American former Wrestling Diva 'Lita'. On her website she has her height/weight listed as 5ft 7/135 pounds, although in person she didn't look that tall.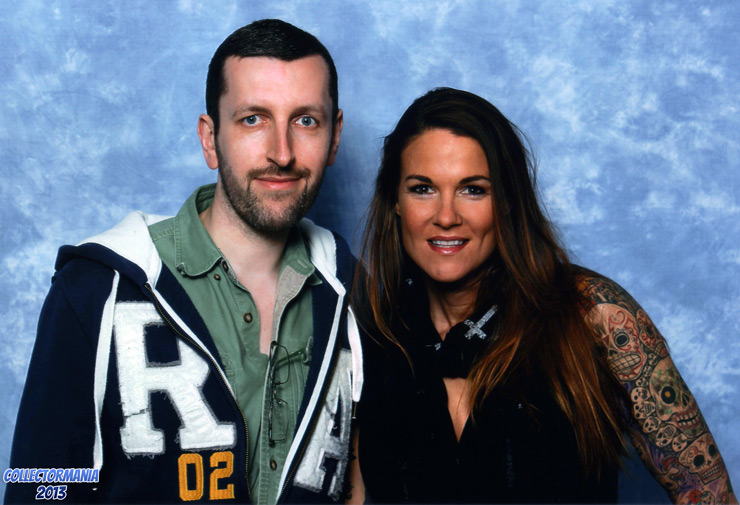 5ft 8 Rob and Amy @ Collectormania 2013
You May Be Interested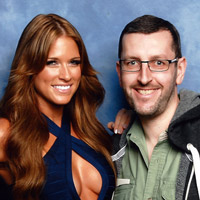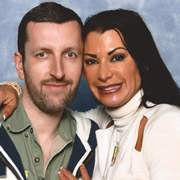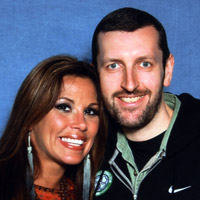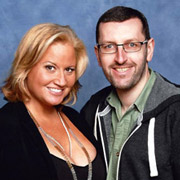 Add a Comment
48 comments
Average Guess (38 Votes)
5ft 5.28in (165.8cm)
Christian 6'5 3/8"
said on 4/Apr/21
@Chaos
I don't think she'd be anything over this TBH. 5'5" tops.
Chaos Control 6'2.5
said on 12/Mar/21
Wouldn't be under this
Estim8r
said on 2/Jul/20
I think a little over 5'6. Edge is 6'4 and Lita's a head shorter
Yang (5 footer 8, 173, Aries)
said on 20/May/20
5ft 5... nothing more.... She is also Aries actress like Kristen Jaymes Stewart & Emma Charlotte Duerre Watson.
Nik
said on 31/Jul/19
@ Monse - I-N-T-E-R-E-S-T-I-N-G!
Nik
said on 7/Jul/19
R-A-N-D-O-M C-E-L-E-B!
Average vote = 5'4..96" (25 votes!)!
Nik
said on 19/May/19
Over 5'5" but under 5'7"!
The Ben
said on 29/Apr/19
Me at 6'025 and Lita. She was stunning in person, loved my t-shirt.
Click Here
The Ben
said on 29/Apr/19
6'2.5 Bren and Lita
Click Here
Jancys
said on 3/Mar/19
She is for 3 inches taller than Trish. 5ft 5.
Nik
said on 20/Dec/18
She can pull off 5'5", no problemo!
Jordan87
said on 17/Dec/18
Never thought she was this short.
michael loughrie
said on 3/Dec/18
If her head lines up with your eyes, she is probably 5' 4".
Nik
said on 9/Sep/18
5'5" sure is liable!
khaled taban
said on 5/Aug/18
She looks around 5'4.75" mark not 5'5" !
Nik
said on 28/Jan/18
I am happy to offer Amy Dumas at least 5'5" and possibly a little bit of change!
JJStyles
said on 14/Jan/18
Rob do you know how much she weighs now?

Editor Rob
Possibly near 135-138 pounds, but I don't know what she claimed.
Boba Fett
said on 9/Dec/17
Thought Lita was 5'7" at first, but 5'5" sounds more accurate now that I think about it, don't remember her looking very tall, she always looked somewhat average in height. She's still a legend and one of my favourites though.
eminmim
said on 29/Aug/17
Rob why does she look 5'4 at the most in the pic with you?

Editor Rob
there's always potential for people to look below/above their height. I don't think she looked as short as 5ft 4-4.5, but more near 5ft 5.
Colberto
said on 18/Aug/17
Hey rob what do you see her peak being and the amount of height lost. I see her only being the 5'4 1/2" range in that picture.

Editor Rob
I don't know if she had lost any height when I met her, but I feel about 5ft 5 is ok...I doubt she is really under it by anything noticeable.
dicksock
said on 2/Jul/17
She is definitely 5'4" with Rob. He has a clear 4" on her.

Editor Rob
I wouldn't have thought less than 5ft 5 for Amy.
World Citizen
said on 26/May/17
Great listing.
Colberto
said on 19/May/17
Hey rob do you think she shrunk at 41 also what do you think is the best for her
A 167.5 165.5
B 167 165
C 166.5 164.5
D 166 164

Editor Rob
I'd stick with B...this was when she was late 30's, I would say she probably didn't shrink much but I don't know what injuries she has had...those can certainly contribute to small fractions being lost.
anyonmious
said on 11/Jan/17
Her peak height may be 5'5". Her present height is around 5'4"
John
said on 29/Apr/16
I knew it, she was way over billed, 2+inches is ridiculous
Dom
said on 31/Aug/14
For example, here she looks about 1 to 1,5 inch shorer than 5'8" Stephanie Mcmahon and a good 4 inches taller than 5'3" (listed here) Trish Stratus
Click Here
Dom
said on 9/Aug/14
She doesw look about 5'7 compared to every wrestler I've seen her with but here she does look much shorter, maybe she had really poor posture there

Editor Rob
she is nearer 5ft 5 than 7 in person.
Monse
said on 30/Jun/14
I think she's 5'7
IR
said on 22/Feb/14
Stephanie McMahon 5 ft 8 in ( 173 cm )
Lorne
said on 18/Feb/14
I used to think Stephanie was 5'8, but I am recently thinking she 's more 5'7. I mean with heels giving no less than 3 inches, she didn't look over 5'10or 5'10.5 Mac, with 188cm HHH who was wearing regular dress shoes. I just struggle to see the full 5'8, maybe 171-172, though she really does look 173 at times, actually I used to think her billed height of "5ft8.5" wasn't far off!!!
Dom
said on 2/Nov/13
Also in this vid, Lita and 5'8 to 5'9 Stephanie McMahon looks 1,5" inches (maximum) taller than Lita and they're both standing straight in flat shoes. Look around 2:55
Click Here
Alex 6ft 0 1/8
said on 30/Oct/13
This throws out her 5'7 listings for sure! Rob has over 3 inches on her. Looks a bit under 5'5 here. 5'4.5-5'4.75

Editor Rob
I did think about 5ft 5 was fair for her, she is a fit women in person! Wouldn't want to upset her by knocking more than 2inches from her ;)
Dom
said on 9/Oct/13
Also she looks about 2 inches shorter than Chyna who's listed at 5'10 here
Dom
said on 9/Oct/13
Hmm that's weird, she's always looked taller than Trish even when she was in flats and trish in heels and here she is with Kelly Kelly who looks a solid 5'5 or more next to Rob and she is clearly taller than her
Click Here
Sarah
said on 10/Sep/13
im 5ft 4 and a half and i was photographed with amy at this event. she is only slightly taller than me so im guessing 5 ft 6
Kyuss
said on 21/Jul/13
Those wrestlers are ssssssssoooooooooooo fibbers on height! lol.
J.Lee
said on 15/Jul/13
Rob why does she seem more than 3 inches shorter?

Editor Rob
I think she's dropped a little more height, I wouldn't say she looked any less than 5ft 5.
Shelly
said on 3/Jul/13
5' 7" is laughable as she looks nowhere near that. She looks more about 5' 4.5".
legit177cm
said on 28/Jun/13
Rob based on this picture you have more than 3 inches on her. her eyes meet your lips

Editor Rob
I think there's a bit more than 3 inches in that photo, but I think maybe losing a cm of height, I don't think she looked less than 5ft 5.
Ras
said on 25/Jun/13
I dunno, I think 5'4 is possible.
linke
said on 23/Jun/13
Rob now that lita's being 5'5, would you consider downgrading trish at 5'3.

Editor Rob
yeah that's probably a better figure
Isaiah
said on 23/Jun/13
@IR
Rob is a legit 5'8 barefoot and if lita was even 5'7 she'd look nearly the same height but here she doesn't!
IR
said on 13/Jun/13
I always believed Lita (Amy Dumas) was 5' 7", she was always listed as being that tall, along with 5' 7" Maria Kanellis.
tony t.
said on 10/Jun/13
I've seen her in person after a raw event and she is indeed shorter than her billed height. I am 5'10.75 and was wearing skechers boots and she looked a lot shorter than I thought she'd be.
Mark
said on 9/Jun/13
Wow! the truth! for years she was listed on WWE articles as 5'8!! i knew WWE exaggerated their wrestlers heights, but damn! she looks rather small in comparison with you Rob.

Editor Rob
5ft 8 in heels she might be, but never barefoot!
sid
said on 7/Jun/13
Looks like she lied about her height
Peyman - 6ft
said on 6/Jun/13
I thought she is 5ft 6in, but she's even struggling to look a solid 5ft 5in
I'm pretty sure that she is at least two inches taller than trish stratus.
also it'd make edge 6ft 2-3in at the absolute max.
lita: 5ft 5in
trish: 5ft 3in
torrie wilson: 5ft 8in ( obviously no more )
stacy keibler: 5ft 10in ( obviously no more )
tiny
said on 6/Jun/13
U are right Rob, she is not more than 5'5" but she weighs much more than 135 lbs, more in the 150 - 155 lb range

Editor Rob
I don't think she's over 130-5 range, certainly didn't look a 150-155 range (my weight ;) )