Barbie Blank's Height
5ft 4 ½ (163.8 cm)
Barbie Blank is an American model and WWE wrestler, also known as Kelly Kelly. She says she is 5ft 5 tall. In this photo I had an inch sneaker, whilst Kelly had heels that gave her over
4 inches of height
.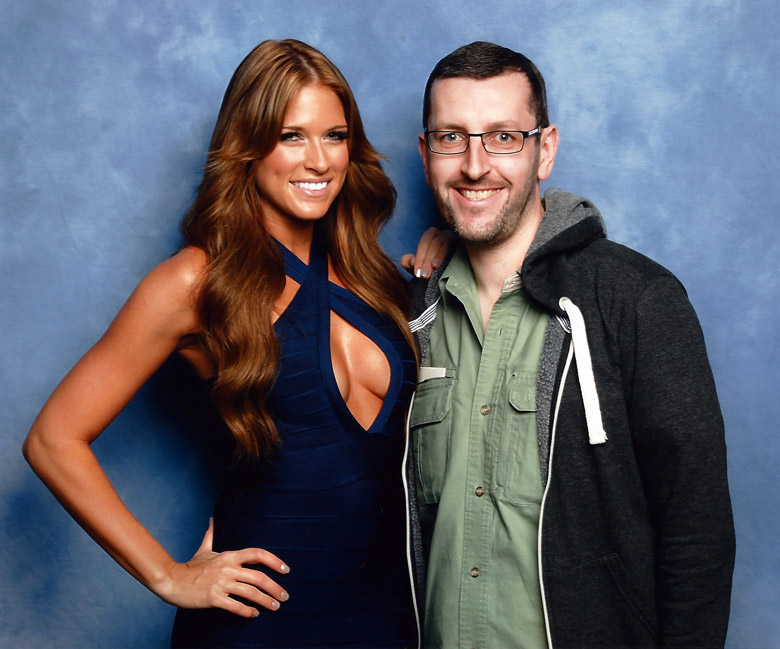 5ft 8 Rob and Barbie @ LFCC 2014
You May Be Interested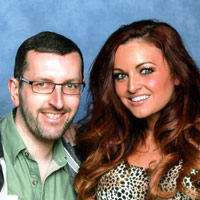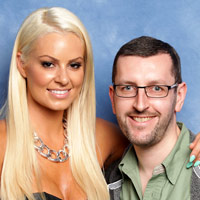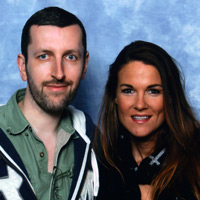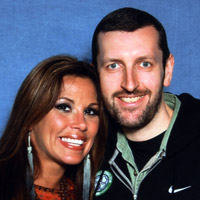 Add a Comment
48 comments
Average Guess (39 Votes)
5ft 4.6in (164.1cm)
heyyyyyyyy
said on 29/Mar/21
5'5"
Chaos Control 6'2.5
said on 12/Mar/21
I remember her billed height as 5'4
Sneha Pahadi
said on 20/Jan/21
She is 5'5 which is taller end of average.
J2Frenzy
said on 20/Nov/20
@Realist pretty sure a 7 inch heel is the size of an average woman's foot, not sure how she'd walk in those
Realist
said on 2/Nov/20
He seen her in person so Rob's guess is more accurate and I have seen a 5'7 woman who was almost 6'2 in GIGANTIC heels so anything his possible. 5'4.5 seems legit.
Halen 5'8
said on 18/Oct/20
@Rob
Im pretty sure you downgraded her to 5'4 1/4

Editor Rob
I left her back on 4.5 a while ago, I think against other wrestlers it's a figure she could measure.
6'3 Julian
said on 3/Sep/20
@Sandy Cowell you can't just leave us on a cliffhanger! Did the albino kid get away with murder or not?
Miss Sandy Cowell
said on 22/Aug/20
My boyfriend knew a little girl named Kelly Kelly. She was an albino child, and so cute that she got away with murder, figuratively speaking, of course!
Barbie, or Kelly Kelly, can have 5ft4.5. It would be only too easy to mistake her for more because we can't see her high-heeled shoes.
JohnMoore-162cm
said on 5/May/20
Good listing !
Daniel Alizadeh
said on 24/Dec/19
Beautiful lady
lovely model and a great wwe wrestler
5ft 5 to me
Nik
said on 13/Jun/19
@ Rommie - Not scary! 👻!
Tunman
said on 18/May/19
Is it me or you upgraded her by 1/4?Anyways I guess it's the max she could look since in you said 5'5 seemed impossible in view of her heels

Editor Rob
I settled on 4.75 mark, as I am not sure her foot was as big (in size) as I thought.

There can be a difference in a size 6 versus 8 wearing the same heel, like 0.2 inch or so.
Johan 185 cm
said on 8/Apr/19
Rommie said on 19/Mar/19
Gosh a 5'8 guy is still not enough for a 5'4 woman in heels. That is scary af tbh.
If the girl wants to break her neck sure :p Those heels are insane she will have crippling pain in 10 years. Good listing Rob.
Rommie
said on 19/Mar/19
Gosh a 5'8 guy is still not enough for a 5'4 woman in heels. That is scary af tbh.
Jancys
said on 3/Mar/19
I think she is taller than just 5ft 4. She has beautiful long legs, and body like supermodel. On this picture with Trish Stratus (5ft 2 and half), Kelly looks for 3 inches taller. 5ft 6 for Kelly!
Click Here
Anoynon
said on 13/Dec/18
how the f*%k do women wear heels like that?
khaled taban
said on 5/Aug/18
I'd give her 5'4.5"
alexa oblea bliss
said on 21/Oct/17
she is 5'6 any half
even
said on 25/Jul/17
height : 5'4.5" , weight : must be around 120 pounds .
VR
said on 10/Jul/17
When she first started, I thought she was like 5'11. Long legs and long hair probably helps her immensely.
Nik
said on 8/Jul/17
I think that she may be 5'4.5" and rounding up! She could be slightly above this at tops although I doubt that she is as high as 5'4.75"!
I like both her names.
Mimi
said on 2/Jul/17
Rob this guy beside you is 6ft3 right?
Click Here

Editor Rob
I've not measured managed to do a final measurement on big D.

He had claimed 6ft 5 at one point...in the height challenge he was near to 6ft 3.5.

He might measure 6ft 4 though now.
Sarah
said on 24/Mar/17
163 range
I thought she was 5'6"+
berta
said on 13/Feb/17
those women wrestelrs are really good looking. she have very good hearted looking eyes. looks like wife material. her proportions looks like someone that isaround 163-164

Editor Rob
berta, she certainly takes care of appearance and was walking gingerly that day, no wonder, these heels are ankle breakers...
anyonmious
said on 24/Nov/16
I think 5'5" is an exaggeration. She is more like 5'3".
truly
said on 2/Nov/16
Rob if she has 3 inches more footwear than you, does that mean her heels gives bout 4 inches?

Editor Rob
well I have 1-inch sneaker, her heels were quite big, but just looking again at a photo of them I have underestimated them:
Click Here
.
Those won't give less than 4.5 inches and in fact they look higher like they'd give 4.75.
She was eye to eye with me...and with a real 5ft 5 1/8th measured girl
Click Here
- I was eye to eye with her that night...
Here are the girl's heels
Click Here
.
Kelly's heels are noticeably bigger, at least an inch.
for me, there's absolutely zero chance of Kelly at 5ft 5 looking at those heels again...
Pious Satan
said on 31/Jul/16
Seems spot on
heightchecker34
said on 20/Jul/16
No, 5'5 is spot on. She is of average height, and looks it with fellow 5'5 divas, The Bella Twins. Great wrestler, left the business to early in my opinion... but good person overall!
abhishek
said on 13/Jun/16
@rob does she have very long legs? she always used to enter the ring by stepping over the second rope, just like Stacy Keibler!

Editor Rob
I wouldn't have said they looked very long for her height.
Aza
said on 7/Feb/16
Rob you are one lucky guy! What a cracker! To be honest am looking at another possibly more important vital statistic!

Editor Rob
for me, it's always about height...but in some cases I'm willing to overlook that statistic.
Emil 182-183 cm
said on 20/Jun/15
@Rob
Maybe a hair taller than 5'5 flat? Looks a little taller than you with those heels

Editor Rob
I doubt it, I didn't think she was any taller, if anything more chance a fraction smaller as the photographer is standing on Barbie's side, and this can give her the photographic advantage.
Not that there's much really in that photo, her hair is a few mm thicker than mine so I can't see anything really...
Sometimes camera positions can change things, whether a small fraction or even a more significant amount...here's a still from celebheights photoshoots video. I've set the camera in a position so that for most of the video so that even though I'm closer for a good part, I don't actually appear taller. But at the end when I swap positions with Jenny you can see the difference
Click Here
.
Alex 6'0
said on 21/Jan/15
Looks at 5'5 if you take away the footwear advantage.
tony t.
said on 7/Jan/15
WWE always billed her as 5'6, but I ALWAYS knew she was 5'5.
Sam
said on 2/Jan/15
Her body does look pretty sweet but in the picture on Big Show's page, she looks better to me with more natural-looking blonde hair and less overdone tan.
Jack
said on 28/Aug/14
wow that smile, her hair, those eyes, the dress...it would be hard for me to concentrate on height
J.Lee
said on 30/May/14
Rob even though her eye is higher with heels, are you the same height in pic?

Editor Rob
I don't think there is even a difference, but remember what I said - the photographer is standing nearer her side, so it has more chance to add height on her side.
J.Lee
said on 9/May/14
Rob, can you draw a line to show top of your heads? Her eyes and chin look a little higher than yours.

Editor Rob
Here
. Women generally have a bit smaller eye-chin lengths than men.
CM Punk the GOD
said on 7/May/14
She isn't taller than 165. Don't you know that WWE adds 2-3 inches to every superstar ?
176,2Tunman
said on 12/Mar/14
Oh,please she's 5'5.She looks about the same as Rob and has 3" footwear advantage,she could still be a fracion over 5'5 like 5'5.25 depending whether her hair gives much or little advantage.
Other sites are not as reliable as Rob's,in some rare cases they might be in a fair enough range,but generally they aren't objective.

Editor Rob
in this photozone that day the photographer is on the celebrities side. It can sometimes add fractions.

Crash
said on 17/Feb/14
Connor WTF lol. Flat chested? Are we looking at the same image? Haha
Connor 184.5-185cm
said on 15/Feb/14
Gawd she is hot, a bit flat chested but really fit! Yeah she is bang on 5ft 5 id say, looks a wee tiny bit taller than rob with the heels maybe by a mm or so.
Grottesca
said on 7/Jan/14
Sorry, but the WWE website doesn't exactly give the most accurate stats :P
Almost everyone's height is bumped up by at least a couple of inches.
Arch Stanton
said on 23/Dec/13
Doesn't look that short. Wow, she's knock out!!!
Jack
said on 4/Dec/13
Wow what a beauty
ian
said on 30/Nov/13
wwe lies about heights
Ted
said on 24/Nov/13
Rob looks almost TOO happy to be there, lol.
Btw, @The Barbie Blank - The WWE is well known for exaggerating the heights of its stars. So I'm not sure what good it'd do to visit their site.
thorterr
said on 8/Oct/13
5ft 5 spot on
The Barbie Blank
said on 26/Jun/13
Sorry but she is taller more than 165cm! To make sure visit WWE website.