American profession wrestler, singer and actress. In this photo I had 0.7 inch sneakers, whilst Maria had
These on
which gave her at least 4 inches of height. On her resume she listed herself as
"Height: 5'7, Weight: 125, Dress Size: 2/4, Shoe: 8"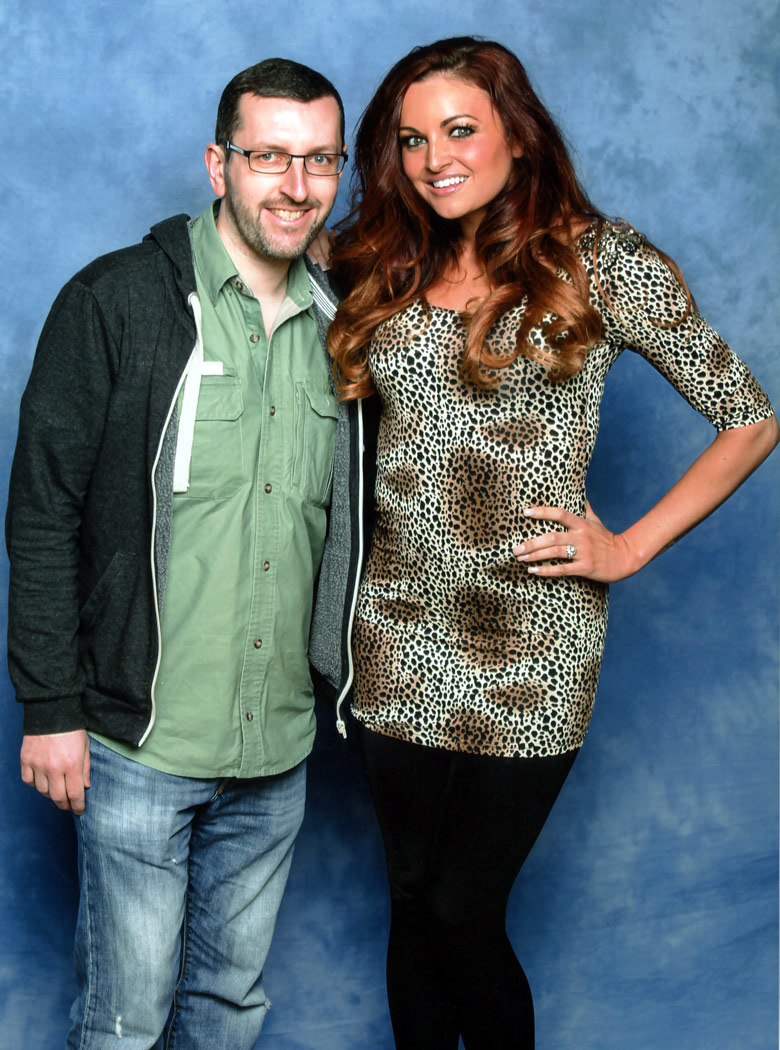 5ft 8 Rob and Maria (age 31) @ Collectormania, 2013
Arch Stanton
said on 13/Jul/21
6'3 Julian said on 24/Aug/20
I legit thought she was my high school art teacher, she does look similar. Also her listing is similar to my teacher's height. Suspiciously so...
I never had a teacher that hot! It would be offputting having a teacher who looks like this!
Chaos Control 6'2.5
said on 12/Mar/21
Massive footwear advantage and barely looks taller. 5'6
6'3 Julian
said on 24/Aug/20
I legit thought she was my high school art teacher, she does look similar. Also her listing is similar to my teacher's height. Suspiciously so...
Yang (5 footer 8, 173, Aries)
said on 31/May/20
5ft 6 more likely. This pic can be deceiving....
Nik Ashton
said on 30/May/20
1'54.5"!
JohnMoore-162cm
said on 27/May/20
Not 5ft6 1/2" , more like 5ft6 or 5ft6 1/4"
Ali
said on 14/Mar/20
Click Here
Mike Bennett, known as Mike Kanellis in WWE, looks at least 5'11 max besides Maria. Even when she is in some form of heels, he still manages to edge her out quite a bit.
Mike 5'11.5 max
Maria 5'6.5 max
Kavi Singh Gill
said on 21/Jul/19
Rob, how tall is Mike Kanellis? WWE bills him at 5'11"

Editor Rob
He's looked 5ft 11 to 6ft I feel in the past
Nik
said on 9/Jun/19
The average vote of 5'6.04" looks too low!
Divalovro
said on 27/Feb/19
170cm. That's my guess
Erik Madrigal
said on 7/Nov/18
In her wiki, she is now listed as being 5'8, in 173 in centimeters. But,not long ago she was listed as being 5'7. My guess is that she is 5'7 (170cm) She has always looked really tall in tv. Normally for a female as 5'7 of height does happen to be very tall.
Nik
said on 4/Jul/18
I am happy with this listing!
Anonymous
said on 17/Dec/17
Rob can add Candice michelle. I think she's 5'6

Editor Rob
wouldn't have guessed her that tall. I think at least 2 inches less than the billed height.
Intevel
said on 10/Dec/17
Rob, even though she's only 5 ft 6.5, would you say that with heels on she can appear on the taller side? I think she looks nice.

Editor Rob
ignoring heels, she looked from my perspective tall, but of course they are very big and boost her up quite a lot. It's hard walking in heels that give in the 4 inch range, many ladies have damaged their ankles because of extremely high heels.
Intevel
said on 8/Dec/17
Rob do you ever find it attractive when a girl puts on heels and is taller than you?

Editor Rob
it doesn't matter height. Heels certainly are favoured by many ladies as they like the look, the way they enhance the shape and definition in legs, plus gives a bit of extra height...and I'm sure a lot of men appreciate that too!

although for height purposes, it's easier guessing height with more equal footwear!

even
said on 18/Jul/17
5 foot 6 , about 150 pounds
Charlie
said on 10/Jul/17
Holy smokes shes tall. She looks 5'5.5 here. Still tall for a female. Most females average between 5'0 to 5'2 so she does stand out. Tall but very pretty though.
andre
said on 20/May/17
166cm barefoot
Engineer
said on 30/Jan/17
@Rob one aspect i do notice in the photo, she has really broad shoulders.

Editor Rob
it's something I never really noticed, probably accentuated a bit by arm sticking out...
EzioAuditore711
said on 11/Oct/16
How tall would you say Mike Bennett is?
EzioAuditore711
said on 21/Jan/16
Really doubt the 5'6.5" listing. 5'5" is what I'd guess.
J.Lee
said on 27/Mar/15
Rob, would she stand a little taller if her head wasn't tilted? She seems to be bending a little too

Editor Rob
she's standing no worse than me, look at me and think - does that look like I'm standing at 5ft 8?
Joe
said on 30/Dec/14
@Rob that's more than 3.25" heels buddy , try 4.5"

Editor Rob
yes, her heels look to give her about 4 inches of actual height, my sneakers are about 0.7 inch, hence the description saying 3.25 inches more.
Dannno
said on 21/Feb/14
Lucky Rob, yeah probably 5'6 to 5'7 and around 5'11 in heels
Patrick
said on 19/Feb/14
Or five inch heels at the very least.
Patrick
said on 19/Feb/14
Those heels look like six inches. I'd expect her to be much taller if she was legitimately 5'6 and a half. I reckon she's a good two inches shorter than the listed height here.
Balrog
said on 19/Feb/14
If those heels are 4.2'' and Rob had 0.7'' sneakers then she had 3.5'' of footwear advantage, she looks 1.5'' taller than you on the pic, so without the footwear advantage she would be 2in shorter than you, a solid 5'6'' lady, 169cm is fair but that is the max. 5'6'' - 5'6.5'' is her range.
Kourosh177cm
said on 14/Feb/14
she must be 5'11 with those big heels