Mickie James Height
5ft 2 (157.5 cm)
American Wrestler. In this convention photo I had an inch sneaker, Mickie about 3-inch heels. During her career she was billed as 5ft 4, although she mentioned on
Twitter
"actually I'm only 5'2" myself! Embrace it! Great things come in small packages."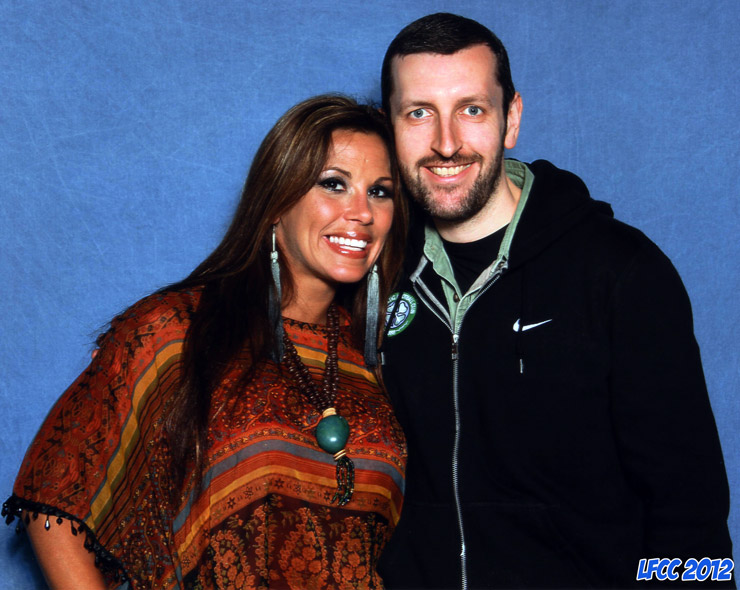 5ft 8 Rob and Mickie @ LFCC
You May Be Interested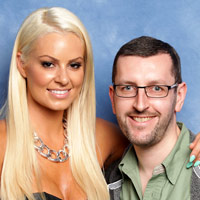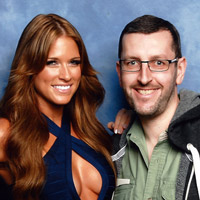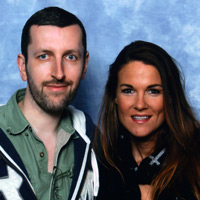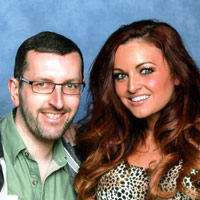 Add a Comment
25 comments
Average Guess (17 Votes)
5ft 1.74in (156.8cm)
Nik Ashton
said on 21/Apr/21
I've seen her described online as 5'4" and short!
Christian 6'5 3/8"
said on 4/Apr/21
I'm not getting the 5'1" flat guesses. 5'1.5" at the worst for her.
Chaos Control 6'2.5
said on 12/Mar/21
Barely 5'1.5
Hanov
said on 13/Jul/20
@Rob
She can pass like a very short woman, really she looks under 5'1" easily.
Look her entrances with Alexa Bliss, her proportions are short absolutely
Click Here

Editor Rob
she never had proportions to look 5ft 4, but generally looks 5ft 2 or as you say sometimes 5ft 1.
Hanov
said on 20/May/20
She needs a downgrade really and Alexa Bliss a upgrade
Preston Condra
said on 15/Aug/19
Mickie James is a flat 5 foot 2. She was about the same as Trish Stratus back in the days of 2006.
Sable can't be more than 5 foot 4.
Click Here
Watch around the 5:00 minute mark. Sable arched her ENTIRE face backwards when she gave that kiss to Torrie Wilson in that 2003 segment regarding Torrie's coming out party.
Sable was clearly shorter than Stephanie in their 2003 Vengeance match and if Stephanie is 5 foot 6 here. Sable's 5 foot 4 max.
Nik
said on 31/Jul/19
@ bot123 - 😂😂😂😂😂😂!
Nik
said on 26/Jun/19
The above photograph of Rob and Mickie James is a joy to see!
Nik
said on 9/Mar/19
I am sure that Mickie James is around the 5'2" mark!
R-A-N-D-O-M C-E-L-E-B!
Jancys
said on 3/Mar/19
How she claims like 5ft 4? She is one of the shortest divas in WWE. 5ft 1 for her.
Divalovro
said on 27/Feb/19
Glad someone is honest about height in wwe. 5ft2 seems legit. Trisha must be around the same then.
Jammes
said on 28/Jan/19
besides cena are there any wrestlers that are legit their billed height?
Nik
said on 2/Aug/18
I like her honesty and her comment above!
Theo
said on 6/Jun/17
Looked shorter than Dana Brooke last night. 5'1 seems more better, she's barely taller than Alexa Bliss.
pablo77bar(184cm)
said on 23/Dec/15
Wow,with you she is looking so aged
In WWE she looked a teenager
Kevin
said on 2/Dec/15
Met Mickie and while agree she's 5'2, her personality and charm takes over a room, probably my favorite female wresltler of all-time, she can be any height she wants...
Jay
said on 22/Dec/14
Nah she's atleast 5'2. Not much shorter than Trish.
bot123
said on 22/Jun/14
you have met like all the divas, you lucky dog. 5'2 max but maybe even 5'1.5.
Alex 6ft 0 1/8
said on 2/Nov/13
Rob, yea true since she claims 5'2 herself that rules out 5'3. My guess is she prob had more footwear than I thought which made me guess she was 5'2.5-5'3. That or my head is a good 10 inches
Alex 6ft 0 1/8
said on 30/Oct/13
Rob, this is the pic I took with Mickie 4 years ago. This was taken around 930-10am and I was up since like 7am so I was not at my low height yet. I was in the same sneakers I wore that day I met you. Nike reax that give 1-1.1 inches of height. She wasn't in heels. More like casual flats so prob about an inch of height. My guess for her was closer to 5'3 but I could be wrong.
Click Here

Editor Rob
I didn't think she was that tall, I stick with her own 5ft 2.
Mikey T
said on 27/Feb/13
Yeah she is 5'2" next to 5'10" Michelle McCool
Alex
said on 17/Sep/12
This is from my facebook page. I am in nike reax sneakers that give 1-1.1 inches of height so I'd be like 6'1.25 in them and she comes just above my chin. Her footwear looked more normal to me is why I thought she looked at least 5'2 and change.
Click Here
Alex
said on 17/Sep/12
Looked closer to 5'3 when I met her. She looked to have had flatter shoes on
Alex
said on 31/Aug/12
I met Mickie James as well back in late 2009. Very sweet person. She was more in flat type casual shoes and my guess was 5'2-5'3 range. I got the picture and I can post it on here.
Vegas
said on 2/Aug/12
rob did you meet wrestler magnus at that show too (former gladiators star oblivion) and if so how tall did you estimate him??
when i met mickie in person she was wearing big heels as well, i thought 5'2 range without at the time, alex met her with normal footwear

Editor Rob
I should have got a pic but my money situation wasn't good, so missed a few like him I eould have got. I did see him and he looked tall enough to claim six three