Ziggy Marley's Height
5ft 9 (175.3 cm)
Jamaican Singer, son of Bob Marley. He said once "5ft 9, not sure really" about his height.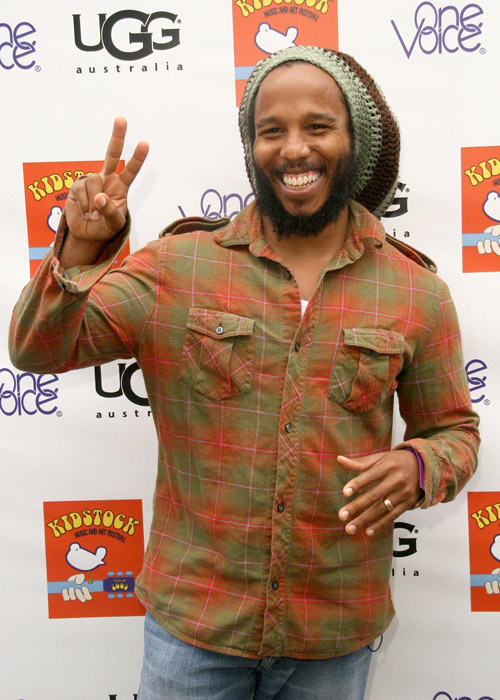 Photo by s_buckley/BigStock.com
Add a Comment
30 comments
Average Guess (2 Votes)
5ft 9in (175.3cm)
Miss Sandy Cowell
said on 17/Oct/19
🎧🎂🎶🎈 Happy Birthday Ziggy! 🎈🎶🎂🎧
A very Happy Birthday to Ziggy Marley, who turns 51 today. 🕯️🎉
I don't think he's overly concerned about his height, but if Rob thinks he's 5ft9, then so do I! 😁👍
🎉🕯️🎂🎶🎉🕯️🎂🎶🎉🕯️🎂🎶🎉🕯️🎂🎶
diavolo
said on 19/Oct/14
Bob Marley was usually put at 5'7", but I saw him described as short as 5'4".
Dr. Russell
said on 12/Oct/14
Why don't you have a page for Bob Marley, Rob?
guyfrommars
said on 15/Aug/11
I always thought Bob Marley was around 5'7", but someone on this site mentioned he was only 5'4". I don't know.
ans vandenbooren
said on 15/Feb/11
was bob marley 1m72 of 2 of 3 cm hoger
Brad
said on 10/Jan/11
5' 7" for Ziggy. Saw Bob in '76 in a club off 15th Street in Denver, he was a shrimp. The Wailers had lots of missing teeth. Rita was a cutie. He knew my nanny back in the early 60's.
Mark D.
said on 30/May/09
Ziggy looks a lot shorter than 5'9" in his videos. I'd never guess he was even 5'6".
guyfrommars
said on 8/Mar/09
Bob Marley was 5ft4? I've thought he was 5ft7, but of course that could be an exaggeration, like when Paul and George from The Beatles were descired 6ft tall in the '60s.
Big King
said on 6/Nov/08
Peter Tosh could be almost 6'4" and he looks huge because Jamaicans aren't really tall. Also if Ziggy Marley is at least 5'9". He's not above average human height.
Big King
said on 11/Sep/08
Both, Ziggy and Damien Marley are 5'9 1/2" in my opinion!
Anon2008
said on 9/May/08
Where the **** is Bob Marley's entry? No entry no cry.
Rasta
said on 16/Mar/08
Corrected version:
Ziggy Marley: 5'9"
Damien Marley: 5'9"
Bob Marley: 5'4"
Jimmy Cliff: 5'5"
Peter Tosh: 6'5"
glenn
said on 22/Aug/07
thats pretty accurate jon.
Joe T.
said on 21/Aug/07
It's funny, I always thought of Bob Marley as being tall. On the cover pic for "Legend", his hand -- which he's holding up to his face -- looks so big.
jon
said on 17/Mar/07
add the other ones too
ziggy - 5'10
damien - 5'9.5
ky-mani - 5'9.5
stephen - 5'8.5
julian - 6'1 (at least)
bob - 5'4
joe
said on 16/Mar/07
julian is WAY over 5'11 maybe 6'1
joe
said on 16/Mar/07
whoa this can't be right.... I just watched some youtube and clearly ziggy is about 5'10 and stephen is 5'8 or something... (if I have not mixed the brothers up) and damien is too 5'10 and ,well, ky-mani looks 5'10 too and Julian is over 5'11...
Anthony
said on 20/Jan/07
As for Bob's height, here's an interesting tidbit from the book "Spirit Dancer" photo book (great book):
"Marley's personal magnetism fairly pulsates within the frames of Talamon's shots, disclosing Bob's deep curiosity for the fans he met on his travels, as well as as the radiant charisma that often left journalists and acquaintances mistakenly recalling him as a tall man (in reality Marley stood several inches shy of six feet).
I'd say give Bob 5'5.5-5'6.
Anthony
said on 14/Dec/06
Ziggy and Damien both look 5'9 or 5'10. I read there brother Stephen is over 6'.
5'6 max for Bob IMO. I love Bob, he should be listed. I'm listening to "Get Up, Stand Up" right now.
Brad
said on 5/Nov/06
Saw Bob up close in '78 & '80 in concert. 5' 6" is about it. Small mon. I still have the LP our Jamaican nanny left in '67, a various artists album with The Wailers on it. Bob looks soooo young. Wish I could find their local Jamaican 45's from the mid sixties.
Chris
said on 28/Sep/06
The wailers. Peter Tosh to the right is 6'4'', then Bob Marley must have been 5'6''-5'7''.
Click Here
J.
said on 7/Sep/06
A 1994 Sporting News story on son Rohan Marley's tenture as a linebacker for the University of Miami, described him as (then) 5'8" and 205 lbs. So it seems he's in the same height range as bros Ziggy and Damien?
Glenn
said on 5/Sep/06
One of the biggest shocks for me at how small he was.
Anonymous
said on 4/Sep/06
Bob really looks like 5'4 - max. 5'7 on many pictures. For example this one:
Click Here
leonari
said on 3/Jul/06
ROB: what is your guess on BOB Marley??? 5'5" ???
Anonymous
said on 29/Jun/06
I have read that he was 5'4 in a book ("Catch A Fire" by Timothy White) and in a couple of articles. Looking at his pictures I can believe it. Almost all his women, except his wife Rita, were taller than him.
Glenn
said on 19/Jun/06
I have the photo with Ziggy.Ziggy and Daminen are both 5-9.maybe 5-9.5.my guess was Marley was 5-8.5-5 makes sense.I saw a photo of him signing for fans where he looked short.Jimmy Cliff is 5-5 too.
Grim
said on 16/Jun/06
Someone should look into how tall Peter Tosh was, as he clearly towers over both Bob and Bunny Wailer. He's atleast in the 6 ft 4 in - 6 ft 4
TheJerk
said on 7/Mar/06
Um... dunno about Ziggy. Looks quite average- but his dad Bob WAS short. He was 5'5 I remember reading that about him a while back. He does look short in his performances.
J.
said on 16/Jun/05
I saw Ziggy in concert back in the early 1990s. Hmm ... thinking back, yeah, I guess he was average height. The dreads and the thick shoes make him look bigger. As far as his old man's height, it's tricky. There was one fansite that listed him as 6'3" (an example of unrealistic celebrity worship) but there's this intresting comment concerning his height:
http://www.bobmarleymagazine.com/interviews/cumbo.htm
Actually Bob was "fine" but I was more attracted to Peter. When I went to Bob's house for the first time in august of 1975 with my friend Herbie Miller (who was a friend of Bob's and later Tosh's manager), he (Herbie) told me that either he or someone in the house asked Bob why he did not "hit" on me (make a pass for me). Bob told him that I was too tall!! Ha ha ha. That is true because I am 5 ft 10 inches tall!
The comment is vague concering Bob's height yet it pretty much confirms that he is under the 5'10" mark ...