Goldie's Height
5ft 9 ½ (176.5 cm)
British Actor and Musician best known for roles in films such as Snatch and The World is not Enough. On his Spotlight casting page, his details were mentioned as:
"Height: 5'11" (180cm), Weight: 14st. 1lb. (89kg)"
.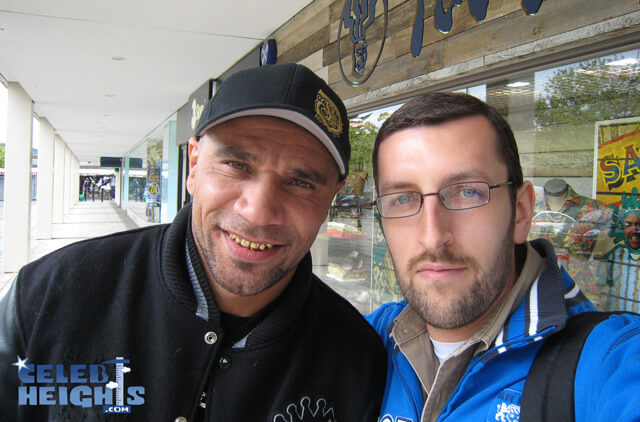 5ft 8 Rob and Goldie
Add a Comment
21 comments
Average Guess (8 Votes)
5ft 9.66in (176.9cm)
Paul Wood
said on 26/Aug/19
He's average height 176cm to 177cm. Definitely no taller.
Peter 180cm
said on 7/Feb/19
Yeah at most 177cm, a textbook example of a 5'9.5 guy.
Rampage(-_-_-)Clover
said on 21/May/18
Wow you actually had this guy down at 5ft11½

Editor Rob
2004-5 was about getting pages established and into search engines, whilst also running a few other sites ;)

Vexacus
said on 14/Jan/18
He's leaning , I give him 5'10
Slim
said on 1/Oct/17
1.5" in on big Rob Paul so 5'9.5" is perfect.
Bobby
said on 29/Sep/17
He's not standing fully upright, but you're not either, but he looks near to 5'10, I wouldn't be surprised if he was. Is there a chance he can measure 5'9.75?
Editor Rob: in person he wasn't as tall as 5ft 10
Sandy Cowell
said on 16/Jun/17
Unless I'm very much mistaken, I saw Goldie show up in another soap tonight!
He's gone from 'EastEnders' - many moons ago - to 'Coronation Street', and he's playing a pradatory drug pusher in it. He likes to play a bad boy, doesn't he?
I don't dispute Rob's 5ft9.5 for him at all. He was talking to perhaps the tallest, or one of the tallest members of the cast, the guy who plays Robert, so that has to be kept in mind, but the final piece of evidence is here in the picture.
5ft9.5 for golden boy!
Hijopotamus
said on 29/Dec/16
89kg? Goldie has always been ripped so its impossible he can weight 89kg unless supermuscular pro bodybuilder
little one
said on 20/Aug/08
if 5'11=180cm, and 1inch=2.54cm (see tom cruise thread), then 5'9=174.92
Pete
said on 16/Jul/07
rob, robbie had his boots on and both were in the field
Pete
said on 14/Jun/07
if robbie williams is 6 feet goldie should be 5-11 and a half. so robbie must be 5-10 then...theres pics of both together and robbie looks a tad bit taller than goldie. Goldie is sucha cool guy and very talented.
[Editor Rob: williams has his boots off.]
l0ck n l0ad
said on 11/Jun/07
King of da jungle! First time I see one of my favourite old time drum n bass / jungle DJs :)
Had no idea it was him in Snatch. He's got that kind of rugged mean look going here with Rob, I'm sure he's a nice guy tho.
glenn
said on 11/Jun/07
i actually know eastenders before this site.i couldve sworn i saw some episodes.there is a channel here that has british tv.british comedy is the best!
TheJerk
said on 11/Jun/07
Yea, I loved snatch also and didnt recognize him at first. I think hes the guy who comes to shop to sell something fake to pawn shop guy and then again hes at the end.
glenn
said on 11/Jun/07
im surprised i dont know who he is.i loved snatch.and i know some djs.seems 5-10 here. i see you mastered what we call,or i originated,the term,self blast.excellent work.i butchered my sean penn.and it had to be someone extremely difficult.better than other butcher jobs ive seen.
[Editor Rob: yeah, this is only what you'd call 'street pic' I've put up, he just dj's nowadays, only really done a few bit parts 7 years ago. He popped up in a soap called eastenders for a few weeks, the one where that bionic woman michelle ryan used to be in.]
Editor Rob
said on 8/May/07
I once had this guy near to 6ft, I saw him yesterday on the phone and he vanished, but I went after him and saw him smoking a fag, so spent a bit talking to him about dj'ing and he looked like a 5ft 9.5 guy, seen him a few times walking about the shopping mall. Decent geezer.
Mr Mayfair
said on 10/Jan/07
No he's not. Try 5.8 and 1/2.
[Editor Rob: true, needed changed]
Kevin
said on 26/Oct/06
I've met Goldie, very briefly, and he was shorter than me, and I'm only 5'10". I reckon he's about 5'8". Never 5'11"
J.
said on 8/Apr/05
The first pic was him standing in front of Robbie Williams. Goldie appears to be an inch or so shorter.
The second was him next to Naseem.
J.
said on 8/Apr/05
Well, Rob, I can see why 5'11" does seem like a good guess: http://uppa.co.uk/search/comp.bhtml?caption_id=272608&collection_id=10001&results_view=&first_match=
But then there's times, when you have to wonder about that 5'11" guess: http://uppa.co.uk/search/comp.bhtml?caption_id=295381&collection_id=10001&results_view=&first_match=
I mean, he could very well be around 71 inches, it's just that he never struck me as being quite that tall.
[Editor Rob: unfortunately uppa prevents showing url's, you have to go through search. I assume it's either the prince naseem or bjork photo? Yes, he can look shorter beside bjork but those are tricky ones to compare as their strides are wide...certainly beside Robbie he doesn't really look that short - all assuming robbie is 183-184 of course ;)]
J.
said on 8/Apr/05
Really? I remember back when he was engaged to Bjork (who does look close to the 5'4" she is listed as), he didn't seem THAT much taller than her.
[Editor Rob: The 5ft 11.5 is maybe being generous ;) But 5ft 11 is quite possible. Best comparison I could find see was on www.uppa.co.uk - click guest then in search type goldie williams. take a bit of height off for goldie in boots.]