Somali Model and actress known for appearing in Star Trek 6. In an online chat with her husband David Bowie she said her height was
"5ft 9"
, in 1987 I read Chicago Tribune calling her
"At 5 feet 8 1/2 and 115 pounds"
and she herself said in
Vanity Fair
"He hypes it that I'm six feet tall; I'm barely five feet nine inches"
. Her One Management listed her 5ft 10 with vital stats: 34-28-38 and US shoe size 9 although an older modelling card gave her as 5ft 9, Dress size 6-8, Bust/Bra 32, Waist 23, Hips 36, Shoe Size 8.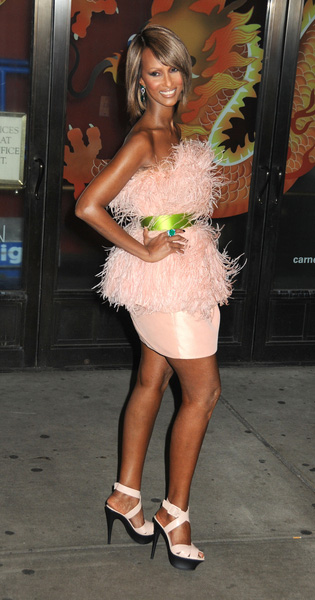 Photo by PR Photos
khaled taban 5ft9
said on 26/Feb/22
Yeah I expected that she's around 174
Miss Sandy Cowell
said on 26/Jul/20
🎂💝 Belated Happy Birthday Iman 💝🎂
Beautiful model Iman celebrated her Birthday yesterday. I couldn't believe her age of 65. I genuinely thought she was 18 years younger, but then, she was the star in the Tia Maria advert from the 80s.... 📺
I hope this lovely lady had a wonderful day with her two children. XXX
5ft8.75, though she often looked taller than her late husband, David Bowie, when in high heels. 👠👠
🎂💝💐🥂🎂💝💐🎶🎂💝💐🥂🎂💝💐🎶
JohnMoore-162cm
said on 29/May/20
174 as her claim !
Miss Sandy Cowell
said on 18/Nov/19
It's so lovely that Iman gave David Bowie a beautiful little daughter.
Yes, I still remember Iman's advert - what a stunning woman!
I used to take it quite for granted that she was the 5ft11 that I had read for her, but she really did look very tall because of her slimness. She was made that way! 🌹
I heed to what Sergei has said and will give Iman 5ft9.75. 😁👍
Sergei
said on 3/Feb/19
I saw and met Iman in person and I was very surprised at how tall she really is. Much more than 5'8.5. She wore heels which weren't too high but I stand 6 feet tall and she was an inch taller than me with those heels. She is much taller than what you people think. I would say she is 5'9 3/4 bare feet.
Lionel Tan
said on 5/Oct/18
She looks 170cm the most.She is short but how the hell is she listed as 5'9"?
Anonymous
said on 8/Jan/18
and she is listed everywhere as 5-10 while she pretended herself to be 5-8 1/2, that's crazy how people can support to downgrade their idol. I love her, and even more by seeing she's honest.
Anonymous
said on 8/Jan/18
She seems honest. I'm sure that most model girls of that height would pretend to be 5-10
MaryAnne
said on 25/Dec/17
1,74 as she says.
Anonymous
said on 31/Oct/17
If Karlie Kloss is 6'1" in her bare feet then David Bowie's daughter is 5'11" in her bare feet. Besides David Bowie' daughter has size 10 feet.
Sandy Cowell
said on 6/Jan/17
Long before she married David Bowie, Iman was the gorgeous dusky maiden in the 'Tia Maria' (I think!) advert! She looked incredibly tall and had the most fantastic figure! I thought then she was probably about 5ft11, but at 115lbs she is VERY slim for a woman of 5ft8.5 - 5ft9, so there is a pretty viable explanation why she could have passed for taller!
She is over a stone below the recommended minimum - according to most Ideal Weight charts - for someone of her height! Often, as a woman gets that bit older, being underweight can take its toll on a her face, but with her luckily, this is not the case! Some people really were designed to be that slim!
sticks 2016
said on 19/Mar/16
I,d read that Iman wasSixfoot in a Mag And That Bowie Was 5-9 my Ex Brotherinlaw Saw Bowie,s Waxwork And Say,s Bowie Was Shorter Than me And I,m 5-8.!
Dmax
said on 1/Feb/16
Still cannot believe this woman is 60 years old and still looks this attractive....Ya she looks the 5'9 range.
Fruit
said on 16/Jan/16
Bowie was taller when they were both in flats/sandals/barefoot. She's usually wearing heels and usually looks around 2cm to 4cm taller.
Mat
said on 15/Jan/16
Rob, give her 5'8.5. She said it herself.
Rick
said on 15/Jan/16
This is B.S.....shes at least 6 feet, hell...look at any photo of her with Bowie (supposedly an inch taller) and she's a 'half head taller' ! Unless she wears stilleto heels all the time...no way she's is 5' 8" or even 5'9"
Allie
said on 11/Jan/16
If she herself claims barely 5'9 and was even described as 5'8.5 then I'd think 5'8.5-5'8.75 is probably closer.
Fray
said on 28/Dec/15
I love this woman! She is slightly below 5'9"
David
said on 14/Nov/13
Reckon Iman's about the same height as hubby David Bowie or maybe half an inch less.
You Are Incorrect
said on 2/Nov/11
She is 5'8 1/2, and I have ran into her SEVERAL times, most recently walking by her on the street (both of us in flats)... and guess what? I am 5'8 1/2, and have been measured recently and even measured myself to check. We are the exact same height. If she were 5'6, she would look like a shrimp next to other models, and heights in the fashion industry with models are very strict. These girls are rarely under 5'9.... and at 5'8 1/2 she is indeed rather short for a model, but not categorically so. Besides, extreme heels only enhance the illusion. More recently there have been claims of 5'10, but those are incorrect. She is just shy of 5'9.
Margaret S.
said on 25/Jan/11
No - Iman is no taller that 5' 6" and so is David - I know because I stood next to both of them at a reception held at Mary Boone Gallery 2001 Chelsea - not tall at all - but gorgeous - I was shocked to see their actual height - please correct the 5'8" - it's not accurate at all.
Margaret S.
said on 25/Jan/11
I had to google "Iman's height" - because I was at an art reception in Chelsea, Mary Boone Gallery in 2001 - and Iman was standing w/Bowie - and guess what? I was astounded to see that I was much taller at 5' 9" - she and her husband were no taller than 5' 6" - they must always stand near shorter people - I stood next to her - and to him - and should have taken a photograph too - but here's the truth - and so - I'm not sure what heels she is wearing to make anyone think she's taller - she is not tall. I noticed on Berkus' show - that the camera panned out in wide angle so she was closer to it - appearing very tall again - it's not correct. However, she's beautiful no matter what height she is - and her husband, well, I guess he wants to be taller. I wish I had her neck - she is model gorgeous - always even in her fifties. Hope that clears the height issue up.
Anonymous
said on 9/Oct/08
I agree she is 5'8.5" spot on because I walked past her on the street the other day and we both had on flats with thick sole and were the EXACT same height.
Bruce
said on 19/May/08
i think she is 5'8.5" spot on
romandy
said on 22/Apr/08
but she looks both taller than Linda and Naomi in the same photo.
D. Ray Morton
said on 17/Aug/06
5'8.5". I met her at a Miriam Makeba show in '00. Very, very nice woman - though, embarassingly, it took a minute or two to figure out who was talking to me.
My god is she beautiful in person.
What
said on 1/Nov/05
I just met Iman at a book signing and decided it was a good time to ask her her height. She said "almost at 5'9"" and "tricks of the trade make me look much taller".