Jacksepticeye's Height
5ft 8 (172.7 cm)
Seán William McLoughlin is an Irish Youtube personality, who has amassed 14+ million subscribers and 6+ billion views on his channel. He claims in a video that he measured 177.5cm (although doesn't say or show what is on his feet).

In 2013 he claimed to stand tall at "About 5ft 10", describing himself as "Not tall and not short. I'm very average", although by 2016 said "I'm 5 feet and 9 inches tall"

You May Be Interested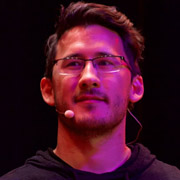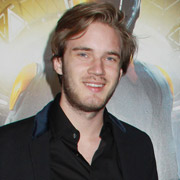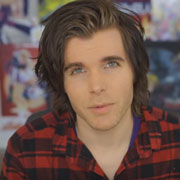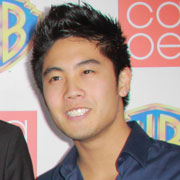 Add a Comment
96 comments
Average Guess (117 Votes)
5ft 8.22in (173.3cm)
Bob the builder
said on 12/Jun/19
He's just uploaded a video with pewdiepie called "Youtube Feud w/Felix". Skip to 11:45, Felix has measured him at 5'8-ish (cuz the hair).
khaled taban
said on 7/Jun/19
I guess he is more like 5'8.25")(173.4cm)
Im 5'10.75
said on 26/Feb/19
ROB He's Listed 178cm now,and pewdepie has been updated from 180cm to 177cm,what are you thoughts About This Mate?

Editor Rob
I checked this page and he's still 174 on it 😝

But on a search engine he's 178cm? That seems hard to believe. 5ft 9 could be argued though.

I think if anybody is going to bother measuring another youtuber in a video, I'd recommend doing it properly with a stadiometer.
michael loughrie
said on 23/Dec/18
@durk They were sitting down bro lol...
James694
said on 23/Dec/18
Could he be 5'8 3/4?

Editor Rob
He has looked anywhere in 5ft 8-9 range.
JD 5'9"
said on 28/Nov/18
He said recently that he's only 5'8". Admitted that he measured his height incorrectly.
durk
said on 20/Sep/18
he's 5'6. you should compare him to 5'3-5'4 amelia rose blaire in one of his latest videos. Looks laughably similar in height to her
keiran
said on 14/Sep/18
more like 5'6 somehow managed to fraud 5'9.
khaled taban
said on 21/Jun/18
173.5-174cm not 5'9"
cmillzz
said on 23/Apr/18
173 cm is more likely for him imo.
Fisticuffs
said on 21/Mar/18
@Mat?as, good find. 5'7"-5'8" sounds waaaay more believable than 177cm. Now we know something was up with that measurement lol
Fisticuffs
said on 20/Mar/18
@Mat?as, good find. 5'7"-5'8" sounds waaaay more believable than 177cm. Now we know something was up with that measurement lol
Mat?as
said on 13/Mar/18
In this video (
Click Here
.) he says he is 5'7 "-5'8". Also, when he measures himself and gets 177.5 cm, we can not see what he has on his feet and he use only his finger to mark his height. I am 177 cm tall, but if I try to measure myself with my finger, I get 178.5 cm- 179 cm. Sorry for the bad english and for not knowing how to edit links.
Adnan
said on 4/Feb/18
5'91/2"
Aaron
said on 27/Jan/18
Click Here
go to this rob, jack looks a 1/4-1/2 taller than pewdiepie and near mark's height
Aaron
said on 27/Jan/18
it's just the camera angle guys, its looking down on him in a way. Giving it 5ft 9
Jake94 (5'9
said on 16/Jan/18
He must have worn shoes during that measurement. I get a solid 5'8" vibe from this guy, but no more.
Jessalyn
said on 4/Jan/18
Really wow did not know you were 5ft 9 really interesting
Anonymous
said on 1/Jan/18
Looks about half an inch shorter than Markiplier, who I personally think is 5'8 - 5'8.5 range.
Kikkeli
said on 25/Dec/17
Like all us short people he adds an extra inch in his favor, so 5ft 8.5in souns accurate. Possiby 5'9 since it's lower than his previous claims.
Ben
said on 16/Dec/17
Rob, so...according to Jacksepticeye I only edge him by roughly a cm? Rob what are the odds for that happening?
Editor Rob: well at least Jack did try to measure himself and I don't think he was lying, just maybe 5ft 9.5 in sneakers...but you would still have over an inch barefoot on him.
?na
said on 1/Dec/17
He is about the same hight as my freind she is about 170cm tall.
Ethan Ramirez
said on 22/Nov/17
Looking fresh jack/Sean lookin' fresh🤓😌🙃😄😊
Kenny
said on 20/Nov/17
He claimed his height was 5ft 10 inches did any one else measure him? i believe he is 5 ft 9.75 inches just because when i stood ext to him he was just a smidgin taller than me and i am 5ft and 9.5 inches
Nik
said on 27/Oct/17
Sandy Cowell - Hi!
Thanks for that, there is also another coincidence on the page of Craig Charles, there are not four 17's, we will have to make do with three 17's and a 7, which is four 7's! I also found your comment on Boris Johnson's page amusing!
As you know I find numbers fascinating but I am not superstitious in the slightest about numbers or about anything in general really, however I do believe in what the star signs say, although I do not think it is always set in stone as other factors affect, and are sometimes more powerful in determining, people's fortunes.
Like you said my lucky number is 9 and this is a number that fascinates me as its only factor is its square root, which is 3 as you know., and the number 3 is a prime number too, You probably know this as well, which is that if you add up the value of the digits of any number that 9 is a factor of then you will find that they total a number that is divisible by 9! Just keep doing this in turn with the total of the digits of the totalled digits and you will always end up at 9!
Cheers!
Kentopoto
said on 12/Oct/17
Looks 5'6.5 - 5'8.
Dreampuffe(5'9.5")
said on 11/Oct/17
My second favorite Youtuber behind Markiplier.
Sandy Cowell
said on 7/Oct/17
@ Nik - Yes, that date coincidence was a superb find of yours, with four 17's in just a couple of dates! Would you believe that I sniffed out funny little things like that when I was about 9 or 10, and never has my fascination dwindled!
I also add the numbers up to make a 'lucky number' for any particular date. For instance, your Birthday is as follows: 15 (1+5=6) + 7 + 1 + 9 + 7 + 6 = 36. 3 + 6 = 9, so your lucky number is 9! Simples! This is called 'numerology', and with your love for all things numbers, you have probably heard of it before! If you plan important events on days with dates which add up to your lucky number, it's supposed to bring you good luck! Of course, it's all a bit rubbishy, for I have experienced quite the opposite for a day that's supposed to be good! But as with most things like that (astrology, for example) it is best taken with a pinch of salt! You'd never guess where I got it from; it was my Mum, of course!
Lastly, the opening subject matter of your letter made me wonder if they will ever invent a hair dye which makes one's hair transparent, or funnier still, a material, like nylon, which is man-made, out of which clothes can be made! Obviously, they wouldn't be completely transparent, but reasonably so, and they would have to keep you warm, or there would be no point in wearing them! Gladstone would be a fan of the ladies' range, no doubt, and we would keep on having to tell him to put his sweetcorn away! 🌽 😂😂 us!
🌽 😨😵😰 other people!
I do hope you're enjoying your weekend! 😉😆
Nik
said on 6/Oct/17
@ Sandy Cowell - Hi there!
Well piles of hair can certainly add to the illusion that someone is taller but there comes a point when people can see through this (not literally of course!) and work out by looking at the obvious shape of that persons face that the top of their head cannot possibly go up to anywhere near as high as where the highest strands of hair are!
I love to spot coincidences with dates and numbers in general, and it was great to respond to your interesting comment, which was on Mark's birthday! You are so right in saying that we only have one family and it is important for us all to cherish our families as much as possible.
It was coincidental that you first posted on this page on the 17/Jan/17 and then I replied on the 17/Sep/17"! I will tell you an interesting fact, which is that a lot of my family members, and myself, have birthdays falling near the middle of months!
Cheers! 🐩☕️🐝🐦
Sandy Cowell
said on 5/Oct/17
@ Nik - You could well be right that ostentatious hair like that can, for some people, especially if they're fans, add a bit of height to its owner!
You know what? If I found a comment on my brother's Birthday, especially if it was Christopher's because I grew up with him, it would certainly stick out enough for me to provoke a reply! I know that you are anyway, but this simply adds to the evidence that you are a very family orientated person, which is lovely! We only have one family! 👌🐩🙌
SeptiplierLover
said on 3/Oct/17
In his latest video, titled 'CHOOSING MY WAND | Pottermore #2', he says he is 5ft 9.5 and almost 5ft 10.
Editor Rob: yeah this is from a couple months ago when he measured himself in his room, but you never saw his feet though!
Luna
said on 1/Oct/17
He is shorter than Markiplier and Markiplier is 5'10. On google search it says that he is 5'8.5
Peter181cm
said on 28/Sep/17
He is 5'8 (173.1cm)
Amira
said on 24/Sep/17
Jacksepticeye is the loudest, funniest Youtuber I know. He has been through so much and taught us a few life lessons, If I wasn't for Sean, I wouldn't have found the motivation to keep my grades in check so I could go to high scool!! I believe that he is 5.9.
Nik
said on 21/Sep/17
@ Sandy Cowell
I thought it was such an hilarious comment that I had to bring it up, I simply couldn't let it lie!
I was looking through the comments on this page and I found yours, right on my brother Mark's birthday!
I think that Mr Septiceye is definitely a 5'8" guy, plus a little bit of change! I think a lot of people think he is smaller than what he is but I reckon he is somewhere in the 5'8.25" - 5'8.5" range!
I like his name, plus of course his hair! We had better turn that mower on then Sandy!
Cheers!
Mark(5'9.5")
said on 21/Sep/17
Personality wise, Jacksepticeye is a positive influence on many generations just like Markiplier.
Sandy Cowell
said on 20/Sep/17
@ Nik - Ha ha ha! I wrote that over eight months ago and it has come back to haunt me!
Via you!
Actually my lawn mower is broken. I broke it on the last bogey-coloured head of hair I had to tackle! That's the bad news! The good news is that Jaffa sold the broken thing on - overpriced, of COURSE, and now we have a new one!
Mr Septiceye can have 5ft8.25 today, much the same as last time!
Nik
said on 17/Sep/17
@ Sandy Cowell
Get yer lawnmower out of the shed then Sandy!
😃👍
Yur Mom
said on 9/Sep/17
I always thought that he was at least 6 feet thought.... I thought wrong :l
Peter181cm
said on 8/Sep/17
Typical 5'8 Guy trying to claim 5'10 or 5'11
DirectorKrennic
said on 6/Sep/17
Didn't he used to be listed here as 5'7.5"? What happened?
Editor Rob: he was at 8.25 for a while, but he took the effort to measure himself roughly - assuming in some footwear - at over 5ft 9
Shy
said on 1/Sep/17
In a recent YouTube video he did, he measured himself cause he says Wikipedia lies, and he's not 5'9" he's 5'10"
DIS BEAN BOY
said on 31/Aug/17
I ALWAYS THOUGHT HE WAS LOKE FIVE 6 OR 7 AND IM REALIZING IM SUPER SHORT
5'9
said on 24/Aug/17
If this listing is correct, which based on that video it probably is. I think Mark and Pewdiepie deserve a slight upgrade. There appears to be more than a half an inch difference between them.
Chris
said on 21/Aug/17
his proportion makes him look no more than 170 really.
Cameron
said on 17/Aug/17
@Fisticuffs The guy in the red in that video has claimed 6'3"
Cameron
said on 17/Aug/17
I'm sure he was wearing shoes for that 177.5cm measurement. Still if his footwear wasn't massive I could see him being 174-175cm.
Meme Dude
said on 17/Aug/17
I get leprechaun vibes from him so I though he was 5'6. Never watch his vids so neutral on this
Andres (5'9") 145 lbs
said on 11/Aug/17
hes almost as tall me man
Laya
said on 11/Aug/17
Hes 5"10 as of 2017
The Strange In Me 6
said on 2/Aug/17
Im literally almost as tall as Jackcepticeye. He's 5'8.5 and im 5'5, im so close!
Logan
said on 31/Jul/17
He is 5,9 but his body type makes him look like a very small guy like 5,6-5,7 but hei actually 5,9
Rick
said on 31/Jul/17
He measured himself at 177.5 cm, which is 5'9.8"
Misuk
said on 28/Jul/17
He is actually 5ft 10in and (177.5cm) according to his google video
Click Here
Mark(5'9.5")
said on 28/Jul/17
His 5'9" claim is reasonable.
Hidden Masked
said on 26/Jul/17
That picture is hot 😳
Tom
said on 22/Jul/17
He appears taller than John Boyega, so he could very well be close to 5'10.
Click Here
I couldn't find a better picture or footage of it :(
Alyssa
said on 21/Jul/17
I think Jack is actually 5,9 now
Fisticuffs
said on 20/Jul/17
I'm sorry but there's no way this guy is 177.5 cm tall. I don't know how he got that measurement but it's wrong. Look how short he looks in this video;
Click Here
Now unless those two other guys are 6'6" plus I'd take Jacks measurement with a grain of salt.
Editor Rob: maybe, since he didn't show the ground, he had footwear on for his measurement...it's believable he'd get over 5ft 9 in footwear.
Cat
said on 12/Jul/17
In his Googling Myself video he actually measured himself as 5ft 10
Editor Rob
said on 10/Jul/17
In sneakers I think it could make sense, 5ft 8.5 barefoot and he got over 5ft 9 in sneakers.
Jake
said on 10/Jul/17
Just because of the 177.5cm claim i'd boost him up to round about 5ft 8.5. I don't think he's much of a BSer personally so I feel as though he'd be nothing under 5ft 8.5 barefoot. Maybe 5ft 9.5 in shoes.
Sam
said on 3/Jul/17
Rob, are you going to consider upgrading him a wee bit after measuring 177.5cm or keep his height exactly the same? Personally I would have betted on him being 5'8 and not over the mark, so was surprised when he came out with a 177.5cm measurment. Although, it really is only his word since he didn't show us the measurement. But he's shorter than Pewdiepie so can't be 5'10, even in shoes unless its a morning measurement. I don't think Jack is naturally a BSer 99% of the time, maybe he did measure in shoes in the morning so felt it was perfectly ok to round up if he thought he was near 5'10. Plently of men will have probably innocently done the same without thinking anything of it. That's my take on it.
Editor Rob: he doesn't seem like much of a bser, although many give shoe heights, I thought he was a strong 5ft 8, the average was about 5ft 8 from visitors...but maybe the mark he pointed at in the video is just over 5ft 9. If it is and he's barefoot then he may well be a short looking 176cm fella, but I don't know if he's got anything on his feet.
Shadow wolf
said on 2/Jul/17
Holy crap he's only an inch taller than me =3
JackIsLife
said on 2/Jul/17
In a video on 7/2/17 Sean measured himself. He is 5'10" (177.5cm)
Thekingsofkings124
said on 2/Jul/17
Rob you should watch the new googling myself video that he did he says ım not 175 ım 177.5 and he measures his height in the video.
Editor Rob:
I thought he would have taken the camera over and showed the mark and the tape beside it.
would have been great, he can look over 5ft 9 though with
Lord Minion who claimed 6ft 3.5
.
womp
said on 2/Jul/17
He actually measured himself in the googling himself video. 5"10 also known to be 177.5 cm.
Jake
said on 2/Jul/17
Rob, what do you think of this? I feel as though Jack is a genuine guy and wouldn't pull of a stunt like this.
Click Here
Editor Rob: he is right 'nothing you see can be believed'. Unfortunately we are relying on what he says,
remember travis van winkle posting he had just been measured 6ft 1 range and the man is barely over 5ft 11 in person. Gordon Ramsay was measured and called out at 6ft 2.5, when the stadiometer showed him just under 6ft 1.5.

saying that, Jack doesn't seem like much of a bs'er compared to some youtubers, maybe in shoes he is near 5ft 10!

Chips
said on 26/Jun/17
Does it seem like Jacksepticeye has a small frame? His body seems small.
Click Here
In this video, its not just his height that looks small, its his body frame, it looks like he's small-boned/small frame.
idk
said on 6/Jun/17
wow I'm taller than jack and the same height as mark and felix!
Hello
said on 26/May/17
He is taller than markiplier
Jani
said on 11/May/17
Sean seems to be very varied in height. Sometimes he is as tall as Markiplier and sometimes he is around 4cm shorter than him when they are next to each other. I think that 173cm for Sean is very likely.
Bethany
said on 4/May/17
I saw on another website that Sean (jacksepticeye) is 5ft 7in
Ewan
said on 3/May/17
My opinion is that he is 173cm in height
Cameron
said on 26/Mar/17
Upon second look I think the average guessers got this one right. Looks like a weak 5'8" to me.
Kiana
said on 25/Mar/17
Jackspeticeye in general+suit+green hair+glasses+awesome sarcasm+great personality+being relatable=PURE BOSS! And height doesn't matter!
Mike
said on 22/Feb/17
5'8" max.
Jake
said on 21/Feb/17
I think under 5'8" might be low balling him a little bit, I'm a 5'9" morning 5'8.5" nigh guy, I have a general idea of how people around my height look. I do think I'd just edge him out, as opposed to Markiplier and Pewdiepie who I think would probably just edge me out. I see him as a solid 5'8" no more no less.
Blake
said on 16/Feb/17
Rob, im sure the comment from elle was directed towards your sensational videos!
Editor Rob: that could be true, but at least it's not the weekly enquiry about how to get hold of Miracle Growth... 😼
elle
said on 11/Feb/17
every day i wake up for school i watch your videos and they make me have a smile on my face and
you make want to go to school because your funny loud and energetic and I just love your videos. TO: the BOSS!!!!!!!!!!!!!!!!!!!!
Revisionist
said on 1/Feb/17
At 4.75cm below the Irish average of 1.775 surely Jack walks around town seeing that most men are taller than him? How could he claim to be anything less than well below average? Maybe he wears heels out and about. Maybe he doesn't leave his house except for conventions.
Booper Cooper
said on 26/Jan/17
Damn, I look FINE! haha
Diane
said on 25/Jan/17
5'7
Sandy Cowell
said on 17/Jan/17
He needs a lawnmower!
Moody
said on 16/Jan/17
Only youtuber I'd like to see is Doug Walker from Nostalgia Critic
Sam
said on 16/Jan/17
I think strong 173cm/174cm is more so Mark's height for me, Jack to me looks like he could be under 5'8 fractionally but not by much so possibly 172cm? Wouldn't say over 5'8 at least for Jack anyway. Probably a 2 cm difference between Jack and Mark. Pewds would be the tallest but has the worst posture.
MD
said on 16/Jan/17
I really hope this additions don't become a trend...
Editor Rob: well, there's not many youtubers with their own page, it will be fairly big names who get their own 👍👍
John S.
said on 16/Jan/17
Rob, when can you get a listing for Markiplier up. Pewdiepie, Jack, and Mark all look relatively similar.
Editor Rob: yeah, they all are within an inch, Marki can look anywhere from 173 to 175 range.
Jake
said on 15/Jan/17
I think it's great that Rob is now starting to look at Youtuber's heights. It's actaully very interesting to see their real heights. Seemingly so far, they defintely seem to be claiming way above as what they actually are... Keep up the good work Rob!
Jake
said on 15/Jan/17
I always thought that Jack and Felix looked about the same height. Maybe Jack's slightly shorter then.
Editor Rob: I think this guy generally has a better posture than a guy like Pew.
HonestSlovene
said on 15/Jan/17
@cgf me too, lol.
Kasper
said on 15/Jan/17
Honestly looks a weak 5'8, what do you think Rob?
Editor Rob: not sure about a weak 5ft 8
Johnny
said on 15/Jan/17
@Rob you keep adding these internet celebs....have you ever thought of being an YouTube personality yourself? Since you run an international website...
Editor Rob:
Johnny,
my own channel
is very small, but if I was to make any big effort on there to really try to grow it, it would eat into the time I spend on celebheights, which is like 95% of what I work on 👍👍
And it is better I have the time to at least reply and moderate as much as I can on here.
Aza
said on 15/Jan/17
Nice hair! Looks 5'8
Maurice
said on 15/Jan/17
"About 5ft10" What a ridiculous claim.
cgf
said on 15/Jan/17
I wish I were a Youtuber so I could grow up a pair of inches.