Khalid's Height
5ft 7 ¾ (172.1 cm)
Khalid Legend Robinson is an American singer-songwriter. He said of his height,
"I'm 5'8 w/o hair"
. In 2014 he also mentioned his weight:
"I'm 5'8 and 130 pounds lol"
. At age 16-17 he was saying
"5'7"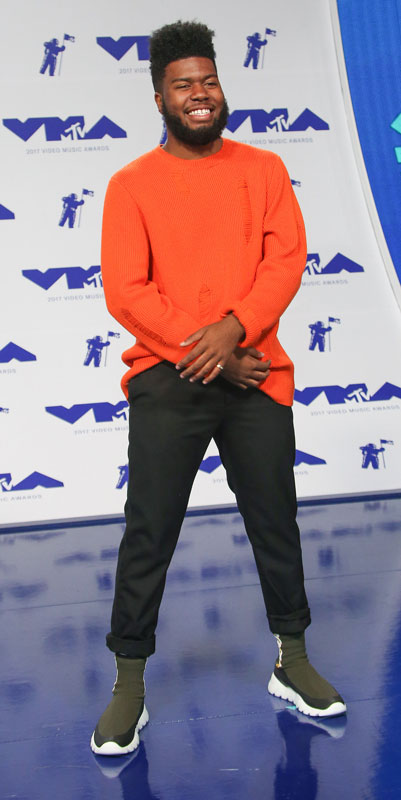 Photos by PR Photos
Add a Comment
27 comments
Average Guess (27 Votes)
5ft 8.23in (173.3cm)
Que lo Que
said on 20/Jan/20
Could pass as 177 with shoes
MAD SAM
said on 28/Jul/18
Man I thought he's above 6 foot or at least 5'10" ! Gets 5'8.25" from me at 173.5 cm
Dutchboii
said on 30/Jun/18
@Travis Bro it's short. I'm average ( 6 foot 3 and 15 y/o).
PD 123
said on 20/Jun/18
Jack The Smackhead
Coming on this page after quite a while. I have viewed your suggestions in the past, but didn't reply. Now I have correctly measured my height a couple of times and I come at 178 cm. I was shocked at first. But then I measured it each morning and I came 178 each time. I really don't know what's happening. Either I was in shoes each time I measured myself at 182 cm, or I really just had a height decrease!
Fisticuffs
said on 27/Feb/18
130 pounds? Think he's more 170-80. At least at the moment.
Warren
said on 18/Feb/18
He's a full 5'8"
Psychedelic Earth 187
said on 20/Dec/17
just downgrade to 171. hes clearly overlisted by seeing him next to harris and kimmel.
Slim 185
said on 15/Nov/17
171 tops imho.
Add to "pop singers" aswell btw.
Slim 184
said on 8/Nov/17
He is over listed a tad bit, needs a category btw.
171.5 Cm/ 5'7.5" maximum.
Jack The Smackhead
said on 1/Nov/17
@PD 123: I put a short, little story on the 'general' page about something similar to this. I said when me and my close mate were 16, we were the same height (178cm). Between the years of 16,17,18 and 19, I grew to 180.5 and he grew to about 188cm, and I'm not even sure if he's done yet. He's 2 months older than me, as we have both recently turned 20.
My point was: I wouldn't consider your height final at even 18, let alone 16. You're the same height as me already, so who knows. At the same time it's completely different for every person. I thought being 5'10 at 16 would probably take me to around 6ft at least, but i'm going to consider my height at 21 pretty much final, so I will wait a year and measure myself again.
For you, you could grow a lot, or you could stay the exact same height. If you're desperate to find whether you can grow, you could visit a doctor and get your growth plates x-rayed. If not, I would wait until you're 18 at least and see how much you have grown since 16, and estimate that off your chances from growing between 18-21.
Slim 6'
said on 30/Oct/17
He even looks 8 Cm shorter than 179 Jimmy Kimmel here:
Click Here
It's no secret robs listing is his morning height.
5'7.25"-5'7.5" is a better listing.
Travis
said on 26/Oct/17
5'8 aint short for a guy either
James
said on 26/Oct/17
Jaden seems to even him out a lil bit or may be the same height not sure. Considering jaden is listen at 5'6.75, either jaden needs an upgrade or khalid needs a downgrade
Click Here
PD 213
said on 25/Oct/17
I'm going way off topic over here, but it will be deeply appreciated if you can devote some of your time in taking a look at this. Thank you!
Just to start off, I'm born on 19/05/2001, which makes me 16 years and 5 months old. I have measured myself at 181.5-182 cm via various measurements at home. Recently, in the walking clinic the lady checked measured me using a heightometer and I came at 181.4 cm. And I have not increased At All since about the March month of this year (let's say March 10). Can you please provide your thoughts on me having a slight increase or not at all till I'm 18.
On Khalid's height, he can give off a 5'10 look, with his hair.
Paul
said on 25/Oct/17
Yeah, he could be 5'7.5, but there are surely better examples than that Harris photo.
Tonyx
said on 25/Oct/17
Wow.
I thought he was like 6ft3in.
Only 5ft8in. Thank you celebheights.
Canson
said on 24/Oct/17
Agreed Christian. I think rob has him 1/2" and kimmel more like 2cm above his actual height
Danimal
said on 24/Oct/17
How is his average height 5'8.46" on here when he himself has stated that he is only 5'8" and all the below comments are from people who claim he's not even 5'8"? I don't understand the voting system on here Rob?
Editor Rob: it's simple - people submit a guess and the rolling average is displayed.
Peter175
said on 24/Oct/17
Slim, he looks a good 5'8 with him in that Pic. Calvin is a 6'5" range guy, he holds up well with him
anon
said on 24/Oct/17
always thought he was over 6ft but since he claims he is 5'8" he's probably 5'7"
Frost
said on 24/Oct/17
More and more honesty these days...
Editor Rob: you sell more records with honesty...
Christian-6'5 3/8
said on 24/Oct/17
Slim is right, he looks about 171cm next to 196cm Calvin Harris. So he could be about 5'7.5" but it's pretty much speculation because we can't see their shoes.
Nik
said on 24/Oct/17
5'8" or 5'7.75".
Slim 6'
said on 24/Oct/17
Add to "pop singers" please.
He looks nothing above 5'7.5" next to Calvin Harris:
Click Here
171 downgrade is necessary.
Ronald
said on 24/Oct/17
He does look taller than that with Shawn mendes.
Click Here
i don't know if he's standing on something
Christian-6'5 3/8"
said on 24/Oct/17
Maybe about 5'7.5" standing next to Jimmy Kimmel's who's about 5'10.5"
Click Here
but that's without knowing their footwear.
john
said on 24/Oct/17
wtf he's 5'8??? i assumed he was 6'3 or some **** that's crazy, he's shorter than me!