Morrissey's Height
5ft 10 (177.8 cm)
English Singer of The Smiths. On some official bio notes he's listed as 6ft and in a Meat is Murder Tour Programme, he himself gave his stats:
"HEIGHT: Virtually 6ft. WEIGHT: 10 stone (140lbs)"
. In an older magazine article each of the band members had trivia and he was listed 5ft 10/140 pounds, Andy Rourke as 5ft 9.5 (147 lbs), Johnny Marr as 'Short/Light' and Mike Joyce as 5ft 11/146 pounds. Marr himself once claimed
"I'm a whopping 5'9""
.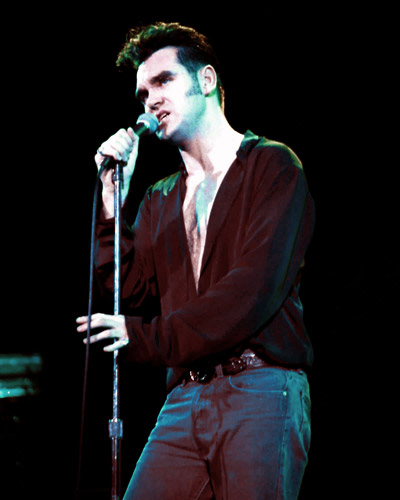 Photos by PR Photos
Add a Comment
57 comments
Average Guess (16 Votes)
5ft 10.17in (178.2cm)
Almost 180cm guy
said on 30/Aug/20
Rob, I think you should add him to the rock singers category. The Smiths od the rock band and in my opinion he was taller than 5ft 10 but I'm not so sure to full 5ft 11.
Kramer
said on 11/Jul/20
He was the tall guy next to Marr & Rourke but now unfortunately wears bpotcut jeans and probably lifts on his heeled shoes. Would look better in straight jeans and dM's.
Vanian
said on 12/Jun/20
Met him in manchester years ago. I was surprised by his height co he stated he was 6/6'1. I reckon around 5'9 tops
Miss Sandy Cowell
said on 22/May/20
🎁🎈🎂 Happy Birthday Morrissey! 🎂🎈🎁
Congratulations to singer Morrissey, who celebrates his 61st Birthday today. Five foot ten and a quarter. 😃🎉
🎁🎈🎂🎉🎁🎈🎂🎉🎁🎈🎂🎉🎁🎈🎂🎉
Rory
said on 15/Jul/19
5ft11 is too much for him as he got edged out by Jay Leno but I think 5ft10.25 peak is very fair. He could pull off a 5ft11 type vibe with big hair and a slim frame in the 1980s but overall I think 5ft10.25 peak and maybe 5ft9.75-10 today could be spot on.
GiveItAllAway
said on 10/Jul/19
He himself once said: "It's hard to walk tall when you're small".
Could be the anthem of Celebheights.com
Jake 1.84 m- 1.85 m
said on 6/Jun/19
Rob, an upgrade is appropriate! Shall we... He is a strong 5-10 to 5-11 (esp in his prime). Average guess is closer.
Miss Sandy Cowell
said on 22/May/19
🎁🎂😁 Happy Birthday Morrissey! 🎁🎂😁
Is it 60 today? I think so! Have a great time Mr M. and talking about time, doesn't it just fly by? ✈️
5ft10.25
🎧🎶🎼🎶🎼🎶🎼🎶🎼🎶🎼🎶🎼🎶🎼🎧
Tori
said on 3/Jan/19
I've been lucky to meet him and get a hug from Morrissey in 2013. I'd say 5 ft 10 1/2 is about right. He is a sturdy guy though, with some of the broadest shoulders I've seen up close and a very thick neck and a big head, like others have said. He leaned in to give me a hug because I couldn't get my small arms around his shoulders! When I met him he was very sweet and charming and warm, but it was at a booksigning for his own autobiography. :)
Jake: 1.84 m- 1.85 m
said on 25/Sep/18
Link doesn't appear to send you where I want it to. Oh dear. Anyway, the current listing is unequivocally too low. He was very obviously near 5ft 11
Jake: 1.84 m- 1.85 m
said on 21/Sep/18
Rob, I've found something for you! The following link describes him as 5ft 11in in a factoid, considering his 'almost 6ft' claim and other 5ft 11.5 listings, you should give him a bit more. He looked 179-180 as a young man.
Click Here
Jake: 1.84 m- 1.85 m
said on 26/Mar/18
Rob, did you know he has also been listed at least once in magazine profiles as being 5' 11½"? If you add up all the listings they'd average out nearer 5' 11". Could you give him 179? Seems closer, everything considered.
Espo
said on 18/Nov/17
Everyone here is right on the ball with Morrissey... all depending on what shoes Morrissey is wearing he can appear to be a 6 foot guy. But like previously mentioned, he a little over 5'10 flat footed. Regarding Johnny Marr, everyone is wrong here. He is tiny. probably 5'5 or 5'6 at most. I met him... I am about 6'1 and I towered over him and I remembered his hands being really tiny when I shook them. My brother and his wife have a friendly relationship with him and hang out with him when he is in LA. She is about 5'5 and they appeared to be the same height. She would make fun of him and tell him whatever is deviated from his height sure makes up for in his talent. He would just laugh and tell her she reminds him of his wife Angie. So at the end of the day...... Who cares about height. We fight over a few inches here and there. In reality it all means nothing.
Rory
said on 13/Nov/17
I think he was either 5'10.25 or 5'10.5 peak and today 5ft10 flat...I can't see him being a genuine 5ft11 guy.
Jake: 1.84 m - 1.85 m
said on 25/Aug/17
Yes, I believe near 5ft 11in at peak is closer.
Rory
said on 9/Aug/17
Also seen an a fact file where he said 5'11.5..so we've had 5'10,6ft and 5'11.5 from him...my guess is he was 5'10.5 in The Smiths.j
HonestSlovene
said on 24/May/17
Looks like a decent 5'10".
Jake: 1.84 m- 1.85 m
said on 2/Apr/17
Rob, I and others tend to think nearer 5ft 11in for his peak may be closer. Any chance of an upgrade to around 1.79 m for Morrissey? As a young man, he appeared tallish as he was quite slender. I'm of course a huge, huge fan of him.
Editor Rob: I'm not sure of that 5ft 11 range, I do think he is quite honest with his own statement, maybe 179 isn't impossible.
Rory
said on 31/Mar/17
I reckon Johnny Marr was 5'8.5 and Morrissey 5'10.5. Mozza is probably closer to 5'10 today though.
Jake
said on 31/Aug/16
Looks a strong 1.78 m(5'10") or maybe 1.79 m(5'10.5") next to (5'7") Iggy Pop.
Kramer
said on 29/Aug/16
I don't know how Morrissey could be listed as half an inch taller that Rourke in that article.OK it is hard to find a picture of them standing straight and in line, but I'd have guessed at Marr 5'8, Rourke 5'8.5, Joyce 5'10 and Mozzer 5'11 (to quiff !)
smiths4ever
said on 23/May/16
yeah 5ft10, or maybe 5ft9.5
Jake: 1.84 m- 1.85 m
said on 3/Apr/16
Rob, could he have been 179 cm at peak? I think he could look near 5ft 11in, and I think the original listing was close. He could give off a tallish appearance.
Editor Rob: the old magazine info seemed to me like it came from the band themselves, but then he went onto claim 6ft later! Generally you could argue 5ft 10 or 10.5 for him
Fibby
said on 25/Jan/16
Guess I was right.
Rory
said on 20/Jul/15
Yh I saw Morrissey in a picture with Robbie Keane who I think is a legit 5'9, and he did look close to 2 inches taller than him...I think personally 5'10.5 now and possibly 5'10.75 in his prime could be spot on for Morrissey.
Rory
said on 14/Jul/15
Rob, who would you say was taller Morrissey or paul Weller ?
[Editor Rob: morrissey can seem taller]
JohnGB
said on 4/Dec/14
If Marr is 5'9" How is Morrissey 5'10? Morrisey usually looked 2" taller than Marr in the old photos. My guess is Morrissey is 5'10.5, Marr is 5'8.5
WiAndCo
said on 30/Nov/14
Hey Rob, so I came accross something that might deserve some interest... On this scan of an old magazine their heigts are stated, and it's roughtly shorter than what is estimated here. What are your thoughts? Medias rarely reduce celebrities' heights, don't they?
Click Here
[Editor Rob: that is a good article, that seems like data that is from the band members themselves...I'll mention these at the top!

Maybe when he gave his height as 'virtually 6ft' in the other situation he was including his hair.]
Chilean
said on 30/Mar/14
hey rob how tall is Johnny Marr ?
[Editor Rob: maybe somewhere 5ft 9]
JonDaMon
said on 14/Nov/13
He's about 5'10, maybe 5'11 with quiff.
Fibby
said on 19/Dec/12
I worked as a waiter at Fred's restaturant in Barneys New York in 1997. I saw a lot of celebrities on a daily basis. One day, Morrissey came right up to the wait station and asked for a table. Being a big fan, I recognized him and said "Hello Stephen" and gave him a big smile. He smiled back and asked for a table- I directed him to the host stand at the front of the restaturant. I'm a weak 6 footer, which means I wake up at 6' and shrink to 5'11 1/2 by end of day. It was around 11:30 AM and he looked like he had just woken up less than an hour earlier, as had I. He was wearing a shoe with a heel and I was looking down at him slightly. I had on black sneakers. We stood face to face about 2 feet away from each other on the restaurant floor. I can say with absolute certainty that he's not 5'11" unless you're counting shoes. I would say he's 5'9 1/2 to 5'10" barefoot at the most, maybe 5'11 with shoes, but even that's pushing it. Again, I'm a huge fan of his and I have no agenda- I've been following this website for a few years but only now felt the need to chime in. Cheers.
Ian from Auckland
said on 16/Dec/12
I stood next to Morrissey in Wellington Airport (New Zealand) two days ago, both waiting for our luggage. I'm 177cm, he was somewhat taller - he appeared around 179-180cm, but is quite solid these days (an estimated 90-95kg.)
Dan
said on 8/Sep/12
Definatley 5'11", I nor any of my mates saw no difference between me and him in regards to height when we saw him a couple years ago.
Jake: 1.82 m--1.83 m--1.84 m
said on 2/Sep/12
181 cm is definitely a possibility then. It'd mean he'd be very near 6ft first thing in the morning.
Anon
said on 1/Sep/12
Last year, I stood face to face with him on level ground at a festival, and I would say he's very marginally taller than me (I'm 5'10.5), probably 5'11 or very slightly over this.
Godred
said on 8/Dec/11
@PW - could have been shoe height,I think 5`11 nowadays is fair.
PW
said on 30/Jul/11
His exact height is five feet eleven and a half, admitted by himself in a Smash Hits magazine in the 1980`s.
Michael
said on 18/Jul/11
5'11 is 180cm you dullard
U-Value
said on 2/Jul/11
Sshinji are you ok? 5 11 is 180 cm not 150... 180 is quite tall for a grown man...
Sshinji
said on 26/Jun/11
5ft 11in is aproximately 150cm, which is quite short for a grown up man! Are the smiths so short?
jake
said on 22/May/11
I'd say a strong 5' 11".
shell
said on 12/Jun/09
He looked tall & lanky when he was young. His extra chub makes him seem shorter now. I'd put him at 6'0.
JP
said on 23/May/09
I saw Morrissey perform on Wednesday in Hartlepool and as he walked on appeared quite tall, he's slightly above average height with good posture... truly amazing gig, definitely over 5'10", ive seen him on Jonathan Ross a number of times and appeared only 2 inches shorter, so i'd go with 5'11" minimum but the hair can make him look 6'0".
Glass said below about him having a large frame and a big head i really don't get that, he didn't look big framed at all or appear to have a big head and i was pretty close to the stage, in fact i was surprised how slim he looked compared to on tele hmmm strange are you sure it was morrissey haha
wildlife
said on 24/Mar/09
Just watched him perform on Late Night, and when Jimmy (5'11") walked up to him and they shook hands a few times he was atleast an inch shorter. I'd go with a strong 5'10"
glass
said on 4/Feb/09
5'11" seems accurate. He bumped into me in a restaurant doorway and I remember being surprised at how big he really was. He's not just tall, he has a rather large frame. His head is twice the size of mine. Dude's got a big head. A Charlie Brown head.
PJ
said on 4/Jul/08
I remember Noel Gallagher (himself listed here as 5 ft 8 in) saying in an interview he met Morrissey on the street in Camden, London, and that Morrissey was really tall.
Anonymous
said on 7/Aug/07
always looked like he was 6ft back in the day, the 5'8 estimates are merely people judging him based on his appearance now, which is a bit chubbier, dunno what he's been eating seeing as how he's a vegetarian, but he somehow gained pounds making him look shorter
spiderknut
said on 14/Jun/07
he'a 5 eleven folks.got an old edition of Q magazine which states this conclusively(number 48,if really that interested!)
Gareth
said on 24/Sep/06
I met him recently and he is no less than 5'10" - 5'11 at the most.
Glenn
said on 12/Sep/06
He slouches a bit.
Mr. T
said on 11/Sep/06
But he's only 47. Could have he really shrunk that much since his youth?
Glenn
said on 31/Jul/06
I have 2 photos with him.no,3.he appears 5-11.maybe 6ft in his youth.
Glenn
said on 15/Jan/06
he really is 5-11.2 photos with him,2000 and 2004.coming soon.actaully 3.1993 in a magazine.
Freddie M.
said on 13/Jan/06
Glenn, have you met Morrissey? If so, how tall would you guess him to be? I've seen him in concert and would estimate he's around 5'10" (178-9).
Glenn
said on 13/Jan/06
he's not too friendly.not mean either.
CelebHeights Editor
said on 3/Nov/05
Alain Whyte (guitarist) said,
"I think I might be taller than Moz - I'm 5'11". With my boots, I'm 6', and with a quiff, I'm a basketball player"
the boy with the thorn in his side
said on 5/Jul/05
I have met him. Somewhere between 5'10 and 5'11 is accurate. By the way...the phrase ''never meet your idols because they always end up disappointing you'' must have been invented just for Morrissey ...sigh.