Tyler The Creator's Height
6ft 1 (185.4 cm)
Tyler Okonma is an American rapper known for songs such as Yonkers and She. In 2010 on twitter he seemed to have a dream, a wish
"To Be 6'3 So F***ing Bad!"
and claimed that he stood
"6'1 Almost 6'2. F**K. *eats some milk*"
. He repeats this desire to be taller,
"I F****g Hope I Hit 6'3."
and in Jan 2011 mentioned
"I'm 6'1 156lbs"
and a month later seemed delighted:
"I'm 6'2 Now!!!!!!!!! YES!!!!!!"
, but then in April doubts crept in,
"I Think I Grew In The Past Couple Months. I Think I'm Officially 6'2. i Hope So."
He also mentioned his weight:
"I WEIGH 198 POUNDS"
.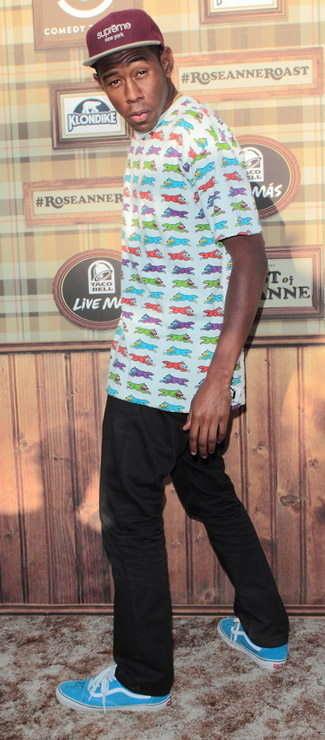 Photos by PR Photos
Add a Comment
73 comments
Average Guess (44 Votes)
6ft 1.01in (185.4cm)
Dante Vaz
said on 13/Sep/19
He doesn't look even close to 198 pounds, though
Lil Quacky
said on 15/Aug/19
Umm in the song who dat boy he looks that hes 6ft 2???
Easterwood
said on 19/May/19
Above average, but not substantially tall. My guess would be about 6'.
SnerhagAip7777
said on 24/Apr/19
You have to admire him for leaving it to wanting to be 6ft3 instead of claiming 6'3 like many other men would in that position.
Dutchy
said on 8/Apr/19
He exactly 6ft
Colberto
said on 1/Mar/19
Hey rob
A 186.5
B 186
C 185.5
D 185
E 184.5
I think E-C
like right around 185 most is C

Editor Rob
I don't think he's near his claim so I can see C or d as possible
yoloboy
said on 21/Jul/18
Here he is next to 5'9" listed Jamie Foxx
Click Here
Frost
said on 8/May/18
I doubt that inch changes perspectives THAT much
Kevin
said on 26/Apr/18
@Fin
He's 6'0 at best. If he was actually 6'1 he wouldn't be talking about his height all the time on twitter. Legit 6'1 guys know they are tall already.
MaskDeMasque
said on 8/Apr/18
From his music videos and bits of Loiter Squad i've seen, i get more of a 183-184cm impression. He doesn't really look like a 6'1 guy.
:)
said on 29/Jan/18
You have to take footwear into account though. P sure jay is wearing dress shoe and Tyler is wearing converse so that's like inch or two difference. Still he doesn't look like a 6 ft there.
Fin
said on 29/Jan/18
How has Tyler even got 6'1"? Look at this photo with Jay Z who's so 6'1" according to this site. Regardless of posture, camera angle, all that ****: Tyler isn't the same height as him in this photo. And judging by previous differences that you can see when he's stood next to Rocky (who is 5'9" - looo at the video of him next to Joe La Puma on Complex Sneaker Shopping who is 5'11") he can't be any taller than 6'. My guess is 5'11.
Click Here

Editor Rob
He could be as short as 6ft, he's not that much taller than his friend
Jimmy
.
Yolo21
said on 28/Jan/18
He's shorter than JayZ who is 6'2" by a lot. Look at the recent 2018 Grammys photos with the two of them.
Raheiz
said on 23/Jan/18
I definitely think he lies about his height a bit. He barely towers over anyone. I haven't seen a pic where he actually looks a 6'2 guy. He probably is 6'0-6'1. He isn't much taller than Rocky in pics. He also shorter than Trinidad James
MyNameis
said on 15/Dec/17
He's no more than a weak 6'0. I've never seen a photo or video where Asap looked more than 2 inches at most shorter than Tyler, and you list Asap as a solid 5'10. Asap might actually be closer to 5'10.5 if Tyler is 6'1.
:)
said on 6/Oct/17
@B I have to say tyler has an awful posture so he is losing little bit of height from that as well.
B
said on 4/Oct/17
@:) Yeah I think Jimmy is wearing dress shoes and Tyler is wearing sneakers you can see them at 1:47
:)
said on 1/Oct/17
@B Id think jimmy is waring a footwear and tyler is probably not. so that makes jimmy around 6'0- 6'1. Which makes tyler around 6 feet?
B
said on 28/Sep/17
Shorter than Jimmy Fallon????
Click Here
(4:00)
Anonymous
said on 27/Sep/17
He's on the dot 6'0, and lies about his height.
If Asap Rocky is barely 180cm, how can Tyler be anywhere near 6'2?
:)
said on 23/Sep/17
Better link
Click Here
Trindad James (6"2) and tyler the creator.
:)
said on 23/Sep/17
This is a photo of trindad james (6"2) and tyler the creator (6'1?) standing next to each other. you can scroll down to view the photo.
Click Here
:)
said on 4/Sep/17
i doubt hes 6 feet. my guess is 186cm.
Vittellius
said on 21/Aug/17
i'd say he is 6 and earl is 5,8.5
aknawkneemoose
said on 10/Jun/17
i'd say he could be over 6'1 but i think he probably isn't 6'2 lol
hi
said on 9/May/17
i saw his interview with bill nye and he did not look that much taller than him explanation?
ArthurJohn
said on 18/Nov/16
This guy claimed he was 6'2" in an interview, then said his biggest insecurity is his height - because he wants to be 6'3"!
Tymmo
said on 18/Nov/16
@earl
I could argue for 175cm, in my opinion Chance is a 178, maybe 179.
EDIT: keep in my that in the picture I provided, Chance has footwear AND camera advantage, he's a bit closer to the camera, makes him appear larger and taller, and his shoes are 1.75inch., Earl's shoes are probably 0.75inch.
Tymmo
said on 18/Nov/16
@earl
I could argue for 175cm, in my opinion Chance is a 178, maybe 179.
earl
said on 9/Aug/16
Earl can't be 177, that or Chance isn't 178 ( how he is listed on here)
Tymmo
said on 14/Jul/16
@Joseph, yeah, he might be shorter if Tyler isn't a full 185, in a Mellowhype song he's featured on he says ''Nigga **** you cracker, I put you six feet
(Well aren't you a rapper?) And I'm six feet''
So like TJE said, Earl might be 174, but I really think he's taller, like 176-177 range.
TJE
said on 9/Jun/16
Earl Sweatshirt is 5'8.5
Joseph
said on 8/Jun/16
@Tymmo he's seems to be a bit of a height chameleon, but I think ur spot on with ur guess of 177.
Tymmo
said on 6/Jun/16
@Joseph I'm thinking Tyler is 185 and Earl is about 177, I'll link a couple pictures for reference to Earl's height
With, 185 Tyler:
Click Here
With , 168 Mac Miller:
Click Here
With, 178 Mike Tyson:
Click Here
With, 180 Chance the Rapper:
Click Here
With, 192 Machine Gun Kelly:
Click Here
Joseph
said on 3/Jun/16
Not sure about what each is standing on or footwear, but how tall would u guess earl sweatshirt is? Provided Tyler is 185
Click Here
Editor Rob: in that still he could be a good 4-4.5 inch smaller, somewhere in that zone.
Randy
said on 21/Apr/16
He claimed 6'5 in his song, Nightmare. He said,"I'm 6'5 about to cry." He even talks about how he got taller in that song. But yeah he is obvious not even close to 6'5, he wishes.
TJE
said on 18/Apr/16
Yup, 6'0.75 for Tyler and 5'10.25 for ASAP.
xxx
said on 17/Apr/16
Rob if asap rocky is max 5'10.5 should he be downgraded to 6'-6'0.5? I cant see this guy be taller than the likes of henry cavill/jon hamm?
Editor Rob: you could argue 184-5 range for Tyler
lelman
said on 15/Apr/16
Just saw an interview where he said his biggest insecurity is his height. How often do you see a 6ft+ guy so worried about their stature? Absolutely nuts.
Aaron zamora
said on 29/Mar/16
If Tyler is this height listed here how tall do you think ASAP rocky is? You should consider adding a page for him.
Editor Rob: 5ft 10 range could be believed.
IFHY
said on 24/Dec/15
He can look 6'2 sometimes too
i'd say he's 6'1.5
O
said on 22/Nov/15
Rocky is listed 5'10.5 on Gòogle
AwwwYeah
said on 19/Nov/15
I saw him at The Grove. He's a very immature 6'2".
Tymmo
said on 21/Oct/15
@MD my take on it is that Rocky is 178cm with footwear advantage that makes him about 182cm in the video, and Tyler is 183cm with his footwear making him close to 185cm in the video...
MrTBlack
said on 15/Oct/15
6'1" is definely the most he is. Not sure if under it though.
Anon
said on 4/Oct/15
He looks way to close in height to rocky who's about 5'11 max (probably closer to 5'10) I would put him at 6".25 at most
TJE
said on 29/Sep/15
Rocky looks 5'10.5-5'11.
MD
said on 28/Sep/15
@Thom,
You find me a photo of a 6'0" Rocky. What you want proven is incumbent upon you to improve in the face of vast amounts of other evidence. How about this? How about that maybe Tyler is listed too tall? Shocking, right?
Thom
said on 24/Sep/15
@MD so how do you explain ASAP Rocky being a inch shorter than Tyler?
MD
said on 21/Sep/15
@Tymmo,
To be very clear, ASAP Rocky is not anything over the 5'10" he's most often listed. Here he is with 5'9" Pharrell Williams, and here I'm giving Pharrell a footwear advantage:
Click Here
So, A$AP might be even shorter than 5'10:, but certainly not a centimeter more.
Tymmo
said on 17/Sep/15
Now that I think about it, we don't see the footwear, I think Rocky could be wearing a shoe that has an inch sole, so he'd be around 5'11''½ - 6'0''.
Tyler most likely has his classic Vans on which give about ¾ inch.
Tymmo
said on 17/Sep/15
got something new to look at, here's Tyler and Rocky (A$AP) who is listed anywhere from 5'10'' to 5'11'' on the Internet, Tyler looks ½ an inch taller maybe an inch... maybe Tyler is 6'0'' ?
Click Here
Kechjellys
said on 9/Aug/15
I think he is around 6.1 or 6.2
MD
said on 20/Jul/15
Edit: I meant Jimmy KIMMEL. Either way, I'd like to see more pictures with this guy. He's quite a chameleon, height-wise.
MD
said on 16/Jul/15
Weird, here he is with 5'11"ish Jimmy Fallon. They take these stage pics standing on level ground, so I'm not sure what's going on here. Even taking into account slouches and down-pushes and whatnot, you'd still expect him to look much taller than he does here.
Click Here
Cars
said on 15/Jul/15
I met him today. I am 5'11 with dress shoes and he had a good 3 inches on me wearing low top Vans. Definitely 6'1+
Tymmo
said on 11/Apr/15
In response to my last comment, I don't think he stands tall and I think Lionel does, once again 185-186cm range for Tyler (2 inches difference), they are standing on grass though
Tymmo
said on 10/Apr/15
Screenshot from his new music video ''****ing Young'' that came out yesterday (
Click Here
)
He stand next to measured 6'3''(191cm) Lionel Boyce:
Click Here
I can see 5cm difference so I would say he is 186cm
Tyler
said on 5/Apr/15
I think that 186 or 187 is fairer.
Bishop
said on 17/Mar/15
He tends to wear converse a lot so he could appear shorter. I would say 186 cm.
Mathew
said on 4/Feb/15
Based on his comments I could see going with a 186 cm listing. I'd say he's probably just barely over 6'1".
Tymmo
said on 8/Jan/15
@Frank181cm I think Frank Ocean stands 181-182cm,
Click Here
he probably stands ~180cm in this pic and Tyler has about 5cm on him
Frank181cm
said on 4/Jan/15
Hey rob, how tall do u think frank ocean is?
Noodle
said on 27/Dec/14
Well, not really Jay. It was more down to the fact that it had never crossed my mind, and imagining him (fashion-wise, as he looks like a school boy), it wouldn't have surprised me were he shorter, like Lil Wayne, Tinchy Stryder etc.
Tymmo
said on 23/Dec/14
Waka*
Tymmo
said on 22/Dec/14
Here with 191cm Woka Flocka Flames:
Click Here
Tymmo
said on 22/Dec/14
yeah I think he might be 186cm
Tymmo
said on 22/Dec/14
yesss finally, you should consider adding Earl Sweatshirt as well
Rampage(-_-_-)Clover
said on 22/Dec/14
Rob, is a little over 6ft1 possible?
[Editor Rob: I wouldn't have guessed he was over 6ft 1.]
Jay
said on 22/Dec/14
Noodle, you really thought he was that short?
Bob
said on 22/Dec/14
Looks like a weak 6'2-er to me
poorelephant
said on 22/Dec/14
6'1.5? He wears flat shoes a lot as well
Noodle
said on 21/Dec/14
I don't know. I kept going until about 22.
I'm surprised by his height actually, whether he has grown or not. I always thought he looked a bit weedy. 5'6" or something.