Aaron Carter's Height
5ft 8 (172.7 cm)
American singer. On twitter, when asked how tall he was, he said
"5'9"
and in a Yahoo interview
"[I weigh] 135, 140...Yeah, and I'm 5'8"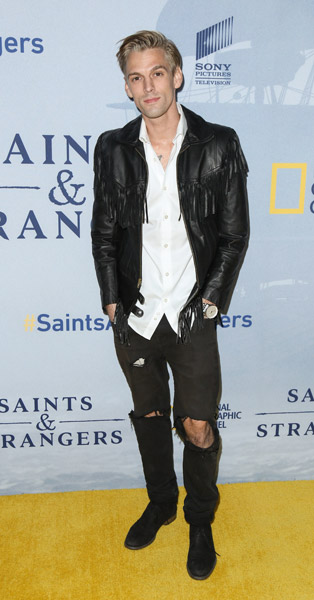 Photos by PR Photos
Add a Comment
26 comments
Average Guess (13 Votes)
5ft 8.13in (173.1cm)
Backtonature
said on 22/May/20
181 -182 no more
Chris Junior Hernandez 1990
said on 28/Nov/19
He look everywhere 5'8 1/2-5'9 with 6'0 Nick.
viper
said on 20/Sep/19
This is a surprise.
He gave me a 5-9-5-10 impression
Christopher Mooney
said on 18/Sep/19
This is way off. He's not actually that much shorter than his brother (who you list at 6 foot tall)
I'd say he's 5'10.
pop
said on 8/Apr/19
google has him at 6 feet....
Junior Hernandez 1990
said on 16/May/18
115lbs was def underweight for a 5'8 guy. The 135-140lbs claim must be a few years back.
MD
said on 23/Sep/17
It was revealed earlier this month on a daytime show, here, that he actually weighed 115lbs, which is way more believable for what he is, now, than that twitter quote. I also find it hilarious that Daily Mail kept describing him as 6-feet, and then every other British site kept using that number. lol I think 5'8" is the absolute most he could be.
Jen
said on 27/Aug/17
I just saw him. He's 5ft 7inches max with a good pair of shoes. I almost didn't think it was him. He's a real small guy.
Junior
said on 22/Aug/17
He may hit nearly 5'9 out of bed but he is not 5'9. 5'8 is the truth of it.
Johnson
said on 7/Aug/17
Rob, please add Nick Carter
Anon2
said on 6/Aug/17
kudos to him for admitting the truth about being 5'8'', this means that his brother isn't over 5'11.25'' barefoot. It also explains why he looked same height as Drake Bell
Click Here
Johnson
said on 29/Jul/17
@Rob any chance for 5'8.5??
I think he could round down 5'8.5 to 5'8. He looks really thin. 135-140 lbs is not that think as he looks for 5'8 flat. Honestly
Editor Rob: I think he probably did get measured somewhere around 5ft 8 and came out with the truth, but you could say maybe it was 5ft 8.5...
James
said on 26/Jul/17
Judging by his appearance with Leif Garrett I doubt Carter can even be 5'8".
Amin
said on 21/Jul/17
He recently said in an interview he's 5'8"
Click Here
Johnson
said on 21/May/17
Aaron with Nick Carter
Click Here
Johnson
said on 12/Apr/17
@Shredder I think @Rob should add Nick Carter, he is more popular tan Aaron Carter and his page would generate lots of visitors
My guess for Backstreet Boys heights (I have been guessing them): Howie 5'6, AJ 5'8.5, Brian 5'7.5, Kevin 6'1, Nick 6 ft tall
Borats Chicken
said on 11/Apr/17
Rob, would his brother be 5'10 to 5'11?
Editor Rob: he can look 2 or 3 inches taller.
Shredder
said on 11/Jan/17
Rob , how tall are the Backstreet Boys? Mostly the shorter members?
Editor Rob: shredder, not looked at them much.
Johnson
said on 2/Jan/17
Nick Carter is shorter than Backstreet Boys member Kevin Richardson listed 6'1. AJ McLean listed 5'9 does not appear taller than 5'8.5. Brian Littrell officially at 5'8 looks 5'7.5... and Howie 5'7 is not credible, but his old listings of 5'6 is better and real!!!
I love tall women
said on 1/Dec/16
Why do you have his listing and not Nick's? All Aaron has done his whole life is ride on his brother's coattail, he's a z-lister if you ever find yourself trying to name one
sa344
said on 26/Oct/16
Rob, What about Nick Carter?
Click Here
I think he looks 6'0'' next to Tyler Hubbard, don't you think?
175.7cm
said on 11/May/16
Rob, You think 176cm is possible?
Editor Rob: at times he might pull off that mark, but I think he's generally near enough 5ft 9, I would doubt he'd be only 5ft 8.
plus
said on 1/Jan/16
Aaron with Jesse Metcalfe (listed 177 cm here)
Click Here
With his brother Nick (listed in the net as 6'0 tall)
Click Here
Click Here
linke
said on 31/Dec/15
Rob, how tall is Nick Carter? 6'1? Didnt they had a Sister who was 5'11?
Editor Rob: I think he can look about 3 inches taller typically than aaron.
plus
said on 29/Dec/15
175 cm is what I think he is. The confussion with his brother Nick has made internet full of listings of him of 6 feet tall