Abbey Crouch's Height
5ft 8 (172.7 cm)
British Model and TV Personality (formerly Abigail Clancy). On her twitter page she commented on her height, saying:
"I'm 5ft 9in but have quite long legs and love massive heels so yes do have trouble getting jeans"
and in the Sun newspaper mentioned that after doing a tv show called the Parent Trap her weight dropped 5lbs from her usual "8st 7lb (119lbs)".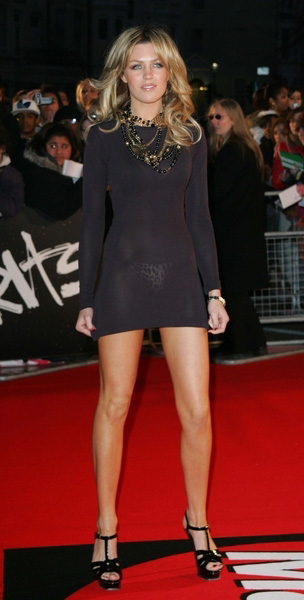 Photo by PR Photos
Add a Comment
38 comments
Average Guess (15 Votes)
5ft 7.32in (171cm)
Chris Junior Hernandez 1990
said on 25/May/20
Click Here
Peter is 6'7 1/2 so about 6'8 3/4 with this shoes under his chin is roughly close to 5'11 she still struggle an inch to reach his chin with her 3" heels so no way is she 5'8 barefoot and 5'11 with heels more like 5'10 with her standard 3" heels. Sometimes the highest she look is 5'7 1/2 and often look between 5'6-5'7 with Peter.
Chris Junior Hernandez 1990
said on 29/Jul/19
5'7 is the most she could struggle to be. Peter Crouch is near 6'9 if she still listed at 5'8.
khaled taban
said on 14/Mar/19
She is 172cm, not 175cm of course!
Olly
said on 10/Mar/19
She is five eight dead on. Met her and yes she is pretty tall.
aba
said on 10/Jan/19
5' 7' seems right
Junior Hernandez 1990
said on 11/Dec/18
She can be listed 5'8 forever but nothing could change the fact that her husband Peter is one foot of an inch taller than her. 5'6 3/4 will be true height.
jinny90
said on 14/Sep/18
Rob here is Abbey with 5'7 Holly Willoughby. How much taller do you think Abbey is?.
Click Here

Editor Rob
They can look reasonably close, enough that there may not be as much as an inch between them.
MAD SAM
said on 11/Jul/18
Her heels are massive, like 8 inches lol ; 5'6.75" or almost 169.5 cm
Tunman
said on 10/Jul/18
Okay something's really wrong here.She may be 1.5" max taller than Denise Van Outen if her head was levelled and more like 0.5" when counting the thicker heel.How is there 2"difference I fail to understand.Well Abbey can be only 5'7.5" as she makes Crouch easily 6'8+
As for Denise,maybe was it a 5'7 claim wrongfully put down at 5'6 in Daily Mail?Or at least a 5'6.5"rounded down?

Editor Rob
I would say Denise claim is correct as she also listed her height 5ft 6 in the Casting directories. Crouch of course can look shorter than her claim, how much is debatable.
Junior Hernandez 1990
said on 21/May/18
She can be 5'6.5" max but her husband Peter had to be 6'8.
Sandy Cowell
said on 16/Apr/18
I just noticed 'Abbey Crunch' staring out at me, which is a type of biscuit! That's because I'm not wearing my contact lenses again!
☕🍪🍪
Abbey, who can often pass for taller because of her reed-slim figure, can have 5ft7.5! Perhaps a couple of Abbey Crunch wouldn't go a miss either! 😉
Nik
said on 20/Mar/18
For me Abbey is slightly south of this listing!
Mimi
said on 18/Mar/18
I can't believe people are guessing her at 5ft5. The I see her is 5ft7.5 and least is 5ft6.75. It's impossible for a woman who's in the 5ft5 range to even claim 5ft8 let alone 5ft9. That's a complete and utter absurdity
Junior
said on 9/Jan/18
Look approximate 35cm shorter than her 6'7.5" husband Peter Crouch. 5'5.75" and with 3.5" heels at 5'9 claim.
jinny90
said on 21/Apr/17
Abbey is at least 5'9 . In standard heels she is nearly as tall as Paul Sculford who is 6 foot tall. Also on BNTM she is taller than most of the models on it and the models are all at least 5'8".
Click Here
Blum
said on 12/Apr/17
5ft5.5, she is nowhere near 5ft 9 as listed or 5ft 7
Olly
said on 10/Apr/17
5ft 5.5 is way too low for her. She's a couple of inches taller than that.
S.J.H
said on 6/Apr/17
She can never reach 5'9 barefoot not even a chance 5'7 out of bed anymore. 5'5.5 for her is generous.
Click Here
standing on higher pavement with her favourite 4' heels still a head lower than her 6'7.5 hubby
Click Here
5'8 was a joke. More like 5'6 see how relax 6'7.5 Big Peter walk
Click Here
Shes tiny and look proportionally 5'5 here. Shes a little under Big Peter shoulder and see how Big Peter atually was slouching. Suspected to be only 5'5.5 max and 5'9 and with heels
Click Here
Shes a hair hitting right at Big Peter shoulder tip without hair advantage she is nothing over 167cm
Click Here
Big Peter don't have short neck and high shoulder. That prove any women stand at 5'6.5 reach his shoulder tip and a hair taller than his shoulder.
At one point Peter maybe 6'7.75 i don't know.
S.J.H
said on 10/Nov/16
I hardly see her stand above peter crouch shoulder height and its more to the fact shes a little under crouch shoulder. More i see it abbey crouch is under 5'7 with peter crouch
Peter Crouch 6'8
Abbey Crouch 5'6.5
div
said on 16/Dec/15
Rob here is a video of Abbey Clancy with 5'7 Ruth Langsford . Their heels look about the same . Yet Ruth Langsford is clearly taller than Abbey . Now Ruth is clearly a strong 5'7 but she isn't 5'8 . So Abbey is about 5'7 to 5'7.5". 5'8" for Abbey looks very unlikely .
Click Here
Editor Rob: she could look a bit taller than Ruth there, certainly 5ft 9 is always been a stretch. is 5ft 8 a stretch? 5ft 7.5 range could be possible
div
said on 16/Sep/15
Rob here a pictures of Abbey Clancy with 5'9 Tess Daly . To me Abbey Clancy looks nearly 2 inches shorter than Tess. Bare in mind that Abbey is wearing pretty big heels so i cant see the difference in height been explained by Tess having a heel advantage. Do you think Abbey might be only 5'7.
Click Here
here are abbeys heels
Click Here
[Editor Rob: in those photos her height goes up and down a bit, she could look 5ft 7....then 5ft 8...]
div
said on 11/Sep/15
Rob here she is with 5'11 model Oliver Chesire in 3 inch heels . Do you think 5'8 looks a
stretch in this photo?
Click Here
Here are Abbeys heels.
Click Here
REDO
said on 13/Jul/15
Here she is with 5'9 Tess Daly she looks nearly 2 inches shorter.
Abbey isn't much more than 5'7 or a 5'7 and a half
Click Here
S.J.H
said on 19/Mar/15
Max 171cm and probably just a decent 5'7
REDO
said on 27/Feb/15
She looks over a foot shorter than 6 foot 7 Peter Crouch. This photo shows that
she isn't even 5'8 . She is 5'7 at most.
Click Here
S.J.H
said on 1/Feb/15
I did say she was 5'7.5 and nothing over
avi
said on 10/May/14
looks barely 5'7 to me
queenie
said on 30/Sep/13
She looks tall on Strictly Come Dancing wearing only very small heels. Certainly no less than 5'8.
Arch Stanton
said on 11/May/13
Good call Rob. On Jonathan Ross she was in huge heels and still looked struggling with 6 ft in comparison. I actually think 5'8" is the most she could be. Crouch has minimum 12 inches on her , sure he can look 6'8" but 6'7.5" and 5'8" seems nearer when you see them barefoot together.
Arch Stanton
said on 8/May/13
Any thoughts on this Rob?
Click Here
Scroll down for the Van Outen photo, look at the footwear, similar but if anything Abbey's heels are slightly higher. 5 ft 9 is pretty much impossible as Denise claims 5 ft 6. I believe Denise as in all honesty she can look 5 ft 8. But Abbey looks 5'7.5"-5'8 in my opinion and that would seem to fit with how she looks with Peter Crouch. Abbey does look taller than Ruth Langsford but her heels are usually massive. I'd go with 5 ft 8.
[Editor Rob: yeah, 5ft 8 is closer than her claim, the more you see of her with others.]
Arch Stanton
said on 8/May/13
Rob, I'm requesting a downgrade to 5 ft 8, can you consider look into i?
Click Here
Click Here
Click Here
She's about a foot shorter than Peter, and he isn't 6 ft 9 is he? Look at the Van Outen photo. If Van Outen is 5 ft 6 she's more 172cm than 175cm. I'd go with 5 ft 8 and could buy 5 ft 7 and a half. In huge heels she barely reaches 6 ft, more 5 ft 11 range. A genuine 5 ft 9 woman would reach near 6'1" in the typical monster heels she wears.
Arch Stanton
said on 22/Apr/13
Click Here
She doesn't give off a particularly tall impression really, she looks like 5 ft 6 proportionally here. Denise van Outen strangely gives off a taller impression on the beach.
Arch Stanton
said on 13/Dec/12
He actually looks more 5'10 next to Cracknell who certainly looks 6'4" range in comparison.
Arch Stanton
said on 13/Dec/12
Rob how tall do you think Eamonn Holmes is? I'd thought he was 5'11"-6 ft and on the tall side but 6'3.5"-6'4" James Cracknell towers him by a good 6 inches
Click Here
[Editor Rob: I doubt he's more than 5ft 11]
Arch Stanton
said on 13/Dec/12
Yes Queenie, I doubt she is a full 5 ft 9. She wears huge heels and I think she reaches about 6 ft in them, was only 1-2 inches shorter than 6'1" er Jonathan Ross in them. In massive heels, Crouch still looks at least 8 inches taller. I think barefoot she'd be nearer 5 ft 8. To be honest though proportionally she generally does look 5 ft 9 but she's super skinny especially nowadays. Is Ruth Langsford that tall? I hadn't noticed. I have a major crush on that woman, just sexy, unlike Eamonn LOL.
queenie
said on 10/Aug/12
she's certainly more than 5'9" in heels, but i think 5'7" - 5'8" is more realistic, barefoot. she's about the same height as 5'8" ruth langsford on this morning when they're both wearing stilletos - if anything, abbey is probably slightly shorter. but then she was about the same height as janice dickenson (5'9.5") when they did their show together.
Hob
said on 7/Aug/12
she probably is 5feet9 in heels and 5'10-5'11 in killer type heels. next to 6'7 peter crouch i can't see under a foot difference. she look more like 14inches shorter than crouch. she needs a huge downgrade. her good proportion gives illusion been tall in heels. don't be fool..
queenie
said on 6/Aug/12
She needs to be dropped by an inch, I'd say. At 20 years old she claimed 5' 8.5", which she raised by half an inch when she got signed to a couple of model agencies. As discussed on her husband's page, there certainly seems more than ten and a half inches between them.