Adam Scott's Height
5ft 9 (175.3 cm)
American actor best known for roles in The Aviator, Monster in Law, Step Brothers, Party Down, Friends with Kids, The Secret Life of Walter Mitty and TV show Parks and Recreation. In 2018 he mentioned
"I'm Five-Ten"
.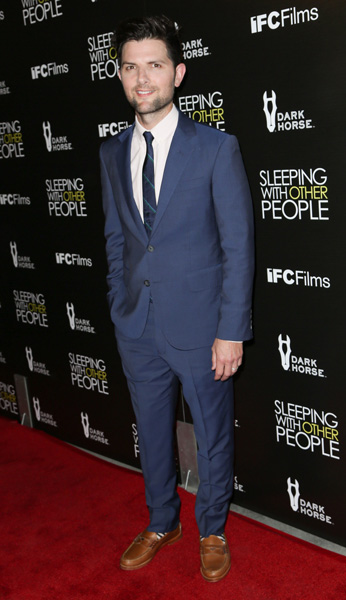 Photos by PR Photos
Add a Comment
41 comments
Average Guess (21 Votes)
5ft 8.93in (175.1cm)
barrylee
said on 12/Nov/19
solid 5'9 maybe close to 5'10
alex5'11
said on 3/Nov/19
The listing is correct, he looks 5'9, maybe in his teenage years was very near to 5'10 range
Kimblemur
said on 17/May/19
Definitely not 5'10, 5'9 max
Dave orme
said on 18/Sep/18
Looks 5 ft 10 to me 👍🏻
Froboz
said on 14/Sep/18
There are photos floating around of him, Ben Stiller, and Kristen Wiig (wearing heals), and he's only like 2" taller than Stiller. Wiig is listed at 5' 5", and in heals looks a hair taller than Adam Scott. Idk, he seems more like 5' 8"... Erm, okay, I've already clicked submit, but other photos of the 3 of them and he does look taller from other angles.
176cm guy
said on 4/Apr/18
Hey Rob, he claims to be 5'10" in this video, but isn't exactly sure how much he weighs.
Click Here

Editor Rob
Thanks for linking to it...not an unreasonable claim for him.
EthanCouch
said on 28/Mar/18
He didn't look tall in step brothers maybe like 5'8.
Fisticuffs
said on 19/Mar/18
Yeah not 5'10" more like 5'8.5"
SD(171CM)
said on 16/Mar/18
In this video
Click Here
@5:37 ='I'm 5'10' from the pictures I've seen he looks like a weak 5'9 due to the hair...
Travis
said on 8/Oct/17
Perhaps you should add a Parks and Rec category, Rob.
Travis
said on 12/Aug/17
5'9.25" IMO. A solid 5'9" with an Edge on the likes of Steven Carell and other people of the 5'9" variety
KH
said on 10/Jul/17
This might be an underlist. He seems more like a weak 5'10 (5'9.75 range)to me. A little taller then guys like Paul Rudd and Steve Carrell. Scott has a slight build so seems shorter.
181cm
said on 2/Jun/17
He is no more than 173cm.... 175cm is out of his reach...
BT
said on 16/Dec/16
He can look both a little under and a little over the 5'9 mark at times. He's more of a solid 5'9 than someone like Paul Rudd imo.
Nick Teixeira
said on 3/Dec/16
I just saw him today and I'm 5'9 1/2 and he was slightly taller than me. I think he's a legit 5'10
small foot
said on 17/Jun/16
his huge head gives him the appearance of 5'9" with shoes of course....barefoot he's 5'8".....funny guy though....actors just give average people the feel that there the same in life...even though we all know that's not true..
Rampage(-_-_-)Clover
said on 14/Apr/16
Rob, could you add Six Feet Under?
Dan
said on 10/Mar/16
Looks about a half inch shorter than Michael C. Hall in Six Feet Under.
Enes
said on 27/Jan/16
Looks 5.11 in parks and rec
Jonah
said on 14/Nov/15
No less than 5.10
Sam
said on 6/Oct/15
Rob, could you please add Step Brothers, Party Down, Friends with Kids, The Secret Life of Walter Mitty and Parks and Recreation to his credits?
I'd say 174 cm is arguable but I wouldn't go any lower than that.
5 feet 8 1/5 jeff
said on 22/Aug/15
He's 5 feet 8 1/5 he needs a downgrade
Charlie
said on 13/Jan/15
There is no way that adam scott is average height.. 5'9" is way too tall for him in my opinion. In the picture posted by "MD", Adam Scott is standing right next to Jeremy Sisto, who is listed on this site as 6'1.5".. From the picture alone, Scott gives up a solid 5.5 inches.. Sisto is towering over him, which would not be the case if Scott were a true 5'9"...
funnyguy
said on 25/Nov/14
5'9 can't be right, he always look a little below average, 5'8.
Hypado
said on 15/Jun/14
Adam Scott is 174cm
cole
said on 16/May/14
@Emily: Yeah his head isn't that big, he's got a very voluminous hairstyle, small shoulders and is skinny in general. He's no taller than 5'9.
Emily
said on 21/Dec/13
I notice many people thinking he has a big head. Does he really? I think he's very skinny, so that definitely adds in making his head look bigger, plus he's short (-ish), so that's another contributing factor.
Sam
said on 20/Dec/13
Funny picture, Jeremy Sisto towers over the other actors in it. Scott and his old friend Paul Rudd look similar height, Rudd may be a fraction taller. I've seen Rudd in person at 5'8"-5'9" range, so I think Scott's closer to 5'8" than 5'9". Also witness how Jennifer Westerfeldt seems taller than Adam in Friends with Kids.
Click Here
MD
said on 20/Dec/13
Across from Don Cheadle:
Click Here
He's not straightened up as much as he could. If he were, you'd get about a half-inch difference.
MD
said on 20/Dec/13
Just saw him on Jimmy Kimmel's late night show, and he looked a bare minimum three inches shorter than 5'11.5" Jimmy Kimmel. I'd shave off at least half an inch. He is not even 5'9", let alone 5'10".
cole
said on 14/Jul/13
This guy can look anything from 5'8 to 5'10. In the movie The Vicious Kid which I am watching as we speak, with Alex Frost who's supposedly 5'10, and JK Simmons who's listed 5'10.5, he looked taller than Frost. I wouldn't say he's over 5'9 but sometimes I really wonder. Have you heard of Alex Frost, Rob? How tall do you think he is? He can look 5'8 range to me.
BB
said on 4/May/13
Adam is about 5'8.
Ace
said on 16/Sep/12
In an episode of Parks and Recreation, when Ron has the cast line up to explain who broke his coffee machine, Adam Scott and Aziz Ansari stand next to each other, and the difference was shocking. He had at least 3 inches on him.
Curiousdish
said on 27/Nov/11
Says he's 5'10" in one profile 5'9" in another, now 5'8" If you look at the picture of him in Leap Year standing in the hotel lobby going to propose to Amy Adams, who she is 5'4" tall, and his slight build, I would guess him at 5'5" or 5'6" tall, he looks a littleperson next to Matthew Good.....
L
said on 20/Aug/11
where do people get 6 foot 0 from hes like 5'8 34
JellO
said on 21/Feb/11
I don't know. He looks a weak 5'9 next to Amy Poehler on Parks and Rec. Poehler's pretty short but still, he's almost a head taller than her. I'd guess 5'8.75 for most of the day.
da_truth
said on 17/Feb/11
he's about 5'8" maybe less in the movie "Operation:Endgame" - Ellen Barkin with 2" heels makes her about 5'8" and she still looked a little taller - 5'7.5" could also be a possibility
James2
said on 13/Jan/09
He looks about an inch shorter than 5'8 Mary Steenburgen in Step Brothers. Could be the angles, but he's definitely shorter than 5'10.
bruce_willis
said on 10/Jan/08
adam scott is NOT 5'10. I'd say he is much closer to 5'8.
Anonymous
said on 25/Dec/06
If you look closely, he was just about Jennifer Lopez's hieght in Monster In Law (without heals....in fact without any shoes).
I'd put him closer to 5'6". No Lie. He was about 1 inch taller then JLo and JLo is about 5'5" MAX
Phil
said on 28/Aug/06
Hey, after having watched "Monser in Law" I'd say that 5ft10 is clearly a max for Adam. I'd give him closer to 5'9 actually, and maybe less. He really did not strike me as tall, especially next to J Lo.