Adrian Pasdar's Height
5ft 10 (177.8 cm)
American actor best known for his role as Nathan Petrelli on TV show Heroes, aswell as playing lead in the 1987 movie Near Dark. His main fan site says he played
"defensive back at 5'11", 206 lb"
. These photos were from a Collectormania event in Manchester. Jenny had about 1/3rd inch less sneaker than us that day.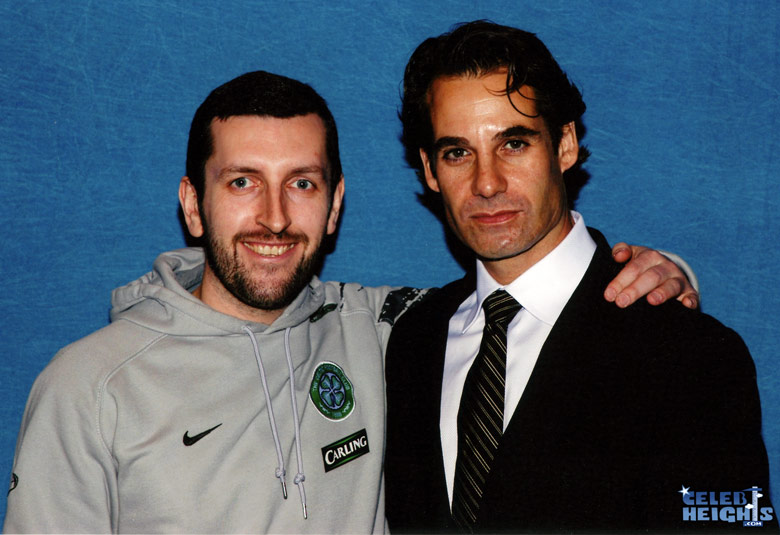 5ft 8 Rob, 5ft 8 Jenny and Adrian
You May Be Interested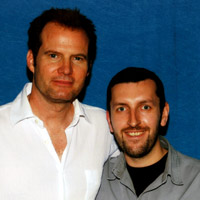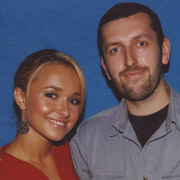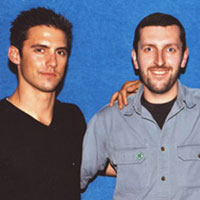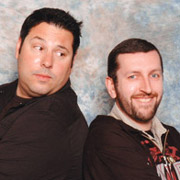 Add a Comment
84 comments
Average Guess (33 Votes)
5ft 9.97in (177.7cm)
MaskDeMasque
said on 10/Feb/21
He looked 5'10 in Heroes and in pics above.
Tunman
said on 6/Nov/20
Rob,if I might suggest something,is it possible that you add in the description whether any pic is reliable for height guessing or not?I mean most of them aren't,but that doesn't mean you shouldn't post them of course.This one with Adrian is just one among hundreds.He looks what here?2,5 maybe 3cm max taller than you?But you said he's even a more solid 5'10 than Tyson and I'm sure you won't be 2-2,5cm off the truth anyways.
My point is:it's always a pleasure to see you smile but we just should know whether we can rely on a pic before making any estimate

Editor Rob
Taking perfect photos is hard enough - see the height challenge for instance.
A lot of photos can show real difference, but sometimes a fraction or more gets reduced/exaggerated. Ultimately the listing itself is the guess/estimate and a photo also helps back up the idea somebody has met a celeb and is in a position to see how tall they look from their perspective or against others.

Sometimes I mention this within comments, I do think with Jenny Adrian holds up as a decent 5ft 10.
Nik Ashton
said on 1/Jul/20
He can pull off looking 5'10"!
JohnMoore-162cm
said on 14/Apr/20
He is a fraction below 5ft10 , very close though
Jkiller
said on 21/Mar/20
Close to 5'10
Christian 6'5 3/8"
said on 24/Sep/18
Either 5'9.75" or 5'10" is possible, or somewhere around that.
Junior Hernandez 1990
said on 21/Sep/18
He wear small lift in Colony to look near 6'0 with shoes. Thick footwear like 1.6-1.7" style.
Nik
said on 3/Sep/18
5'9.75" - 5'10"!
Rampage(-_-_-)Clover
said on 4/Dec/17
Near 5ft10 but maybe a fraction below at worst
Bobby
said on 4/Oct/17
If you were to judge by eye lines, he'd still be 5'10. I don't see any less than that.
KH
said on 13/Sep/17
To be 5'10 he only needs to be about 1.7 inches taller then Rob and that looks about right to me when you factor in the slight head tilt.
MaskDeMasque
said on 23/Jul/17
5'10 is probably right. If you were to judge by eyelines he'd be 5'9.5 but his head is pretty big lol.
World Citizen
said on 13/Jun/17
I don't see him any higher than 177 cm.
Rampage(-_-_-)Clover
said on 10/Dec/16
Rob, is a fraction over 5ft10 possible?
josef
said on 22/Nov/16
he`s more like 177cm.

Editor Rob
I would say Adrian was a more solid 5ft 10 than a guy like Mike Tyson.
S.J.H
said on 9/Nov/16
177cm and 5'11 with shoes
eww
said on 24/Oct/16
eye level suggests otherwise. I mean you next to some 5'6ers and eye level difference is massive compared to this. 2-inch eye difference eye meets end of nose.
Peter 179cm
said on 30/Jul/16
Looks no more than 177 range(weak 177cm basically) in the photo,but i could see him at nearly 178 with better posture.His 180 claim is likely a shoe measurement.
184-182
said on 8/Apr/16
Looks maybe 1.5" to 2" taller than you Rob. Considering you're a solid 5'8", I think 5'10" is pretty spot on.
184.3cm (Night)
said on 31/Mar/16
I would have guessed 5'9.5"-5'9.75" by this pic alone.
Maybe around 170 pound range.
MD
said on 28/Mar/16
@Rob,
Looking at these recent comments, and then seeing him standing across from Clark Gregg, might this be too high a listing?
Click Here
Admittedly, I can't tell if they are lined up with one another, but do we really think he's 5'10" flat in the evening? I'd argued it years back looking at the comments at the bottom of the page, but perhaps something between 5'9" and 5'10" is closer to the truth?
Paleman
said on 23/Mar/16
Doesn't look a full 2 inches taller than you Rob. More like one inch and a little bit over.
I'd guess that this guy's height is 176-177 cm.
Johno
said on 3/Jan/16
A 5'9.25 estimate seems reasonable.
The Dutch Guy
said on 26/Dec/15
Rampage(-_- 🍀 -_-)Clover said on 24/Aug/15
5ft11, 206lbs is small for DB.
🏈🏉
Thats small for a NFL material, but in college football thats the average height.
Rampage(-_- 🍀 -_-)Clover
said on 24/Aug/15
5ft11, 206lbs is small for DB.
🏈🏉
Judd
said on 16/May/15
[Editor Rob: I'm sure I had 1 inch sneaker and he no more than 1 inch shoe, so really no difference.]
in that case, 5'9.75-10" is fair for him.
Judd
said on 13/May/15
it seems a right estimate, but i don't know nothing about his shoes!
with same footwear he's absolutely 5'10" but if you (rob) has classic sneakers and he wear dress shoes, then he may be a little under 5'10"...

Editor Rob
I'm sure I had 1 inch sneaker and he no more than 1 inch shoe, so really no difference.
Powerhouse
said on 31/Dec/14
Looks like 2 - 2.5 inches difference. He could be 5'10.25 or 5'10.5 but i'm not seeing a flat 5'10.
Omid
said on 1/Dec/14
Larc, Shaun........he is half Persian half German
Oanh
said on 4/Nov/14
Rampage(-_-_-)Clover says on 18/Oct/13
Maybe back in college he weighed 206lbs.
Looks nowhere near that now. Maybe 180lbs?
Does look a legit 5ft10 though if he stood better. Could possibly get away with 5ft11
Yeah, he weighed 206lbs when he played football in college. In the photo, he looks about 170lbs. As for his height, he looks 5'10" max...don't think he can pass for 5'11".
Ali
said on 16/Dec/13
He appears to be 3 inches taller than you
Rampage(-_-_-)Clover
said on 18/Oct/13
Maybe back in college he weighed 206lbs.
Looks nowhere near that now. Maybe 180lbs?
Does look a legit 5ft10 though if he stood better. Could possibly get away with 5ft11
Shelly
said on 16/Jun/13
5' 10" seems about right.
And Shaun's an idiot.
Johno
said on 8/May/13
1 inch taller then rob. Robs head just about passes adrian's hairline
Rob 5'8 - 5'8.8
Adrian 5'9 - 5'9.8
Cebka
said on 29/Jan/13
Lol @ 206lb, more like 150-170. Solid 5'10 tho
Larc-186.7cm-188.6cm
said on 22/Oct/12
He's 177-178 range, 5'10 is good.
@Shaun:
A little too italian looking?!? I'm italian, and what's that supposed to mean?
LG69
said on 2/Oct/12
@Shaun, what do you mean an insult? Federer is not a bad looking guy but neither is Pasdar. My ex gf always thought he was handsome. Anyway, he looks 5'9.5 in this photo.
Shaun
said on 12/Sep/12
Federer? A bit of an insult. This guy looks a little greasy/creepy. A little too Italian looking if you know what I mean. He does look more 177-178.
ab
said on 12/Aug/12
Looks 176.5-177cm, 178 cm seems to me impossible
dadang
said on 1/Aug/12
he looks 5'9½''
Jantine
said on 31/Jul/12
Reminds me of Roger Federer....in this picture.
MaskDeMasque
said on 14/Jun/12
looks 177 there.
dmeyer
said on 6/Jan/12
he is more 177-8cm 170 pounds than 180cm 206
ChiasmataX
said on 12/Dec/11
Brad Pitt would look exactly like this if he was to take a picture with Rob.
Rampage(-_-_-)Clover
said on 27/Jun/11
Looks 5ft9.5-5ft10 or 177cm solid, no less.
Dmeyer
said on 13/Jun/11
Ton whi does look under 5 ft 10 in thé pic
Cranberries
said on 11/May/11
He must have been a chub to weigh 206 lbs... A 5'10", 206 lb. man is a tank, and Pasdar's shoulders and other features are about the same size as Rob's. Neither of these two could really pull of the tank look without also pulling off the not-so-manly "marshmallow look".
Gorgeous
said on 10/May/11
176-177 (brad pitt's height)
Rampage(-_-_-)Clover
said on 1/May/11
5"11 in shoes
James
said on 16/Feb/11
could be 177cm
Dean
said on 24/Jan/11
Looks around 1.75 inch..5'9.75 177cm..claiming 5'10 is fair though
Rampage(-_-_-)Clover
said on 3/Jan/11
5"9.75(177cm)
James
said on 27/Jun/09
He does look at least 5'10
MD
said on 15/Jun/09
He gave that weight for when he was playing football. It may have no been true, then; it's most certainly not his weight as an actor.
OliTheMan
said on 14/Jun/09
206 lbs?!??! **** he always seemed like a slim guy
bam
said on 4/Jun/09
rob are his dress shoes giving any advantage? Or is it minimal?

Editor Rob
from measuring shoes a lot can be in 0.9 - 1.2 range. I don't think he had more than 0.1 inch over me or anything.
derek d
said on 2/Jun/09
"defensive back at 5
horacle
said on 26/Jan/09
He looks a solid 5'10.
bam
said on 20/Nov/08
i would assume he is a hair over 5'10 like 5'10.25. That would explain why the difference between him and milo is so big.
MD
said on 18/Nov/08
Rob,
How many cm or inches in the difference of height do you see here (pay attention to the shoulders):
Click Here
Either Milo is listed too high, or Adrian to short. I'm going to go with the former. Milo is no more than 5'8".

Editor Rob
when someone puts an arm round you it's going to raise their shoulder. I think there's either 1.5-2 inches, in person and in photos I don't see much different.
Antron
said on 18/Nov/08
Looks solid 5'10 to me, so he's near enough 5'11 in shoes to use it for sports. Not egregious.
dmeyer
said on 1/Nov/08
he looks exactly 3 in shorter than 6 ft 1 grunberg so 5 ft 10 is right or minimum 5 ft 9.75
Davey
said on 17/Jul/08
Solid 5`10
Anthony
said on 13/Jan/08
In some promos from Season One I notice they try to make Pasdar look bigger. In some he looks as tall as Jack Coleman.
Big-T
said on 18/Nov/07
Click Here
looks to be two inches or so above milo
allana
said on 15/Nov/07
i've met him in london and he's can't be any shorter or taller than 5'10
B Serious
said on 5/Nov/07
Doesn't the posted picture speak volumes? Accounting for posture, Milo appears to be as I believed him to be when he appeared on Gilmore girls, about eye to eye with his love interest, who when I last checked was estimated to be a tall 5'6" or short 5'7". As she was playing younger than her age she rarely wore heels as not to appear too womanly. 5'9" for him seemed a stretch. Adrian appears to be leaning a little (head tilt) and still seems slightyly taller than the other 2 pictured, so anything short of 5'10" would seem correct. Adrian also looked quite short when in scenes with Richard T. Jones on Judging Amy, who has been listed in the 6'1", 6'2" range. If he were ever as tall as the quoted football height, there would not have been that desparity. And finally in Heroes, check the full body visible shots of these 2 with their costar Hayden Panettiere who is tiny and listed here at short of 5'1" and I think it will prove the posted picture to be an accurate assessment despite former numbers attributed to them.
bruce_willis
said on 22/Oct/07
he looks like a olid 5'10
Anthony
said on 17/Oct/07
True about Greg's posture. It could've just been the angling or floor level. I just remember being shocked when I saw it.
Such a shame you guys across the pond have to wait. This season got off to a bit of a slow start but as of last Monday is fully back on track. We still haven't hit the big turning point episode a la "Homecoming" or "Company Man," but it's still early. I won't give away any spoilers. :)
Anthony
said on 16/Oct/07
Hey, Rob, did you catch last night's "Heroes"? Or is it on in the U.K. yet? Either way, there was one scene where I could almost swear that Adrian looked taller than Greg Grunberg, who's definitely at least the 6'1.25 listed here. In all other shots, though, he was shorter.

Editor Rob
not seen any of season 2. I don't download shows, watching on pc is too noisy. Grunberg has bad posture a lot.
Anthony
said on 14/Oct/07
Adrian looks a bit drunk.
Caesar
said on 12/Oct/07
Yes, that 206 lb listing is even more outrageous than the height extension! The guy can't be more than 170 lbs. He doesn't look that much taller than Milo, who is not a legitimate 5'9. I'd say 5'9 with change.
Anthony
said on 2/Sep/07
I just started watching "Heroes" today (great show), and I think he looks about 5'10-ish.
MD
said on 10/May/07
He does look taller than Milo, but even in his dress shoes, I've come to notice, it's less than an inch difference. For me, he looks somewhere in between 5'9" and 5'10", and at the lower end of the scale. He can claim 5'11" if he's 5'9". If he really was 5'10", he could get away with claiming 6'0", but he doesn't.
jaze
said on 10/May/07
I agree with the rest in saying that Adrian looks taller than Milo in Heroes whenever they're standing close together (or sometimes even eye-to-eye). However, let's not forget that he usually wears "executive" type of clothes, and his shoes would definitely have to be the heeled type, giving him that height advantage over Milo. I'd say they're fairly of the same height.
MD
said on 17/Apr/07
You can't tell someone's height when their sitting down. I look much smaller than my height when sitting down because I have a short torso, and some people look taller than they are when they sit down because of short legs and long torsoes.
Dan
said on 16/Apr/07
I saw him last night on a flight from LA to NY. He is tiny, especially in a first class seat. He would have to jump to even clear 5 ft 8.
MD
said on 5/Feb/07
While TV shows and movies aren't the best place to make a judgement from, I too, must say that Adrian only looks marginally taller than Milo on 'Heroes.' I've been paying more attention to the show, lately (what an awesome show), and every time they stand face-to-face, which seems to be pretty often, Adrian always ends up only looking .25-.5 inches taller, at most.
Alex
said on 13/Jan/07
Yeah, agreed. Now that I look at it, I'd say 5' 9.75". Not quite 5'10".
Alex
said on 11/Jan/07
He seems to be a hair taller than Milo Ventimiglia in 'Heroes'. If Milo is 5'9" then I'd say Pasdar would be a solid 5'9.5"
JS
said on 27/Dec/06
I played defensive back at 6'1" and 185#.
Funny, I've never been over six feet.
Never believe the program.
MD
said on 6/Dec/06
If he is 5'10", that means Milo Ventimiglia is probably less than 5'9" don't you think?
MD
said on 6/Dec/06
Has anyone been able to make any good judgements from his new show "Hero"?

Editor Rob
I think his hair really is giving him slight illusion, I think shorter now.
Elio
said on 30/Apr/06
Looked notably shorter than 5'11" Bill Paxton in the bar room scene of 'Near Dark'. Paxton was wearing big cowboy boots (can't remember what Pasdar was wearing), so i'd say 5'10" is probably right on the money for this guy.