Aidan Turner's Height
5ft 10 ½ (179.1 cm)
Irish Actor best known for Poldark, playing Mitchell on the original British Supernatural drama Being Human and as Kili in The Hobbit Trilogy. He says
"I'm about 5ft 11."
.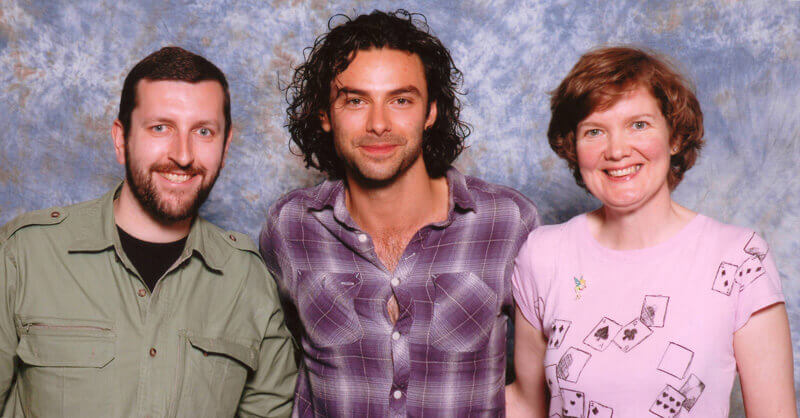 5ft 8 Rob and Aidan @ LFCC 2010
You May Be Interested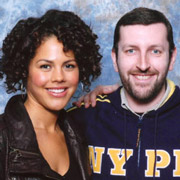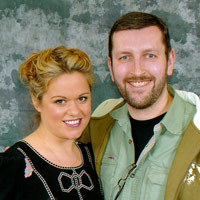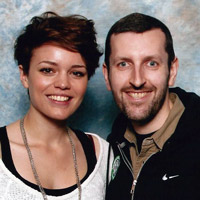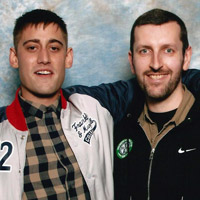 Add a Comment
62 comments
Average Guess (67 Votes)
5ft 10.6in (179.3cm)
Rampage(-_-_-)Clover
said on 12/Feb/21
Rob, maybe a weak 5ft11?
The 'about 5ft11' suggests maybe he measured near it. Looks safely over 5ft10, enough to pass for 5ft11.

Editor Rob
Sometimes can pass for near 5ft 11 with other actors
OriginalAnon
said on 27/Dec/20
Doesn't look 179cm in the photo, more like 177.5cm/178cm
Andrea
said on 14/Nov/20
Well, he holds up well beside Lee Pace (making him look barely 6'3 in more than one photo):
Click Here
Andrea
said on 14/Nov/20
Did this guy get a 1/8 inch upgrade for each time you met him, Rob? 😁
I thought you said he's pretty much Josh's height twin in person (not that Josh is far off 5'10.5)...

Editor Rob
well I saw him up close again and I wouldn't have guessed him under 5ft 10.5.
Miss Sandy Cowell
said on 25/Jun/20
That means that there's a good chance for Aidan to have met Stephen Fry, who was in the next two Hobbit films.
At 5ft10.5, Aidan is a solid height, bordering on tall, but next to Stephen, not too many guys look tall! Jeremy Clarkson can hold his own next to Stephen, and he was in the last QI I saw, on the Dave channel.
5ft10.5 it is then! 😁👍
Nik Ashton
said on 24/Jun/20
@ Cathy Wu - How tall are you!
Cathy Wu
said on 22/Jun/20
Yea looks about right since his eye level is at the 5'6" (167.6cm) mark that he'll be upgraded to 5'10.5"
Greg
said on 17/Jun/20
He got upgraded, I remember he was 5'10 3/8ths will he ever reach 5'10.75"? 🤔 the world may never know.
Nik
said on 20/May/20
I think he could 5'10.5" alright!
Aidan strong 5'10
said on 8/Apr/20
same name, same height!
CD
said on 1/Jan/20
Rob, what made you change this guys listing again? He was 5'10.25, then 3/8 and now the full 5'10.5??

Editor Rob
I managed to see Aidan up close again on a couple of occasions last month and felt he will measure in 179cm range.

khaled taban
said on 5/Nov/19
Typical 179cm guy !
Paul Wood
said on 21/Oct/19
I think 5ft 10in flat, he might be over that in the mornings though.
Greg
said on 20/Oct/19
@DarkPower729 he has the same stats as me basically and I claim around 5'11, people usually don't include fractions outside of CH so either 5'10 or 5'11 I've claimed both before too same thing with Pitt. Any height you measure throughout the day is fair game.
DarkPower729
said on 20/Sep/19
I'd say 179cm- wakes up at 5'10.875" (180cm) and ends the day at 5'10.25" (178.4cm). 5'10.5" is a more accurate claim but I'm not opposed to him saying he's almost 5'11".
Nik
said on 5/Sep/19
@ Bobby 5'10 (178cm) - Either will do!
Yang (5 footer 8, 172-173)
said on 1/Sep/19
As you listed here, but he can look 5ft 10 tall sometimes...
Bobby 5'10 (178cm)
said on 5/Feb/19
@Nik
Actually, it would be more 5'10.4 range.
Nik
said on 8/Nov/18
At least 5'10.375"!
Antonio55
said on 20/Jul/18
Hi Rob, how tall do you reckon Josh Whitehouse aka the new Mr. Burberry and sometime actor on Poldark is? 186-187 cm?

Editor Rob
Not convinced he's as tall as he thinks, 6ft 1.5-2 might be more believable.
CIMD
said on 11/Apr/18
Probably around 5'10" and 3/4. Looks like he's slouching a bit.
Gracian
said on 10/Mar/18
Rob, I think Aidan should be the first man on your website who's 5'10" and 3/8 inch.

Editor Rob
It might be a good shout for him, he may well measure around that mark, certainly taller than mike tyson in person!
Shell
said on 1/Jan/18
He's clearly slouching. Look at his hunched shoulders. 5'11 seems right.
L.
said on 15/Dec/17
He looks 5'9"-5'10".
Pierre
said on 7/Oct/17
he seem to lose height by his neck no ? Aïdan is a little more distant to the camera than Rob and Jenny and so tilt a lot to try to be at the same distance imo.I maybe can give him up to 5"10.5'
KH
said on 3/Oct/17
This guy is great on Poldark and in the Hobbit Movies and imo this is a bad picture of him he is much more handsome then this. Looking at this pick though 5'10.25 is the max he could be.
Slim
said on 11/Sep/17
Pulls of 179 very well.
Editor Rob: this guy is very similar to visitor Big Josh in person, a fraction over 5ft 10...!
Mateyboy
said on 22/Aug/17
Any change of him Measuring the same as Fassbender he does seem one of those 179cm guys who can easily look it but not above I think he would measure 5"10 3/4 on a good day.
Editor Rob: of course a chance of 179
Pseudo
said on 10/Jun/17
I think it is safe to save Aidan as 179 cm.
Click Here
World Citizen
said on 6/Jun/17
I will give him 177 cm
Adijos
said on 14/May/17
@Editor Rob: Rob, please save he's as 5'10½".
Greg
said on 28/Oct/16
I give him 5'10" but could sink to as low as 5'9.5" after a day's scything. Ordinary looking bloke too.
PetePro
said on 25/Sep/16
Re. Aidan Turner aka 'Poldark': Against Editor Rob I would state at most 5' 10.5". With his chiseled torso, which the ladies particularly like, he might have gained say 1/4" from the weight training I guessed he did for his TV role.
Erich
said on 29/Aug/16
5'10.25 flat and 5'11.25 in shoes, hopefully he will be Bond if the rumours are true
Johno
said on 15/Aug/16
The difference does seem between 1.25-1.5-inches.
Editor Rob: in person I think Turner is one of the more solid 178 guys.
Johno
said on 14/Aug/16
Would average 5'10 though.
Flyin
said on 10/May/16
Well. Next to Rob this so-called 6 footer is in perspective. Honestly, watched all of Poldark first season and next to kyle sollar(who I thought was 178) I had 183.
Abercrombie
said on 18/Mar/16
I see 1.5 inch difference on this shot
Susan Shortar$e
said on 14/Feb/16
This site is cracking me up. Love the photo comparisons with Rob to the stars.
Johno
said on 26/Dec/15
I doubt his hairline is 2 inches; 5'9.5 in that picture but i give him the benefit of doubt and give him 5'10.
Barbara Ennis
said on 16/Oct/15
I think he is great,love poldark,cant wait for the next season,loved him in the Hobbit, Best lookilng on tv
184.3cm (Night)
said on 28/Jul/15
Good example of two inches difference. Good listing.
George Sears
said on 25/Jul/15
I remember his indicator hopping all over the place, back when he was doing Being Human Google and most other sources claimed he was 5' 9", then when the Hobbit and Poldark started they began claiming he was 5' 11" and now that Poldark's first season has concluded, they're claiming he's an even 6' 0".
I think he's just on the cusp of 5' 11", definitely looks the most accurate to me. He's a damn good actor, as well.
littlesue
said on 10/Apr/15
Perfect height and perfect looking specimen!!
Dom
said on 7/Apr/15
5'10.5 flat otherwise 5'11.5 max in footwear
Rampage(-_-_-)Clover
said on 29/Sep/14
If they ever make a biopic on the life and times of Michael Hutchence, look no further than this guy
cole
said on 9/Jan/14
Can look anywhere from 5'10 to 5'10.5, so 5'10.25 is pretty accurate!
Elizabeth Renant
said on 25/Nov/13
I think 5'10.5" seems right for Turner - he has a long torso so can "
look tall" - if he had the in proportion length of leg he'd have hit 6' but his legs, though slim, are just an inch or so under right proportion for chest and torso. So I'm guessing he's just under 5'11" but looks 5'11".
Rashisama
said on 30/Jun/13
His shirt is cracking me up in this pic lol!
LadyT
said on 4/Jan/13
That would be 1.78cm. Awesome!!
1monster2
said on 2/Jan/13
Sweet! This means that he's about my height, maybe about an inch taller! :)
nothing
said on 31/Dec/12
awesome, if he's about 180 that means that i could make a very accurate costume of his character kili from 'The Hobbit' :D
Godred
said on 3/Dec/11
@Olena - he doesn`t look anything over 5`10 flat max.-178.
Olena
said on 8/Nov/11
2 inches is just 5 sm.So I would give Aidan 179-180 sm. He is more than 5 sm higher than Jenny.
Godred
said on 13/Apr/11
about 5` 10 seems right, anyone think he looks like the singer from Bush?
Elizabeth Renant
said on 24/Mar/11
Unless you're next to him, he's one of those guys who looks taller than he is onscreen because he is well proportioned with long enough legs under a slightly longer torso. It makes for a long, lean look. Watching Being Human, I'd have put him at 5'11"-6'0", but wouldn't be at all surprised to find out in the flesh that he's really 5'10 plus a bit. And where I do agree with Jackie is that he is a sultry darling . . . :)
Jackie
said on 21/Feb/11
Oh my word, he is so Gorgeous. I actually thought he was smaller as in Being Human,in one scene he is stood next to "Nina" and she is tiny..he didn't look too much taller than her. It may have been a bad angle!
James
said on 2/Feb/11
Rob do u think i am right in estimating him at 177cm?
[Editor Rob: I do think he looked 178cm.]
James
said on 2/Feb/11
How does he look 180cm? That is not a 3 inch gap in the pic more like 1.5-2 inches so i think he looks 5'9.75 with rob.
[Editor Rob: 5ft 11 is his 'official height' on his resume, but I didn't think he was.

he looked shorter than Kristanna Loken to me, who looked 179cm (of course she had nearly 0.5 inch less shoe so her 5ft 11 claim is more beleivable).

oh, and Brian Austin Green looked taller than Aiden in person...
]
Anonymous
said on 2/Feb/11
he is not 180. I think he is listed correctly.
James
said on 1/Feb/11
looks 177cm in the pic
linke
said on 1/Feb/11
does look that