Michael Socha's Height
5ft 8 (172.7 cm)
English actor, best known for playing Tom on UK series Being Human and Knave of Hearts in Once Upon a Time in Wonderland. In film he can be seen in This is England and Shank.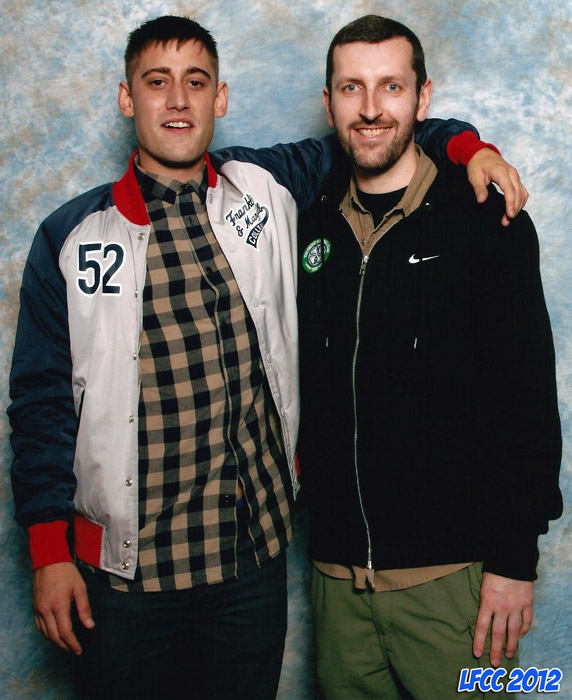 5ft 8 Rob and Michael @ LFCC 2012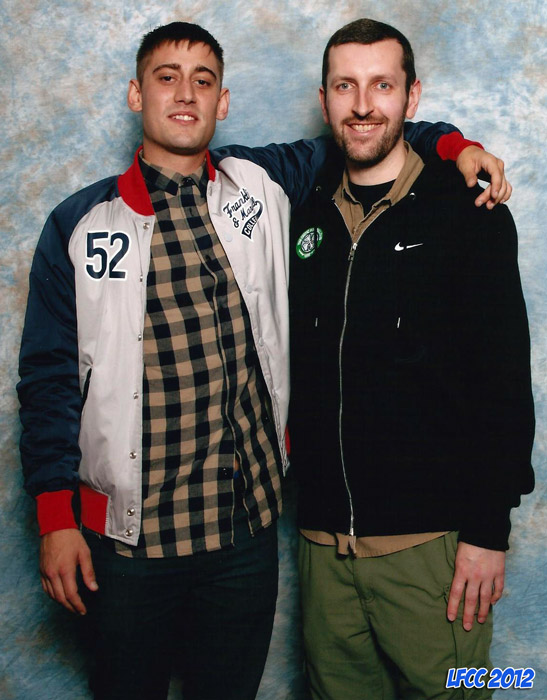 You May Be Interested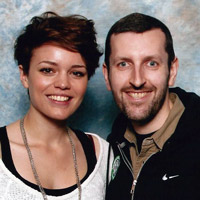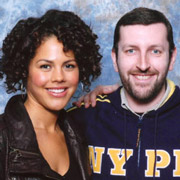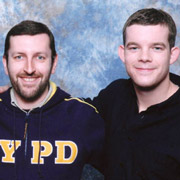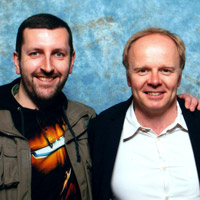 Add a Comment
42 comments
Average Guess (34 Votes)
5ft 8.1in (173cm)
Mickie
said on 29/Dec/20
With his posture advantage a weak 5'8" seems more believable than a solid one.
JohnMoore-162cm
said on 30/Apr/20
I think a flat 5ft 8 is possible.
Ya a
said on 12/Feb/20
looks the same height with adam nagaitis in chernobyl and he's about 5'7 1/2
khaled taban
said on 30/Jul/19
5'8" is perfect listing for Sochoa.
Tunman
said on 20/Oct/18
Nah,no way under 5'7 but he seems only 5'8 flat busting a gut.Could mean he's like 5'7.75" if he simply stood tall
berta
said on 9/Sep/18
he is standing like he is ready to get measured. If rob would stand the same he would have this guy with 1 cm
Christian 6'5 3/8"
said on 6/Sep/18
A hair shorter than Rob so maybe 5'7 7/8" like Micky said.
Micky
said on 2/Jun/18
5'7 7/8" Rob?

Editor Rob
A chance of it.
Zampo
said on 13/May/18
Rob would measure taller, I reckon by 0.25 inch however their standing height's would be much closer. I think he just about hit's 5'8 standing at his tallest, probably walks around in his daily life at 172 cm range.

Editor Rob
I think a flat 5ft 8 is possible for Michael. He is one of few guys I seen really stand like being measured in some photos.
Bri
said on 3/May/18
173-174 range
ANONYMUS
said on 5/Apr/18
weak 5ft8 , if you are strong 5ft8
Rampage(-_-_-)Clover
said on 23/Mar/18
Rob, I think you potentially might have the edge on this guy since you're slouching

Editor Rob
I think Socha would measure very close to 5ft 8.
Jake94 (5'9
said on 26/Jan/18
High eye line but small forehead. Rob would just edge this guy out.
Pierre
said on 12/Oct/17
He's very straight here next to strong 5"8' Rob who is slouching a little ,but Rob seem to be a little closer to the camera.I give him 5"8' range too by this pic,probably a weak 5"8'
Matthew Robinson
said on 12/Oct/17
Weak 5'8" guy with impeccable posture. He looks like he's swallowed a traffic pole.
Realist
said on 5/Sep/17
He appears.2 inches taller because his arm is above your shoulders if he just took normal picture you would have a good .25 inch on him he's 5'8 or 173cms
Bard
said on 1/Jun/17
Looks like 0.5 cm difference at most between you two guys, 5'8 is fair.
World Citizen
said on 17/May/17
Hey Rob, can you add Thomas Turgoose?
John
said on 27/Mar/17
Exact same height as you. 5'8.25.
Rampage(-_-_-)Clover
said on 25/Nov/16
I think Rob might have a fraction over this guy...
Editor Rob: I forgot to add him to my list of 'Height Aware' celebs, Socha had fantastic posture when taking photos that day.

I should commend him with a deserving Medal of Impeccable Posture, for managing military stances in the pics I was watching him take!
184-182
said on 23/Nov/16
Does seem bang on 5-8
Rory
said on 2/Nov/16
Looking at the pic I'd say a weak 5'8 looks possible, he has better posture than Rob and still looks No taller.
Editor Rob: Socha and Burn Gorman - two English gentlemen who perfected a 'breathe in for measurement' pose.

king
said on 13/Oct/16
Rob is slightly taller
Im guessing 171/172cm for him
pablo77bar(184cm)
said on 4/Jan/16
@Rob,can someone gain 0,25in in a measurument if this one is breathing ?
Editor Rob: people can have different normal stances that can vary in how much lower they are than if they were getting measured. One person might stand a 1/4 inch less, another a half inch less than if they were standing getting measured.

A guy like Stallone/Cruise/pitt are guys whose natural stances are quite close to measured stances. There's not much more they can stretch up to measure.
pablo77bar(184cm)
said on 1/Jan/16
Rob's hair give him 0,3in and he is a ''legit 5ft8.125''.So this guy must be a cent above. 5ft8.25 is fair
Editor Rob: I wouldn't have guessed him over 5ft 8 as he has 'breathe in measured' posture, I don't.
Sam
said on 16/Mar/15
That's pretty close. Rob might have him by 1/4 of an inch. I think he'd measure pretty much 5'8, roughly same as Rob if not a small fraction under.
Schek
said on 2/Sep/14
His overall style is totally British. You'd never see a guy dressed like him where I live in the US.
Jhon 177cm
said on 11/Aug/14
172cm . 8-9. But 173 is smarter
iyolo
said on 21/Jun/14
171.5-he has Tom Cruise posture-looks like he is tiptoeing :)
MD
said on 2/Jan/14
Yeah, he's not a full 5'8". He's close, but I'd take a centimeter off this listing.
Mathew
said on 31/Dec/13
Rob is definitely a bit taller if both use the same posture.
MD
said on 20/Dec/13
With 5'7.5"(?) Naveen Andrews, who is simutaneously losing height in this shot, and having the footwear advantage at the same time, it appears:
Click Here
ray 6' 158 lbs
said on 14/Aug/12
you and him clearly wuz eye on eye with the same height
ali
said on 7/Aug/12
yeah clearly 5'8
the shredder
said on 4/Aug/12
Rob's height varies between 5'8 and 5'9 but he is closer to 5'8 so he just says 5'8 ... I bet he can claim 5'8.5 and folks would not blink a eye
Ka
said on 3/Aug/12
Agree shredder, Rob hits 5'9 out of bed, meaning he's got to be ~5'8.25 at his low, and I don't think he shrinks 1 inch
the shredder
said on 2/Aug/12
Rob is not a flat 5'8 ... more 5'8.25 !
Mathew
said on 2/Aug/12
Rob is taller.
Ka
said on 2/Aug/12
If Rob takes a pic with Tom Cruise, I bet it's going to be like this. Rob would edge out flat 5'8ers like Cruise and Socha by 1/4 in
LeBron6
said on 31/Jul/12
Rob he could have you by 1/8"-1/10"
[Editor Rob:
Really
? He does have a fraction better posture aswell ;)]
John
said on 23/Jul/12
Yep, you guys are identical in height in this.
the shredder
said on 23/Jul/12
5'8 but looks taller by himself in pics
[Editor Rob: one of a rare breed of actor who stands like stallone in every photo I saw him taking ]