Russell Tovey's Height
5ft 9 ¾ (177.2 cm)
British Actor best known for playing George in the British version of Being Human. In film he appeared in Grabbers and The History Boys. In this photo Russel had similar sneaker thickness as me, Lenora had near 1.5 inch more footwear.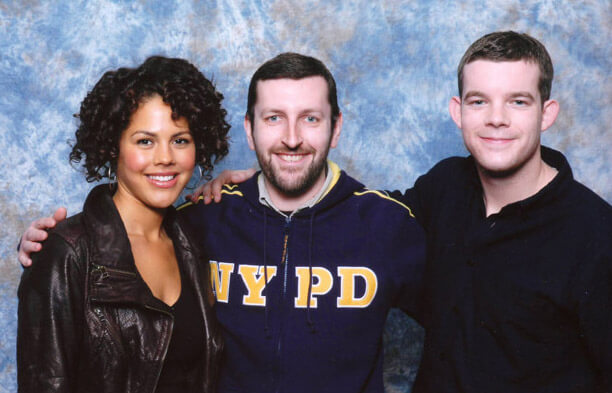 5ft 8 Rob and Russell @ Collectormania 2009
You May Be Interested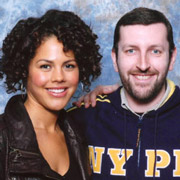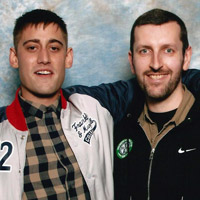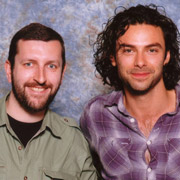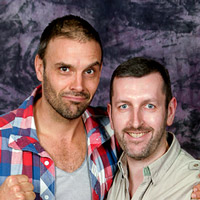 Add a Comment
36 comments
Average Guess (22 Votes)
5ft 9.9in (177.5cm)
Bobby
said on 5/May/21
Rob is closer to the camera, I think, so he's getting a fraction more height than Russel is. He looks just about 5'10 to me.

Editor Rob
Russ and Lenora's heads are closer to the camera.

Lenora slightly more than Russ.

Eric W Tam
said on 27/Dec/20
Another 5'9-10 lad who looks like a 5'10-11 guy.
Yang (5 footer 8, 172-173)
said on 10/Sep/19
He is more like 5ft 9 half than closer to 5ft 9 3/4 177cm.
cmillzz
said on 22/Jul/19
@MD
No, he's definitely closer to 5'10, look at the pics above. I think Rob would know better too considering he actually met him in person.
MD
said on 19/Jul/19
@Rob,
With 5'9" Liam Payne who has a footwear advantage, though nothing ridiculous:
Click Here
With 5'8.75" Olly Murs:
Click Here
Honestly, he strikes me as closer to 5'9" than to 5'10".

Editor Rob
In person he looks much closer to 5ft 10 than 9.
saltyfish177cm
said on 12/Jun/19
Big Rob, what measurment would you say Russells high (morning) and low (evening) measurements could be?

Editor Rob
5ft 9.75 might be his low, 5ft 10.5 his high range.
saltyfish177cm
said on 22/May/19
Big Rob, if Russel and Mike Tyson stood next to eachother, would there really be any noticable difference?

Editor Rob
They'd be close, but I think Tyson might have the better chance of measuring slightly taller.
Christian 6'5 3/8"
said on 20/Jan/19
5'9.75" as listed
Bobby 5'10
said on 15/Jan/19
Looks 5'10 to me, especially with Jenny.
Nik
said on 8/Sep/18
What lovely pics!
Nik
said on 4/Aug/18
I can see 5'10"!
Zampo
said on 11/May/18
When I saw this photo, I instantly thought 5'10 but upon looking deeper, I think this listing is spot on. I can possibly even see him dipping a few mm or so below, in the evening. A solid 177 cm guy.
Jordan87
said on 15/Feb/18
He is 5'10 in the pic, taking footwear into account he is not taller than 5'9.
Jake94 (5'9
said on 26/Jan/18
@Dreampuffe I think he'd have at least half an inch on me. You'd just edge me out.
Rampage(-_-_-)Clover
said on 26/Jan/18
I see 5ft10 on the nose
Dreampuffe(5'9.5
said on 23/Nov/17
He'd edge me out.
MM
said on 13/Nov/17
Rob, looks like this guy is height aware, look at that:
Click Here
Did he look a weak 5'10 to you when you met him?

Editor Rob
he was close to 5ft 10, but I seen him at another event and he was standing looser with fans so not very bothered about height, nothing like Burn Gorman, who for each photo would breathe in and rise up to a
Bust a Gut
measurement...
or like Milo Ventimiglia who (for men mainly) would rise up on one foot for a little boost.
Pierre
said on 12/Oct/17
He seem to slouch a little but stand a little closer to the camera ,i would be not surprised if he was a complete 5"10'
jjj
said on 12/Jul/17
@samuelcharwick: So you only lose 1cm of height throughout the whole day??
samuelcharwick
said on 11/Jun/17
same as me 178 (or a hair over) in morning, 177-176.5 night time
World Citizen
said on 6/Jun/17
176/177 no more
185cmAriel
said on 10/Dec/16
looks 5'10
John Baptist
said on 4/Jul/16
Rob. Could him drop to 5'9.5 at his lowest ?

Editor Rob
yes he may well fall to that at night.
emma
said on 29/Feb/16
If Tom Hiddlestone is 1.87 then Russell is not 1.77. They play together in The Night Manager and they appear together, Russell barefoot and Tom in about 3 cm shoes and their height difference is more than just 10 cm. Russell looks like a hobbit next to Tom.
Atsu
said on 9/Dec/15
He looks closer to 5'10 and he is near it.
MD
said on 2/Apr/15
Yeah, not the best photo, but there are lots of others out there, and he does appear to have relatively short legs.
MD
said on 1/Apr/15
Not really a height question, but is it just me or is this guy all torso?
Click Here
Click Here
It's strange, because unlike a person with long legs who looks tall no matter which angle you shoot them from, a person with a long torso (relative) to their legs can look both taller and shorter than they really are depending on how high you photograph them up.

Editor Rob
looks like a wide angled lens and the photographer quite close...he might though have a bit longer torso than average, I took a photo of him years ago
Here
.
Almost 5 10
said on 24/Mar/15
Hey Rob, you'll never guess what! I randomly found out tonight from my mum and dad, that I'm actually related to this guy!! My grandad and his grandad (George Tovey) were cousins. I then mentioned Russell Tovey - and bingo!
I'm also 5' 9.75" - yet have never met him!! YOU know him better than I do, haha! How random is that...

Editor Rob
funny finding random things like that!
C to the D
said on 9/Jun/14
Met him at my old work (lovely chap!) and i think 5'9.5 is perfect!
jasie
said on 28/Jul/13
looks more 5'10
SAK
said on 14/Jan/13
Personifies average in terms of; height,build,face.
FACE
said on 1/Feb/12
with any type of shoe on he looks 5'10
Godred
said on 4/Jan/12
Doesn`t look the full 5`10 to me.
®
said on 3/Jun/11
Rob i think he should be given 1/4 inch.does look 5.10
Mathew
said on 5/Feb/11
Looks about 5'10".
Samwise
said on 7/Nov/10
He looks a solid 5ft10 on Him and Her and does so against the backdrop of the doorframe.