Alex Wolff's Height
5ft 11 (180.3 cm)
American actor, best known for roles in films Hereditary, My Big Fat Greek Wedding 2, Jumanji 2: Welcome to the Jungle, Patriots Day, The Sitter, Coming Through the Rye and TV series The Naked Brothers Band. In 2013 (age 16) he said
"I'm 5'10. For some reason online it says I'm 4'7 haahahahahah ***Alex*** #caughtgooglingmyself"
.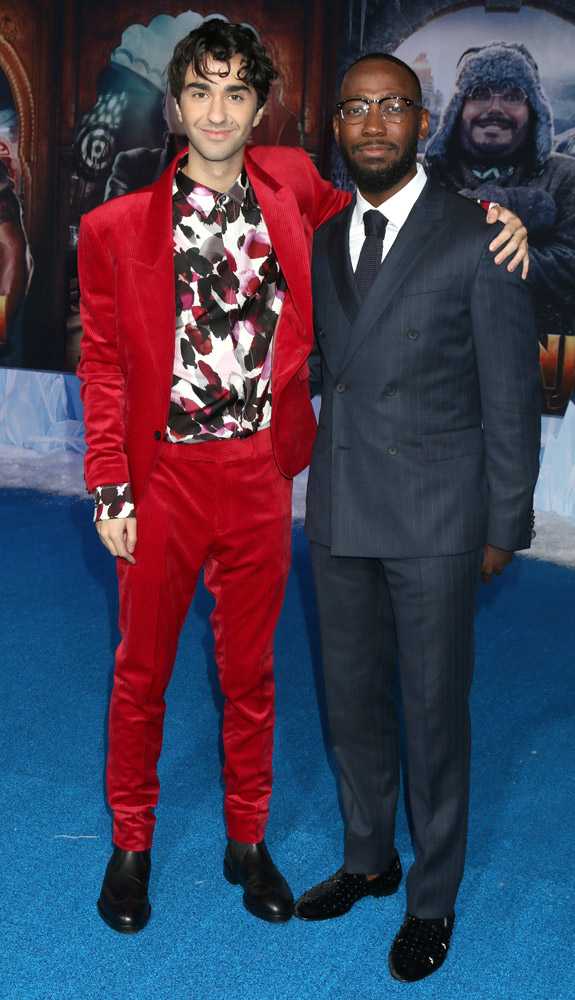 Photos by PR Photos
Add a Comment
16 comments
Average Guess (20 Votes)
5ft 10.9in (180.1cm)
Linke
said on 10/May/20
His brother seems to have almost 2 inches on him. My guess is 5'10.5
Miss Sandy Cowell
said on 12/Mar/20
Thanks Rob!
For someone so young, just LOOK at those credits! 😯
Miss Sandy Cowell
said on 6/Mar/20
Please, Rob, could you add 'Hereditory' and 'My Friend Dahmer' to Alex's list of credits? Not only are they both well worth seeing, 'Hereditory' is a film that really shows him to be tall and slim, next to his tiny 'sister', and it's a film you'll want to see over and over again! Thank you! 😁👍

Editor Rob
This chap will have a long career I think, with many great films.
Miss Sandy Cowell
said on 5/Mar/20
Alex is a star in the film 'My Friend Dahmer', playing one of Dahmer's school chums. So that's two of his films I have of his - so far, the other being the excellent 'Hereditory'.
Alex gets a tall 'n' lanky 5ft11. 😁👍
Littlelee5ft6
said on 24/Jan/20
Rob how about his hereditary co star little milly shapiro? Shes 17 so likely fully grown and has been listed both 4ft 8 and 4ft 10 more likely the latter as she looks about a foot shorter than alex and 8 inches shorter than 5ft 6 ari aster
Eric W Tam
said on 5/Jan/20
LOL, yeah sometimes they are late to update the heights of child actors. I remember Brando Soo Hoo had a 4'11 listing a long time ago and he's like idk, 5'9? (Or was it 5'7, been a while since I checked). Damn, so I guess he hasn't grown a whole lot since 16 huh. I thought I was cursed with such a fate until I grew to 6'0 a couple of months ago from 5'9.5, but I was a midget after the end of sophomore year lmao.
Nik Ashton
said on 21/Oct/19
I hope he would be happy if Google brought his page on celebheights up! It's great to do both 🐺f brothers!

Editor Rob
I just checked and it's indexed ok.
However, sometimes pages can vanish at times from search results.
On an interesting sidenote - what people search for online and what results they are presented with is not the same for everybody - it varies depending on your own search history, what sites you visit and what results you click on and time spent on sites.
Miss Sandy Cowell
said on 10/May/19
Further to my comment from the 3rd December, I have checked out one of Alex's films and I couldn't have been more impressed.
The movie is the 2018 release 'Hereditary', and it has to be one of the most intense and disturbing horror/thrillers I have ever seen. I didn't want it to end, it was just so relentlessly surprising and absorbing throughout.
Alex plays the son of Toni Collette and Gabriel Byrne, and he has a little sister of 13. The kids have just lost their maternal grandmother, and the events that follow just get weirder, freakier, sadder and more horrific as the tale unravels. I sent a text to my boyfriend afterwards telling him that this is a strong contender for one of my top ten favourite films of its genre.
I know Alex's little sister is played by 16-year-old, 147cm actress Milly Shapiro, who for obvious reasons plays younger. Is Alex 13" taller than her though? I'd say that he is. When he picks her up and carries her to the car, you can see that there is indeed a huge difference, the sort I've experienced with my tallest male friends, so I know what it looks like.
I am going for 5ft11. WHAT AN AMAZING INTRODUCTION to this star! This is one film I will enjoy over and over again and never grow tired of, it is that outstanding.
⭐ Do you think you could add 'Hereditary' to his credits please Rob?
Dhouser
said on 23/Jan/19
He looks pretty lanky which is why I looked him up. His brother is obviously a good amount taller.
Junior Hernandez 1990
said on 10/Jan/19
His older is Nat Wolff. I have being confuse from watching Hereditary i thought he was his brother Nat all the time.
Sandy Cowell
said on 3/Dec/18
Alex 🐺 looks a lean 5ft11 to my eyes!
Now I'd do well to check out one of his films! 🎬📺📀
PAN BERRY
said on 27/Nov/18
That's about it, I think he would hit that 180 cm mark at 5'11"
Ace
said on 19/Jun/18
He looked 5'10 in Jumanji next to 6'4.5 Serdanoius Blain
lee168cm
said on 22/May/18
Please add jumanji 2 welcome to the jungle and hereditary to his film credits Rob thanks
MM
said on 6/Sep/17
Rob, you sure about a full 5'11? looks a little less with 181 cm Ross Lynch
Click Here
AJ
said on 24/Dec/16
Eh I still think he's shy of this mark. Over 5'10" but under 5'11".