Allison Janney's Height
6ft 0 (182.9 cm)
American actress, best known for playing C.J. Cregg on TV series The West Wing. In film she can be seen in 10 things I hate about You, American Beauty and Juno. She has said
"I'm 6 feet tall."
and also
"I say I'm 5 feet 12 inches. I'm definitely 6 feet. In my heels I'm 6 feet 3 inches."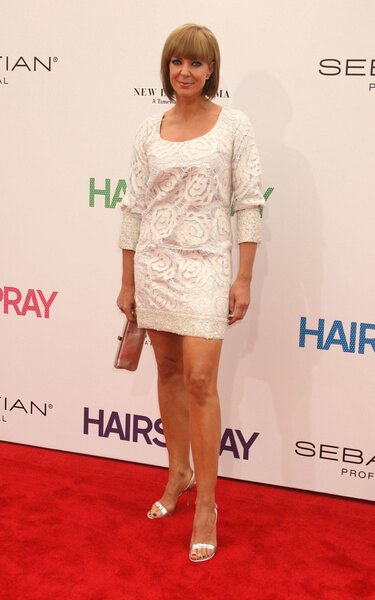 Photos by PR Photos
"I love being tall. But if the camera can't see my feet, I'll wear fuzzy slippers." Growing up, the Ohio native was always in the back row of school pictures. She learned, quickly, it was better to embrace her height than downplay it. "It's a commitment," she says. "But I love wearing high heels."
I know certain men are threatened by it, or uncomfortable. To be in heels at an awards show — when I'm 6 foot 3 or 4 — is quite a commitment to being seen. You can't hide when you're my height. And I consider myself shy.
-- News.com.au
You May Be Interested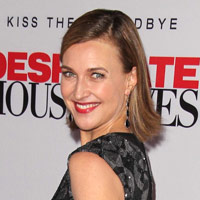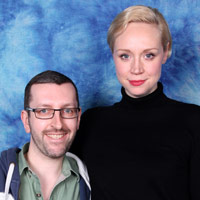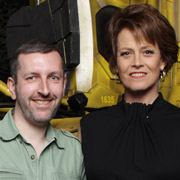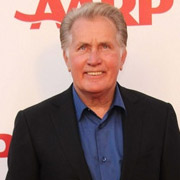 Add a Comment
42 comments
Average Guess (21 Votes)
5ft 11.85in (182.5cm)
Miss Sandy Cowell
said on 20/Nov/20
🌹🎁🎂 Happy Birthday Allison! 🎂🎁🌹
It was on the Ellen DeGeneres show that I was first 'introduced' to the astounding stature of Allison Janney. Oh, I'd seen the lady act and was well acquainted with her voice, but to tower over Ellen to that degree is usually left to the menfolk!
She was charming and funny so I don't think she'll mind if I say that she celebrated her 61st Birthday yesterday. The appearance on Ellen's show was only a stone's throw in time away, so at an age when many a woman - and man, for that matter - is noticeably shorter for some reason or other, Allison is holding her height very well indeed. The rest of her is pukka as well. 😉👌
I hope she had a fantastic Birthday and enjoys a wonderful, healthy year ahead.
6ft. 😀📏📏📏📏📏📏🎈🎊🥂
🌹🎁🎂💐🌹🎁🎂💐🌹🎁🎂💐🌹🎁🎂💐
Hafsah
said on 20/Oct/20
Lol I thought she'd be taller having seen an episode of family guy where they made her sound like she was an amazon
Mimi
said on 28/Aug/20
Rob don't you think she's 181-182cm range today? Her photo with Gal which I sent you in the comments 2 years ago suggest that she's 2inches taller than her 176cm

Editor Rob
half inch loss at her age is possible, still seems near 6ft at times.
Chris Junior Hernandez 1990
said on 21/Jun/20
In some show she look 182cm now and some movie she still pull off 6'0 not too sure if she is lost height or she could be rule out she was always 182.5cm and Kristen Johnston is a solid 6'0.
Miss Sandy Cowell
said on 20/Nov/19
💐🎂🎈 Happy 6️⃣0️⃣th Birthday! 🎈🎂💐
Although one day late, I think congratulations are in order for Allison Janney, who turned 6 decades young yesterday!
I saw her on the Ellen show, and she is a tall lady. And comical! 😂👍
Allison gets 6ft for her Birthday guess. She's probably lost a bit by now, but it IS her Birthday time of year!
🕯️💝🎂💐🕯️💝🎂💐🕯️💝🎂💐🕯️💝🎂💐
Nik
said on 1/May/19
I like it that she says about being 5 feet 12 inches!
Junior Hernandez 1990
said on 20/Feb/19
183cm peak and 182cm now, 5'11 1/2(181.6cm) too low but maybe a few years later she would look this. I guess Kristen Johnston had a small fraction on Allison.
Mimi
said on 31/Dec/18
She's turning 60 this year and might have possibly lost half an inch of height.
KitKat
said on 25/Nov/18
is saying you're six foot or over as a woman a sin or something? every one of them doesn't want to explicitly say it like it's a bad thing or too manly or something
Khaled Taban
said on 5/May/18
She is 6 feet at best
Mimi
said on 13/Apr/18
Rob do you find a noticeable height loss from Allison yet? I still see her as almost 6ft if not 6ft

Editor Rob
5ft 11.5 might be possible today.
Mimi
said on 26/Mar/18
Rob how much is Allison taller ?
Click Here

Editor Rob
That angle is hard to say, but I think
In this one
Gal is looking up a bit...Janney might be 5ft 11.5 range these days.
jtm
said on 17/Mar/18
does anyone remember how tall she looked with weaver in the ice storm? i haven't seen it in years.
Nik
said on 25/Feb/18
I think that Alison may be slightly south of 6'0" these days, maybe up to as much as 1/2 an inch!
Monkey knees
said on 22/Feb/18
Maybe a tad under 6ft nowadays? Deffo 5'11.5 at least. Photographed the baftas last night and it was evident.

Editor Rob
It might be likely she's lost half inch or so now.
Joe Joe
said on 19/Feb/18
She does need a down grade. I met her at the baftas after party last night and felt like I had 2 or 3 inches on her. Maybe she has lost some height? She looks like a big 5'10 or 5'11 right now
grizz
said on 18/Jan/18
Honestly, I had no idea who that lady is, but watching her present the Golden Globes alongside Sebastian Stan made me visit this page. I mean Sebastian isn't a tiny fella, but she absolutely towered him, so I'm not surprised to see the 6' figure for her.
Anonymous
said on 8/Jan/18
6ft 0.25in was her peak, she now looks more 5ft 11.5in. She is almost 60 years old, I think she needs a downgrade.
Sandy Cowell
said on 6/Aug/17
I saw Allison on Ellen's show a while ago and she looked a good 6ft! Ellen was quite tiny in comparison to her, honest!
Allison sails through with her 6ft, as written here. It's well worth mentioning that she is funny as well as tall! 👍👍
Editor Rob: there is a chance now that Allison will have lost a fraction or so by late 50's, though still seems over 5ft 11.
even
said on 19/Jul/17
6 feet is her legit height
berta
said on 8/May/17
i never new sh was this tall have relly not thought about it. thought maybe 177 cm lady but i guess she can be around 6 feet
Jp
said on 15/Mar/17
Looks a strong 6 foot
S.J.H
said on 8/Aug/16
Shes 5'11.25 and always this tall and maybe 5'11.5 peak. No way she was 6'0
Aaron Zamora
said on 26/Jul/16
She came out with Conan today and she was wearing about 4 inch heels and Conan beat her by a lot. Janney is about 5'11 now it's time for a downgrade.
Damian
said on 13/May/16
She looks 5.5 inches taller than Ellen, sometimes Allison tends to tilt her head to the side, though. I would say 6ft1 with shoes. Which makes Ellen at least 5ft7.5 with shoes.
Anyone think she's a little bit taller than 6ft barefoot?
I kinda do. I think she's probably 6ft and 1/2.
Triplescrew
said on 25/Jan/15
Might even be 184cm or perhaps even 6'1" in the morning. Looked very close to 6'3" Jimmy Smits while wearing smallish heels (most likely) in The West Wing.
I think she might edge Alan Alda (6'1") by a bit in that show as well.
Yaspaa
said on 10/Sep/14
Mentions herself as 5'11 in The West Wing, not that that means anything.
tony t.
said on 8/Sep/14
She's tall.
Yaspaa
said on 20/Aug/14
She has never looked much smaller in anything.
Will
said on 15/Feb/13
Allison 6 feet tall? Didn't know she was that enormous! Because she looked much smaller on-screen in her movies.
JJ
said on 26/Jun/09
she says in a episode that she's 5'11 and i think she's right
Ben
said on 14/Jun/09
I saw every episode of west wing. Allison Janney is 6 feet (and chenge) tall in heels, 5' 10 and maybe something barefoot. Rob Lowe is 5' 9 possibly 5' 9.25, Bradley Withford is between 5' 10.25 and 5'10.75.
Antron
said on 20/Apr/09
She aint 5-10 Maribel. 5-11 and change is likely.
Maribel
said on 27/Mar/09
I think she's 5'10, looks 6' cause of her body structure.
Ellen
said on 26/Feb/09
Anonymous says on 9/May/07
you can't see their feet...
Anthony
said on 13/Jan/08
She looked all of 6' in "Hairspray".
Anonymous
said on 22/Jun/07
it's not a big deal but it should be "she's hard NOT to notice.."
Anonymous
said on 9/May/07
Well I got a picture where she's standing next to Eva Longoria and Brooke Shields. She's the same height as Brooke Shileds, if Brooke Shields is 180 cms, then she should be 180 cms as well. Her claim of not being tall as MacPherson should be true.
Click Here
Or either Brooke Shields is indeed 6' tall.
Brah
said on 23/Feb/07
On CNN.com claims her height as "Six, 5'12""
Click Here
Nick
said on 3/Jan/07
She said herself in an episode of 'The West Wing' that she was 5'11''.
Anonymous
said on 3/Oct/06
there was one scene in the west wing where she waswalking next to kristin chenoweth and damn she was very tall
phil
said on 15/Apr/06
If you do a search on the web for a quote that says "I am not elle macpherson tall", you will see that Janney says that she is tall but not Elle Macpherson Tall. This means that if Janney is 6 feet, than Elle is taller than 6 feet.