Amar'e Stoudemire's Height
6ft 9 ¼ (206.4 cm)
American basketball player who played most notably for the Phoenix Suns and New York Knicks. At the predraft in 2002 (age 20) he measured 6ft 10 in shoes, 6'8½" in socks, weighed 233 pounds, with a Wingspan of 7'1 ¾".
In 2004 it was mentioned in one newspaper claimed
"Suns forward Amare Stoudemire is actually 6 feet 7, or three inches shorter than claimed in the Suns' media guide. All Olympic basketball players are officially measured before the Games."
In 2011 Amare claimed
"Leaving practice today. Measured in at 6'11" 260 pounds, with 7% body fat. I'm ready!! All that work on my back payed off, I'm now 6'11"....I'm totally tripping on the fact that in 6'11". Wow."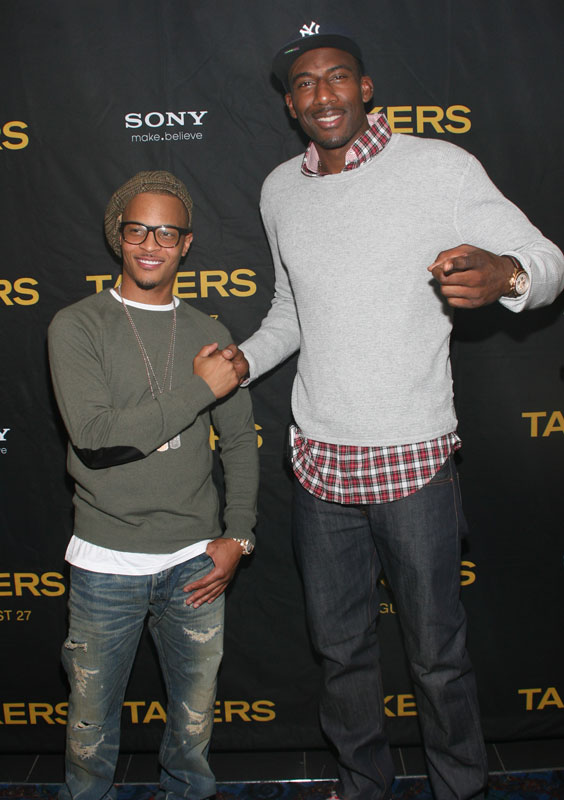 Amar'e with T.I.
Photos by PR Photos
Add a Comment
36 comments
Average Guess (17 Votes)
6ft 8.71in (205cm)
Chris Junior Hernandez 1990
said on 7/Jun/20
@Canson There are some reliable picture prove that 6'10.25" Chris Bosh is more 1.25" taller. 6'8.75" would be a low for him.
Canson
said on 20/Feb/20
@Junior: 6'9.25 is too high. I could argue that maybe he grew 1/4" from his draft measurement to 6'8.75 but no higher. He can look that with Bosh and with Carmelo Anthony and even Joe Johnson
Hasselbaink
said on 9/Nov/19
How tall do you think he looks near to 5ft 7.5in Ciara in these photos at the beach
Click Here

Editor Rob
Could have a foot on her there
Chris Junior Hernandez 1990
said on 19/Aug/19
Rob, 6'10 claim Chris Bosh worth an add and often look to be a solid 1.25" taller on Amare.
Click Here
Click Here
Canson
said on 7/Aug/19
@GreyV: I agree. I would've said 6'8.75 but if Galinari is taller. Maybe it's the camera His 6'9.25 was a measurement at a morning practice too as was mentioned "after practice this morning".
GreyV
said on 6/Aug/19
I'd say 6'8.5" at most for me. Here
Click Here
he is side by side with Danilo Gallinari who was 205cm in Europe and is now listed at 6'10" in the NBA.
VelikiSrbin
said on 8/Feb/19
He looks very long. It's hard to estimate when people reach such extreme heights
Canson
said on 22/Dec/18
@Junior: I don't necessarily dismiss what Christian said. That pic with Melo is one but with Shawn Marion who is 6'5-6'6 (197cm range) he looks what Christian said. He did measure at that when he was younger. Maybe his posture improved. But either way 6'9.25 is a morning measurement as it was even said "this morning" after practice they spoke with him. It's likely he was measured before practice. I think Rob has him overlisted either way. He's not 3" taller than Carmelo. I think if he did 6'9" then that fits better but really 6'8.75 is the catch all to me
Junior Hernandez 1990
said on 16/Dec/18
6'8 3/4 i"ll take Canson words at his absolute low. But he did not look just 6'8 1/2.
Christian 6'5 3/8"
said on 14/Dec/18
@Canson
6'8.5" for Amare is fine. He measured it in socks at 20 years old. And I'm not trying to hear the "but he grew" excuse that some people make.
Canson
said on 13/Dec/18
@Junior: I would go with 205ish 6'8.75 at a low. His 6'9.25 was likely before practice in the AM as he also indicated. 1/4" growth maybe
Junior Hernandez 1990
said on 12/Dec/18
That 6'11 claim he mention thrice on his quote is silly while a real 6'11 1/4 guy like Tyson Chandler edge him solid 2" or more. Amar'e is more like max 6'9 or 205.5cm i would rule out.
Canson
said on 14/Oct/18
@Editor Rob: here he is with Carmelo. That's for sure not 3" difference. Melo has a low cut while he has thick hair. Take that away and he's around 6'8.75 perhaps. Remember that the practice he measured 6'9.25 at was in the morning as it stated in the article. So half inch less makes sense. Melo is listed pretty accurately. Worst case 6'6 flat that means Stoudemire is probably around 6'8.5 or .75. I'd go with the latter since Melo is listed 6'6.25. But surely not 6'9.25 .
Click Here
Click Here
Canson
said on 9/Oct/18
@Junior: because Kobe played a lot of 3 when Jones was there. Kobe was a 6th man for a while. Notice he was dropped back to 6'6" around when Jones left. They could be the same or even Jones slightly taller. I vaguely remember Jones measured 6'5.25 barefoot but that could be morning and you may be right 6'4.75. Vince Carter also was listed 6'7 at UNC and in toronto. He was said to be 6'5.5 barefoot but I don't buy it. He doesn't have an in shoe measurement next to it. Also Richard Jefferson said he's 6'4.5 maybe 6'5 on a good day. Carter looks only marginally taller than Jordan and shorter than Dr J. Carter imho is max 6'5". Maybe 195-195.5 but possibly only Kobe's height
Junior Hernandez 1990
said on 8/Oct/18
@Canson Strange that as a forward Eddie Jones was always listed 6'6 and look exact same height as Kobe but Kobe was once listed 6'7 for quite awhile.
Canson
said on 7/Oct/18
@Junior: not sure about Kobe. He said he didn't grow after being drafted and that he was 6'5". Likely that he was listed 6'7" because he played small forward a lot when they had Eddie Jones
Junior Hernandez 1990
said on 31/Aug/18
@Canson Amar'e is a lucky fellow just like Kobe, AD, Dwight Howard and Durant supposed they all grow from half to an inch in their early 20s. Amar'e supposed to be measured at 6'8.5" he should be 6'8 flat lowest but grew to 6'9.25" that is a 3/4 inch gain and 6'8.75" a low. Most players only gain a 1/8-1/4 and many did not grow anything at all. One thing most people don't know that Kobe was only 6'4 when drafted comparison to a weak 6'7 T-Mac they use to look about 7cm difference and Kobe grow about an inch after that they look a bit under 2".
Canson
said on 14/Jul/18
@Junior: Parsons isn't 6'8.75 I doubt. Or 6'8.5. If a morning measurement maybe 6'8.25 which would make sense with Dwight Howard as that's "approximately" an inch between them which may be like 7/8 or 3/4 in reality. That makes Amare more like 6'8 1/2 maybe 6'8.75 which makes a lot more sense with Carmelo. I can buy 6'8.75 but no higher honestly
Canson
said on 13/Jul/18
@Christian: I agree! I think he was 6'10.5 maybe a hair over or maybe had an orthotic or mismeasured. That was later in his career too. I could see him being 6'8.5 when drafted and maybe that was a low maybe not but today if he really measured 6'9.25 which was likely in the AM (since they referenced it coming at practice), he's likely 6'8.75 barefoot max. He looks any derivative of a weak 6'9" next to Tyson Chandler and Carmelo. While I haven't seen Chandler recently (I did play against him in AAU and he wasn't as tall as he is now I doubt), I can say firmly that from meeting Melo since he's been in the league that he's 198 range in person
Canson
said on 13/Jul/18
@Junior: I'm going to go with at a low Strahan 6'3 7/8 and Stoudemire 6'8.75. Strahan and Melo is only a 2" difference as well maybe it's like 2 1/8" or 2.25.
Click Here
Canson
said on 12/Jul/18
@Junior: possible he is but also possible the difference is more like 4.75". I won't rule out 6'9" for Amare but he doesn't look it with Carmelo or with Chandler
Christian 6'5 3/8"
said on 11/Jul/18
What a liar. Unless if the stadiometer or whatever device he measured with was broken, he didn't measure 6'11". Even in sneakers he's no 6'11".
Canson
said on 11/Jul/18
@Rob: he likely measured taller in the morning. It is possible he grew though because we don't know when he measured the 6'8.5 to begin with. If that were a morning height it would mean he's closer to 6'8". Most basketball players are measured at morning heights. For Stat, it wouldn't surprise me if he didn't grow by the way. He was only listed at 6'11" for one season and then back to 6'10". If he really maintained that he would be 6'11" on paper still and he was not after that one year. He even mentioned that he gained half inch or something on his "in shoes height". That may have just been to 6'10.5 really and not 6'11" it also said as he was "leaving practice" which is also in the morning. So yea before practice he may have measured 6'9.25 barefoot 6'10.5 in shoes or even 6'10.75 or so (remember that he had long hair in New York) then he 6'8.75 at a low. Maybe he could look 6'9 range at times but because he's a weak 6'9" barefoot. But I will say that Kobe Bryant and Carmelo Anthony are two of the most legitimate listings here for basketball players. I'd be highly surprised if either is more than 1/4" off. Same with D Rose. Melo isn't 3" shorter than Stoudemire in any pic I've seen. In fact it can look closer to 2" in some but most it's 2.5". That says more to Melo either being measured at a low or very near or to him growing.
Junior Hernandez 1990
said on 11/Jul/18
Canson: Amare is 5" taller than 6'4 Michael Strahan.
Click Here
Click Here
: I did say 6'9.
Canson
said on 10/Jul/18
@Junior: I think if we are going to give Melo 6'6.25, then he should get 6'8.75
Canson
said on 10/Jul/18
@Junior: very well said! Carmelo is a rarity that he is right around his actual barefoot height in person. If he were less than 6'6" I would be shocked and probably eat my hat. I actually wouldn't put him under 6'6 1/8 prob. 198.5 is a damn good estimate for him! That's exactly what I have too. Stat looks max 205 with him. The most I could buy for Stoudemire is 6'8.75 but really he could look more like 6'8.6-.7 (weak 6'9" guy) as he's 2.5" taller than a Melo. Rob, to be fair, used his self proclaimed height which was likely taken in the morning later on.
Canson
said on 9/Jul/18
@Rob: I won't go as far as lying but I do agree with what Junior said below. This is not be a great pic of Dwight Howard and Stat but this is, to Junior's credit, how they look most of the time. Howard if he claimed 6'9.5 likely a morning height. The 6'9.25 for Stat isn't unbelievable as I could see him measuring that in the morning. But I see more than just a 1/4" different between them. Stoudemire was changed to 6'11" one season then dropped back to 6'10".
Click Here
And with Melo he's not 3" taller
Click Here
For good measure here is Dwight Howard with 6'11.25 Brook Lopez. Sure Lopez may have been measured earlier in the day but he looks at least 6'10.75 next to Howard. I only say that because of the camera angle as it could be a full 6'11".
Howard is still 6'9" barefoot
Click Here
Then another pic with Melo and 6'11 range Tyson Chandler
Click Here

Editor Rob
The question really is whether he did gain height from the 6ft 8.5 or not. I think he looks that range at times, but other times I thought he seemed more 6ft 9 range. I do believe he worked on his back and measured a bit taller.
Canson
said on 9/Jul/18
@Rob: maybe 6'9.25 in the morning is possible. I don't rule that out but my guess 6'8.5-.75 at a low
Junior Hernandez 1990
said on 9/Jul/18
@Canson In quite numbers of picture he can look max 7cm taller than Carmelo Anthony and min 6cm. Lets point out Carmelo Anthony 198.5cm so 205cm might be what you say and a morning measurement as listed.
Canson
said on 8/Jul/18
@Rising: we agree on Stat. I've met Melo before and stood right next to him. The people in our group for dinner all said he's 1.5-2" taller than me. My impression was that he's 2" taller but if I'm 6'4.25, Melo is 6'6-6'6.25 range. Rare because he looked closer to his pre draft height as it was likely in the afternoon that year. I've also met Keith Bogans and played ball against him and he's close to that height 6'4-6'4.25. Kirk Hinrich also looked nearer his draft height in person (about 1.5-2" shorter than me). Prob call him 189cm. So you're right with Stat that's not more than 6cm tops maybe 5-6 really is how it looks. That puts Stat 6'8.5-.75 which I totally believe. Maybe he was like Shawn Marion and got measured later in his career in the morning. Marion has a 6'6.25 pre draft but is said to be 6'5-6'6" across the NBA which points to him getting measured near a morning height. I would call Stat 6'8-6'9 by the same account (weak 6'9).
@Junior: Howard claimed "i'm 6'10 in shoes". Hedo is taller than me". I don't believe the latter portion but Howard being 6'10 in shoes and 6'9" barefoot is about right. Have to remember that he measured possibly in the AM and that while he may have grown it's prob a solid 6'9". I can maybe see 6'9.25
Canson
said on 8/Jul/18
@Junior: no way. He's at least 6'8.5 not 6'7 agreed. Shawn Marion was measured 6'6.25 but is said to be 6'5-6'6 really and Stoudemire looks 6'8.5-.75 max.
@Rob: Stoudemire is not 3" taller than Carmelo Anthony. That's about 5-6 maybe a full 6 cm. That said Stoudemire looks 6'8.5-.75 max. The 6'9.25 could be a morning height if he really did measure that high. Maybe he is 6'8.75 but that's max for him
Click Here
Canson
said on 8/Jul/18
@Rob: he's not this tall. He's 6'8.5 like he was when drafted

Editor Rob
You think he's lying about measuring taller...I do think he seemed a guy whose posture wasn't exactly great, maybe there is some truth in that he did manage to measure taller.
Junior Hernandez 1990
said on 4/Jul/18
The 6'7 claim in 2004 is ridiculous. He look at least 6'8 and he grow taller i believe its 3/4 max. But his 6'11 claim insisting it is BS. Dwight Howard look 1/2 on him and Dwight himself claim 6'10 and probably was 6'9 1/2 not over.
Rising - 174 cm
said on 30/Jun/18
I don't know. I did read he grew from 6'8.5" to 6'9.25" after entering the league and I also remember hearing Amare had his back corrected while with the Knicks and measured 6'11", but I'm skeptical he ever grew past 6'8.5". Look at him with legit 7 foot Shaq:
Click Here
Click Here
There's a photo of the two when Shaq was still with the Lakers and he just completely towers over Amare. As it is, I can't see a mm less than a 4.5"-5" difference even in the first pic with Shaq's head down and standing a bit behind Amare. Here's Amare with 6'11.5" Tyson Chandler and 6'6.25" Melo:
Click Here
I'd guess somewhere in the 6'8.5"-6'9" range before considering posture from that photo, but Melo is not standing straight.
Junior Hernandez 1990
said on 30/Jun/18
Does look 1/2 inch taller than 6'8 3/4 Chandler Parsons. Parsons could be 6'8 1/2 at low and Amar'e 6'9.

Editor Rob
This guy is tricky...I think there is probably some truth in that he managed to measure taller than the older 6ft 8.5 he got.