Andrea Bocelli's Height
6ft 1 ½ (186.7 cm)
Italian Operatic Singer.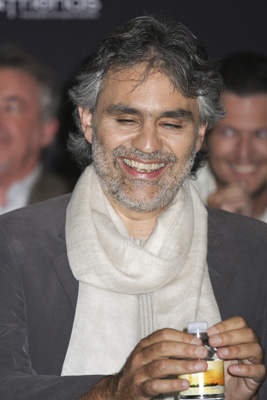 Photos by PR Photos
Add a Comment
35 comments
Average Guess (11 Votes)
6ft 1.34in (186.3cm)
Miss Sandy Cowell
said on 22/Sep/20
🎼🎶🎂🎁 Happy Birthday Andrea 🎁🎂🎶🎼
Wishing tenor Andrea Bocelli a fun and musical 62nd Birthday! 😁🎵
6ft1.5, which I only learnt about today...😯🎊👍 How very interesting!
🎼🎶🎂🎁🎼🎶🎂🎁🎼🎶🎂🎁🎼🎶🎂🎁
Hulk.23
said on 16/Aug/20
I am not sure he ever been a full 6'1.5/187cm guy. Today of course I guess he's in the 6'0.5/184cm range (he looked as tall as a measured 184cm guy Gonzalo Higuain). For sure he has lost something but I am not sure a full inche. My estimate is 6'1-1.25/185-6cm for peak and 6'0.5/184cm today.
QuestionforROB
said on 4/Aug/20
ROB this pic is interesting Wladimir Klitschko with Andrea Bocellis Son Matteo who is taller???
Click Here

Editor Rob
Wlad may edge him out
Geazy
said on 25/Apr/20
Matteo bocelli his son must be at least 6'5

Editor Rob
In the 6ft 5 range for his son is possible.
Geazy
said on 25/Apr/20
ROB there is a very interesting picture of Matteo Bocelli the don of andrea where he stands with , almost 6'6 Wladimir Klitschko , what do you think can matteo edge him out ???
Click Here
Nearly 180cm guy
said on 26/Jan/20
Actually, I think Bocelli's list is fine. In 2013, Bocelli really didn't look shorter than Evander Holyfield:
Click Here
Click Here
Click Here
Click Here
In addition, their footwear was similar, they both wore shoes with a small heel:
Click Here
Click Here
Bocelli really must be at least 6'1.25" and I can believe in 6'1.5". Rob, I agree with your list.👍😉
Yang (5 footer 8, 173)
said on 28/Oct/19
This Italian Opera Singers current height is definitely less than 6 footer nowadays as a year of 2019-2020. His peak year was more than 6ft I can say... Like I said b4, He seems like 6 inch taller than Sarah Brightman aka Soprano whose height 5ft 5 range tall without heels. But yeah, his son is much taller than him at least just like the way I am...
Andrea
said on 13/Feb/19
His son actually does claim 197!!!
Whether he really is as tall as that or not, I'm still not sure, but he can certainly look quite tall with him:
Click Here

Editor Rob
He looks 10cm or so taller, maybe a bit more if the angle was favouring his father.
leolu
said on 6/Feb/19
Bocelli with his son Matteo. He's very taller than his father:
Click Here
Gracian
said on 4/Jun/18
Bocelli was recognized as a pop singer, please Rob add him to the pop singers category.
Gracian
said on 4/May/18
Rob, I think that Bocelli can be added to the pop singers category, he was considered a great pop singer. As for his height, I think Rob that you should get a better look at him... Please, look at his photos with Nicole Scherzinger, Celine Dion, Donald Trump, Pharrell Williams, Jamie Foxx, Ariana Grande and Ed Sheeran: http: // tinyurl.com/y8qpm9ct
Click Here
Click Here
Click Here
Click Here
Click Here
Today, Bocelli strikes at the age of 60 and seems to be a bit shorter than it used to be. Rob, do you think Bocelli could lose some height?

Editor Rob
A chance by now he has lost a bit
Rampage(-_-_-)Clover
said on 22/Apr/18
He looks a bit taller than Obama so this mark more than fair.
Andrea
said on 29/Mar/18
He does look taller than Obama here:
Click Here
Someone down below mentioned he claimed 186, although I haven't managed to find any claim yet. It certainly would be interesting to see what he claims, although the current 6'1.5 may well be spot on!

Editor Rob
Although Bocelli has more hair, he still could edge Obama by a cm or so. It would be interesting if he did claim 186cm though.
Redwing
said on 28/Jan/18
Rob, Italians like this guy are super dark which is cool in a way because Italians are actually Caucasians. Saw quite a few tall Italians in Australia
Andrea
said on 24/Apr/15
Arch, i think her wife is just italian but yeah his sons can look Indian! Especially the shorter one!
Arch Stanton
said on 23/Apr/15
Is/was his wife Indian/Pakistani or something? Those lads look Indian rather than Italian. And yeah another 6'1.5 father with a 6'5" son haha!
Rampage(-_-_-)Clover
said on 23/Apr/15
Same thing that's happened w/h Pierce Brosnan's young lad...
Andrea
said on 22/Apr/15
Yeah, he must be somewhere in 6'1 range... Anywhere between 6'1 and 6'1.5 is possible, he has always looked pretty tall! One of his sons does look very tall:
Click Here
Might he be near 6'5, Rob?
[Editor Rob: he could be approaching that range.]
Rampage(-_-_-)Clover
said on 11/Mar/15
He looks near 6ft2
Arch Stanton
said on 27/Feb/15
Yeah he's not the sort of guy you'd think would be near 6'2" but he definitely does look in the 6'! range if you compare him.
Arch Stanton
said on 27/Feb/15
Rob can you add a photo? He does look about this in fairly flat mocassins like shoes with Eva Herzigova I think.
Arch Stanton
said on 16/Jul/14
I think I recall he had about 3 inches on Pavarotti who was around 5 ft 10 I think. Always amazes me how he always looks so immaculate in appearance too being a blind man, he must surely have a personal stylist or somebody who dresses him,
Somebody's Problem
said on 16/Jul/14
Fantastic singer, really nice guy too. We were both born in September 22.
Never would have guessed him 6'1 and a half though...
In some live concerts he did seem to get over 5'11 to me
john smith
said on 16/Dec/13
tall man, he's almost always taller than anyone he's next to, so I believe this rating is 100% correct
Larc 6 ft 1.75 in
said on 17/Oct/11
He's tall, looks at least 6'1.5.
Rampage(-_-_-)Clover
said on 4/Aug/11
Is 6ft2 possible, Rob?
[Editor Rob: I'd need to look again and see ]
Shaun
said on 13/Jun/11
This it definitely legit. Pause at 4:50.
Click Here
. I can swear on my life that I've met Bryn Terfel in Marks and Spencers and the height difference between him and Bocelli looks about the same as it was between him and myself and I'm 6'1.5" legit. Bryn Terfel in an interview gave his height as 6'4" and looks every inch of it.
Silent Assassin
said on 5/Apr/11
He certainly looked about this height next to Pavarotti.
short man syndrome
said on 30/Dec/10
don't think he's that tall.
Anonymous
said on 23/Sep/08
Said that he is 186 cms,the same height beside Paul Young.
carton
said on 1/Aug/08
I'm surprised with how tall he is....as he doesn't make the people next to him look short at all!
J-Dog
said on 27/Apr/06
Andrea bocelli looks like a big guy, he was on American Idol last night performing and he towered over Ryan Seacrest. As a 6'1.5"-6'2" guy myself you can tell by body dimensions also.
nolifts81
said on 25/Dec/05
He is 6'2" compared with a lot of Italian Artists at "Pavarotti and Friends". For example Luciano Pavarotti is for sure 5'11" and Andrea Bocelli was a good 3 inches taller than him.
Mikex
said on 24/Dec/05
Yeah Terfel might be bigger. On a website he was described by one interviewer as near 2 metres tall. Can't believe he's this height but his heavy set physique might deceive.
Mikex
said on 24/Dec/05
I think he's a bit shorter, approx 6'. When he stands next to the opera singer Bryn Terfel who is 6'2'' or 3'' I think, he looks considerably smaller.
[Editor Rob: yes, Bryn though has been described 6ft 4 aswell...I wasn't sure on him because of how he stands]