Andrea Corr's Height
5ft 1 (154.9 cm)
Irish Singer from The Corrs.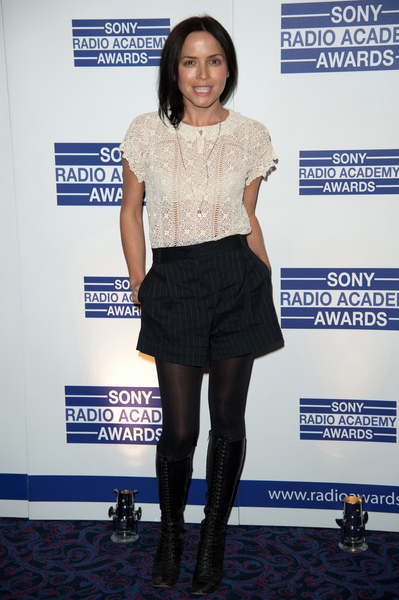 Photos by PR Photos
Add a Comment
17 comments
Average Guess (6 Votes)
5ft 1.58in (156.4cm)
HOWARD SKEIVYS
said on 29/Aug/19
Well, Unfortunately I've not had the pleasure of meeting her in person, or seeing her in concert, although I her for many an enjoyable hour on the small screen and if forced to guess would have gone for around 160cm! Just goes to illustrate that old classic, "nice things come in small packages". That is the cleaned up version!
Nik
said on 19/May/19
@ Sandy Cowell - Many thanks for your lovely Birthday message to my Mum! It's nice to know that my Mum and Andrea share the same Birthday, I hope that Manelia had a lovely Birthday and that you had a great day of celebrations in your house!
Perhaps those born on the 17th May are generally destined to be little, that ain't necessarily so though! Just ask Ross Butler!
I hope that Andrea had a great Birthday on the 17th May!
Miss Sandy Cowell
said on 17/May/19
🎂💐🎁 Happy Birthday Andrea! 🎁💐🎂
No, it really is her Birthday today - this isn't a false alarm again! Have a lovely day Andrea; my kitten Manelia 🐈is one today and she's still tiny. Perhaps it's the fate of those born on 17th May...
It's Nik's Mum's birthday too - and she's only 4ft11!
Andrea gets 5ft1.
😁👍💝🌹🌸🥀🌺🐈😁👍💝🌹🌸🥀🌺🐈
Miss Sandy Cowell
said on 18/Apr/19
And one for luck! I don't want to leave her with 13 - I'm superstitious! 🍀
🙄🤞
Miss Sandy Cowell
said on 18/Apr/19
Oh blast and double blast! I'm a month out, but at least Andrea has a couple of new comments!
🎂✖️ 📝✔️
Miss Sandy Cowell
said on 18/Apr/19
🎂🎆🎁 Happy Birthday Andrea! 🎁🎆🎂
I can't believe I haven't written on Andrea's page yet. The Corrs are a taut little group AND Andrea turned Mick Jagger's head, regardless of being on the petite side!
😊👍🎈🌸💐🥀🌷
Have a good one honey-girl!
5ft1.
Arch Stanton
said on 28/May/17
Rob, the categories you have here aren't that much help, there should be a category for Irish people or something!
Editor Rob: I understand what you mean. You could go very specific into a lot of sub categories, but sometimes it can be detrimental having too many and too time-consuming trying to create them.
BilboBaggins
said on 26/Oct/16
She's definitely 5' 1". She has a disproportionately large head that looks like the head of an taller/average-height person - that is, until you see her in full-length profile. I've seen pics of 5' 6" Bono (in his lifts) next to Andrea, and even Bono almost looks like Gandalf standing next to a hobbit! Beautiful lady though...
lollipop95
said on 21/Nov/14
Sharon is 5'3 according to an interview she did with an Irish magazine (they sad in one part "all five foot three of her" There's photos of Andrea and Sharon and there looks to be 2 inches, which would prove that Andrea is indeed 5'1 and Sharon is 5'3
David Mortimer
said on 20/Jul/14
Logoryst Im 5.8.5 and Jim Corr walked past me in a bar he was shorter than me I'm pretty sure of that , I also stood next to Andrea and she really is 5.1 ...
Logoryst
said on 9/Feb/13
Never knew she was this titchy - are you guys absolutely sure about this height estimate? Saw them in concert - and if Jim Corr's height is anything to go by - and he is solid 5'11" - Andrea is 5'4", Sharon is 5'6-5'7" and Caroline is around 5'5" - is there any way the estimate given could be assessed? Overall - great job collating all those numerical estimates - absolutely marvelous to see so much system and scholarly attention to detail and statistically sound approach to data collection - and critical examination of said data too - keep up the good work and the best of luck in your future endeavours!
Justin
said on 8/Nov/08
Is she 5'1 barefoot?
dj70
said on 16/Jul/08
Why would she want to make herself look shorter?
Leo
said on 16/Apr/08
Walked by her about a year and half ago in Dublin, I'm 5ft 11 and she was around my shoulder. I'd say 5ft 1 is a fair estimate.
Alan
said on 31/Dec/07
I've met her and she's about 5ft 2. She's actually taller than her sister Sharon who is inexplicably listed as the tallest sister (5ft 5 on virtually every site on the internet), when she's actually the shortest at just under 5ft 1! Andrea likes to play on being short though and often performs barefoot or in flat shoes. She also tries to makes herself look shorter by crossing her legs and tilting her head when standing next to Sharon, who always wears heels.
Sky
said on 1/Jul/06
My friend is obsessed with the Corrs and she has pics of herself with them (she is a big gal-5'7 198lbs) and she looks so ridiculous next she is like double her size...lol.
But the band & her r soo sweet!And good-looking!
2Bad
said on 20/Jan/06
Yeah, I met several times and she's definitely 1m55 :)