Annie Potts Height
5ft 3 (160 cm)
American Actress best known for appearing in Ghostbusters. 1996 LA Daily News article described her "5ft 3"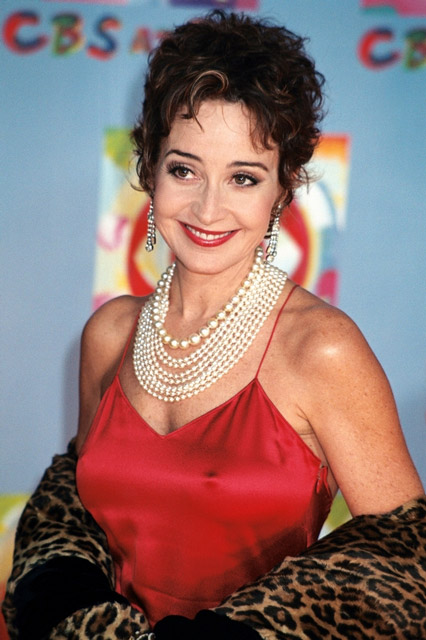 Photo by PR Photos
Add a Comment
23 comments
Average Guess (1 Votes)
5ft 3in (160cm)
Anonymous
said on 16/Jan/11
5'10 in shoes. 5'11 is pushing it, he doesn't look like a tall bloke. 5'9 barefoot.
Bon
said on 4/Dec/10
Hewitt - a solid 5'9, 5'11 is laughable.
Doug
said on 1/Apr/09
Yeah he never looked 5'11". He looks very short on the court but then again when he plays a lot of guys who are 6'2"-6'5" he is going to look short.
Robbie
said on 28/Dec/08
Guys, Lleyton Hewitt really is maximum 5'9.5 (177cm) as the BBC put. Check out this link:
Click Here
He is standing next to Alicia Molik, who is 182cm tall. And she towers him.
jay
said on 25/Aug/08
nadal is 6'1 so is federer,hewitt is 5'11, my favourite players are novak djoovic and andy murray tho, they are phenoms and will have best careers,no one will touch them in next 5 years, djokovic and murray the best.
colin
said on 24/Aug/08
Hewitt is small 5'11 he may look a bit smaller, i am not a huge fan but i respect his qualities he's a true fighter,i went to a lot of atp, i saw lleyton hit with guccione,roddick and blake,melzer and serra, murray and gasquet with ancic and wawrinka,vliegen and berdych, mahut and cilic hit too for a while also nishikorio japanese teen was late hittin i think he hit with either gabashvili or kunitsyn, i think it was gabashvili though cheers
ralph
said on 3/Sep/06
nadal has won a little height. I think he is now 6'1.5"
Click Here
ryan
said on 6/Aug/06
met hewitt. he is between 5'9 tops, in his tennis shoes.
Anonymous
said on 19/Feb/06
federer is apparently 6'1-6'2 and even if that is the case he has at least 3 inches on hewitt
ds
said on 11/Feb/06
Actually yeah, he could be 5'10" like I can't really tell...when someone is over 2 inches taller than me, unless I have my dad with me or someone taller. I just think from pictures he looks 177cm, but from meeting him I know he's not 5'11", b/c my brother is 5'11", maybe a bit over I dunno he's growing, and he was farther away height-wise than Hewitt. So Hewitt is 5'9.5" or maybe 5'10". Because he seems not that much taller than Kim Clijsters...
Josh
said on 9/Feb/06
5/9 .5 (177cm) would be more accurate.
ds
said on 8/Feb/06
Yeah I met him at the Australian open...I got his autograph even though I don't really like him...newyz I'm 172cm and he's like 177cm...maybe not even 5'10" but it's possible...and Stiffelio Roddick, Safin, and Federer are all atleast their listed heights barefoot...
Josh
said on 3/Feb/06
He´s 5/9.5 (177cm) barefoot and 5'11 with sneakers , look at his sneakers they give him atleast 3 cm .
matthew
said on 29/Jan/06
yehh i have to agree , i asked my dad , and even he said straight away that hewitt is around 5'10" , so i think rob you can knock him down to 5'10" now , and if even the BBC website has him at 5'9.5" 177cm. so its time.
[Editor Rob: I forgot about this guy...yes, that is more accurate]
westlondon
said on 24/Jan/06
no way is this guy 5'11, stood near him many times. come on look at him. I would say he is 5'10 on the nose.
Stiffelio
said on 14/Dec/05
Hewitt's height as well as that of all tennis players is listed with sneakers on. Shoe less he should be 5 ft 10in, with luck!
J.J
said on 28/May/05
I got his autograph in Paris a few years ago and he is not quite 5'11, I'm a solid six and Hewitt was def 2 inches shorter. We were both wearing tennis sneakers b.t.w.
Also, I think Federer is more like 6ft, he looks a solid 4 inches shorter than Safin on their pics.
john
said on 5/Apr/05
I've stood next to Hewitt in the Sydney master's cup and he's around 177-178cm. Roddick on the other hand is really nearly 6 2".
Smoke
said on 4/Apr/05
Interesting because Hewitt really does look 5'11" next to Federer, and Federer looks like a dwarf next to Safin in these pics. Yet Federer in person, really did seem about 6'1" and his official listing says 186 cm. I think we should get a Federer listing on here! Sports heights are truely just as interesting as celebs!
http://www.wireimage.com/GalleryListing.asp?navtyp=SRH&str=roger+federer&styp=&sfld=C&nbc1=1&sortval=4d&PageNum=12
http://www.wireimage.com/GalleryListing.asp?navtyp=gls====49931&nbc1=1&VwMd=i
hani
said on 4/Apr/05
canas official website says he is 6 feet and judging from the picture i can say that carlos moya is no way 6'3 maybe 6'1 but not more.
Smoke
said on 4/Apr/05
I really think Andy is a very strong 6'2", and I'm really surprised at how tall Henman looks! He looks like he could definately be over 6'1", I've met a few of these guys and I can definately say that Safin is 6'4". Carlos Moya isn't quite looking the 6'3" he gets listed at there, with tennis players it's really hit and miss, some guys are more accurately listed than others. While we're on the topic of Hewitt, in that shot he looks 5'10" at best, he's atleast 4 inches shorter than Roddick whom I think is taller than the 187 cm that he gets listed at. Having met 185-186 cm Federer, I can definatley say the he looks more than 1 cm shorter than Roddick. Also, Canas looks a solid 6'1" as well.
Lmeister
said on 4/Apr/05
Haha rounding up man. He is more than slightly under that. Look at his shoes and compare then to Corias shoes. In reality he is maybe a few cms taller than 5'9''(just a listed height) Guillermo Coria...in BBC website Hewitt is listed 177 cm and I think that is his real height. Tennis players who are shorter than six feet tend to add a few extra inches to their heights for instance Sebastian Grosjean is sometimes listed 5'9'' eventhough his "official" height is 5'8''...
not right
said on 4/Apr/05
if roddick is 6ft 1in then hewitt is never 5ft 11in. Ok hes a little bit taller then 5ft 9in coria but have a look at hewitts shoes.