Audley Harrison's Height
6ft 6 (198.1 cm)
British Boxer. He has described himself as 6ft 6 before and also on twitter
"6.5ft weighing about 17st 8 easy 💪👊"
.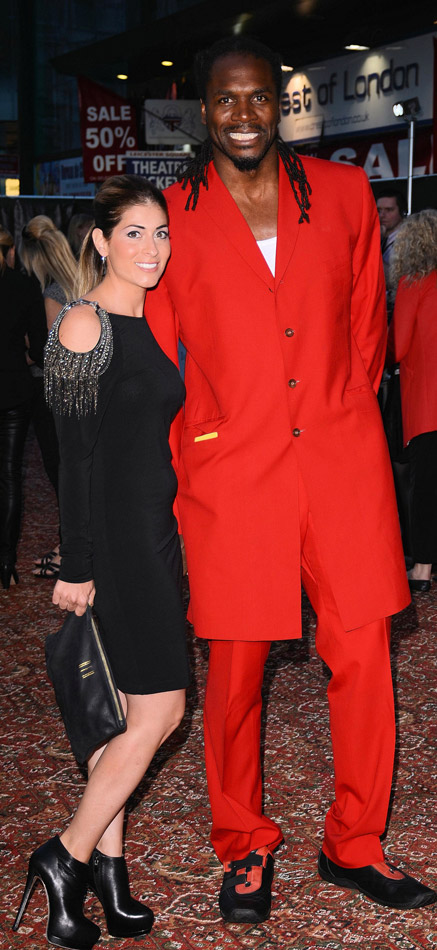 Photos by PR Photos
Add a Comment
22 comments
Average Guess (20 Votes)
6ft 5.74in (197.5cm)
JD1996
said on 2/Nov/20
197-198
Canson
said on 25/Apr/20
@Editor Rob:
I agree with Christian. Its very debatable here and I'm sure some will agree while some won't but 197cm range looks possible seeing him with David Price. I actually wonder if Price could be 202 range (6'7.75 perhaps). Also he's listed at 6'5.5" on Wikipedia as well as a few other sites out there if you enter his height. He is probably rounded to 6'6" just as Wilder is 6'7". Harrison's measurement looks like a morning 6'6" while Wilder could be a morning 6'6.5". Meaning 6'5.5 and 6'6" for both
Click Here

Editor Rob
Yeah Harrison has been described at 6ft 5 before, he could be one of those guys somewhere between 6ft 5 and 6.
Canson
said on 29/Feb/20
@Sotiris: they are the same height you're right. Wilder prob needs a downgrade as is being Carmelo is also not shorter than him
Junior Hernandez 1990
said on 16/Jun/19
Deontay Wilder head was further than Harrison. Deontay is at least 1/4 taller.
Sotiris Gravas
said on 14/Mar/19
Harrison and Deontay Wilder are both 6'6"...
Click Here
Christian 6'5 3/8"
said on 7/Nov/18
6'5.5" range
Ollie
said on 3/Apr/17
197-198cm.
Anon
said on 7/Mar/17
Oh stop. Wilder is not 6,5.not a chance.
Click Here
he is Wilder with Wladimir Kiltschko. Wilder cannot be less than 6,6.5 and he likely the full 6,7.
Nick
said on 25/Feb/17
Harrison is 195/6cm which also confirms Deontay Wilder is around 196cm
Click Here
joe###
said on 24/Feb/17
price is over 6´8 and harrison close 6´6 towers in people next video
Click Here
CaptainMegaSkills
said on 2/Feb/17
6'6" looks about right to me.
I always liked Audley. He deserves a lot more credit than he gets for his impact on British Olympic boxing. He had so much pressure on him after turning pro, yet always conducted himself as a gentleman, and particularly in the latter part of his career, showed a lot of bravery. His performance in the Sprott rematch remains one of the most inspirational things I've seen in sport. He may not have made it to the very top, but he did alright, and will always be a champion in my eyes. I'm glad he retired when he did though. I wish Danny Williams would do, too.
berta
said on 23/Jan/17
this is on eg uy that you dont wanna mess with. strange to see someone claim 1 inch less then they are. it most be one in a 1000 that do that
Ariella Harrison
said on 6/Jan/17
Wow! Nice you got it right I'm his daughter Ariella. Good Job on getting his height right!
Christian-196.2cm (6ft5.25)
said on 30/Nov/16
Rob, when he claimed 6.5ft, did he mean 6 and a half foot or 6ft5? Because 6.5ft is the same thing as 6ft6
Editor Rob: Christian, I would have thought .5 as being 6 because he has claimed 6ft 6 before.
joe###
said on 16/May/16
David Price 6´8.75
Audley harrison 6´5.75-6´6
Arch Stanton
said on 6/Aug/14
I think he was probably measured at a similar height to Vlad Klitschko, that strong 6'5" sort of guy who could easily pass for 6'6" but rounds down to 6'5".
Christoph
said on 5/Aug/14
I'm 6'3 (190cm) and met Audley, I asked him how tall he was and he said 6'5.
Arch Stanton
said on 29/Mar/13
He certainly doesn't look a hair under 6'6" next to David Haye. Lowest he could be is 197cm barefoot.
Arch Stanton
said on 1/Dec/12
I think he was measured barefoot at 6'5.5" but have you seen the height difference between him and David Haye? He makes Haye look 6 '1" tops. I thought he looked near 6'7" in their fight, Haye was having to lunge and punch just to reach him.
Jake T.
said on 27/Oct/11
With Lennox Lewis he does look this tall, also with Hayes. 6'6 is right.