Bam Bam Bigelow's Height
6ft 2 (188 cm)
Scott Charles Bigelow was an American wrestler, known by his wrestling moniker 'Bam Bam Bigelow'.
In a 2006 article it mentioned "But Bigelow, 45, paid a price. He used to be 6-foot-3. Now he's 6-foot-1.". The same paper mentioned in 2007 "In an interview last year, Bigelow said that he once was 6-foot-3, but was then 6-foot-1. He attributed his diminishing frame to back surgeries."
You May Be Interested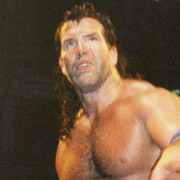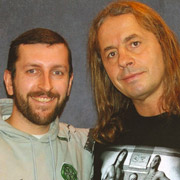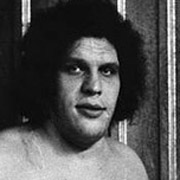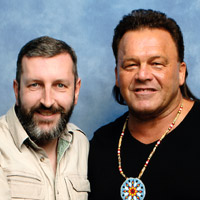 Add a Comment
21 comments
Average Guess (44 Votes)
6ft 1.81in (187.5cm)
6'3 Julian
said on 20/Aug/20
I think he could "attribute his diminishing frame" to his weight as well. Dude was pushing 400
rmg3red
said on 12/Apr/19
Met Bigelow years ago when he owned a burger shack around Lake Ariel, Pa. He whipped up a Beast Burger for me then came out to bull . He was very personable, but he was not 6'2. That I can tell you for certain. I'm right around 6'1 with shoes on and I had a slight height advantage over him. I actually expected him to be taller than he was. Barefoot, he'd probably go around 6'0. Anything more is pure fantasy.
y2flu
said on 13/Jan/19
This is ridiculous. I knew Scott personally and he was barely 6 ft. Just look at this photo w/ Springsteen and DDP.
Click Here
Manpreet Singh Virk
said on 21/Oct/18
Bigelow is 6'3.
Rampage(-_-_-)Clover
said on 26/Jun/18
I think anywhere from 6ft1½-6ft2½ is debatable peak. 6ft3 was a shoe listing.
Samir Yusuf
said on 5/Mar/18
Bam Bam never looked that tall on television and being an engineer, I have a keen eye. I'd say a solid 6 ft even and that's it. Change it to 6 feet even Rob, I'm telling you.
dicksock
said on 3/Mar/18
I just visited the Lawrence Taylor page on this site and saw he's listed as 6'2.5". So according to this site, there was only half an inch between him and Bam Bam. Hmmm...
He should be lowered to 6'1" or 6'1.5". He was clearly at least an inch shorter than Taylor. He was also noticeably shorter than 6'2.5" Goldberg.
Rampage(-_-_-)Clover
said on 13/Feb/18
He was roughly 2in shorter than DDP so 6ft2 range is likely.
RP
said on 13/Feb/18
Rob, I now absolutely think Bam Bam needs changed to 6'1-1/2"
...more than enough evidence shows he was 6'1.5" in his prime & never a true solid 6'2".
Jordan87
said on 12/Feb/18
Probably was always 6'1" and likely either Measured himself wrong or got measured wrong. He was shorter than Leon " Big Van Vader" White who had a 6'3" College Football Listing.
JJStyles
said on 10/Feb/18
RIP BamBam
AnonSpotMonkey
said on 10/Feb/18
Hey would it be possible to get a page for Matt and Jeff Hardy? Thanks.
RP
said on 9/Feb/18
Better yet...watch his Wrestlemania match vs Lawrence Taylor. They have s face to face staredown at the start of the match. Taylor who was s legit 6'3" Barefoot makes Bam Bam look 6'1-3/4" ...IMO. Bam Bam peak in the 1980's could've been 6'2" even. Looked 6'1.75" with LT though. Also, King Kong Bundy looked pretty tall with all the NFLers outside of the ring when they all met up on the one occasion. Seeing him with LT, Carl Banks & Reggie White proves Bundy was 6'3-1/2" ...possibly even 6'4"...but, looked more 6'3.5" to me.
dicksock
said on 9/Feb/18
I doubt he was a legit 6'2". He was shorter than 6'2.5" Goldberg and more than 1" shorter than 6'3" MAX Lawrence Taylor:
Click Here
Click Here
Bam Bam never looked like a legit 6'2" to me.
RP
said on 9/Feb/18
Go check out the movie "Major Payne"...There is a great eye to eye stare down & fight scene between Bam Bam & weak 6'2" Damon Wayans. Both are in very similar footwear. Wayans is in Army boots & Bam Bam is in motorcycle boots. Wayans is somewhere between 6'1-1/2" to 6'2"...at his absolute peak in his 20's he looked 6'2"...once he hit his 40's, he looked more 6'1-1/2"...watch the scene & make your own judgements 😉 Bam Bam was also a legit 315-330 lbs during his prime in Pro Wrestling. Was typically billed 340-350 lbs. the ridiculous WWF of the 1980's even briefly billed him as high as 360-368 lbs for a little while. However, at that time he was actually 320-ish
Zahid
said on 9/Feb/18
This guy must have been 6'2.5" in his peak. Look how he stacks up against a peak Undertaker during their matchup.
Mayfield
said on 8/Feb/18
The two inch height loss he suffered. I wonder if the Flying Headbutt has anything to do with it. I did hear Harley Race, who claims to invent the move, regrets doing so because of the spinal damage it causes. I'm not sure about Race's peak but compared to Ric Flair today, he looks 5'8. It's like Hogan's legdrop, wears down the spine. Some food for thought...
If Benoit were still alive today, makes you wonder if he would be down to 5'7
Rampage(-_-_-)Clover
said on 8/Feb/18
Nice, I requested this guy a while back. Not quite a 6ft3 guy but maybe 189cm is debatable, Rob?
heightchecker34
said on 8/Feb/18
Looks every bit 6'2, but was over 300 lbs so can look like a "big guy" for wrestling standards. He was about 1/2 shorter than Big Van Vader and an inch shorter than 6'3ish King Kong Bundy. Truly one of the best big guys in the business.