Barry Gibb's Height
5ft 11 (180.3 cm)
English singer, from The Bee Gees.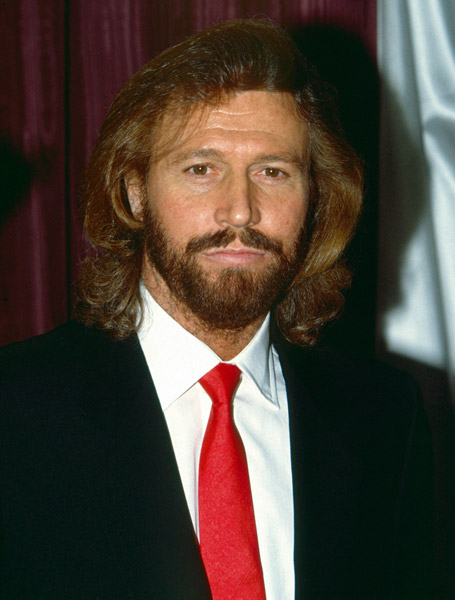 Photos by PR Photos
Add a Comment
45 comments
Average Guess (23 Votes)
5ft 11.21in (180.9cm)
Chris Junior Hernandez 1990
said on 2/Dec/19
Watching Bee Gees classic music video i would have thought Barry was a legit 6'0 or 6'1 guy. It shock me that he is only 5'11. I'm thinking he might be 5'11 1/2 when he was young.
Miss Sandy Cowell
said on 1/Sep/19
🎂🎁🎉 Happy Birthday Barry! 🎉🎁🎂
Barry the 'Big Bee Gee' turns 73 today. To think - he'll only have been 20/21 when they had their first hit, which I believe to be 'Massachusetts' in 1967, and I remember dancing to it in my own inimitable way, which didn't do it justice as it was a beautiful song!
Have a great day, Barry. 😉👍🎈
5ft11.25.
🎂🎁🎉🕯️🎂🎁🎉🕯️🎂🎁🎉🕯️🎂🎁🎉🕯️
Wine Berry
said on 17/May/19
Hmm I thought he was 6'1" but I guess I'll give him 181 cm
Adijos
said on 11/Jan/18
Rob, I think you should give Barry a peak height of 5'11.25" (181 cm) and a current height of 5'10.5" (179 cm). Look at him next to Timothy Dalton:
Click Here
Look at his newer photos from Olivia Newton John:
Click Here
Anyway, I think you could also add Barry to the pop singers section:
Click Here
Rory
said on 13/Sep/17
Yh I can believe 181cm peak
Bev
said on 13/Sep/17
Born in 1955, I have been doing a lot of looking back on memories, especially of our music and the bands. Barry is and was an amazingly handsome man and his wife and he certainly seem to be perfect for each other. And five children. Reading up on all his family losses had to have been heart breaking. Suffering from depression, being able to go back and read and listen to The Bee Gees music has helped me start back uphill. I hope Barry stays healthy to the end. Such a wonderful guy.
MSJC
said on 9/Sep/17
The tallest Bee Gee.
Dingus
said on 13/Aug/17
In my opinion Barry was 5'11.25" at his peak height and a has a current height of about 5'10.50". Robbin was probably 5'08.50-5'09". Maurice was 5'06.50"-5'07.25". They were always wearing those crazy heels and platform shoes so it was hard to tell how tall they were.
Sandy Cowell
said on 3/Aug/17
@ Linda Zimmerman Black - I hope that Barry gets round to reading that sweet letter of yours some day!
It will make him very happy!
I will go for 5ft11 for Barry, though I must say, I thought that in the Bee Gee's early days, he was a full 6ft.
It's tragic to think that he is the only one left of such a memorable and iconic band. I would like to go along with Linda in wishing Barry, his wife and his children many more sunny years of happiness together!
Linda Zimmerman Black
said on 2/Aug/17
He had them legs that went on forever that every girl dreamed about.From his sexy voice to that hair you wanted to run your fingers through.Every thing about him was what every girl wanted. His wife is a lucky woman to have him and to have raised a family with him and he's a lucky man to have Linda by his side all these years.His brothers were amazing men to. It's just so very sad for there family to have lost them all so young. Many tears we all have cryed for these amazing wonderful men who will always be #1 to me The BEE GEES and Andy.Sweet Andy my first crush. Losing him was a real heartache still breaks my heart.Berry you are just as sexy today as you was back then. May God bless you and your wife so you can have many many more year's together. Bless your children and grandbabies. Thank You for all the good memories.
Seb
said on 17/Jul/17
There's a Youtube clip of Ringo taking a selfie with Andy Gibb and looks 1 to 2 inches taller than Andy. Check it out!
Steve
said on 6/Apr/17
I wish I knew how to submit photos on this site. There is a photo of Gibb with Anthony Edwards (6'2") and Timothy Dalton (6'1 1/2'), and they all seem to be about the same height. Although I have noticed that Barry Gibb seem to be a little fragile and or a little shorter which I believe was due to knee injuries and back surgeries
carleen
said on 7/Mar/17
He was so hot back in the day. Beegees had great songs.
Star Wars Rock
said on 30/Jan/17
5'11" or less now that he's older. Barry Gibb was towering Maurice and Robin both at least in music videos specifically "How Deep Is Your Love?" and "Staying Alive." So he was most likely at least 6 feet or even a little over as his peak height back in the 1960s, 1970s and 1980s.
so
said on 30/Sep/16
He was quite tall for the 1960s, he was probably the equivalent to about 6'3 nowadays.
harry
said on 19/Aug/16
5ft11 peak seems right. but nowadays he is 5ft9.5-5ft10.
Che
said on 24/Dec/15
The boots he wore at times put him up at the 6' 1" range. Also pointing out he was a early bloomer when it came to height he however stopped growing quite early around 16/17
Che
said on 24/Dec/15
5'11.5" or a weak 6 foot at peak.
Steve
said on 3/Sep/15
Barry Gibb has had several knee and back surgeries that probably affected his frame, but he was fairly tall as a British musician.
120
said on 18/Jun/15
Rob, you think Barry could've been 6ft in his prime. He definitely looked pretty tall during his younger years.
[Editor Rob: I'd be surprised if he was that tall.]
Rampage(-_-_-)Clover
said on 28/Apr/15
5ft10-5ft11
steve F
said on 9/Dec/14
You have to look real close at their photos. Maurice almost all the time, had either cowboy boots or cuban heels boots. Barry was always a solid 6'0, with Robin at about 5'9" and Maurice at 5'7" and Andy at 5'6" to 5'6 1/2"
Rampage(-_-_-)Clover
said on 13/Oct/14
Robin's listed 5ft9 and Maurice is at 5ft8. Looking at them beside Barry, I reckon are fairly close. Andy is listed 5ft8 but looked slightly shorter than Maurice so 5ft7 range for him.
Rampage(-_-_-)Clover
said on 5/Oct/14
Rob, how tall do you think Robin, Maurice and Andy Gibb were?
[Editor Rob: would need to look at them]
MsCindy
said on 2/May/14
I believe he was around 6' in the 1970's, but since we all get shorter as we age & he is 67yrs going on 68yrs, (Sept 1, 2014), I think he could be between 5' 10" - 5' 11". When I see him I will ask him.
jak
said on 21/Dec/13
5'11.5" 6'0 more or less peak.
Steve F
said on 16/Oct/13
Barry Gibb is between 5'11 1/2" and 6'0". There are plenty of photos of him with Travolta and Travolta is over 6'0.
me
said on 13/Oct/13
I was mainly referring to the height of Andy Gibb in the comment below.
me
said on 10/Oct/13
These are why pictures, this is clearly the same event, can be deceiving.
Click Here
and 2/3 down the page of
Click Here
bbcineman
said on 14/Sep/13
I met Barry Gibb, he's 1.80m.
Steve F
said on 26/Feb/13
I think their actual heights during their peak, when they were all young, was Barry (6'0") Robin (5'9") Maurice (5'7" and Andy (5'6")
17 y/o 182 cm
said on 23/Feb/13
This is weird. I always assumed he was 5'10 and his brothers were 5'8? If he really was 6 feet at his peak that would really shock me :S
Steve F
said on 20/Feb/13
Does anyone know how to post a pic on this site??
Steve F
said on 18/Feb/13
Yes, but I seriously think that Jackson was about 5'10" and he usually wares high heel shoes. I will post a photo of Gibb with Timothy Dalton (6'1") and Anthony Edwards (6'2").
Tom
said on 16/Feb/13
Click Here
Doesn't look much taller than (listed 5'9 here) Michael Jackson
Steve F
said on 15/Feb/13
I do believe he is about 6'0 flat
Jamie
said on 13/Feb/13
No one has every confirmed Barry Gibb's height. I wish someone would just ask him!!
Steve F
said on 6/Feb/13
I have seen plenty of pics with Barry Gibb & John Travolta who is about 6'1" and he is pretty much about Travolta's height
Steve F
said on 6/Feb/13
Gibb looks much taller than 5'11"
nash70
said on 17/Feb/09
I've stood beside him on maybe three or four occasions and I would have said he's comfortably 6'1". He's aged badly and his posture is poor so he may look smaller now but in the mid 80s to early 90s he was certainly taller than 5'9.5".
Anonymous -15
said on 2/Oct/08
He's definetley more than this , I always thought of him as being a good 6ft or 6'1" , as has already been mentioned he has horrendous posture.
Doctor Dildo
said on 18/Aug/08
Shane's never 5"9.5! I met him in a pub and he towered over me (5"10). I'd say he's at least 6"1...although his posture is rubbish so that may take away from it a lot.
Tom
said on 25/Feb/06
Saw him in a Glasgow pub last year and was surprised how small he was. He looks smaller than 5ft 9.5 in. But his posture is really bad as he is usually very drunk.
CelebHeights Editor
said on 20/Feb/06
1997 article described this guy:
"Unlike most pop performers, MacGowan is an imposing six foot one"
Mikex
said on 24/Dec/05
I always thought he was 6' plus.