Benji Madden's Height
5ft 5 ¾ (167 cm)
American Musician from Good Charlotte. He claimed his height on twitter, saying:
"Im 5 ft 7 and a little slice of heaven"
.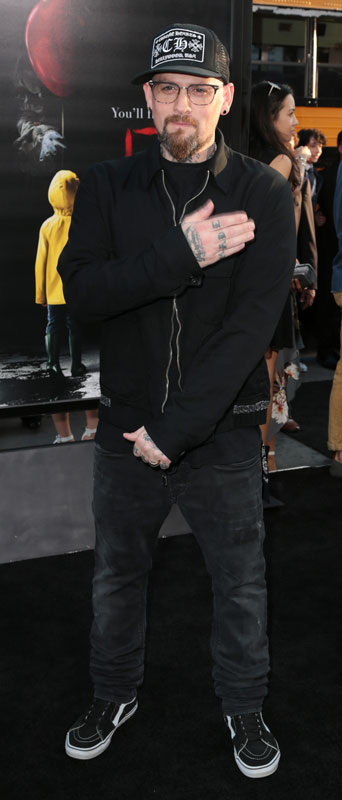 Photos by PR Photos
Add a Comment
60 comments
Average Guess (6 Votes)
5ft 5.67in (166.8cm)
Omar
said on 8/Apr/17
Dont you think 5"5.5 is more accurate Rob?
Ron
said on 14/Mar/16
Rob, why did you give him a upgrade from 5'5 to 5'5.75?
Editor Rob: I can't even remember!
SIlent d
said on 30/Nov/11
Isn't benji the bald twin with a lot of tattoos. He is 5 foot 5. No way he is 5 foot 7. He is shorter than paris hilton.
whoisgrungegirl
said on 30/Oct/11
is that a difference? :D I saw him and Joel live, they're so amazing :D <3 can't describe!
Kathiee
said on 27/Jul/11
what ?? benji is 5'7 (170 cm) .. not 5 ft 5.75 (167 cm)
Rox
said on 26/Feb/11
Sounds right met him and Nicole Ritchie. Both are short. She is tiny, skinny.
mr. error
said on 20/Jan/11
yeahh look the pic withe pete wentz and joel madden pete is 168-169 and look benji(167)(then he must be the same height like pete wentz) he is very smaler then his brother i think he is not more then 5'5 look the pic's withe wentz and joel madden on google
Chris
said on 30/Mar/09
I'm 5'8 and I met him and was at least 3 inches taller.I'm guessing 5'5 at the most.
Brad
said on 18/Feb/09
Friend of mine just saw him in Vegas. He's 5' 5".
MD
said on 16/Feb/09
BTW, he is definitely more than just an inch and a quarter shorter than his brother:
Click Here
And to show they are wearing the exact same shoes:
Click Here
Benji must really wear lifts from time to time, because they often look much closer than this in height.
Benji isn't over 5'5"
some guy
said on 15/Feb/09
this guy is like 5'4 or so.
Trail
said on 31/Jan/09
Both of them are smaller then 5'6
Lydia
said on 13/Sep/08
definitely 5'5. i went to Good Charlotte's "Meet & Greet" & my friends said i was slightly taller than him. i'm also a 5'5 & i wasn't wearing heels.
mike
said on 27/Jul/08
almost 5'6 no more like 5'4 he is a little guy saw him at a club in chicago
will
said on 30/Jun/08
saw benji on the street he's def. not 5'6 it shocks me how short he is.
alexia
said on 24/Jun/08
isnt paris hilton 5'8 sumthin!!!
she must b like towerin over him!!
Davey
said on 2/Jun/08
I didnt know this guy was that short.
fcuk
said on 14/Apr/08
Fair enough, Glenn does tower over him in terms of eye-level
sarah
said on 10/Apr/08
actually joel is 5'8", benji is little bit shorter, it means he's 5'7"
benji couldn't be as shorter than yo claim. the difference between paris & benji is not really important and paris is about 5'7" too or a bit more.
Anonymous
said on 20/Mar/08
Glenn has 3 solid inches on him there. Compare the eye levels, don't be fooled by the guys big hat to gain height. So that means he is 5' 5".
Anonymous
said on 15/Mar/08
I'd give him 5' 5" next to 5' 8" Glenn.
mule
said on 13/Mar/08
you have got it right here maybe even as short as 5'5" i would say these brothers wear hats to look taller eye level gives it away i think he is about the same size as his brother maybe joel is 1" taller tops.
glenn
said on 13/Mar/08
one inch is absurd.look at are shoulders.rob listed him right too.
Ras
said on 13/Mar/08
So you are gonna tell me from the eyebrow to the top of your head is just 1 inch???
Anonymous
said on 12/Mar/08
noway has he got him by 2 inchs can you people tell height or what?? got him by 1 inch max glenn has if that
Anonymous
said on 8/Mar/08
yes his brother is around 5'7-5'8 and benji is 5'6, yes I always thought his brother is 5'9 and thought benji is 5'7.
Del Mar
said on 7/Mar/08
wow i'm surprised how short he really is! You got him by a good 2 inches or more, glenn! so he's brother can't be more than 5'7-5'8 then
glenn
said on 5/Mar/08
i understand sven.
sven
said on 5/Mar/08
glenn i dont say you look fat,it was a little curiosity
glenn
said on 4/Mar/08
acc-the mcr guy is leaning in alot.and i never met him.so i dont know what to say.interesting pic anyway.
ACG
said on 3/Mar/08
This is Joel Madden next to MCR frontman Gerard Way. If Joel is really only 5'6, or 5'6.5, I don't see how Gee could be anywheres near the 5'7 he claims!
Do you have any say on the matter, glenn? I've been dying to find Mr. Way's true height for some time....you hear estimates ALL over the place, he's almost as bad as Stallone!
But I think in Gee's case, he is most likely tiny-even without the slouch. The Joel Madden pic proves it nicely.
Click Here
Of course I could very well be wrong, as I've never been face to face with either of the aforementioned stars.
OutBenchThis
said on 3/Mar/08
There has to be about 2.5 inches difference between Glenn and Benji.
glenn
said on 3/Mar/08
im done talking about my weight on this site.people forget i also wear layers and those pockets are overstuffed above too.
Anonymous
said on 3/Mar/08
his brother Joel is listed 5'9 and Benji himself was listed 5'7. I think Joel is more of 5'7-5'8 guy. Benji is like around 5'6.
sven
said on 3/Mar/08
hey glenn how much do you weigh?u look big in this pic
glenn
said on 3/Mar/08
he was nice james.when they were famous it varied i heard.actually,he can be a dick around nicole ritchie i was told.
Ras
said on 2/Mar/08
I think I exagerated with 5'4, but can look 5'5 really, could be given a quarter or a cm less, like 166 cm, I can see 7 cm of difference there.
Off topic but one thing is for sure, Glenn always looks 5'8 except for maybe a couple of times with guys like Forest whitaker where he looks half an inch shorter, but that's because Whitaker should be 6'2.5, and maybe with 5'10 or + girls using heels because almost all of them should be wearing 4 in heels.
Jake Is Back
said on 2/Mar/08
Glenn, I think you can look shorter in pics with shorter women because you're bending down, otherwise you look 5'8".
glenn
said on 2/Mar/08
i see 2 inches when looked carefully,with the illusion of almost 3.
Alex
said on 1/Mar/08
I'd give him 5'6 since Glenn is 5'8. I see 2 inches.
glenn
said on 29/Feb/08
ras is right.it does give that illusion.5-5 min in reality.5-6 max.
Anonymous
said on 29/Feb/08
i'm seeing 5'6.6-5'7 in the picture.
Ras
said on 29/Feb/08
Am I the only seeing 5'5-5'4 here? Just going by the top of their heads (even if madden's wearing a hat) Glenn's leaning a bit. It also depends on the footwear too. Check this out
Click Here
he's a bit above the eyebrow. Thus he should be 5'5 flats, 5'4 is possible.
glenn
said on 28/Feb/08
im with tntinca.i think i look 5-8 to 5-9 in pics.never under.
chris175
said on 28/Feb/08
yeah looks 5-6 to me, i will go with 5-5.75 to be more precise lol
TNTinCA
said on 28/Feb/08
"one thing is for sure,pics like this prove im not 5-7"
Gotta agree with the previous posters. You don't ever look 5'7". I would peg you at between 5'8" and 5'9" if I ran into you in person.
Charliemoto
said on 28/Feb/08
i think Benji is 5'5 flat
oh and glenn i recon on some particular days you can look 172cm but most of the time 173cm.
Rob on the other hand looks a proper 173cm all the time :)
Alex
said on 28/Feb/08
Glenn, you never look as short as 5'7. Maybe 5'7 1/2 in some pics but mostly you do look 5'8.
Lmeister
said on 28/Feb/08
I thought that Maddens were around 5ft8 - 5ft10ish. I guess Benji is 5ft6 tops and that makes Joel 5ft7ish...
Anonymous
said on 28/Feb/08
he doesn't tower over 5'1" nicole ritche, so I'm not that surprised
glenn
said on 27/Feb/08
one thing is for sure,pics like this prove im not 5-7.
glenn
said on 27/Feb/08
i think this guy had vans or converse too.
Ian
said on 27/Feb/08
Looks like 5ft6". I was going by the eye level also TNTinCA.
leonari
said on 27/Feb/08
I see more than 2 inches folks...short dude.
TNTinCA
said on 27/Feb/08
Around 5'6" by the looks of it. The hat throws the comparison off a bit but f you look at eye level difference between him and Glenn, it appears to be around 2 inches. And Glenn is also leaning in a bit.
glenn
said on 27/Feb/08
one of the brothers was 5-5ish,the other 5-6,5-6ish.can remember who without looking at the other pic.benji looks to be the shorther one id say.
[Editor Rob: this is the shortest one, the other one though - he seems to wear converse a bit.]
Viper
said on 27/Feb/08
I didnt know he was this short either.
leonari
said on 27/Feb/08
Rob:I say he could be even shorter...Glenn: whats your opinion on Benji??
Alex
said on 27/Feb/08
I didn't think he was this short actually.
Teh Pwn
said on 27/Feb/08
Wow benji looks so old suddenly, my impression of him was still stuck when he had the big spiky hair, or when he had the black and pink hair. Didn't know he was this short though!