Bill Oddie's Height
5ft 3 (160 cm)
English tv presenter and actor best known for comedy show The Goodies, and numerous wildlife programmes like Springwatch. He said on twitter
"I was school rugby captain. Fly half. Played for Cambridge college. I was 5 foot 4 + 10 stone. Nowadays I wouldnt get a game as the ball."
. This photo (by Daniella) was taken at the London Film Con in 2008. Tim brooke (on the right) said in an interview with the Guardian:
"I would like to be taller, I am five foot eight and a half"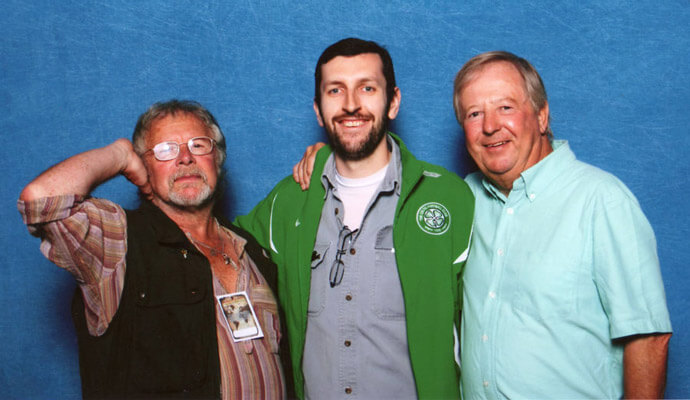 Bill, 5ft 8 Rob and fellow Goodie Tim Brooke-Taylor
Add a Comment
46 comments
Average Guess (10 Votes)
5ft 3.08in (160.2cm)
Chaz Noir
said on 21/Oct/19
One of my favourite Alan Partridge scenes:
"Mr B Oddie, this is Bill Oddie. It's not a crank call. Why have
you put it on there?"
"Well, we thought it looked like "body"."
"What's rude about a body?"
......... "T*ts?"😂
Michael 5'10", 178 cm
said on 16/Dec/18
He looks 5'2" in the picture with you. Maybe he was 5'3" at peak.
Duffer 5ft 11
said on 8/Dec/18
The ol' Bill looks as stated, he could have been as high as 5'4" in the 70s in his prime, "TBT" looks like he's dipped to below 170 nowadays. Hilarious chaps.
World Citizen
said on 25/May/17
My apologies for that.
World Citizen
said on 24/May/17
He looks more 5 ft 2 here. And how tall is the other guy beside you who claims 5 ft 8.5 ?
Editor Rob: it's possible 20 years earlier he could have been near 5ft 8.5, but that day he was under 5ft 8.

btw, you only need to hit submit once for a comment, I noticed you hit the button a number of times.
Sandy Cowell
said on 10/Feb/17
I used to love watching 'the Goodies' when I was a kid! 5ft3 seems about right for now, 5ft4 for the 70's.
And now for a fascinating fact! Bill's daughter is an actress and she played the part of 'Frances', Reggie Kray's unfortunate wife, in the best film of the Kray twins ever - the one with the Kemp brothers, Billie Whitelaw and Tom Bell, from the very early 90's!
Aza
said on 20/Sep/15
Legend he is! A documentary on his life quite a few years ago was defo eye opening.
Hobbit
said on 11/Mar/15
He's definately under 5'3", I stood next to him last week and I towered over him at 5'3.5"!
Chris
said on 4/Dec/14
Man, Bill looks even smaller than 5.3! You really think there is only 5 inches difference between the top of his head and yours Rob?
[Editor Rob: he could have dropped to 5ft 2.5 then, but didn't really look much smaller than 5ft 3.]
Danimal
said on 14/Oct/14
Wonder how tall Tim would look if he stood straight, because you Rob are standing as straight as possible and he's leaned in, losing height. I'm sure in his youth, he may very well have measured 5'8.5".
[Editor Rob: Tim looked around 5ft 7-7.25 range.]
Berek
said on 25/Jun/14
5'3" seems about right. Very small. It must have bothered him all the way through to be so short.
cd
said on 16/Dec/13
Rob how about a page for Tim Brooke-Taylor? You know about how tall he is (5'7 range) so why not add him?
Matt 184.7-186.7cm
said on 24/Oct/13
Matt 184.7-186.7cm says on 20/Oct/13
Do you think he was just joking when he said he was 5ft 8.5?
[Editor Rob: Tim Brooke was the one saying he was that height :)]
oh.. was he joking then? lol
[Editor Rob: he looked shorter than myself (about 5ft 7), but at his age losing a bit of height is likely, he might have been near 5ft 8.]
Matt 184.7-186.7cm
said on 20/Oct/13
Do you think he was just joking when he said he was 5ft 8.5?
[Editor Rob: Tim Brooke was the one saying he was that height :)]
cd
said on 6/Sep/13
I can see 5'2 and a half next to Rob. He definitely looks as if he's lost some height though (he has not kept particularly healthy), but I don't know whether he's 'active' enough to deserve a peak height listing. So for what it's worth, 5'2.5 and 5'3 peak.
little sue
said on 1/May/13
I think you reading it wrong Masanori, Its Tim Brooke Taylor saying he was 5ft 8 not Bill Oddie
Masanori
said on 30/Apr/13
You're telling me he's trying to claim an extra 5.5"? What's even the point of that? It's pretty clear that anyone is going to know it's complete rubbish. You might be able to get away with claiming an extra inch or two, as many people do, but come on...
Naomi
said on 16/Feb/13
I was in the queue behind him for a Paul Simon gig at the Hammersmith Apollo a couple of years ago. Like Rob, I'm 5ft 8 and I felt like some kind of giant.
Editor Rob
said on 17/Nov/12
Tim Brooke that day looked a bit under 5ft 8, but he definitely could have lost a bit of height. Tim himself claims 5ft 8.5 as his height...
Rikashiku
said on 16/Nov/12
Looks like he could be 5'2" or 5'2.5" maybe?
Shaun
said on 28/Sep/12
What was he like Rob? He always strikes me as the sort of fella who'd always be moaning in department stores or to hoteliers and stuff and quite a cocky/difficult sort of guy.
[Editor Rob: he was fine the little i saw of him, was having at least some interaction with different poses]
greg
said on 31/Aug/12
Amazing pic Rob; these guys have hardly aged from 1975 - whatever they're taking it's working. Tim Brooke-Taylor is listed at 5'8" and seems to have a lost at least an inch and a half by his early 70's, Bill Oddie less so (assuming similar shoes). Both these guys heights explained why, with his height of 5'10" which was about average in UK for his era, Graham garden looked so tall on the Goodies.
[Editor Rob: Graham was supposed to be there, but pulled out I think the day before.]
tom
said on 5/Jun/12
Seen bill in manchester shopping,I'm 6'-2.5" and hes really small,pretty wide though,but short.
ChiasmataX
said on 21/Dec/11
You got near 6 inches on him Rob, he's 5'2-5'2.5.
Rikashiku
said on 23/Oct/11
Looks ALOT closer to 5'2".
Mr. Tempus
said on 28/Sep/11
Rob looks quite happy towering Bill XD
Kostas
said on 14/Sep/11
i need to start hanging out with him so that I will feel tall,lol...nah,kidding!
if i had seen him standing alone in a pic i would have guessed he was around 5'6
5'8.56784
said on 27/Jul/11
Rob, are you really sure?? the guy looks a weak 5'2 to me. Consider you are losing height in these pic. I am sure he's no way over 5'2, he might have been 5'3-5'4 in his youth, tho.
cartman
said on 8/Jul/11
i mean, robs not very tall, and he dwarfs him, so bang on.
Lenad
said on 28/Apr/11
I see 5-5.5 inches shorter than Rob
SolidSnake
said on 17/Feb/11
Looks more 5-2 thsn 5-3
Anonymous
said on 12/Nov/10
This is properly short lol.
Big King
said on 24/Jun/09
Rob, if he's close to 5'3", why don't you shave a half inch off? Change his height to 5'2.5" for example.
Doug
said on 14/Jun/09
I thought he was 5'5" or 5'6" on TV didn't realise he was THAT short. Looks barely 160cm compared to Rob.
ZAQ
said on 28/May/09
Rob he is way below your eye level about 1.5 inches below if average eye level is like 5 he is 6.5 inches less than you
id say 5'1 1/2 maybe 5'2 max
[Editor Rob: my eye level is raised a little bit there.]
G-MANN
said on 29/Jul/08
I had no idea he was that short!
Ronaldo
said on 28/Jul/08
Everyone can post under his name... probably fakers
Margherita
said on 28/Jul/08
Cool. A real celeb posted here lol :)
Margherita
said on 27/Jul/08
lol is that really Bil Oddie posting?
[Editor Rob: the real Bill Oddie probably would admit to 5ft 3...]
miko
said on 25/Jul/08
Rob I might be wrong, but I think 5"2 is even possible here for Bill.
[Editor Rob: 5ft 2.5 is possible in 2008.]
JAB142
said on 29/May/08
If he is 5'4" which seems about right what does that make Kate Humble who towers above him in SpringWatch. My guess is 5'8"
Sid
said on 17/Mar/08
David says on 7/Jun/07
5-4 is a good bet...he lurks in HMV and Pret-A-Manger when in the West End.
YES THATS EXACTLY WHERE I SAW HIM, behing the HMV closer going to Carnaby Street, he was chattin with some next man, but said hi to me.
Tommy Gunn
said on 25/Sep/07
You know, I always though this guy was taller than this... just goes to show... wow!!
Bill Oddie - The Real One
said on 2/Sep/07
Please don't pretend to be me. I'll admit it, I'm 5ft 3in barefoot.
David
said on 7/Jun/07
5-4 is a good bet...he lurks in HMV and Pret-A-Manger when in the West End.
Bill Oddie
said on 5/Jun/06
That is a lie I'm 5-5