Blake Harrison's Height
6ft 1 (185.4 cm)
British actor, best known for playing Neil Sutherland in TV series The Inbetweeners. He said in the Metro Newspaper
"I'm 6ft 1in but because the other lads are shorter everyone thinks I'm 6ft 5in"
and joked on twitter that
"I'm only 6ft the lads make me look tall. They started their careers off playing oompah loompahs"
. He also mentioned when asked if Greg Davies was taller than him,
"Greg by a mile! I'm only 6'1'' he's 6'8''!"
.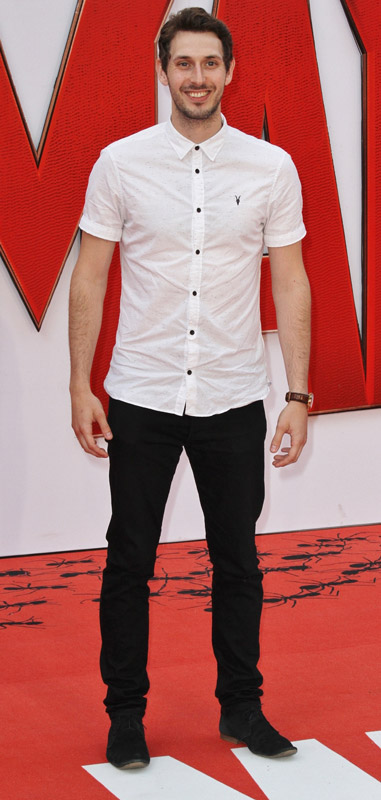 Photos by PR Photos
You May Be Interested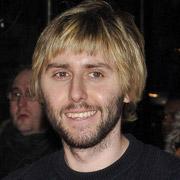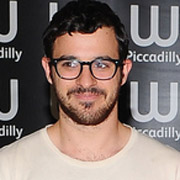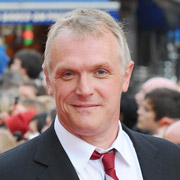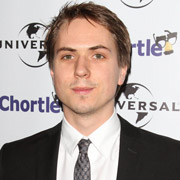 Add a Comment
32 comments
Average Guess (6 Votes)
6ft 1.13in (185.7cm)
Nik
said on 26/Jun/19
He's very height aware!
Junior Hernandez 1990
said on 24/Jun/19
Pardon for my typo. The guy standing in middle between Big Osman and Big Davies is Rick Edwards and he is 6'4 not 6'3.
Junior Hernandez 1990
said on 12/Dec/18
@Reece Sorry to say that is silly if you thought Greg was over 203cm topped 6'9 max. Richard Osman was no under 6'7 1/4 and probably solid 202cm guy.
Click Here
This is more proper comparison with a 6'3 guy squeezing in the middle one step behind both big dudes, Greg is standing at his fully military pose while Osman relax a little. I would have even thought they're just fraction between each other. Greg is more like 6'7 3/4 and Osman 6'7 1/2 and Blake Harrison probably 6'0 3/4 or right on the nose a 185cm guy.
Rampage(-_-_-)Clover
said on 7/May/18
You could argue 186cm
RDJ
said on 14/Apr/18
Ajay,
Anybody who is shorter than you is "short." Someone who is 5'6" probably doesn't think he is short, but anyone an inch shorter than him would be "short" in his mind.
Ajay
said on 7/Feb/18
Rob, do you think he really considers his co-stars short? I mean, 2 of the 3 are about 5'9, they are pretty average.

Editor Rob
From his perspective they are short, but in the UK, they are average height blokes.
Reece
said on 26/May/17
5,11.5. Greg Davies can look even taller than 6-8 he could even be 6-8.5/6-9. look at him with Richard Osman. he looks closer to 2 inches taller at times. I think Blake is 6-1 spot on a bit under would not be a suprise.
5'11.5
said on 23/May/17
Looked at least 8 inches shorter than Greg Davis at the end of inbetweeners 2, but could have been due to uneven ground/camera angle
Rampage(-_-_-)Clover
said on 16/Mar/17
6ft1 is what he claims but he's more likely to measure a bit over it than under, IMO...
Editor Rob: Blake certainly is one of those guys you could put in the comfortable 6ft 1 range.
kaplaaa
said on 18/Jan/16
the dude is 6 foot 1, not everybody out there is height conscious so the 6ft quote is close to meaningless
matt
said on 15/Aug/14
The 185 listing is fine looks pretty legit, I cant see him being under 6'1, He never looked 5'11 to me watching Inbetweeners, I would have guessed 6'1/ 6'2 but the other guys are likely 5'9ish and Simon Bird is probably 5'6 max
aldo 93
said on 6/Aug/14
hes jst touching 6ft1
Connor 183cm
said on 24/Jul/14
I think Blake is a weak 6ft 1, i dont think he's a solid 4 inches taller than 5ft 9 Joe Thomas very close though, 6ft 0.75 for him.
Scott five eleven
said on 7/Sep/13
Was clearly the tallest but often had terrible posture in the inbetweeners. From far angles on times did look only 5'11 due to this. But looking at the 'Simon bird height link' he's clearly 3.5-4 inches taller than 5'9 Joe Thomas.
kevin
said on 22/Aug/13
He looks huge compared to the rest of the inbetweeners cast
Dean 5ft 9.25
said on 27/Jul/13
@ Conner - he looks more than 4 inch taller IMO. Strong 6ft 1(185.5-186cm) and Thomas weak 5ft 9 around 174.5-175cm.
Connor 184cm
said on 18/Jul/13
Rob blake is tall but i think he is just under 6ft 1 probably 185cm (6ft 0.75) 184cm would be too low i just dont see him being solid 4 inches taller than 5ft 9 joe thomas
Scott 5'11.
said on 12/Jan/13
He wouldn't have grown from the age of 23. I for one am nearly 21 and haven't grown for around 2-3 years. Maybe that's just me but usually males finish growing at 21 or so I've heared. He looks 6'1 and yes I agree he was taller than Theo James.
Small dude :(
said on 21/Jan/12
He's a tall, long-limbed guy. I could definitely buy 6'1, pretty much the ideal male height. Mega jealous.
someperson
said on 19/Dec/11
Cranberries says on 18/Dec/11
Blake Harrison has definitely not grown 2 inches since he was 23 (when The Inbetweeners started). Still 6'1", and looks it. Lanky and kinda tall. Theo James is also not 6'1".
i didn't know that he was 23 when he started so more growth isp retty much impossible at his age but he is definately taller than theo who is meant to be the same height. maybe in reality theo is 5'11 making blake 6'1
Cranberries
said on 18/Dec/11
Blake Harrison has definitely not grown 2 inches since he was 23 (when The Inbetweeners started). Still 6'1", and looks it. Lanky and kinda tall. Theo James is also not 6'1".
someperson
said on 17/Dec/11
in the inbetweeners movie the club rep (theo james)describes him as lanky and is noticeably smaller than blake in the movie yet theo is 6'1 so this must make blake now in 2011 at around 6'3 ish.
miko
said on 26/Aug/11
I've just watched a few clips of Davies and Ker standing side by side. When Greg stands at his tallest he MIGHT have the edge.
Him standing next to 6'6.5/6'7 Ker kind of rules out a legit 6'8. 90% of the time Ker looks taller, unless Davies really stands tall with his chest out.
miko
said on 26/Aug/11
Greg's height is a real tough one, he could be anywhere from 6'6 to 6'8.
He is a tall man, but is he a full 6'8? I'm not sure. I'm thinking he might just be 6'6.5/6'7.
Whirlwind
said on 25/Aug/11
@ Miko. I think he looks 6'7-6'8 in that picture. It's hard to tell from one picture due to different footwear etc.
If anybody saw Greg Davies next to Humphrey Ker you'd see that there was very little height difference between them - sometimes Humphrey would look taller and his shoulders are noticeably higher (Greg seems to have quite a large head or something). Now most sources say 6'7 for Humphrey but some even say 6'6 including what was mentioned on that show - although I would think 6'7 is closer.
derek
said on 22/Aug/11
yea idid think that blake was small wen i met but only compered to me becausei am 7ft4 inches tall so im 14inches taller than blake
miko
said on 18/Aug/11
Rob how tall does Greg Davies look here next to 6'1 Harrison?
Claims 6'8.
Click Here
[Editor Rob: I think he looks in 6ft 8 range there.]
Rampage(-_-_-)Clover
said on 23/Apr/11
Looks 186cm
Spangler
said on 18/Feb/11
Just to throw a spanner into the works. A friend of mine knows Greg well from his teaching days and distinctly recalls a lesson whereby the children were being taught about height. As it turns out Greg was measured as 6ft7 not 6ft8 as he claims (a claim to be Britain's tallest Comedian of course). Not that it matters he's clearly a tall guy. But you should feature him on celeb heights.
short man syndrome
said on 20/Jan/11
he's easily the tallest of the 4, he looks huge standing next to them!
Rampage(-_-_-)Clover
said on 28/Dec/10
Could he be nearer 6"2, Rob?
[Editor Rob: I think he's the height he says]
James
said on 20/Nov/10
I agree with his statement becasue i thought he was 6'4 when watching next to his shorter co starts.