Bob Geldof's Height
6ft 1 (185.4 cm)
Peak height was 6ft 1 ½ (186.7 cm)
Irish Singer from Boomtown Rats. He claimed to be
6ft 1½
.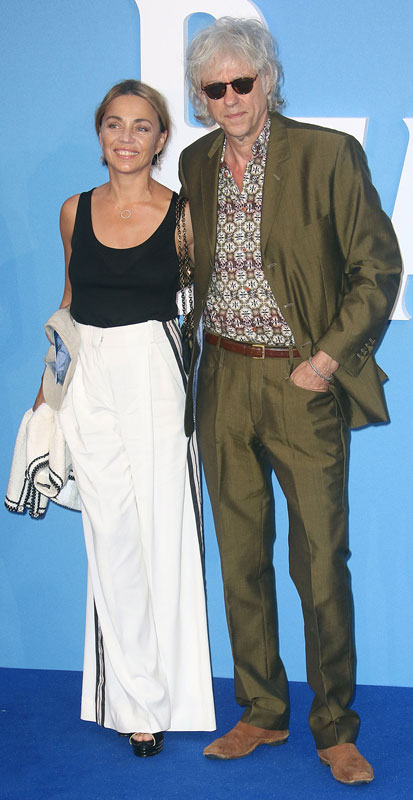 Bob with Jeanne Marine (who claims 5 feet 5)
Photos by PR Photos
Add a Comment
53 comments
Average Guess (11 Votes)
Peak: 6ft 1.5in (186.7cm)
Current: 6ft 0.66in (184.6cm)
Miss Sandy Cowell
said on 1/Sep/21
I remember Paula Yates talking about when she was invited round to Bob's house and he'd cleared everything up. He'd stashed his stuff under the bed!
😂😂😂
Peak height - 6ft2
Now - 6ft1
Miss Sandy Cowell
said on 14/Mar/21
Yesterday would have been the 32nd Birthday of Peaches Geldof. I still think of her from time to time, and feel saddened by the loss of a young girl with a brilliant mind, who, like her Dad, could have achieved so much. 🕯️
Bob gets 6ft1.5 for his peak and half-an-inch less for today's height.
Miss Sandy Cowell
said on 9/Feb/21
Bob is entered as exactly the same height as Roger Waters, whose creation, a man named (Mr) Pink Floyd, he played in the movie 'The Wall'.
I don't know whether this was deliberate or just a happy coincidence!
Bob gets 6ft2 for his peak and 6ft0.75 today.
🎧😄...🎸= His favourite 'axe'!*
* Quotation from the 'Pink Floyd - The Wall' song 'One Of My Turns'.
Rampage(-_-_-)Clover
said on 19/Dec/20
At least 187cm peak
OriginalAnon
said on 27/Aug/20
I don't think he's over 183cm today. Peak 186/187cm but the latter is probably generous.
Miss Sandy Cowell
said on 13/Mar/20
Let's spare a thought today for the late Peaches Geldof, who would have turned 31 today. I recently read how Bob is still suffering, which came as no surprise to me. Losing a bright, intelligent, beautiful daughter at just 25 is life's cruellest blow; losing any child is. I feel for him and his other daughters Pixie, Fifi and Tiger, not forgetting Peaches' sons, their father and everyone who knew and loved Peaches.
RIP Peaches XXX🕯️
Bob gets 6ft1 and 6ft1.75 for his peak. I remember the late Paula Yates, mother of the girls, said Bob was 6ft2 and his method of tidying up was throwing everything under his bed! I know blokes like that too....
Miss Sandy Cowell
said on 9/May/19
⭐ I knew a bloke who was hanging out with Bob when he was playing Pink in Pink Floyd's 'The Wall'! He knew a great many stars and even ponced Jimmy Page's autograph from the famous guitarist for me - on a rare, South American copy of 'Led Zeppelin 3'! 🎸
Miss Sandy Cowell
said on 4/May/19
When I was staying with friends in Faversham, Kent, the couple with whom my boyfriend and I lodged, were forever bumping into the Geldofs, which those days were Bob and Paula Yates. Out of the girls, only Fifi had been born.
Late one morning, my friend Rena (pronounced Renna, as in 'henna'), an Australian lady, came back from a trip to Woolworth's and said she'd seen Bob Geldof out and about, which was by no means unusual as they lived there. I missed the chance, preferring to stay in. She said he was very tall and lanky. Mind you, she was only 4ft11.5!
I went out at every other opportunity, but did I see him? No, not once! I only ever read in the 'music rags' that Bob was 6ft2. Even Paula said so in a delightful interview with her that I read. She, by the way, was 5ft4, so the daughters' extra height is definitely down to Dad.
Paula was pregnant with Peaches Honeyblossom at that time. It was Christmas 1988. I recall when the little girl was born, and her tragically early passing had me shocked and in tears.
I was using the same hairdressers as I am now at that time, and one of the girls looked like Pixie - tall, with a short, blonde pixie cut. When I called the young lady, firstly inadvertently, Pixie, and explained my reasons, she said, "I consider that a compliment!" Henceforth she was always Pixie to me; alas, she doesn't work there now, more's the pity.
All the good work that Bob has done for mankind has touched hearts worldwide and earnt him a knighthood. Fate has been very cruel to this man, first losing Paula to Michael Hutchence and then altogether, and what did he do? He adopted their orphaned daughter, Tiger Lily. (Michael died before Paula.) That's what I call a real BIG man, regardless of height. He proved that not only does he care about the starving, he is man enough to forgive and move on. The loss of his bright, bouncy and brainy daughter Peaches was indescribably cruel.
I hope he is now as happy as he so richly deserves.
I'll give him 6ft1.75 for his peak height and deduct an inch for today's.
Haus Am See
said on 15/Jan/19
any idea how big his head is?

Editor Rob
Seems in 10 inch range, enhanced at times by his hairstyle.
Gracian
said on 9/Sep/18
Please Rob, add him to the rock singers category.
Rory
said on 20/Oct/17
Claimed 6ft1.5 in an old flexipop lifeline in boomtown rats so he surely wasn't 6ft2.
Ted
said on 2/Oct/17
Clearly taller. 189cm is possible for peak.
Rampage(-_-_-)Clover
said on 8/Sep/17
Actually I think 6ft2 peak was better. He edged out Simon LeBon
Rampage(-_-_-)Clover
said on 4/Dec/16
He could pass for 6ft3 in the 80's
Rampage(-_-_-)Clover
said on 21/Aug/16
He looked a good 2in taller than Tony Blair
Rampage(-_-_-)Clover
said on 29/Jun/16
Rob, are you still convinced Geldof was a 6ft2 guy in the Boomtown Rats/Live Aid days?

Editor Rob
there is a chance he was shorter actually.
Rampage(-_-_-)Clover
said on 29/May/16
Rob, do you have any guesses for Phil Lynott, lead singer of Thin Lizzy?
Click Here
He's been described 6ft1, 6ft2 and on a couple of occasions 6ft3. I think 6ft2 range personally, similar to Geldof at peak.
Rampage(-_-_-)Clover
said on 13/Jul/15
Rob, could we add a photo?
Rampage(-_-_-)Clover
said on 12/May/15
He was taller than Simon LeBon and Paul Young.
Not under 6ft2 peak and can still look close to it now.
Arch Stanton
said on 1/Mar/15
Well, Rampage he looked 6' max to me in the Band Aid photos!
Arch Stanton
said on 1/Mar/15
Rob can you add a photo? Boris Becker I think should have a page by now, a few people requested him, myself included! All I know if that on Wimbledon he looked taller than Tim Henman. I think 6'2" flat might be a good shout, the 6'3 listing was in tennis shoes I'd guess.
Rampage(-_-_-)Clover
said on 25/Nov/14
Rob, do you still think he's 6ft1?

Editor Rob
he could have dropped a bit of height, but also he isn't a guy with impeccable posture, just looking at him, he can appear around 6ft at times when standing looser than others around.
Arch Stanton
said on 24/Nov/14
Rob you might consider a further downgrade, he honestly doesn't look near 6 ft 1 anymore. I'd say 6'1.5 peak and perhaps as low as 5'11.5 now.
Click Here
John86
said on 17/Nov/14
Looked 3" taller than 5'8 Dermot O'Leary on X factor, I swear either Dermot wears lifts or he is 5'9 and incorrectly listed here.
truth
said on 15/Feb/14
6ft2 peak easily
5'11" barefoot
said on 3/Feb/14
He wore thick boots which gave him a boost in his rocker days...now 6 foot
Prince of Darkness
said on 10/Dec/13
I have a Boomtown Rats songbook from 1979, which lists his height as 6ft 1.5in. I think he looked taller because of his very slight build.
Rampage(-_-_-)Clover
said on 12/Nov/13
Rob, any guesses for Paula Yates?

Editor Rob
not sure, seemed pretty average range, maybe 5ft 4-5ft 5
Rampage(-_-_-)Clover
said on 1/Aug/12
Geldof was a 6ft2-3 guy in his prime.
Just watch the "Do They Know It's Christmas" video from
1984. He's easily one of the tallest musicians there. Standing
next to Simon Lebon (also 188cm) he's slightly taller and a
good 3in over guys like Sting, George Michael and Boy George.
The only taller one is Tony Hadley (193cm then).
In 1984 - 6ft2.5(189cm)
In 2012 - 6ft1.75(187.5cm)
Brad
said on 20/Nov/11
I saw him in the Boomtown Rats in 1979, then seven years later met him in New Bond Street. Can confirm he is slightly taller than me and I am 187cm (6'1.8in!) Guessing he is 189cms when he stands up straight, or pretty damn close (or he was then!). Lanky in the leg department I noticed particularly, or was it just the drainpipes giving that impression?
5'8.76786
said on 18/Aug/11
Yep, Rob, Geldof still looks closer to 6'2 than 6'1.
tubbs
said on 4/Jul/09
Still 6'2", why the 6'1"!
Doug
said on 8/Apr/09
Geldof has not lost any height whats goin on here? He is 6'2" minimum.
Hugh
said on 30/Aug/08
Rob, just upgrade him.
Hugh
said on 28/Mar/08
He lost absolutely no height. 6ft1 is ridiculous. 6ft2 definately.
Hugh
said on 19/Mar/08
6ft2 minimum. If not 6ft3. I met him at Live 8 in Hyde Park a few years back. He was about my height.
Chris
said on 3/May/07
Saw him in Spain on a set, at least 6'2''.
Anonymous
said on 15/Jan/07
rob, why dont you give him 6ft2 peak height, 6ft1 now?

Editor Rob
oh, yes I should do that
ted
said on 17/Dec/06
i met him once 1986 and he is definitely at least 6'2". Im 6'1"" and he was definitely taller.
Aussie Bloke
said on 13/Dec/06
He's arpund the 6ft1 mark these days, but if you go back 10-15 years, he was certainly around 6ft2. People shrink, its a fact of life, he is 6ft1 these days I'm sorry to any doubters
Brad
said on 11/Dec/06
Saw The Boomtown Rats at The Rainbow Music Hall in Denver on their first U.S. tour. Met him before show in the parking lot. He's 6' 2". Ugly.
smoke
said on 31/Oct/06
Wow he must be the only cele on this site that everyone agrees on him being taller than what the editor has stated.
Joe
said on 6/Aug/06
six foot two for definite. He could be taller.
MHouillon
said on 20/Apr/06
Yeah, SIR Bob Geldof is def taller than 185... more like 187,188, even 189 possible.
Anonymous
said on 23/Jan/06
He was taller than every character in the movie of Pink Floyd's The Wall when he stared as Pink. He always seem to be a big guy in reality so I think he got to big very tall.
Tubbs
said on 23/Nov/05
Bob with 6'0" Blair and 5'6.5" Bono, he really does look 6'2, I think you should upgrade him Rob, everyone here says 6'2".
http://www.u2tour.de/newspics/2003/2003-05-22_Bono_Geldof2.jpg
Chris
said on 8/Nov/05
I saw a concert with him in Salmanca,(Spain) in 2003, he looked a solid 6'2''.
Tubbs
said on 8/Nov/05
There's an awful moment in Live Aid when he sings backing vocals to Let It Be with Pete Townshend, Townshend is a genuine 6ft, and Bob looked atleast 2 inches taller, 6'2 is possible i think.
elvoys
said on 5/Nov/05
def 6,2 or 3
Me
said on 12/Aug/05
I think this is reasonably accurate...he appears to be taller as he is so lean. In the Boomtown Rats song 'Wind Chill Factor (Minus Zero)' there is a line which goes... "I took a tube train through the subway systems. I rode those tunnels like a six foot mole." So clearly he is at least 6 foot however he could be much taller...6ft 1 or 2 doesn't exactly fit in with the timing of the song.
absent
said on 24/Jul/05
He really looks taller, he towers over other people.
Michael
said on 1/Jun/05
Geldof always looked taller to me than that (particularly when standing next to other people). I think 6'2" is probably more accurate.