Boban Marjanović's Height
7ft 3 ¼ (221.6 cm)
Serbian professional basketball player, who has played for San Antonio Spurs, Detroit Piston, Los Angeles Clippers and Philadelphia 76ers. He once claimed to be 7ft 3.5 without shoes.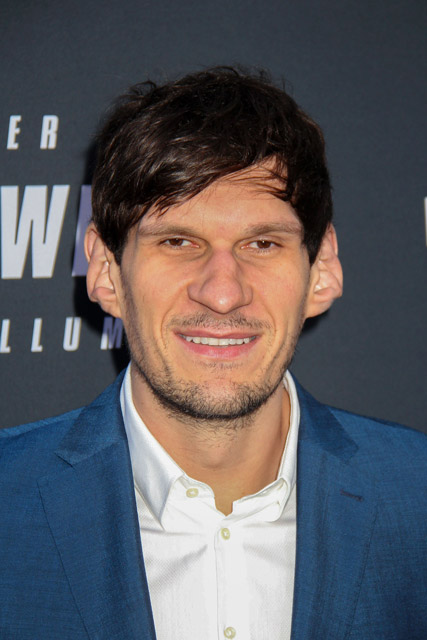 Photos by PR Photos
Add a Comment
41 comments
Average Guess (35 Votes)
7ft 2.98in (220.9cm)
Brandon 6'0" | 182.88 cm
said on 28/Nov/19
He's got alot of spine. 7'4" out of bed, 7'2.5" at a low. 7'3" is a fine listing, a good median between his out of bed and low.
drivefosho
said on 9/Nov/19
I saw Boban Marjanovic play against Jonas Valencuinas of the Memphis Grizzlies and Boban made Valenciunas look like a boy and Jonas is supposed to be 7 ft. tall. Boban is definitely well over 7 ft. Maybe 7 ft. 4 in? And much stronger than Valenciunas.
NE Asian vs Nordic
said on 19/Oct/19
I believe that if he says how tall he is, then he is that tall.
Canson
said on 14/Oct/19
@Johnson and Rob: that's also if the measurement was accurate and valid. Maybe he's less
Canson
said on 14/Oct/19
Agree with Ellis maybe we could even 7'2.5
Ellis
said on 12/Oct/19
7'2 3/4s at a low, wakes up at around 7'4. After an hour he got measured at 7'3.5, and 7'2 Porzingis got 7'2.5. Looking at the pictures Boban is barely taller than KP, the footwear probably benefits KP, but yeah, it all makes sense now that KP is a good amount taller than Embiid, the dude is 7'2.
Howtallaretheyreally
said on 11/Oct/19
He was measured to be 7-3 and half barefoot on Oct 1st 2019 according to this source so that's 222cm that means in his basketball shoes he must be 7-5
Click Here
viper
said on 8/Oct/19
At least the Sixers have accurate measurements.
The rest of the teams are hiding
Johnson
said on 7/Oct/19
@Rob so he grew up at 21 because he was measured 7'2.25 at draft

Editor Rob
He must have gained some height
Wingspanpro
said on 7/Oct/19
7'3.25 is good for him. Not lower:)
Ellis
said on 26/Sep/19
@Rob Paul: I agree with the upgrade, Boban makes Joel Embiid look pretty small. Pretty sure Boban is taller than Porzingis, they are both listed at 7'3, so I doubt KP is actually 7'3, while Boban is sitting right below his 'listed' height. I'll give Boban 7'2 3/4, which is quite literally 7'3. Porzingis on the other hand is a mystery, he hasn't been on the court in years. However, for Luka Doncic, I doubt he is 6'6.5, although it is possible, I feel as if he is more 6'5.75 or 6'6 flat(a fellow Maverick player).
Wingspanpro
said on 24/Sep/19
Click Here
7'0.5+ Joel
6'9.75 Greg Monroe is up front (looks 6 inch shorter)

Editor Rob
It is possible earlier in the day he did get in 7ft 3 range measured.
Wingspanpro
said on 23/Sep/19
Click Here
He says 7'3.5 without shoes. 7'5 with shoes.
he looks 3 inch taller than Embiid.
@Rob i think 7'2.25 is too small for him.
Ellis
said on 14/Sep/19
@Rob Paul: You should place him in the tallest men category, perhaps add more big man, such as Kristaps Porzingis, Bol Bol, or Rudy Gobert.

Editor Rob
Yeah, he's been added to that.
Junior Hernandez 1990
said on 13/Jun/19
@abc123 In the fantasy world Yao Ming is 7'7 and editor Rob 5'10 :)
Canson
said on 8/Jun/19
He's not taller than Rob lists him.
Expert
said on 5/Jun/19
He says in a Interview i'm 7'3.5 without Shoes and 7'5 with Shoes.
If you look any Photos with 6'10-6'11 Aldrige, Duncan and A.Davis. He tawers over them (5 inch).
WhoopsieDaisy
said on 5/Jun/19
Hey Rob! Do you think you could do a page on Joel Embiid? He was listed by the NBA as 7ft out of college but he's said he's grown to 7ft 2 eversince. What do you reckon his actual height is nowadays?

Editor Rob
Littlelee5ft6
said on 5/Jun/19
No he's not he's same on lists him 219.1cm
abc123
said on 4/Jun/19
Boban is 224 cms without shoes
Daycringeothon
said on 31/May/19
Estimate on his wingspan?
KH
said on 29/May/19
Boban was born about 20 years too late. He is too slow for the modern NBA so despite being a very skilled big guy he gets run off the court when teams go small or have a center that can shoot from the outside. In the 80's and 90's when he big guys stayed in the paint all the time he would have been a star instead of a back up like he is now. A really sweet man. Reports are he kicked somebody fifteen feet in a stunt for the latest John Wick movie. They thought he would only be able to kick the guy 8 feet lol. They had to do an immediate retake because he ruined the shot by apologising afterwards.
Damon Blank
said on 28/May/19
How tall is the guy on the right, Rob? He looks about 6 ft 5, 6 ft 6 possibly?

Editor Rob
The other guy got 6ft 6.5 barefoot I believe.
K.A 188
said on 28/May/19
@QFT
LOL
K.A 188
said on 28/May/19
Not to be mean but... just by looking at the structure of his face i knew he was going to be a man of a freakish stature.
Expert
said on 28/May/19
He is 3 inch taller than Embiud
Look the photos on tweeter (76ers Media das 2019)
Jdubbz
said on 28/May/19
@QFT:
True but also not true. I stood next to a guy in an elevator who said he was 6'10, which made sense since I was looking right at his chin (I'm 6'5.5"). It felt weird as hell at first, but I got used to it and kinda felt bad for him. 7'2 is a whole different level of freakish, and I'd hate to be anywhere near that height.
Zahid
said on 26/May/19
His hands are enormous! One article claims 14"!
As for height, he is comfortably over 7'2". He looks around 2-2.5" shorter than Yao (not the best picture):
Click Here
Paul Wood
said on 26/May/19
Wow. He's officially a giant.
Jesica
said on 25/May/19
He looks 9-9.5" taller than 6'4.5 MJ, so 7'2 seems about right.
QFT
said on 25/May/19
Imagine being a 6'5 strutting like you're king of the world and suddenly this monstrous giant walks by dwarfing you. You would instantly feel demasculinised and your ego would never recover. You would need to be on suicide watch.
Junior Hernandez 1990
said on 25/May/19
@185cm Because you may not notice Boban head is very much longer than Jordan's head that makes you think they're 8" apart from Jordan being listed 6'5, truth he is more like 6'4.75" and Boban is a good 7'2 guy with a 11" head length.
Darwin
said on 23/May/19
I hope one day u can add kawhi leonard Rob.
Pr0n00b95
said on 23/May/19
Hey Robb have you ever investigated the people of Montenegro its near Serbia where Boban is from. Im from Montenegro and 188cm and most of the time there a lot more people taller than me. some unofficial data says the average is near 187

Editor Rob
I haven't had time to look at the subject much.
Ellis 6'8
said on 23/May/19
Nice!, he is the current tallest player in the NBA!, but he might be replaced by Tacko Fall soon who is 3 inches taller lol. He is also casted in John Wick Chapter 3- Parabellum, he absolutely dwarfs Keanu Reeves
Littlelee5ft6
said on 23/May/19
9 inches taller than Michael Jordan here I can believe 7ft 2
185cm
said on 23/May/19
Look more 7-7ft 1 in that picture
Brady Narbut
said on 23/May/19
Good listing here, Rob. I see that you used
Click Here
to find Boban's height without shoes at the Eurocamp in 2009. At his height, it's almost impossible to dispute any other height numbers with the information we are given at hand.
Junior Hernandez 1990
said on 23/May/19
7'2 with a 11 inch head. Jordan didn't look too bad next to him. Can imagine average 5'9 guys in the US standing next to Boban would look like a kid.
Onabill Choudhury
said on 22/May/19
Rob what category are you going to put him in! He just bagged himself a part in John Wick 3, can he be considered a Hollywood actor 🤔😂 7 ft 2 1/4 for the current Tallest basketball player which is a good shout for this talented giant

Editor Rob
Well he's a basketball player, but maybe he will do more acting in the future?
Miss Sandy Cowell
said on 22/May/19
He's huge! It makes sense that Boban is a basketball player...
😁⛹️‍♂️🏀⛹️‍♂️😁
7ft2.25