Bobby Fischer's Height
6ft 1 (185.4 cm)
American Chess Champion. On his Icelandic Passport, his height was listed as 185cm.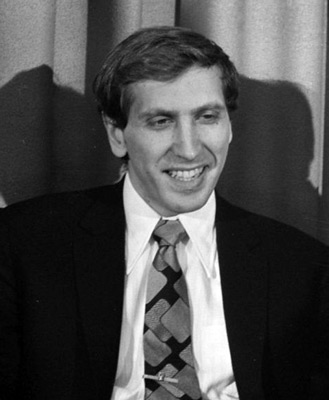 Photo By Verhoeff, Bert / Anefo [
CC BY-SA 3.0
], via Wikimedia Commons
Add a Comment
62 comments
Average Guess (26 Votes)
6ft 1.32in (186.2cm)
Nosnibor
said on 15/Nov/20
Barnaby was asking about a chess player in a group photograph and you said Rob that he was probably 6 foot 4 inches .The actual height of Jan Heim Donner was 6ft.8 in! He was one of the tallest players in the Chess World. I know this having met and played many of them.
Jamestherealone
said on 25/Apr/20
I agree with most comments that Fischer looks like a very solid 6' 1", probably he would be similar in height to Cristiano Ronaldo.
By the way, I found out this PERFECT picture of the current world chess champion Magnus Carlsen with Woody Harrelson.
tiny.cc/feyrnz
They both have the same shoes platform and exatly the same posture. If Woody Harrelson is 176 cm tall, that puts Carlsen in 177 cm at most IMO.
Jamestherealone
said on 26/Mar/20
Rob, I think it could be an interesting idea to add a Magnus Carlsen's page.
How tall do you think Magnus Carlsen is compared to Cristiano and Zidane?
Click Here
Click Here
Cristiano seems to have a perfect posture and probably sneakers advantage, while Zidane has a poor/relaxed posture, but still Magnus looks close in height to Zidane.
Here you can see how Magnus Carlsen is about 2 cm taller than 178 cm Liv Tyler:
Click Here
Click Here
Click Here
I think Magnus Carlsen is no less than 180 cm. What do you think Rob?
Rampage(-_-_-)Clover
said on 23/Feb/20
I'm pretty sure this guy would claim 6ft2 if asked his height
Yang (5 footer 8, 173)
said on 5/Jan/20
6ft 1 definitely for this chess player.
ajax1996
said on 17/Nov/19
FIDE should stop conventional chess and start Fischer960. As for his height probably a more solid 6ft 1.
jordanft19
said on 13/Nov/19
He is at least 6'1". I reckon maybe even 6'1 and 1/5th though.
Barnaby
said on 1/Nov/19
Rob mate, What do you guess for the guy on the right of Fischer?
Click Here

Editor Rob
Could seem near 6ft 4 there
Barnaby
said on 20/Oct/19
Rob, Can you make a page for Magnus Carlsen, the current world champion.
Rampage(-_-_-)Clover
said on 17/Oct/19
I think 186-187cm zone peak (w/h 188cm out of bed)
Barnaby
said on 11/Oct/19
Maybe also if your low for Bobby is 6 ft 1 flat and your high is 6ft 1 3/8, you could list him at 6ft 1 1/8.
Barnaby
said on 11/Oct/19
Hi Rob, I know Fischer might not seem 6 ft 2 range which I agree with, but can you see a changeable case for Fischer that he was 6ft 1.25 in his prime? Thanks for the replies also Rob I appreciate it.

Editor Rob
1.25 would probably be the highest I'd go.
Barnaby
said on 7/Oct/19
Rob, What are your thoughts on Bobby pictured here with the 6 foot Mark Spitz, some sorces also have Spitz at 6ft 1 also.
Click Here
. Here I'd another informative photo with the 5 foot 10 Bob Hope. Hope has the angle advantage as he is closer to the camera, he is also standing up straight with a cap on which gives around 1.5 inches. Yet Fischer with all these disadvantages has about 1.25 inches on him. Here is the 2nd link Rob.
Click Here
.

Editor Rob
Spitz might be 5ft 11.5 range compared to hope and fischer. Bobby in a few photos looks a 3 inches or maybe 3.25 taller, but I couldn't see 6ft 2 for Bobby, unless of course hope was somehow near 5ft 11.
Barnaby
said on 6/Oct/19
Rob, Are you going to upgrade Fischer to 6ft 1.25?

Editor Rob
Still a chance, hard to compare him with some people whose height is locked down.
BennieFromDaHood
said on 2/Sep/19
Maybe Fischer was around 6ft 1 and a half in his prime, and in his later years stood 185 cm. He lived in Iceland during his final years, and this passport is from that time. It might as well show the height he was after he'd shrunk a little.
Jack172
said on 23/Aug/19
Rob mate, looking into the Fischer case and I am seeing a strong 186CM guy in his prime. Seem odd that you don't upgrade him, seems perfect to have him at 6 foot 1.25
Arch Stanton
said on 6/Aug/19
@Rob, any idea how tall Magnus Carlsen is? I was watching something and he was walking around, he looked above average if anything,. googled it and I see silly listings like 1.60 and 5 ft 7!! It surely is way off!! Any chance you could look into it and set it straight?

Editor Rob
He's got to be at least 5ft 9
Hendoooo
said on 3/Aug/19
Rob, Are you considering any sort of upgrade for Fischer?

Editor Rob
I am not sure yet
David duFresne
said on 30/Jul/19
Just saw his interview with Dick Cavett where Ralph Nader was also a guest. He looked way too lanky to be just 6'1. Possibly not the full 6'2, but he must have been very close. Seemed relatively normal at the time for a chess geek.
Animus
said on 21/Jul/19
At peak Bobby Fischer was no shorter than 186cm. That much is clear from all the photo and video documentation of his younger years. 6'1½ is within the realm of possibility, but that's probably the upper end of viable estimates. So 6'1¼ is fitting for Fischer and this page is due for an upgrade.
cryingkoala
said on 3/May/19
Oh my...I can't understand!
how he was so tall and was not a couture model.
had the required height: 175-185 cm (5.74-6.07 ft)
The good could have been chess player and model at the same time!
HENDOOOOO
said on 26/Apr/19
looking a little over 6 foot 1 with Bob Hope.
Click Here
HENDOOOOO
said on 19/Apr/19
Rob, please do us all a favour and upgrade this guy to 6ft1.25 or 6ft1.5. he was a 6ft1 hunchback. Have a look in his 20's and you will see an increase I think in-between 6ft 1.25 and 6ft1.5. he had a stronger posture then without the excess weight gain and slight shrinkage we saw at the 185cm measurement. Please upgrade.
Rampage(-_-_-)Clover
said on 7/Apr/19
This guy should get 6ft1¼ at least peak. Still looked 6ft1 toward the end of his life
Animus
said on 24/Oct/18
Rob, take a look at this interesting video of the Dick Cavett Show:
Click Here
In the beginning of the show (0:50) Fischer is seen standing with Ralph Nader, the political activist, who was supposedly 6'3. This is Bobby Fischer in the prime of his life at 28 years old.
While I am not sure Nader is in fact 6'3, it's clear that Fischer is only about an inch shorter, maybe 3cm. I haven't looked much at Nader, but he could be a bit shy of a full 6'3. (He looked comparable to Lyndon B. Johnson, while the latter was in office, but as you have pointed out elsewhere, he may have lost a bit of height by that time.) Say he's 6'2½ or perhaps 6'2¼, it seems likely Fischer was more of a strong 6'1.
You say that Fischer was described as 6'1 in his day - however there were also numerous mentions of him as being 6'2 tall.
My opinion, having studied him quite closely, is that the truth lies somewhere in the middle of those figures. When he immigrated to Iceland in his early 60s, he still looked comfortably above six feet, i.e. 6'0½-6'1 (probably closer to the latter). I think his 6'2 claim could have resulted from an upwards-rounded measurement in the doctor's office early in the day.
He certainly gives the impression of being a very strong 6'1, similarly to Norm Macdonald, so I think you should consider a 6'1¼-6'1½ listing for Fischer.
Animus
said on 22/Aug/18
Rob, is the sole justification for the 6'1-listing the Icelandic passport he was granted at age 62?
If he was around 185cm at 62, it's fair to say he was at least 186cm as a young man, perhaps even in the vicinity of 187cm.
I would be interested to know what thoughts are behind listing him at 6'1.

Editor Rob
He has been described at that 6ft 1 figure in the past (1980's), I know also called 190 pounds.
Arthur!
said on 8/Apr/18
Rob how tall do you estimate Magnus Carlsen? Look at him with Ronaldo:
Click Here
5'9.5 or 5'10?

Editor Rob
5ft 10 seems possible for him.
Chrollo
said on 15/Feb/18
Hey rob, Can you do one for magnus carlsen please
Dreampuffe(5'9.5
said on 8/Jan/18
I saw some photos of him while he was old. He 'literally' gave a sub-giantish impression even at old age.
Click Here
Here is a picture of young Bobby Fischer. The camera angle is weird, but he gives another 'giantish' impression.'
Click Here
6'1" is too low. Fischer would beat out guys like Luke Mitchell and Christian Ronaldo.
Rampage(-_-_-)Clover
said on 12/Dec/17
This guy and Jim Henson are underlisted, IMO. I'll stick with 186-187cm zone for now for both men but 188cm wouldn't come as a total surprise either. 185cm is not doing either them justice.
There are guys pegged here at 6ft2 who I think give shorter impressions
Animus
said on 23/Nov/17
The worst listing on the site, in my opinion. I get that the comparative evidence is sparse, but Fischer was 6'1 in his early 60s and proportionally seemed 187cm range as a young man.
anon176
said on 2/Nov/17
I would greet a page for current WC Magnus Carlsen.
Carlo
said on 1/Nov/17
I think about 187 cm.
:)
said on 14/Sep/17
at least 6'1
Mark(5'9.5")
said on 9/Aug/17
I must say, I'm quite damned about the average guess for Bobby Fischer. (This might be due to the fact that less people have commented on this page.)
Mark(5'9.5")
said on 7/Aug/17
Actually, he might have been telling the truth back then. My bad. My real dad used to be a fan of Bobby Fischer. (I play the violin and piano btw. He's a chess player too.)
Mark(5'9.5")
said on 1/Aug/17
I've read more about this guy........ he scares the crap outta me. In fact, I don't I would want to be friends with Fischer himself.
Mark(5'9.5")
said on 28/Jul/17
I do see Fischer as being equal to a Peak Bill Murray and a Peak Kevin Costner.
6'1" flat? Yeah, me don't see that. It's low bailing him.
Rampage(-_-_-)Clover
said on 26/Jul/17
186cm is more than fair. I'd give him that at least
Mark(5'9.5
said on 18/Jul/17
Rob, is a solid 186 cm possible for Fischer at his 20s-30s? he always gave an easy tall impression.
Editor Rob: you could make a case, he had a strong presence and look to him.
Rampage(-_-_-)Clover
said on 16/Jul/17
I don't think he was far from 6ft2 in his prime. May very well have been 186-187cm range
Animus
said on 16/Jul/17
Anything below 6ft1 I feel is borderline crazy, so the average guess is highly surprising. I am quite confident he was taller than this as a young man. Perhaps not the full 6ft2 like the media claimed in his heyday but 6ft1 is literally selling him short, in my view.
186-187cm is more like it.
Mark(5'9.5")
said on 5/Jul/17
If Fischer had a hunchback in the 2000s and still looked 6'1", I wouldn't doubt a solid 186 cm or 6'1.5".
Mark(5'9.5")
said on 4/Jul/17
He gave a 6'3" impression for some reason.
I would have guessed him at 6'2" until I realized he had a page here.
Strong 6'1". Probably 186 cm - 187 cm range.
ok
said on 13/Jun/17
5"11 .. magnus is 173cm btw
Rampage(-_-_-)Clover
said on 18/Mar/17
"Now, in Reykjavik, Mr. Fischer had a world stage, and he seized the spotlight with his 6-foot-2 frame ..." - Ney York Times
Animus
said on 19/Oct/16
Actually, Fischer was commonly described as 6ft2. There is obviously no way he was 6ft1 in his 20s.
Rampage(-_-_-)Clover
said on 3/Oct/16
Both were commonly listed at 6ft1 but looked taller. Norm could definitely pull off 6ft2. About 4in on Sandler in Billy Madison. This guy looked visibly unwell in the 2000's but still looked 6ft1.
Animus
said on 2/Oct/16
@Rampage
Personally, I can't see him at much less than 6'2". However, I'm willing to compromise and say that like Norm Macdonald, he might have been someone who could look 6'2", but might measure half an inch below it. I'd definitely say his range was 6'1.5"-6'2".
Rampage(-_-_-)Clover
said on 2/Oct/16
@WAF: I think that's a sensible listing and even 6ft2 wouldn't be that hard to dispute either. If he was still 6ft1 in his 60's which looks about right going by photos of him in the airport...it's possible he lost 1in
183cmGM
said on 13/Apr/16
Magnus Carlsen is 5'8''
186cmGM
said on 5/Aug/15
Glad to see you add a chess player on this website. Any chance we could get a listing for current World Champion Magnus Carlsen?
[Editor Rob: I think Bobby was worth adding, although I'm not sure about any others. Kasparov I guess is probably up there as being well-known.]
WAF
said on 3/Aug/15
@Rampage
If Norm Macdonald is listed at 6'1.5", then I think Fischer should be listed at least at 6'1.5" as well.
Remember that Fischer was 62 years when he was granted his Icelandic passport. Either he was measured or he was not measured. If he was and he was measured 6'1", then there is NO WAY that he was 6'1" flat as a younger man. He had clearly lost height by his early 60s, having lived a relatively unhealthy, inactive lifestyle for most of his life after his career in competitive chess. If he was not measured, he would most likely have filled out his height information himself. That means that he would likely have claimed 6'2", since he did that when he was a young man. However, it says 6'1" on his Icelandic passport, lending credence to the fact that he was measured.
It's too easy to list him at 6'1", but I still appreciate the addition of him to the site.
Rampage(-_-_-)Clover
said on 2/Aug/15
I think 185cm is too low for his playing days.
More 186-187cm range. Not sure about 188cm though.
Matthew190
said on 28/Jul/15
6'1" is fair yes.
WAF
said on 28/Jul/15
@Arch Stanton
I think it's quite likely that he was closer to 6'1" approaching 50 years of age - or, alternatively, that he was more hunched over and thus gave the appearance of a roughly 6'1" man. Although he was physically active as a young man, I don't think he lived the healthiest of life styles when he got out of competitive chess at the age of 29. He lived mostly in seclusion, except for brief periods of time, and except the later stages of his life, where he sometimes lived with people and even had a wife. I am sure you are well aware of the statistic that married men are healthier and live longer and since Fischer did not have a partner till late in his life, I think he is an excellent data point of the statistic.
However, he could have been 6'1.5" or 6'1.75" as a young man, if not the full 6'2", which I still think is a possibility, and lost half an inch in middle age. My old man had lost half an inch by 50. It's also more common for taller people, in my experience.
Bobby Fischer looks a bit too long in his bodily features for me to buy 6'1" - analogous to Norm Macdonald, who is commonly listed at 6'1", but Rob chose to list him at 6'1.5".
Sam
said on 28/Jul/15
Yeah, never knew he was this tall...for some reason, never really thought about his height.
Arch Stanton
said on 28/Jul/15
6'1.5 peak is possible but I wouldn't have said a legit 6 ft 2.
MrTBlack
said on 27/Jul/15
Another honest 6'1"er to ad to my list. It's so rare to find someone who is actually the 6'1" they claim.
WAF
said on 26/Jul/15
He was 62 when he was granted his Icelandic passport. Are you sure he had not lost some height at that point? Although he might not quite have measured 6'2", he still looks taller to me than 6'1" and probably somewhere in the 6-1.5/6-2 range.
He was always described as tall in way that I think few 6'1" men would even in the 70s in the US.
hijopotamus
said on 25/Jul/15
Wow never imagined he was a big guy! A very mysterious figure. A real genius. People should know more about him and less about Justin Bieber. This guy should represent the US and not the stupid celebrities than do not do a good favour to the perception the rest of the world have about the US.
Arch Stanton
said on 25/Jul/15
Rob you might want to fix the caption link, that url looks a bit ugly! Creative Commons 3.0 should be OK to just state.
Yes, I think it's more realistic, I could have sworn I saw a middle aged picture of him with some president of known height and I thought 6 ft 1 range. Possible a stronger 6'1 peak but I think 6'2 was a shoe measurement.