Bodie Olmos Height
5ft 7 (170.2 cm)
American Actor best known for playing HotDog on sci-fi series Battlestar Galactica. At a starfury convention (photo by Daniel), when talking about his Grandad Howard Keal, he described himself and Howard as:
"Five Eight, Six Four"
. We had roughly similar footwear that day.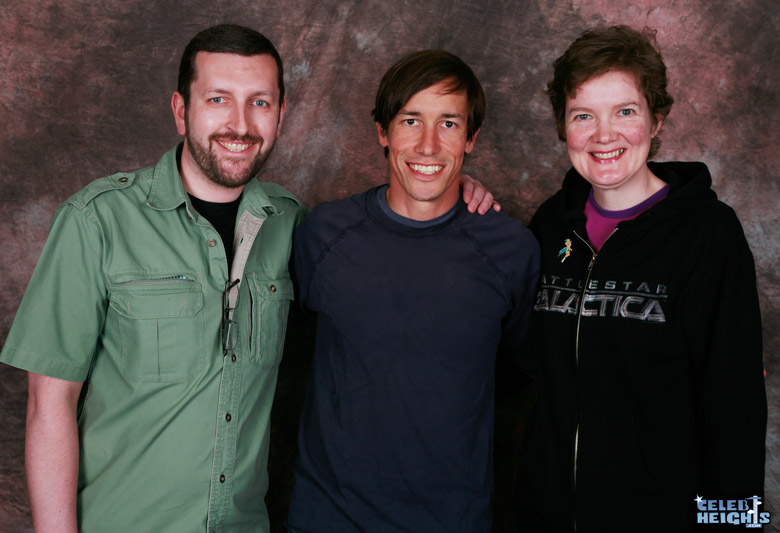 5ft 8 Rob, Bodie, 5ft 8 Jenny
You May Be Interested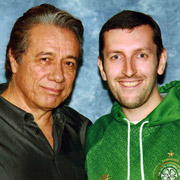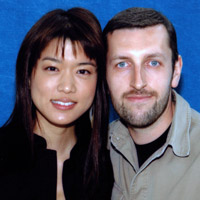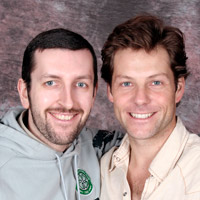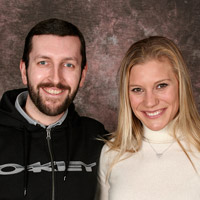 Add a Comment
28 comments
Average Guess (6 Votes)
5ft 6.71in (169.4cm)
Nik
said on 9/Jun/19
He looks no more than the average vote!
World Citizen
said on 19/Dec/18
Looks 5 ft 6.5
Nik
said on 11/Nov/18
The average vote may be telling!
Tunman
said on 9/Nov/18
Maybe 5'6.75 he looks very close to Rob's hairlevel,did he clearly edge our friend G?

Editor Rob
He could be slightly under 5ft 7. I remember thinking he looked at least an inch less than what he claimed.
Nik
said on 7/Nov/18
The comment made above by Bodie is interesting!
Christian 6'5 3/8"
said on 7/Nov/18
Most likely 5'6.5"
Nik
said on 20/Jun/18
@ Sandy Cowell - Possibly so! I did type out 5'6.5" before sending my comment late on Monday night, but I changed my mind and gave him 5'6.75"! I was torn between the two!
Sandy Cowell
said on 19/Jun/18
@ Nik - Yup! I think that's being quite generous too!
Nik
said on 18/Jun/18
@ Sandy Cowell - Bodie gets 5'6.75" from me too!
Sandy Cowell
said on 17/Jun/18
I can't see Bodie being the full 5ft7 either from the evidence offered by this picture, Nik!
He gets 5ft6.75 squeezed out of me!
Nik
said on 28/Mar/18
I struggle to see the full 5'7" to be honest!
Rampage(-_-_-)Clover
said on 26/Mar/18
Facially he looks a lot like his grandfather
Christian-196.5cm (6ft5 3/8)
said on 8/Jul/17
@trickytricky
Rob is 5'8 1/8", and still the majority of celebs don't quite look their listed height.
trickytricky
said on 7/Jul/17
i think rob keeps himself at 5'8 for the integrity of this site, even if he can technically be considered a 5'8.25 (which is also 173cm btw).
Dmax
said on 27/Jan/16
Rob really does look taller than just 5'8 even beside other 5'8ers I thin Rob falls near 5'8.5 range since he looks close in height with people that range.
robbie
said on 19/Dec/15
i think 5'8.25 is fair for you since i know you give .5 inchers to people who are .25+1/8th inch
Editor Rob: I measure right on 173cm at my low mark.
J.Lee
said on 18/Jul/14
Rob if you are 5 ft 1/8 at your low, can't you go with 5 ft 8.25 since you might be that height the majority?
[Editor Rob: on my feet and active I will be down at 5ft 8 1/8th by mid-day most of the time, I rise about 6-6.30am.]
Sean.rt
said on 28/Apr/14
Rob aren't you 5'8.25 or 5'8.5? Most of the time you edge Jenny out and seen the April measurement video you measured 5'8.5 which I guess was earlier in the day?
[Editor Rob: I'm growing.

stealing a mm every year from our NY friend G!

not really, I still shrink to 5ft 8 1/8th at my low :)]
James Crowley Maximus Meridius
said on 4/Sep/13
Hey Rob is it possible this guy is a strong 5ft 8in in the morning or even a weak 5ft 8in.
[Editor Rob: I think he was a good inch smaller than me and when looking at him with jenny I thought same thing]
Emily
said on 31/Jul/13
Funny looking guy? Pal, you might wanna read your comments on this site. Creep-alert is putting it very mildly.
averagegiant
said on 29/Jul/13
that is a funny looking guy. he is funnier looking than he is short.
maybe if you could somehow compare height to how goofy he looks he would be....4'2? I hope he doesn't read this for he also looks a little dangerous. I think it's the teeth.
[Editor Rob: he's a nice guy from listening to him, as is his dad Edward. ]
richkid123
said on 7/Jan/13
you look taller than Jenny here Rob
lol93
said on 22/Aug/12
Rob do you think 5'8 for this guy in the morning?
[Editor Rob: he may be close to it in the morning,]
avi
said on 28/Jul/12
i think 5'7 is fairer
Allen
said on 30/Oct/08
I know Bodie and he is shorter than me, and I am 5'11"
Yoyoyo
said on 1/May/07
You can cleary see in "Walkout" that the man was no more than 5'10.
Alexa
said on 26/Mar/07
I saw the 6'4 thing too. And I was like, hmmm, That's weird because his parents aren't tall.
Bombay Rocker
said on 22/Feb/07
u wanna call something insane.....its bodie being listed 6 feet 4 on the one and the only stupid, dumb, ignorant site....ya am talking about i mdb