Brian Krause's Height
5ft 9 ¾ (177.2 cm)
American actor best known for playing Leo Wyatt on tv fantasy series Charmed. I met him at a Collectormania event in 2010. He had maybe 1/4 inch less sneaker than us that day. On his
resume
from his early 20's he listed himself
"5' 10"
and Weight:
"150"
pounds.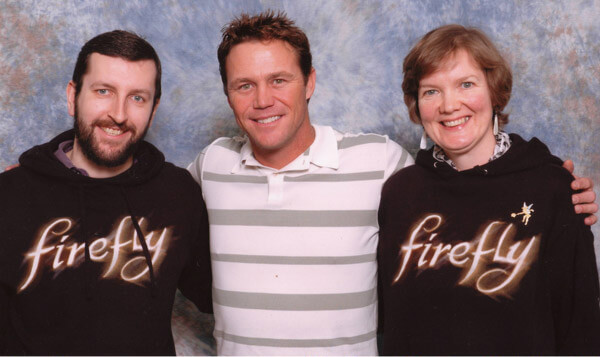 5ft 8 Rob and Brian
You May Be Interested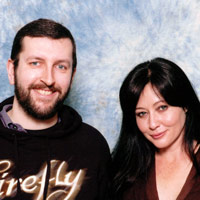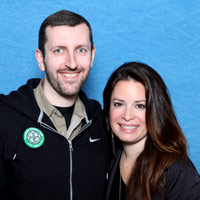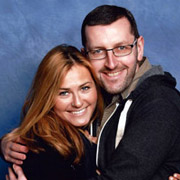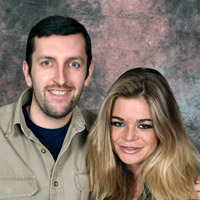 Add a Comment
42 comments
Average Guess (26 Votes)
5ft 9.72in (177.1cm)
slim 6'1
said on 13/Jan/21
Weak 5'10"
viper
said on 22/Sep/20
Sleepwalkers is a really unique horror film
Miss Sandy Cowell
said on 22/Sep/20
I watched Brian in Stephen King's 'Sleepwalkers' last night and loved seeing all the many, many cats conglomerate outside the residence of Brian's Charles and his Mum Mary Brady... hissing away! The cats knew they were evil, murdering shape-shifters, even involved in an intimate relationship with each other. 🤪
I put Brian at 5ft10 tops last night, so I will go with 5ft9.75.
⭐ My favourite character in this movie simply has to be the black cop/sheriff guy, played by Dan Martin. He drives around in his car using the most hilariously rude language and he talks away to the guy sitting next to him - a tabby tomcat by the name of Clovis, who is very upset when Dan Martin is killed by Brian's Charles; Clovis lies across his master, pining. The tabby cat proves to be the hero of the whole film, and I LOVE HIM!
🐱👍
Junior Hernandez 1990
said on 13/Jun/19
Look 3cm taller than Rob. Maybe in person he could be closer to 5'9 3/4.
Christian 6'5 3/8"
said on 23/Nov/18
176cm at best
Tunman
said on 1/May/18
He looks at least an inch taller than Rob,possibly up to 3cm that makes him around 176 range give or take few mms and comfortably over 176 possibly closer to 177 if he had similar shoes.5'9.5"could be bang on as I wouldn't bet he cleans the 177 mark.
CIMD
said on 1/Jan/18
Looks around 5'9" in this photo, but since he had 1/4 inch shorter footwear I think 5'9.25" is fair.
Jacob
said on 1/Jan/18
I hade seen him in a scary movie recently can't think of the name off Netflix rob
Bobby
said on 29/Dec/17
@MM, no, I doubt that.
Oanh
said on 6/Oct/17
5'9.5" max
MM
said on 3/Sep/17
Bobby said on 4/Jul/17
I'm struggling to see a weak 5'10 for this guy, he seems more 5'9 range, Elden Henson actually looked 5'10 range next to Rob, this guy for some reason, does not. Maybe 5'9.25 is closer to reality.
That's basically how you would look next to Rob in real life.
Bobby
said on 4/Jul/17
I'm struggling to see a weak 5'10 for this guy, he seems more 5'9 range, Elden Henson actually looked 5'10 range next to Rob, this guy for some reason, does not. Maybe 5'9.25 is closer to reality.
Colberto
said on 8/May/17
Looks like a 5'9" range guy.
Pierre
said on 4/Feb/17
Imo around 5"9.5' next to strong 5"8'Rob, without considering the shoes.Nice picture
Sammy Derrick
said on 1/Sep/16
Anyone who watched Charmed,can tell you that the guy always looked 6'0 when around the female cast.
I guess he landed every actor's dream role.Work with beautiful actresses who look like supermodels but are really short.They can wear heels and you will still look like the knight in shinning armour and your not even 5'10
johemoth the dog
said on 11/Jan/16
looks about 2 inches taller then you based just off the pic.
Sasha
said on 26/Dec/15
Looked good 3 inches over Milla Jovovich in Return to the Blue Lagoon movie. I supposed at least 5'11" for Brian.
diamonddave7
said on 25/Apr/15
5' 9"...maybe 5' 9 1/4" tools.......
Jake
said on 4/Mar/15
in charmed he looked like 6'1
Josh
said on 30/Oct/14
5'9.5 is right.
184.3cm
said on 5/Oct/14
This guy looked tall in Charmed. Just shows if your surrounded by short folks even an average guy can look tall. I thought he was minimum 183cm from watching the show haha. I thought the other guy was 193cm at least and hes listed here at 188cm.
Andrea
said on 1/Oct/14
He looks easily 3 inches shorter than the photographer, like a weak 5'9... Of course, in Rampage's world, that's a 5'10 (and G is a real 5'8, btw) :)
[Editor Rob: the photographer used to be a good comparison mark at around 182 range, although unfortunately stopped them for a few years now...the last time I seen him was when he took benedict cumberbatch's photo.]
Rampage(-_-_-)Clover
said on 30/Sep/14
Rob is 178cm possible?
He has less shoe but still looks more than 1in taller slouching
[Editor Rob: he's standing exactly as he looked in person, not much over 5ft 9...
You can see him with my old photographer
friend here
. In person that's the difference between a 182cm guy and brian...]
Alex 6ft 0 1/8
said on 10/Dec/13
I don't think he ever looked tall on Charmed since other male cast mates were legit tall guys like Julian McMahon, Dorian Gregory but with the women who are all short he can look a bit taller than he really is. I use to believe the 5'11 listings for him but we can see with Rob that he's more of a solid 5'9.5 guy
Emily
said on 7/Dec/13
I always thought he looked average/weak average in Charmed. If you didn't know that the sisters were all short (except for Rose), you might think he was tall.
Vanos
said on 5/Dec/13
Damn I thought this guy was huge in Charmed haha! Well I was only like 9-10 back then so yeah pardon my ignorance lol
Alex 6ft 0 1/8
said on 2/Dec/13
Rob, what was Jenny's footwear in this picture? I know she measures 5'8 flat often at her low from videos but it appears only an inch difference between her and Brian here too.
[Editor Rob: pretty similar, both adidas just under an inch.]
Alex 6ft 0 1/8
said on 15/Nov/13
Rob, I'm curious how much height he has on you in this picture counting the 1/4 inch less footwear. Looks only an inch? That would then make him 1.25 inches taller really then. Hard to tell unless you drew a line from the top of your head.
[Editor Rob: about 3cm I'd say...my thought was this guy is 5ft 9.5...looked at footwear and mine looked a fraction thicker so near to 5ft 10 I think.

I saw him again at London Film Con 2 years after this (although didn't buy a photo or anything) and he had on thicker sneakers and looked pretty near 5ft 10.]
Alex 6ft 0 1/8
said on 5/Oct/13
Shows how a guy who's 5'9.5-5'9.75 can look taller since he's on charmed with girls who are all short women.
Alex 6ft 0 1/8
said on 5/Oct/13
I thought he was 5'10 but he looks 5'9.5 with Rob
Lorne
said on 30/Aug/13
Never thought I'sld see the day that Viper is surprised at a celeb being shorter than listed...
viper
said on 27/Aug/13
Always looked 5'10 to me, a tiny bit surprised hes under it.
Wiltz
said on 1/May/13
He's like the perfect example of the average height of a american male. Average guy.
Chunkamonk
said on 8/Jan/13
Actually more like 5'9, maybe 5'8, he looks it. Never really struck me as a particurally tall person.
thc-182
said on 28/Dec/12
yes i thought he was tall in charmed, but it's just the girls who are short.
He looks 176 cm with a little disadvantage
Rampage(-_-_-)Clover
said on 27/Dec/12
I think 178cm or 5"10 on the nose. On Charmed he looked exactly 4in under Julian McMahon who is a solid 6"2.
jim321
said on 26/Dec/12
I remember 3-4 years ago this guy was listed as 6' everywhere. On his own website he gives himself 5'11" but he doesn't look like it here. No wonder people think 6' is short/average when so many people below it claim to be 6'.
Click Here
Larc-186.7-188.6cm
said on 23/Dec/12
That's surprising, I thought he was a full 5'11, he looked it in Charmed.
Maryam
said on 12/Apr/11
I've always figured him to be 2/3 inches taller than the Charmed Ones, because I thought they were around 5"6. Turns out they're teeny weeny. The smurfs have nothing on them.
Alex
said on 26/Oct/08
Yea, exactly. Not that the guy is short but he can come across as a taller guy because he's with female actresses under average height with the tallest being 5'3. Shannen isn't more than 5'2 and Milano and Combs are no more than 5'1 at most.
RFS
said on 26/Oct/08
I always thought he was taller. But then I looked at the women on the show and the tallest was 5'3" Rose McGowan. It all makes sense!
Alex
said on 25/Oct/08
Its good he's added now though there isn't too much debatable about him. He was listed at 5'10 mostly but now I see more 5'11 listings and even 1-2 6'0 listings. Someone on here said he looked more 5'9-5'9 1/2 in person, not sure about that. He def looks 5'10 to maybe 5'10 1/2 at the MAX. Reason he can look taller is because he's with girls on Charmed who are all on the short side.