Brian May's Height
6ft 1 ½ (186.7 cm)
British guitarist from the Band Queen.
I am 6 foot one and a half inches - no idea what that is in mm !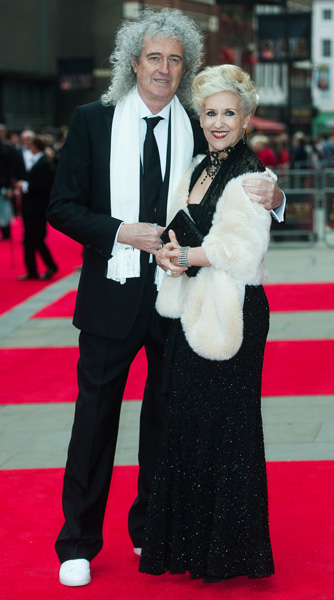 Brian with Anita Dobson
Photos by PR Photos
Add a Comment
121 comments
Average Guess (33 Votes)
6ft 1.36in (186.3cm)
Stuart Marsh
said on 20/Jan/21
I met Brian at a Def Leppard Concert back in the early 1990s at Earls Court , i am 187.5cm(confirmed) and he was taller than me, 189-190cm is closer i think.
Arch Stanton
said on 11/Nov/20
The angles of that photo are off though as Sav looks almost as tall as Brian and he's actually more like 5'10 in person I think.
Arch Stanton
said on 11/Nov/20
Hi Sandy! Yes some Queen songs are highly complex, Bohemian Rhapsody in particular is an astonishing piece of work, pure genius musically. Brian's lost height nowadays but look here with Joe Elliott from Def Leppard who claims 6'2!
Click Here
I've seen Def Leppard in concert several times and have stood about ten feet away from Joe who I'd say is around 6'1.
Miss Sandy Cowell
said on 11/Nov/20
@ Arch Stanton - Hi Arch! I've always found Brian May a fascinating individual. All the members of Queen were highly educated, and wrote mainly symphonies rather than mere songs. They were in a class of their own - and still are.
@ Gordon 5ft8.5 - I agree with you that Brian looks taller than 6ft1.5. I always read that he was 6ft4 in the 70s, and didn't doubt it at all.
Maybe a couple of boxes are called for now. I think 6ft3 is okay.
Arch Stanton
said on 10/Nov/20
Miss Sandy Cowell said on 19/Jun/20
He used to appear on 'The Sky At Night', with Patrick Moore, Nik.
I've been a fan of Queen since '75.
Yup, he's a very keen astronomer. Brian does indeed look unusually tall for 6'1 er. A combination of the skinny build and the hair I think accentuates it, he has more the look as you say Gordon of a 6'3-6'4 in photos.
Gordon 5 ft 8.5
said on 13/Aug/20
I've met Brian twice...i think he's downgrading himself. I'd have guessed him at 6 foot 3. He's very very tall.
Miss Sandy Cowell
said on 19/Jul/20
🔭🌌🎂🎁 Happy Birthday Brian! 🎁🎂🔭🌌
Many Happy Returns to the brilliant Brian May, who celebrates his 73rd Birthday today.
6ft1.5 😁👍🎸🎶
🔭🌌🎂🎁🎸🎶🎂🎁🔭🌌🎂🎁🎸🎶🎂🎁
Miss Sandy Cowell
said on 19/Jun/20
⭐ My headmaster talked about this amazingly clever new band in Assembly one December morning, (1975) but quite a few kids in my class were already fans. He said that it made a change to the normal standards of the bands in the charts. Each of the four members wrote songs too.
Miss Sandy Cowell
said on 19/Jun/20
He used to appear on 'The Sky At Night', with Patrick Moore, Nik.
I've been a fan of Queen since '75.
Nik Ashton
said on 18/Jun/20
Brian May CBE is an advocate and campaigner for animal rights, he likes hedgehogs and all animals!
Brian has done a lot of charity work and he is a patron to a number of charities, he is a vice-president of the RSPCA!
It is also interesting that Dr Brian May is a Doctor of Astrophysics!
I will give him 18670 mm (autocorrect tried to change mm to Mum!) on the 18/Jun/20 and I must say that he reminds me of Sir Billy Connolly! 🦔 🐩🎵🔭😂
Amira
said on 13/May/20
he looks especially tall with his clogs he's always wearing lol
Bob da cob.
said on 8/Feb/20
Looked a 6-2 peak definitely. Maybe downgrading himself
Arch Stanton
said on 13/Dec/19
He still looks an unusually tall 6'1.5, in the above photo he looks taller than some of the 6'4 guys on here in photos!
Miss Sandy Cowell
said on 19/Jul/19
🎁🕯️🎂 Happy Birthday Brian May 🎂🕯️🎁
Queen's guitarist Brian May turns 72 today. He often did lead vocals and backing vocals came as standard. Perhaps he could be added to the Rock Singers Page, Rob, because sing he can! It would make a nice little Birthday present! All the members of Queen were, in fact, vocalists, but next to Freddie, Brian came a close second. I remember the 1974 song 'Now I'm Here' written by Brian, but Freddie sang the vocals. It came from 'Sheer Heart Attack'. Brian wrote it when he was suffering from hepatitis and ill in hospital. I remember reading about that in one of my teen mags. He did look very ill and thin at the time, but fortunately, he made a complete recovery.
Have a great Birthday, Brian! 😁👍 XX
6ft1.5.
🎈🎊🎶💝🎈🎊🎶💝🎈🎊🎶💝🎈🎊🎶💝
abcde
said on 25/Jan/19
Danimal 5'9 3/4"
taller than Hetfield? look at my photos
Rampage(-_-_-)Clover
said on 30/Oct/18
I'm going with 6ft2 peak and 6ft1 now
Danimal 5'9 3/4"
said on 17/Oct/18
Here he was with terrible posture in the mid to late 2000's, yet still taller than at least 6'1" James Hetfield:
Click Here
abcde
said on 7/Aug/18
and next
Click Here
i think he was like 187 peak, and this two photos prooves that James was like 187 cm
abcde
said on 7/Aug/18
Click Here
with James Hetfield (186 cm )
Rampage(-_-_-)Clover
said on 6/Apr/18
His hair probably brought him to at least 6ft3.
Peak: 187-188cm
Today: 185-186cm
Sonnecker
said on 5/Apr/18
My God, Sir Brian shows to be this height now, at 70. Good health and good shape, my congrats! I think he was 189 cm in youth.
Rampage(-_-_-)Clover
said on 19/Jan/18
Rob, could he be 6ft1 flat these days?

Editor Rob
He may be that figure at most now.
Sandy Cowell
said on 14/Oct/17
@ Christian - Hi! I also go along with your guess of 6ft1.5, but I read over and over again in my teenage magazines from the 70's/early 80's that he was SIX FOUR! When Queen played on stage, he looked so lanky that he really could pull off this height. I never questioned the legitimacy of his supposed height. Not once!
🔭 Fascination Facts! 🔭
🌠 Brian made his first guitar out of an old fireplace!
🌠 He ran a market stall in Kensington with Freddie Mercury!
🌠 Freddie was famous for being a cat lover! Well, so is Brian!
Christian
said on 13/Oct/17
I'd go 6'1.5" now. In the 70s, I'm guessing he was a solid 6'2" to 6'2.5", maybe even 6'3" on a good day
Hardi
said on 30/Sep/16
He´s older now, so I think 186 will be better
Rampage(-_-_-)Clover
said on 7/Mar/16
Mind you, G estimated him as just under 6ft2 without the heels or hair
Rampage(-_-_-)Clover
said on 1/Nov/15
Or don't know their exact height until actually stepping under a stadiometer.
He looked strikingly tall in the Queen days and the other guys weren't short men.
Rampage(-_-_-)Clover
said on 30/Oct/15
Ok that's fair enough. But he could have been measured at that time?
[Editor Rob: many men in 50's and even 60's still go with the height of their youth.]
Editor Rob
said on 13/Oct/15

He did claim this exact mark he's been listed at!
cayla
said on 29/Jun/15
Brian May is 6'1.5. He's so tall.
Bishop
said on 21/Feb/15
Agree with Rampage. 6'2" peak and this is his today height.
Rampage(-_-_-)Clover
said on 6/Feb/15
Rob, 6ft2 peak?
Aiken Drum
said on 8/Jan/15
I have seen / met Brian a few times and I am 6 foot 1 and would say he is 6 '3....
paciugo
said on 28/Dec/14
he looks 2 inches taller than Tony Iommi at the Freddy Mercury Tribute but Tony was wearing boots and Brian sneakers so probably he has 3 inches on Tony who should therefore be downgraded to 5'11.
Evolution
said on 15/May/14
I met Brian May in 1998 in milan. he was 1.88. almost like me...I was 1.90
Rampage(-_-_-)Clover
said on 18/Jan/14
I'm sorry but I'm not buying anything below 6ft2 in early Queen years. He could easily look 6ft3. He towered over the others considerably and they weren't short.
Nowadays he's probably more 6ft1.5/187cm at 66.
avi
said on 16/Jan/14
@Rampage(-_-_-)Clover says on 6/Oct/13
"Peak height was 6ft 2.5in (189cm)"
"Brian May's height is 6ft 1.75in (187cm)"
no peak too high. always a weak 6'2 guy
diavolo
said on 23/Nov/13
Tony Iommi frequently wears boots with 2-inch heels on stage, while Brian has flat sneakers mostly. So, that would mean Iommi is even shorter. Brian is the tallest member of Queen, all the others were below 5'11".
Rampage(-_-_-)Clover
said on 6/Oct/13
"Peak height was 6ft 2.5in (189cm)"
"Brian May's height is 6ft 1.75in (187cm)"
Martyr
said on 21/Apr/13
Still amazed that some people claim Tony Iommi is 6'1 and Brian 6'1.5 when he is at least two inches taller than him...
truth178cm
said on 9/Mar/13
around 6ft2 sounds right either 6ft1.5, 6ft2 or 6ft2.5.
stargazer
said on 12/Jan/13
Just saw him on tv standing equally as tall as self-claimed 6-4 Dara O'Brian. Professor Brian Cox, incidentally, looked even taller.
Shaun
said on 20/Aug/12
Always looked a legit 6'2" to me, hair and boots often gave a 6'4" illusion actually
Rampage(-_-_-)Clover
said on 2/Feb/12
He was 1.89m(6ft2.5) prime.
Probably 6ft2 flat now or 1.87m min
Martyr
said on 11/Dec/11
I think perspective is not good enough to estimate their height in your two pictures.
Roger WAS near 5'11 anyway. He has always been listed at 179cm, and that's about it. A few years back he still DID look in the 178-180 cm range next to 5'7 Paul Rodgers.
Yaspaa
said on 27/Nov/11
He was nowhere near 5'11 peak, he's the same he always was, about 5'9.
Click Here
Click Here
The floor is sloped in May's favour in guyfrommars shot.
guyfrommars
said on 27/Oct/11
In their peak, Roger was taller than Freddie and John, both 5'9".
Martyr
said on 25/Oct/11
I think Roger has troubles with his hip. He even seemed to have hard times walking at some point during the last queen and paul rodgers tour. That may explain the shrinkage.
Looks like a weak 5'9 now, but I'm pretty sure he was close to 5'11 at peak.
guyfrommars
said on 24/Oct/11
It seems Brian still stands tall, while Roger has shrunk a lot:
Click Here
Brian is still close to 6'2" at the age of 64, while Roger at 62 is probably closer to 5'8" nowadays than his peak height of 5'10".
Martyr
said on 16/Oct/11
Slash is supposed to be 5'10 and Gibbons 5'10.5. Brian sure looks OVER 6'1 in that pic.
DC
said on 13/Oct/11
Click Here
6'1 sounds about right. The link above is the league of great guitarists; Brian May, Slash 5'8, Billy Gibbons 5'10-ish, Jeff Beck 5'9 and Joe Perry 5'8.
Alex
said on 21/Aug/11
I have never seen him with a different hairstyle which makes it kfairly hard to guess his height. He towers over his bandmates in every pic and video, 6'2 without hair seems accurate to me. The other band members all seem to be around 5'9, Roger might be 5'10.
Rampage(-_-_-)Clover
said on 15/Jun/11
Might be 187cm nowadays, but in his youth he was at least 6ft2
Martyr
said on 12/Jun/11
Don't know about this picture. The angle is weird and does seam to favour Brian, but Peter Freestone (Queen and then Freddie's PA), the guy behind John Deacon (queen's bassplayer, in blue)says he's 6'2, in his memoir.
What do you think?
Click Here
Here is another pic with a bunch of people (Mandela is between 5'11 and 6 I guess, and Lennox is probably wearing heels)
Click Here
Martyr
said on 3/Jun/11
Then again, at the freddie mercury tribute concert (1992), Brian looked at least 2 inches taller than paul young (6'1 at the lowest), robert plant and tony iommi (6')...slouches a lot, 6'3 at peak!
I always thought the 187cm was not reliable...
Mack, the sound engineer looks an inch taller. It'd be interesting to know his height!
Rampage(-_-_-)Clover
said on 27/May/11
6ft2(188cm) peak, Rob?
Rampage(-_-_-)Clover
said on 14/Apr/11
6"2(188cm) prime
Martyr
said on 16/Mar/11
Brian always appeared 6'3 to me. in his younger days at least. If Paul Rodgers is 5'7, then I'd say Roger Taylor is about 5'11, and May defintely 6'3...That would put freddie a shade over 5'9 (the height he claimed to be)
Stuart
said on 9/Feb/11
I met him at a concert about 10 years ago, i am 6'2 and he was at least 1 inch taller than me and i was wearing trainers/sneakers, .
Jeremy Winton
said on 24/Jan/11
I met Brian and he is 190 cm not shorter. He is tower.
krazy krippled!
said on 2/Jan/11
I think Brian May doesn't care much for his height, If he towers boot-wearing Yngwie while wearing his trademark tennis shoes he must be 6'3 at least, he is a big sloucher, so it's probable he looks 6'2.
Jojo111
said on 24/Nov/10
brian was the tallest out of all of the members of the queen band and it looked as if freddie was quite tall, id say above 6 feet for sure
Lucy
said on 3/Jul/09
On the American Idol finale, he appeared just a little taller than Adam Lambert who is 6'1".
Nina
said on 23/Jun/09
As I know on pics with Malmsteen (6-1), Brian towers over Malmsteen on 2 or 3 inches. It must be 6-3, 6-4.
Anonymous
said on 5/May/09
Hmmm. His height does fluctuate probably becaue of the hair. I'd say Brian height roughly between 187cm-189cm.
Joe
said on 14/Apr/09
i agree with Yaspaa. Brian is an easy 6'2. brian had always looked 6'2+. so people saying he's 6'1.5 seems wrong and it doesnt sit right with me either.
Yaspaa
said on 3/Mar/09
I was quite surprised at the 6'1.5 listing,if he tilted his head back to the correct position with Glenn I think the top of Glenn's head would be around the lower part of his nose which indicates 6'2 and he definitely looks it with Uri. (is Uri 6'0,that's another question,oh man ,so many variables) 6'1.5 just doesn't sit right though.
joe
said on 2/Mar/09
Yaspaa. good link thanks. i think this proves he's 6'2. what do you think?
Yaspaa
said on 27/Feb/09
With 6'0 Uri Geller
Click Here
joe
said on 14/Feb/09
who can claim the validity of brian calling himself 6ft 1.5ins? He was always the tallest in queen and the shortest member was freddie at 5'9. He looks easily 6'2.
Anonymous
said on 11/Nov/08
In the summer live 1985 aid,he and Paul Young had the same height.
NICK
said on 27/Oct/08
I always under the impression that Brian was tall and if he says he's 6ft 1.5 then he is. I am the same height and I am taller than most people. I would call it the perfect height, tall but not too much.
Hugh
said on 28/Sep/08
Saw Brian at live aid in 1985. He was every bit of 6ft2.
Hugh
said on 8/Sep/08
Okay, no joke. 6ft1.5? I saw Brian up close several times over a period of 20 years. He's 6ft2 minimum.
Hugh
said on 8/Sep/08
I must be seeing things. For a minute I thought you downgraded Brian's height. The Brian May I know is at least 6ft2.
princess
said on 11/Jul/08
Well Brian is only 6'1' but I think that Brian will still be the same because he won't look the same any shorter but Brian is so wonderful he is kind and gental no matter what other people say about him
thekiddd
said on 26/Jun/08
I have a hard time believing this guy is anything less than 6'2" but you know, it's what he said an celebs rarely say they are shorter than what they claim.
Anonymous
said on 3/Jun/08
looks at least 6'1
Anonymous
said on 2/Jun/08
In this picture beside glen he looks 182 cms
Sid
said on 13/May/08
met him last night at after party, pleasant, 6-2, thats with a bit of slouching, and low plimsoll type shoes, my polish mate was also next to him, and he is 6-2, same height, my mate claims 190, but he is 188. My supervisor is 6-5 (goes to show tall people get the higher jobz), so I compared the size of hair and eyes level, this is matter of seconds by the way, but 6-2.
glenn
said on 2/Apr/08
thanks elizabeth.i never met the others.most of my friends did.your lucky enough having seen them live.
Elizabeth
said on 2/Apr/08
Nice pic!! I met Brian in 1980 on The Game tour in Los Angeles. He was so nice!! Also got to meet Roger who was really genuine and sweet. Met John Deacon too and he was very cool. Did not ever get to meet Freddie but saw him perform live with Queen twice.
glenn
said on 18/Mar/08
taken in 1993 new york city right after his concert opening up for guns n roses,at a hotel.
thekiddd
said on 18/Mar/08
He could have lost 1/2" an inch. But yes he's probably almost 6'2" if he says so.
Isis
said on 9/Mar/08
where was this taken and what year pls?
glenn
said on 14/Feb/08
brian may is 6-1.5.i believe i he told me that.
glenn
said on 14/Feb/08
got a little tired of queen.they are a heavy metal band to be precise.great,no doubt.
leonari
said on 13/Feb/08
Glenn: you as a music lover: Not a Queen fan? Man these guys are incredible musicians. I am a huge Queen fan. Real Rock n roll baby!!
Shame you didn't meet Freddie. He was 5'9" (not 5'10") and Brian at 6'2 explains why he towered Freddie.
Joe
said on 4/Feb/08
I think brian is a comfortable 6'2. He is what a real celebrity should be. Really nice and appreciative of his fans and has real all-round talent.
glenn
said on 31/Oct/07
february 1993.
art
said on 30/Oct/07
Glenn, What year it is a photo?
I think he is realy 188... but maybe now he became shorter.. 186
lillo thomas
said on 14/Aug/07
in the pic he doesnt look 6-2 about 6-0 at best but gleen is closer to the camera
Joe Martinelli
said on 14/Aug/07
I met Brian back in 1976 or so.
He's on of the best people (rock star) I have met.
The others in his band seemed afraid of me, and just stayed in a corner.
glenn
said on 10/Aug/07
i have that starfleet album signed.i was too young to meet freddie.he hadnt been in new york since 1986-1988 or so.i started in 1990.i heard 5-9 and 5-10 for him.
Anthony
said on 10/Aug/07
Brian's an incredible musician and a from what I've heard a grea guy. I actually have a friend who's catching up to Brian hair-wise, although he's nowhere near his height.
D. Ray Morton
said on 10/Aug/07
Haha, yeah, I agree 100% on the 6'2". Brian's a remarkable guy. I loved his solo record with Eddie Van Halen.
Glenn, I don't remember, did you say you got to meet Freddie?
Derek
said on 9/Aug/07
6'2" sounds pretty accurate, but I'm sure he's 6'5"+ with the hair.
jingle flapp
said on 7/Aug/07
Well I saw Brian recently round his house, I see him reguarly b'cause he's living in the same village as me. I saw him barefoot and with his hair all wet, he just showered. I talked a little with him and he was standing close to me. I'm 179 cm and he was just a little higher, I suppose he's not more tham 181 cm, at max!
glenn
said on 6/Aug/07
in a bald head and bare feet he would be 6-2.or even a hair under.correct then.
Franco
said on 5/Aug/07
glenn says on 4/Aug/07
he is in clogs.this is a hotel lobby.i estimated 6-5 with fro and heels.
ah ok so in that case 187-188cm is legit for brian. ;)
glenn
said on 4/Aug/07
he is in clogs.this is a hotel lobby.i estimated 6-5 with fro and heels.
Franco
said on 3/Aug/07
his hair almost touch the ceiling of the bus (if that's a bus) lol.
at my wedding the ceiling is 2.10 meters and i was 1.97cm and my head almost touched the ceiling fan :D
well brian always looked tallish and considering 175-176cm glenn in that pic (with shoes) and Brian most likely in his **** boots i'd say he looks 187-188cm WITH shoes, so his real height cannot be 188cm.
i say he is 185cm.
Anthony
said on 3/Aug/07
Brian looks huge here, with or without the hair. 6'2 it is.
D. Ray Morton
said on 2/Aug/07
This photo pretty much confirms that Brian is 6'7" with hair.
msn87
said on 2/Aug/07
hmmm, looks 6'1.25 or 6'1.5.
sf
said on 16/Nov/06
Glenn - thanks for the e-mail address. Sent you something today. Let me know what you think.
Glenn
said on 16/Nov/06
I havnt seen him in 13 years.but thats cause I wasnt interested.I let you know now.he was here in March.3 times in the last year.figures now,itll be awhile.I do have an idea.email me. celebink@yahoo.com.thanks.
sf
said on 15/Nov/06
Glenn - how often do you see Brian May? Can you get his autograph? I've got a business proposition for you. Let me know, we can exchange e-mails, and I'll tell you what it's about.
Glenn
said on 23/Jul/06
I agree,but he has been 5-6 for 16 years.there are some cases of elderly not losing much or any height at all.my father was 5-8,or near it until he passed at the age of 78.
Danimal
said on 22/Jul/06
Glenn, he had to have lost some height in the 38 years since Sabbath first formed.
Glenn
said on 21/Jul/06
Are you serious? in his youth Id bank my life away he was 5-6 as well.
Danimal
said on 20/Jul/06
HAHA...Geezer is only 5'6". He claims he is 5'9".
Glenn
said on 19/Jul/06
I have 10 photos with Iommi.in his prime,maybe he was 6-1.he always looked 6ftish to me and I saw him as recent as 6 months ago.Ozzy looks 5-8 now,with a peak of 5-9.5 when I first met him in 1991.so yeah,5-10 max in his youth.Geezer is 5-6,and Ward is 5-8.I rule in Sabbath photo with too.
Danimal
said on 18/Jul/06
Rob, can you add Toni Iommi to your site. It would be interesting to see what everyone thinks of him. He listed himself as 6'2". I could believe that in the day, but he looks shorter today. I've seen him stand next to Brian May (6'1.5"), James Hetfield (6'1") and of course Ozzy, who used to claim he was 5'11", then 5'10", but doesn't even look that tall today. I still believe that Toni is over 6'0".
Gonzalo
said on 18/Jul/06
My brother in law saw him in a flught from Lisbon to London and said he was very tall, about 1`90. Maybe it was the hair but he doesn`t look shorter than 6`2.
Anthony
said on 24/Jun/06
Brian's height is 6'1 to 6'2. He pretty much towers over Mercury in every photo I've seen of them (I'm a huge Queen). I actually do have a photo of them together in my room, where Freddie looks taller, but Brian's slouching and Fredddie had some pair of boots on and he was probably standing on a small platform or something.
Click Here
This is it.
Allen
said on 13/Jun/06
On VH1 Rock Honors, Brian (even in the semi-rock soloist crouch)seems to tower over Dave Grohl of FooFighters. On one site Dave is listed at 6 even. I would have thought Brian was 6'4" in comparison. Maybe it IS the hair.
[Editor Rob:

speaking of brian, his old partner,
Anita Dobson, who used to act in soap EastEnders lists herself as 5ft]
Paul
said on 20/Apr/06
Looking at footage of Queen at an awards event hosted by Cilla Black and Jonathan Ross, Brain and Jonathan had approx the same eye level, possibly Brian was slightly up. They both appeared to be wearing normal shoes and were standing very close together, so I'd say 6'1.5" - 6'2" is correct. He often appeared taller because of his hair and the fact he used to wear clogs.
Tubbs
said on 9/Jan/06
Scroll down to the botto, and it gives Bri's height at 6'1.5". Brian is such an honest guy, I dont think he would admit to having the extra half inch.
http://www.miracleexpress.force9.co.uk/brian.htm
Joe
said on 9/Jan/06
Freddie was 5'9 and he looks at least 3/4 inches taller. I'd say 6'1
Tubbs
said on 25/Oct/05
Yeh, he does look a 6'2 guy because of the hair, but I think he's actually 6'1.5,graet guitarist, and a really nice guy.